Today we're sharing about our "F" alphabet date, which is our most exciting one so far – fly to Florida!
Em's sister Elly was graduating from Palm Beach Atlantic University, so we decided to take advantage of the trip and do some fun things in Florida :) The only problem with going out-of-state was that we didn't know the area or what fun things to do while we were there. So we did some research andst came up with a list of the top 5 things to see and experience in the Palm Beach area! Our list is below (in no particular order)…but first, here is a video we made of our trip.
Best Things to Experience in Palm Beach, Florida
1. Cloud 9 Helicopters Tour
Em and I have wanted to ride in a helicopter for a long time! So we figured what better place to take our first helicopter ride together than over the beautiful Palm Beach coastline. The helicopter ride at Cloud 9 Helicopters, located less than 30 minutes away from downtown West Palm Beach at the North Palm Beach County Airport, was one of the coolest things we have ever done!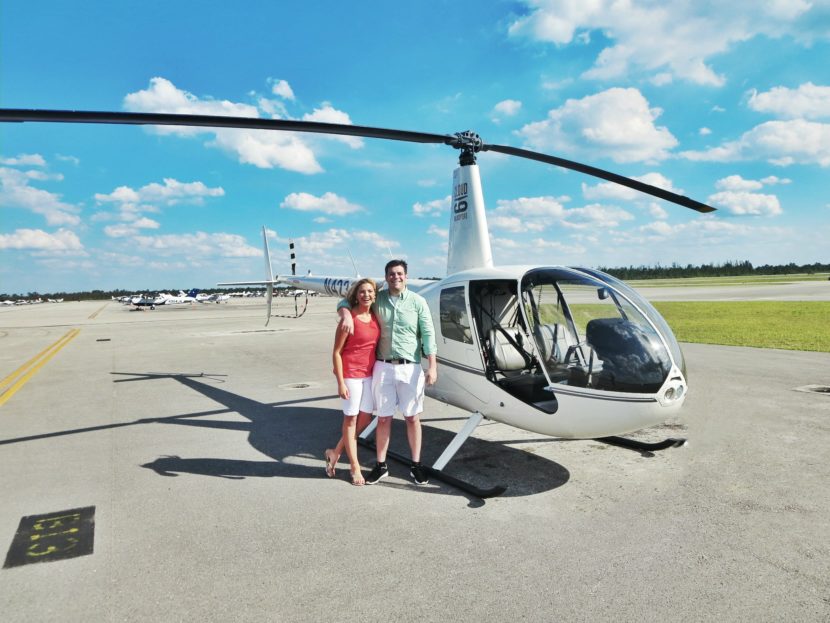 The views were so awesome and unique, and the two front doors of the helicopter were off so we could feel the wind blowing and could see everything from all angles! We flew right over the city of West Palm Beach; Elly's university, apartment, and workplace; and up the coastline of iconic Palm Beach. During our ride we saw six sea turtles, four dolphins, and even a shark!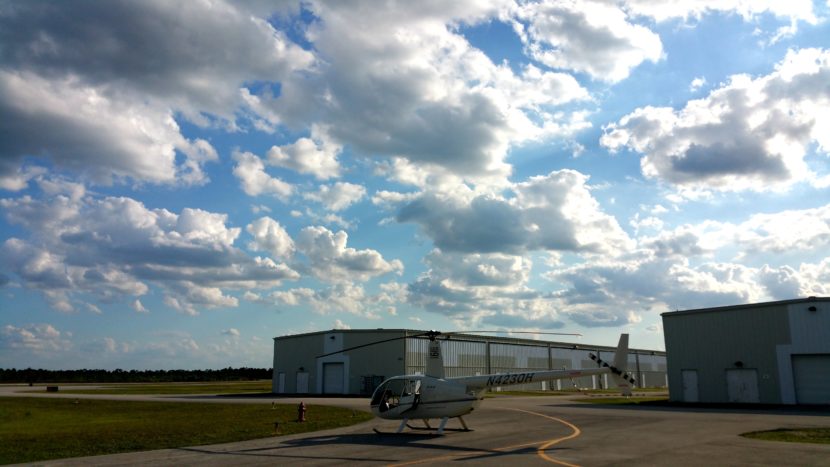 Our pilot, Geoff, was absolutely incredible. He has countless stories, from helicopter trips to Argentina to times when he flew jets for the British Air Force. (Anyone who has flown a helicopter all the way to Argentina makes me feel very safe riding with them!) He was really an expert pilot and extremely accommodating with taking us anywhere we wanted to go and circling around the dolphins so we could get a better look! Whether you are looking for a thrilling adventure, tour of the city, charter to another city, or are even interested in taking flying classes – Cloud 9 Helicopters is definitely a must-experience company.
2. Visit Palm Beach Jet Skis & Paddleboards
Em has never gone jet skiing and we both have never been paddleboarding. So we headed down to the Intracoastal Waterway to go jet skiing and paddleboarding with Visit Palm Beach. I've been jet skiing a number of different places before, and the Intracoastal is one of the best places I have ever been!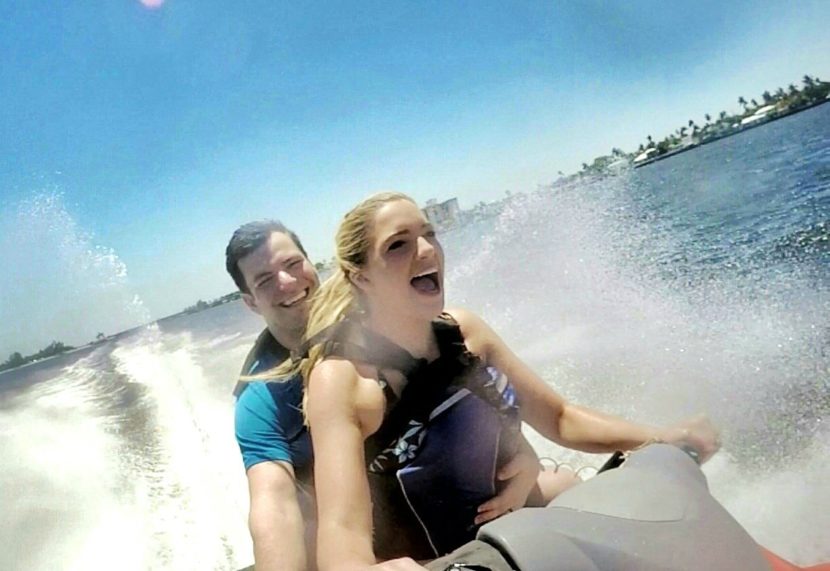 The Intracoastal is a strip of water that is separated from the ocean by the Island of Palm Beach, making the water really calm and smooth. There is plenty to see, from beautiful beach houses to multi-million dollar yachts. The Intracoastal is also large enough to have plenty of room to go fast on the jet ski (which I found out is Em's favorite)!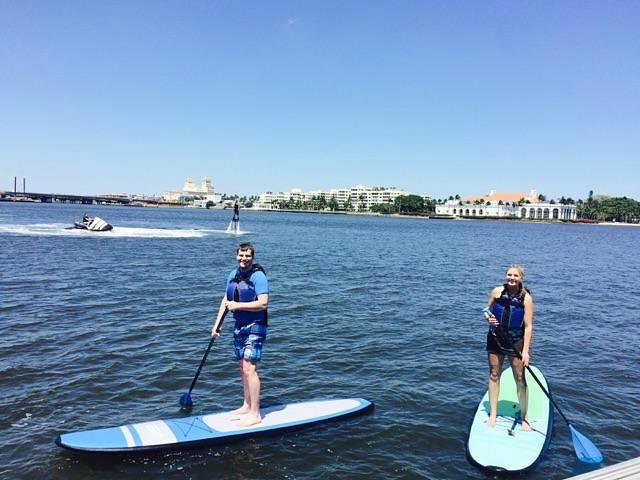 After speeding around the Intracoastal on a jetski, we switched to the slower yet more challenging water sport of paddleboarding. Having never been paddleboarding, I was a little worried that we wouldn't be able to stand up and balance without tipping over. However, the people at Visit Palm Beach were very helpful and gave us great tips on how to paddle and keep our balance. Once again, the Intracoastal was perfect because we didn't have to worry about waves or choppy water. Em and I were able to pick it up pretty quick and had a lot of fun getting to explore more of the Intracoastal.
3. Rapids Water Park
Rapids Water Park, which is just outside of Palm Beach, was the best water park we've ever been to! It is the biggest water park in Southern Florida and has over 35 water slides.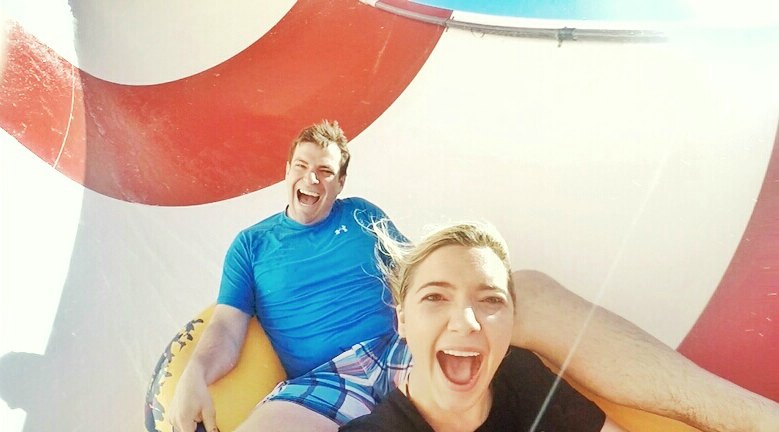 Em's and my favorite water slide was one that had just opened, called the Brain Drain. We started out standing on a trap door at the top of the slide; this dropped out and sent us plummeting down – they said people have reached speeds up to 35 mph (which honestly felt even faster when we were on the slide.) Probably my favorite part of the whole day was seeing Em's face as she dropped down the slide!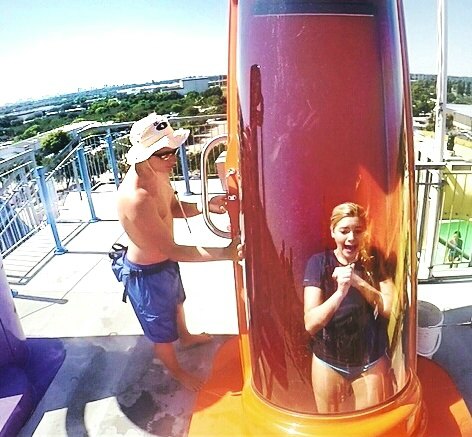 In addition to the 35 water slides, the park also had a huge lazy river, wave pool, wave rider, and tons of other cool water rides. Because the park is so big, the lines were great and we never had too long of a wait. One thing that I could never figure out was, no matter which slide or mat I chose on the racing slide, Em kept winning!
4. Beach Aviation Academy Discovery Flight
Em and I couldn't get enough of the air. There is just so much to see around beautiful Palm Beach. So we went to Beach Aviation Academy, which has multiple locations near Palm Beach. We went to the Boca Raton Airport – 30 minutes south of downtown West Palm Beach – and got to explore the vast wetlands of southern Florida and look for wildlife. We then headed down the beach to explore the southern coast of Palm Beach. It is really amazing how less than 15 miles away from multi-million dollar beachfront mansions, there are hundreds of acres of undeveloped marshland!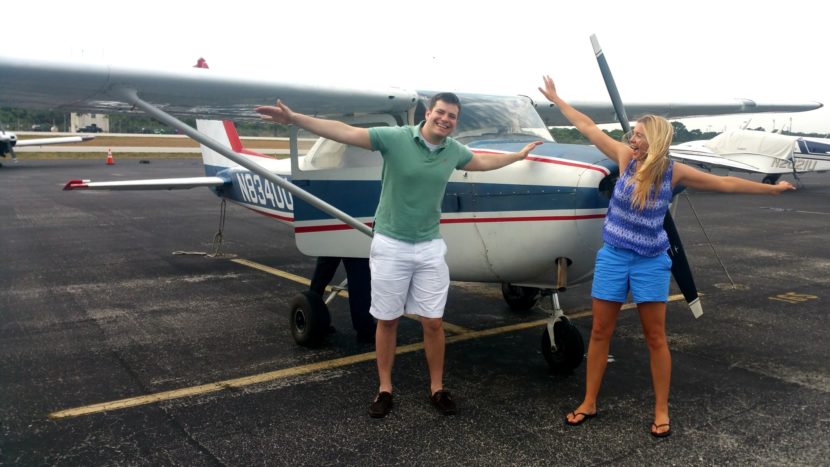 Our pilot was very friendly and knew a lot about the area. He had lots of experience too, from being a flight instructor to a private pilot for famous celebrities! We did what they call a Discovery Flight, which is where a passenger can actually fly the plane for a little – so I got to take over the wheel!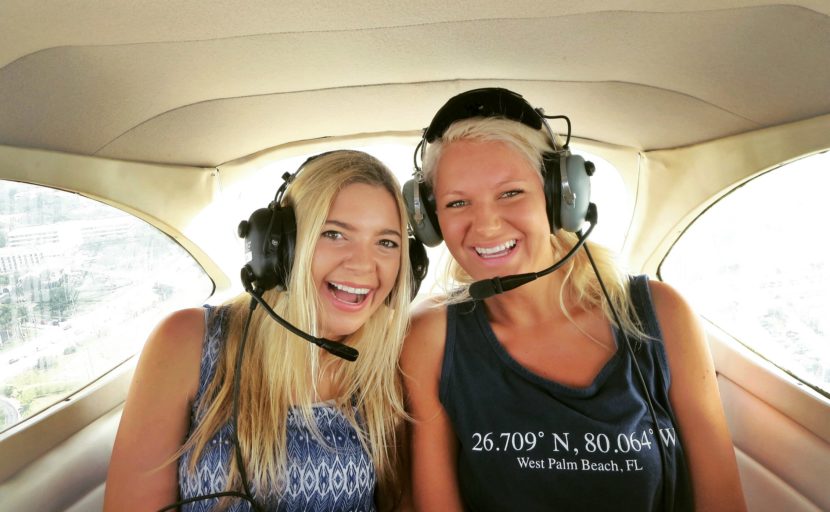 Beach Aviation Academy also offers aviation classes, but even if you don't have dreams of becoming a pilot, the Discovery Flight makes for a wonderful experience.
5. Palm Beach Marriott Singer Island Beach Resort & Spa
For a little more of a relaxing pace, Em and I visited Palm Beach Marriott Singer Island Beach Resort & Spa. The resort sits right on the ocean and is located on peaceful Singer Island. There is a spa, plenty of pools and a restaurant overlooking the beach.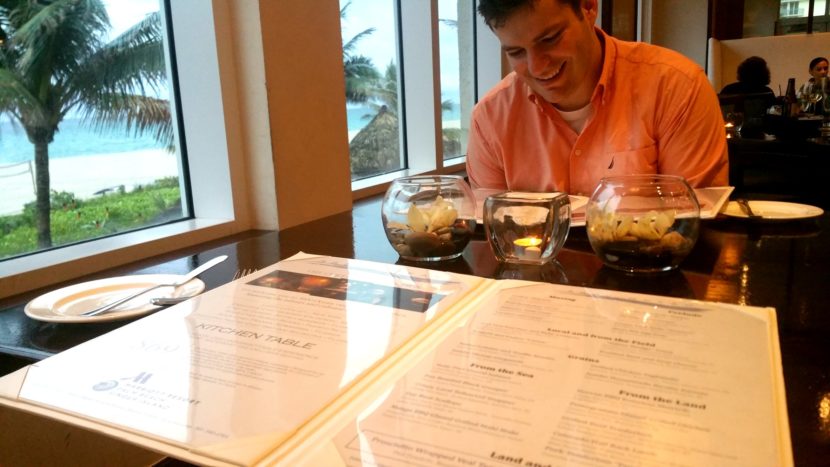 Marriott Singer Island was the perfect place to slow down and relax. Em and I got a couples massage, after which I felt so relaxed that I forgot all about work and the cold weather that we left behind in Maryland. Em also got a manicure and a pedicure, which looked amazing. She offered for me to get one as well but I couldn't decide on what color to paint my nails – I think I have too ticklish of feet anyway. ;)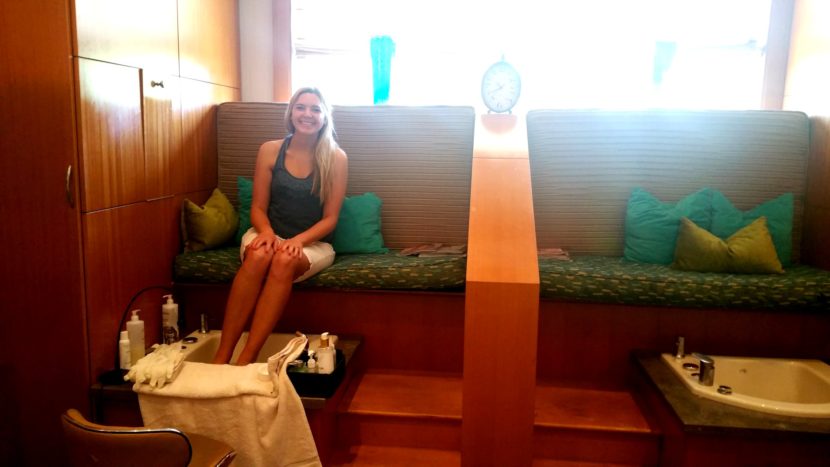 We also ate dinner at the resort's restaurant called 3800 Ocean. We had amazing surf and turf while watching the sun set over the beach. All of the resort's staff members were really welcoming and friendly. I really could have spent the whole week in one of the resort's beach side infinity pools and have been completely content!
Florida was by far my favorite alphabet date, and I am not sure how we are going to be able to top it. Any one of these things could have made a great date in themselves! A big thanks to Elly, Emily's sister, for picking such an awesome location to graduate from college. ;) But now that she graduated we will have to find a new excuse to revisit Palm Beach, Florida and do all of these things again!
Here's a list of all our alphabet dates so far!
– Alphabet Dating – A: Aquarium Sleepover with the Sharks
– Alphabet Dating – B: Basketball Game (Wizards vs. Sixers)
– Alphabet Dating – C: Circus (Ringling Bros. Barnum & Bailey
– Alphabet Dating – D: Dave & Buster's
– Alphabet Dating – E: Eastern Shore / Assateague Camping
– Alphabet Dating – F: Florida
– Alphabet Dating – G: Golf Course Camping
– Alphabet Dating – H: Horse Race (The Preakness Stakes)