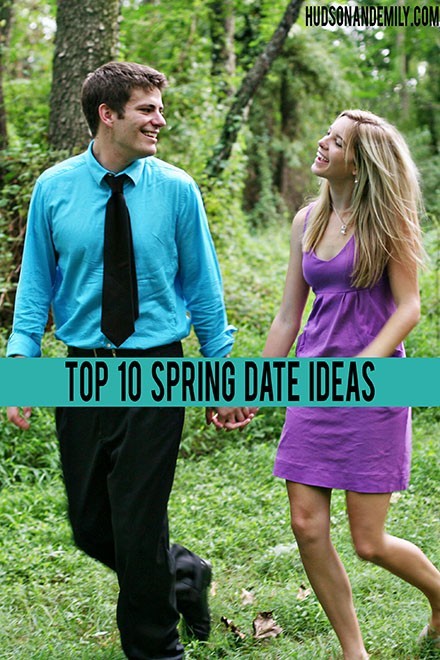 * Here from Pinterest? Welcome! If you want more date ideas, check out my posts about the best summer dates, fall dates, and winter dates…oh, and creative date night ideas too! *
I don't know about you, but I love spring. Spring means that it is ALMOST time for summer…my favorite season! Plus, there are so many good date ideas for summer!
Like I mentioned before, being able to say that I'm married to my best friend is such a wonderful feeling, but it takes intentional work and time spent together to maintain that.
Hudson and I look forward to trying these spring date ideas. Hope you do too!
TOP 10 SPRING DATE IDEAS
1. I love picnics or a day out exploring. Something simple that will make lots of memories. – Alicia
2. I love going to a theme park or fair. Unlimited amounts of fun and a great way to break the ice. – Anonymous
3. I love to go to the drive-in movies. It is something we do not do often but when we do it is sort of romantic. – Ashley
4. Ice cream/frozen yogurt and a walk through a garden or arboretum. With this kind of date, you can enjoy a little treat that doesn't cost the guy a fortune and spend time strolling & getting to know each other while enjoying God's beautiful creation. : ) – Julie
5. Going to a bounce house and just playing around! – Kiana
6. One of my favorite things to do is hike! It's such a great way to get out in the fresh air, see some natural beauty & just get to talk without the distractions of phones or TVs for a little while. – Danielle
7. Beach picnic!! – Anonymous
8. Going on a trip to some place we've never been before. It can even be local, but the best gifts are moments that you can share…not material gifts. I've also always wanted to go on a horse drawn carriage ride…crazy huh? – Becky
9. Dinner and a walk at the park as the sun sets. – Anonymous
10. Preferably under the stars just us two. I love bonfire night dates; its a really romantic evening. – Jade