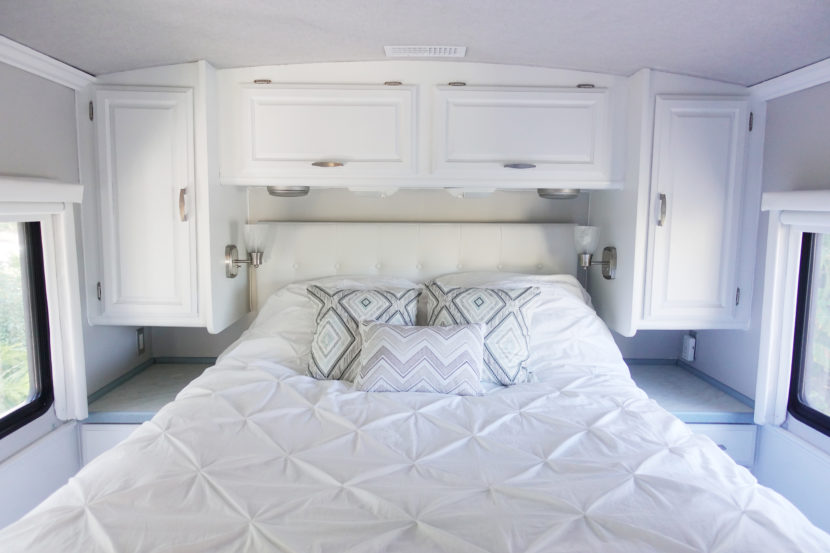 As the renovation process went on, there were more and more things that we thought of to make our RV feel like home. My dad and Hudson were thrilled every time I came up with a new idea, ha :) But really, even simple things can feel like big things when you are updating the look of a space!
Two things I knew would really transform the look of our RV were new wall lights and new faucets, so I went on a hunt to try to find the best ones.
The problem with an RV is that it's electrically wired differently than a typical home. Also, the more things you can run on your battery (as opposed to an inverter or generator), the better – so it's important to find lights that run on 12V. This is virtually impossible at a Lowes or Home Depot, and most of the 12V lights I found online were not the style I was going for – until I found RVupgrades. I loved these pin-up lights and knew they'd be the perfect replacement for the lights in our bedroom and "living room." The original lights had lamp shades on them, and these more modern lights made all the difference in pulling the modern room together cohesively.
As I looked more at the RVupgrades website, I was like – Hud, they get us! Their about page lists everything we care about as RVers – great prices (literally the best I've found), fast shipping (the items arrived within 1-2 days, wow!), detailed product information (so important when you're dealing with many moving parts – literally), and great customer support. What could be better, really?!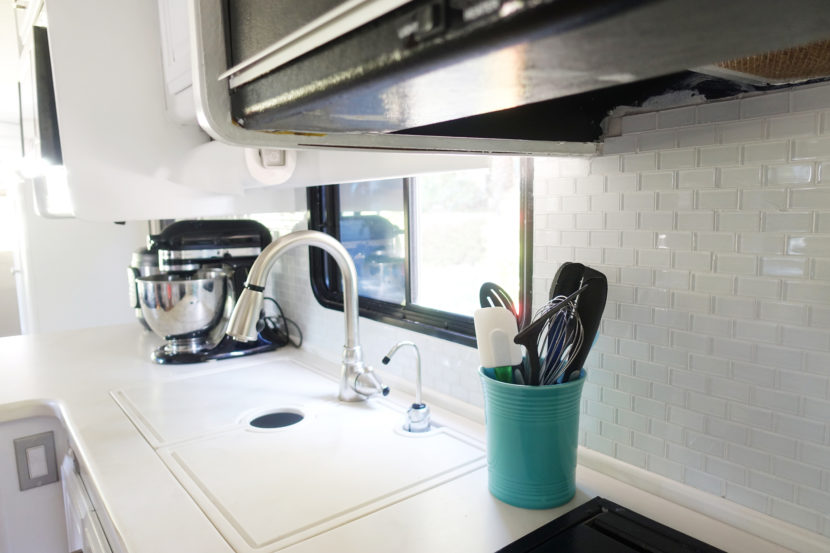 So we decided to get new faucets from RVupgrades, too. They are less expensive because they are not made of metal, but you would never know that by looking at them and they're perfectly sturdy. I love how the kitchen faucet really opens up the space and makes it feel bigger, and having the bathroom sink be a satin nickel look really complements the rest of the bathroom hardware.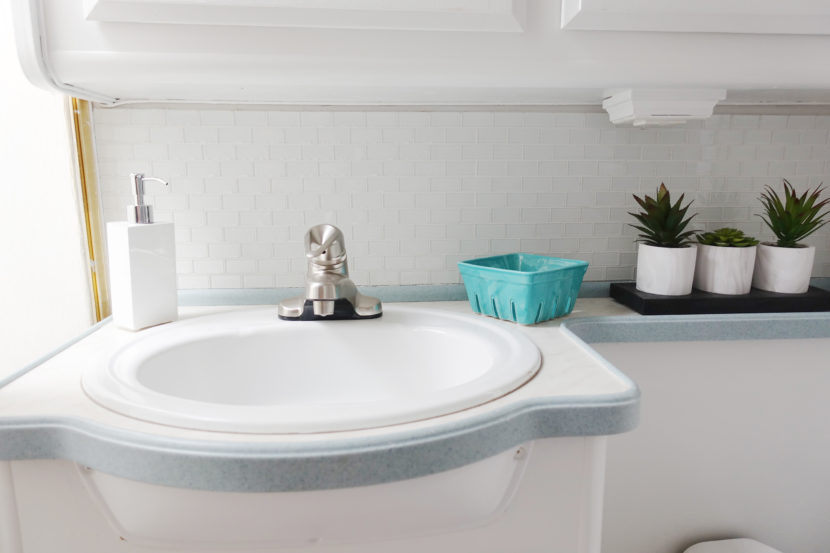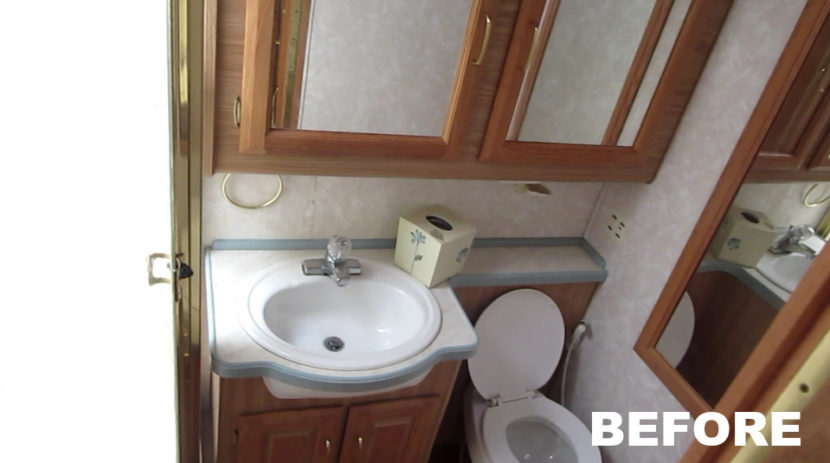 As I perused their website, I noticed a Oxygenics shower head, which I had heard about being great for RVers. It has a flow control level on it that allows you to shut off the water from the shower head without having to turn off the shower water altogether. This has helped us a lot with water consumption, and also saves time of having to reset the water temperature five different times during a shower. RV showers are definitely different than regular showers, so this shower head and the great water pressure it provides have made our RV shower feel more like a home one.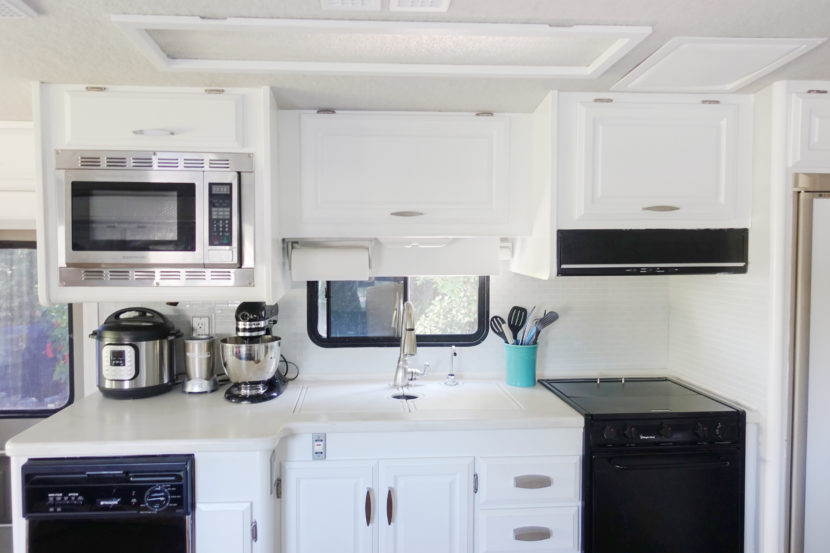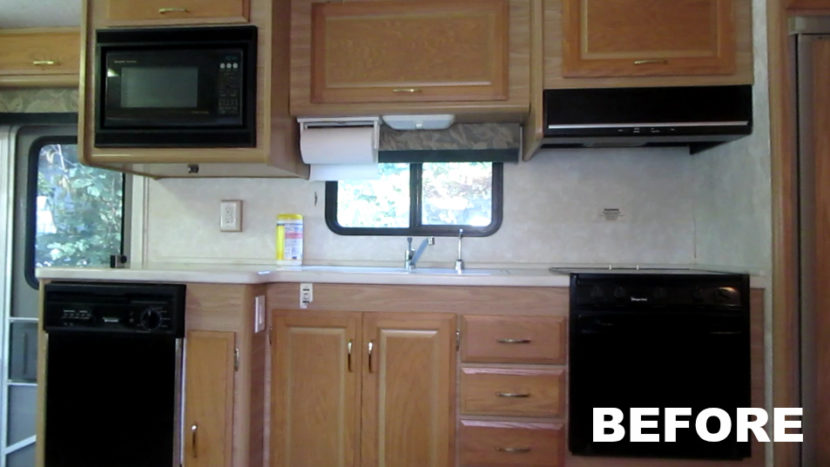 We also got a bike rack and convection microwave from RVupgrades, which I am so thankful for. Our RV had the original microwave in it, so having a more modern version is much better – plus, the fact that it also serves as a convection oven has helped us save money in propane costs (what the main oven runs off of). I am grateful to have an oven in our RV, but it cooks only from the bottom, so food tends to get a little burnt – but not when it's in our convection microwave! So that's been one of those products that I didn't know would be so wonderful to have until we had it.
RVupgrades literally has just about everything RVers need – whether it's an essential product (like an air filter, which we also ordered from them) or an "upgrade"/renovation product. We're grateful for companies who understand RVers and will definitely be ordering from them again in the future!
Thank you, RVupgrades, for being a platinum sponsor of our RV renovation! For more info about our renovation, click here.