So far on our trip Em and I have been to 21 states, 2 Canadian Provinces, and several major cities. Out of all of the places that we have visited, Vancouver and Victoria are two of our favorites!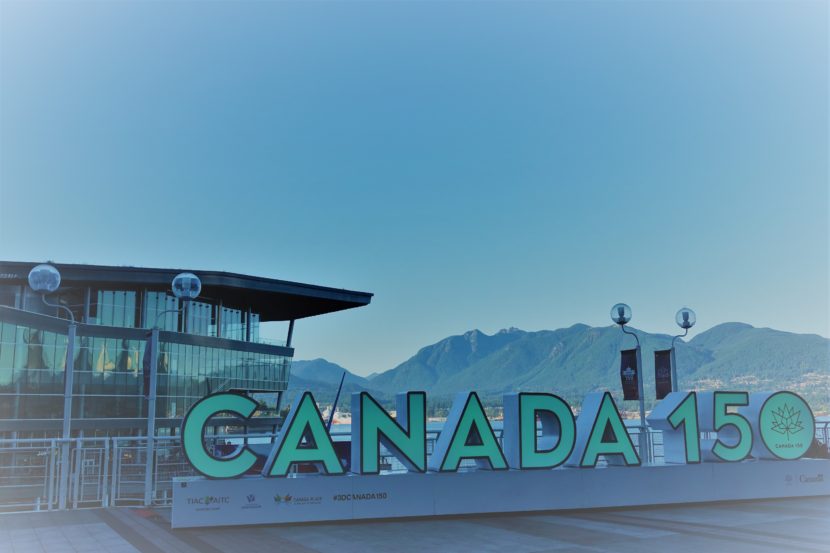 Vancouver
As the third largest metropolitan area in Canada, Vancouver is home to beaches, skiing, an incredible skyline, and an urban park that is bigger than NYC's Central Park. With a city that has a little bit of everything, we weren't exactly sure where to start. So we decided to start our time in the city with a couple tours!
Our first tour was a bus tour with Landsea Tours & Adventures. The best thing about this tour compared to other bus tours we've experienced is the size of this bus only held about 20-30 people, so it felt more personal. It was the perfect way to get the lay of the city and through a local tour guide! The tour started out downtown and took us around to Stanley Park, Granville Island, Gastown, Yaletown, several beaches, and ended at the Vancouver Lookout Tower. An added bonus of the tour is that it included tickets up to the top of this 553 foot rounded observation tower. But probably my favorite part of the tour was getting to eat lunch on Granville Island. This island is located right outside downtown vancouver and is home to a large indoor market, several shops, and restaurants. We had an hour to just wander around, take in the sights, and find our favorite place to eat. It was definitely a great way to start our visit off in Vancouver.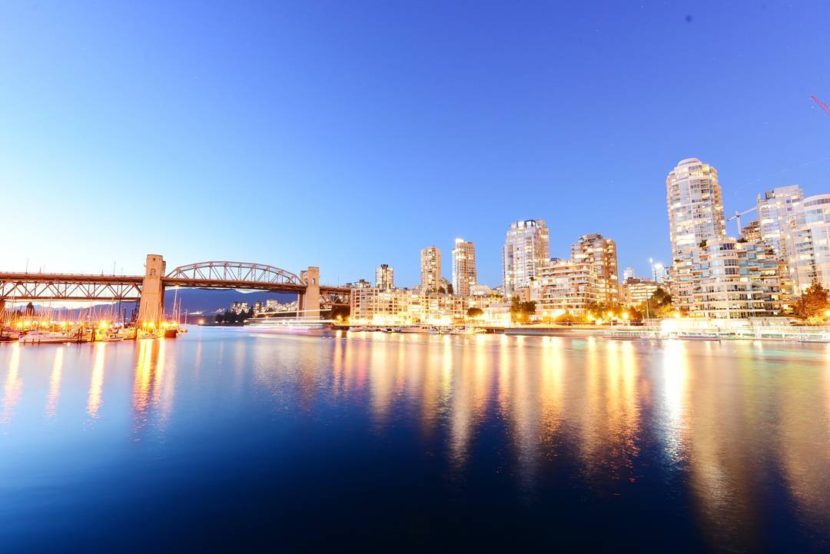 One of the most fun and exciting experiences of our visit to Vancouver was getting to do a night-time photo walk through Granville Island. Em and I love taking pictures, but our photo skills are pretty limited. So when we heard about the opportunity to be taught by a pro photographer and get some awesome pictures of the beautiful skyline of Vancouver and sights of Granville Island, we knew we had to go for it! Vancouver Photowalks is rated #1 photography class in Vancouver on TripAdvisor, so we knew that we were in good hands. Suzanne, our guide and teacher, was incredible! She was super friendly, personable, and knowledgeable about photography. She was able to balance teaching total beginners like us while still helping improve the skills of advanced photographers as well. We did the "City Reflections at Night" experience, but there are several other amazing photo classes that take place all around the city! Her class was extremely informative and flexible so as to make each tour as personal as possible. She started with the three basics of photography: shutter speed, aperture, and ISO, and then taught us several other helpful tips and tricks. We are still far from expert photographers, but after just 2 short hours I definitely have learned so much more about photography and have gained the courage to change our camera from auto to manual ;) Not only did we get to take away new photography knowledge, but some pretty incredible Vancouver photos as well!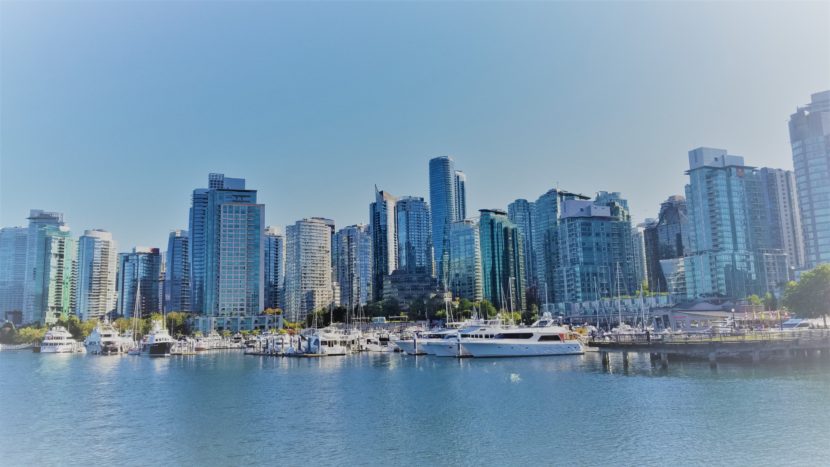 The downtown area of Vancouver is located on a peninsula, so water plays a big role in the makeup of the city. It is home to Canada's largest port and world's largest seaplane airline, so it just seemed to make sense to take a boat tour around the downtown. Em and I booked a 1 hour sightseeing tour with Harbour Cruises and boarded onto a large ship powered by a giant paddle wheel! The tour guide was really informative as we floated around the city. Seeing the skyline from the water gave us a new appreciation for just how amazing is Vancouver. We got to cruise past sights like Stanley Park, cruise ship terminals, massive container ships, historic Gastown, and the North Shore Mountains.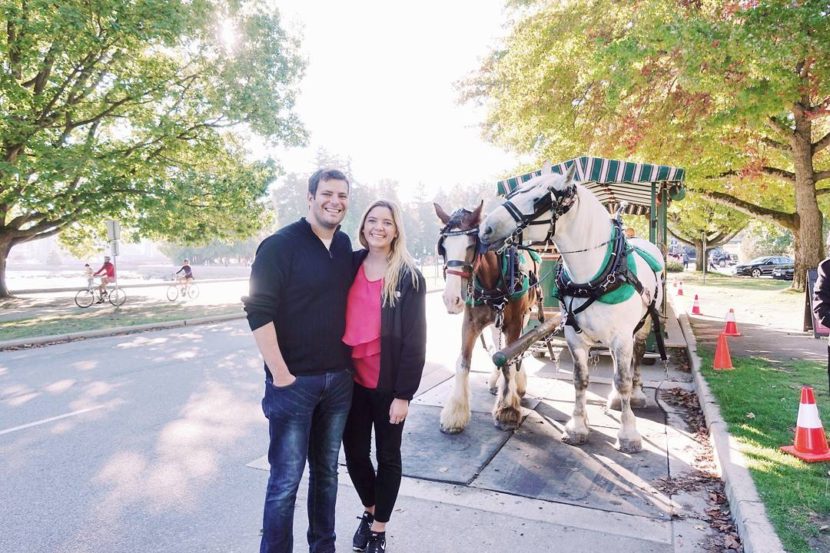 Wanting to cover all of our basis of travel (that day we'd already traveled by bus, boat, RV & motorcycle), we decided to head over to Stanley Park for a horse-drawn carriage ride. These rides are always extra special to Em, because her mom used to give horse drawn carriage tours in Charleston, SC. Our tour guide in Vancouver was really friendly and informative! What makes the park so amazing is that it is right on the pinnacle of the peninsula – so it would be prime real estate, but the city has preserved this area as a park. Much like Central Park in NYC, Stanley Park is a close, convenient getaway from the busy streets of downtown. The total size of the park is 1,001 acres (Central Park is 843 acres). Another really cool feature of the park is that it wasn't created by architects, but rather remains as the ancient dense forest that it always was. Out of the nearly half million trees in the park, some of the tallest stretch up to nearly 250 feet! One of the man-made features of the park is a giant seawall that makes up the park's perimeter. The wall, which was built to prevent erosion and help preserve the park, was constructed between 1917-1971. Over the 54 years, the construction of the wall took thousands of manhours, even as much as 2,300 men working on it at the same time. But the result today is a beautiful park, protected from erosion and an amazing place to run, bike, explore or take a horse-drawn carriage tour through!
After our day of touring by bus, boat, and horse drawn carriage, we figured it would only be fitting to go flying too! Em and I headed downtown to experience a ride called FlyOver Canada. It was a simulated hang gliding tour over the beautiful Maple Leaf Country. The ride simulated the wind in our faces, the mist of the water, and even dive and turn just as if we were hang gliding from sea to sea over Canada. Em and I had a lot of fun and thought that it reminded us a lot of the "Soarin'" ride at Epcot in Orlando. It turns out that the ride was designed by the same person!
We also visited the Richmond Olympic Experience, which is outside of Vancouver but is really neat because it's (1) where a winter Olympics was held, (2) shows Olympic torches from around the world, and (3) has virtual reality Olympic experiences that you can try!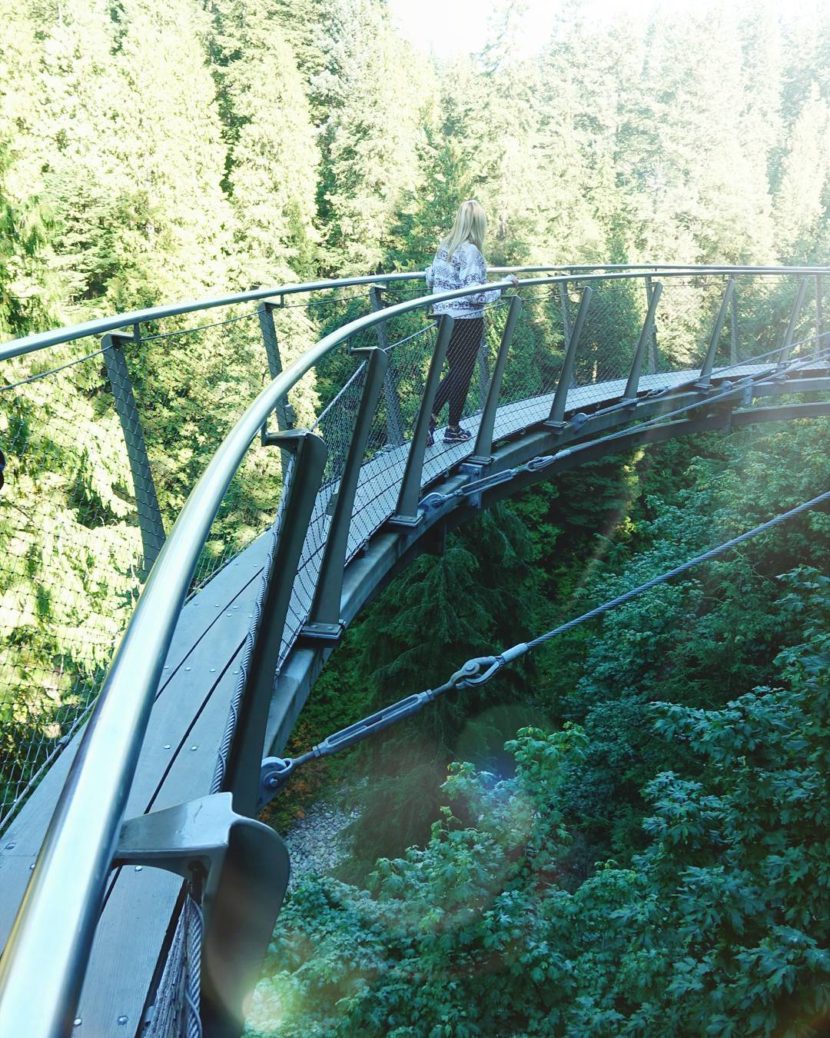 The next day, we headed out of the city and across the water to the Capilano Suspension Bridge Park. It is amazing that within 20 minutes of downtown Vancouver, we could find ourselves walking through a dense forest filled with 200+ foot trees. The suspension bridge is 460 feet long and hangs 230 feet tall. It was pretty cool getting to walk out to the center and feel just how much the bridge swayed without breaking! The park also had several other smaller suspension bridges and cliff walks, which allowed us to get up close to the amazing ancient forest.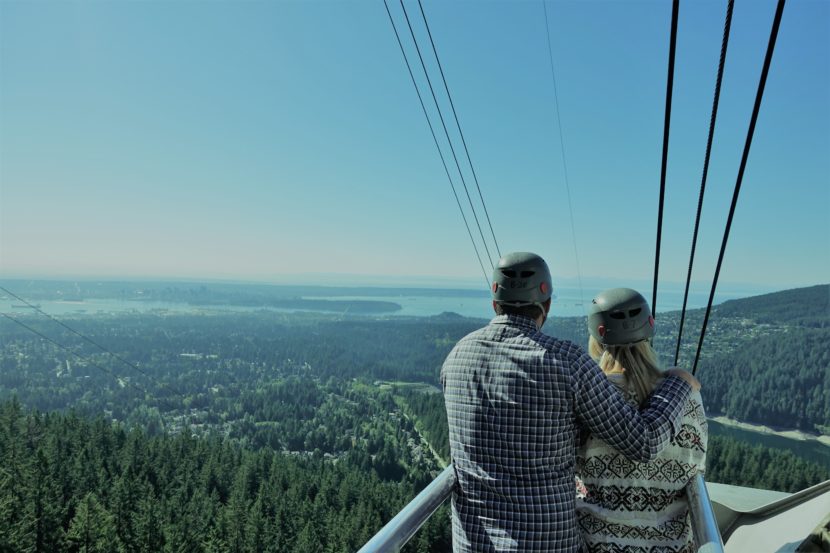 Just a little ways up the road was Grouse Mountain Park, which is a ski resort by winter and an outdoor activity center by summer. Em and I road the gondola up 2,800 feet to the top of the mountain, but we didn't just ride on the inside of the 105 person cabin. We got to stand outside on the top of the gondola and experience what they call the skyride surf adventure! The views of the city skyline were incredible. We learned on our ride to the top that this gondola operates 365 days of the year and is the busiest gondola in the world! At the top of the mountain was a bear exhibit, lumberjack show and ziplining. They also had an experience where you could climb to the top of an active windmill which would have been really cool, but it was closed during our visit. I guess that is just one more excuse to be back to visit Vancouver!
Victoria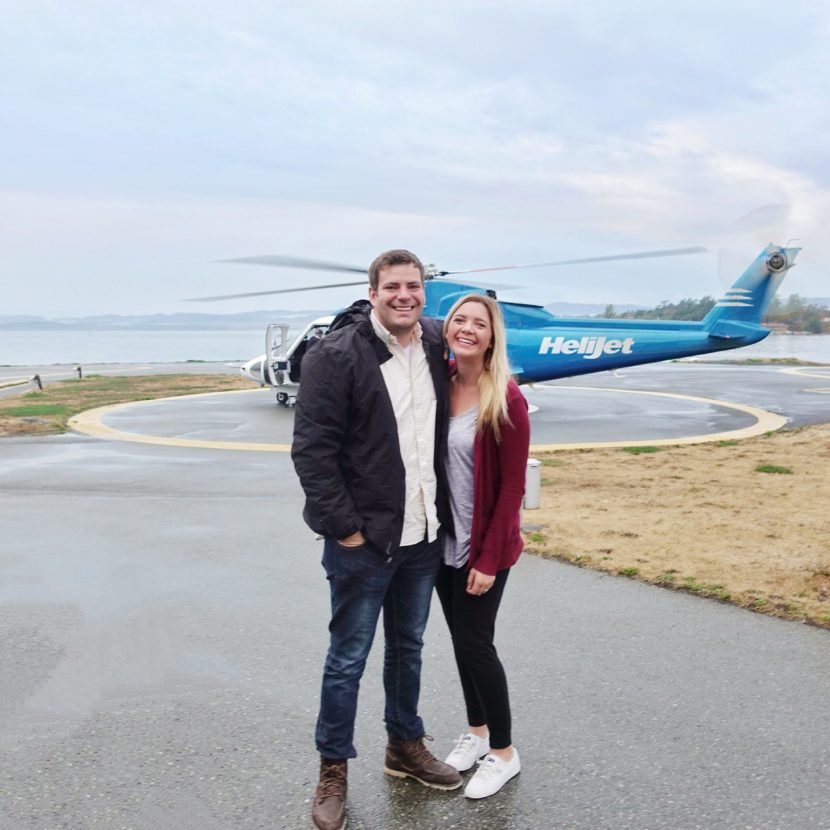 We absolutely loved Vancouver, and were so grateful to also get the opportunity to visit Victoria. We looked into the best way to get from Vancouver and Victoria and saw that the ferry is the most inexpensive option, but that it typically takes at least half a day each way to get across. You have to drive there, load, wait for them to load vehicles, actually ferry there, and then wait to disembark. Only having about 36 hours to spend in Victoria (including travel time), we really did not want to spend a full day just traveling – we really wanted to make the most of our time enjoying the beauty of Victoria. So when we heard about Helijet, we knew this would be the perfect option!
Flying to Victoria with Helijet was amazing! I think this picture adequately describes Em's excitement. :) We arrived at the heliport to find snacks and drinks galore waiting for us, and they quickly loaded our luggage (no waiting in line for TSA!) and boarded our helijet in no time. Our aircraft was literally half helicopter, half private jet – and it was incredible how easy and fun the crew made the entire experience. The views along the way were absolutely magnificent (and no need to book a helicopter tour of Vancouver/Victoria because you get it with Helijet! :)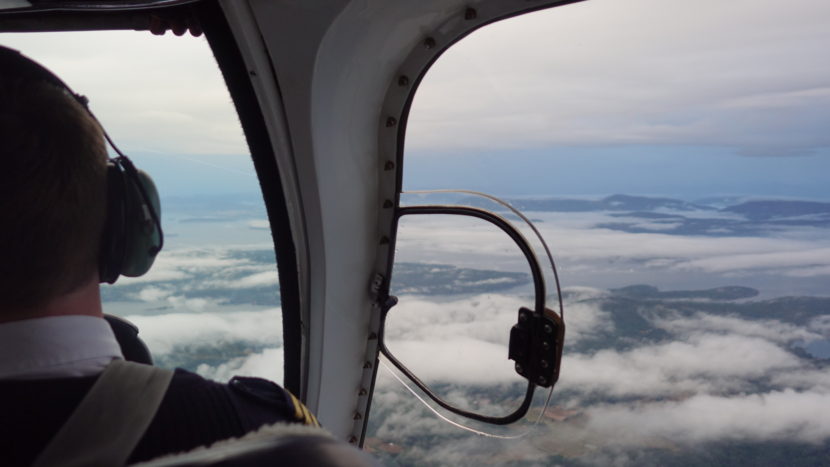 We landed in Victoria in no time, but honestly I was having such a good time I didn't want the flight to end. If only Helijet could fly us everywhere, because that is the way to travel! Upon landing, there was even a shuttle waiting to take us to our hotel.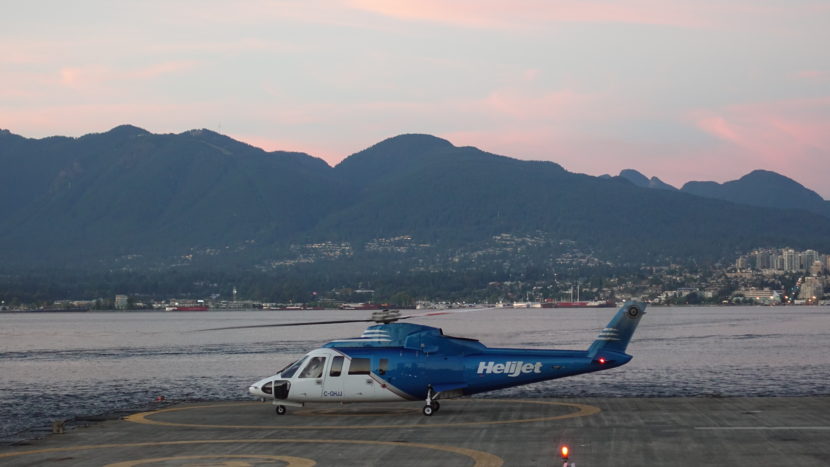 While in Victoria, we stayed at the Chateua Victoria. It was absolutely beautiful! From the moment we walked in, the kind service of the staff made us feel very welcomed. It's a locally owned and operated hotel, and their attention to detail – from the authentic decor with an English flair to the way they treat their guests – makes for a very luxurious experience.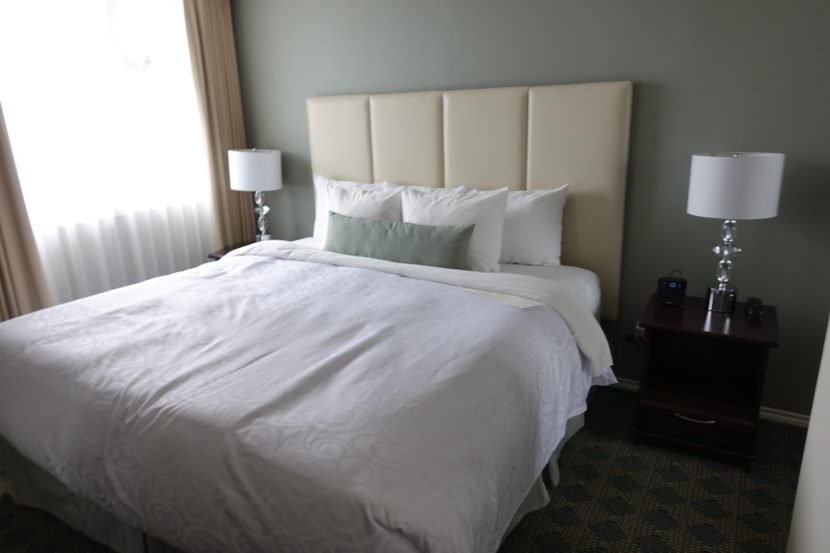 Our room was absolutely beautiful! We had a huge one-bedroom suite with a separate sitting area, kitchenette, and walk-out balcony. It was the perfect place to relax amidst the busyness of all the wonderful things there are to do in Victoria.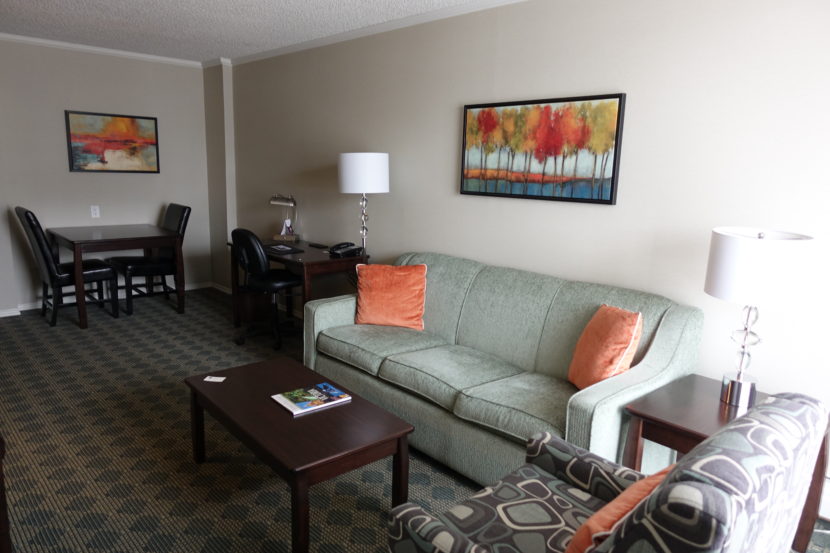 The Chateau Victoria was in the perfect location – we were able to walk to everywhere downtown, and easily catch a bus to some attractions on the outskirts of town. At a very reasonable price, this is the perfect hotel to stay in when visiting Victoria!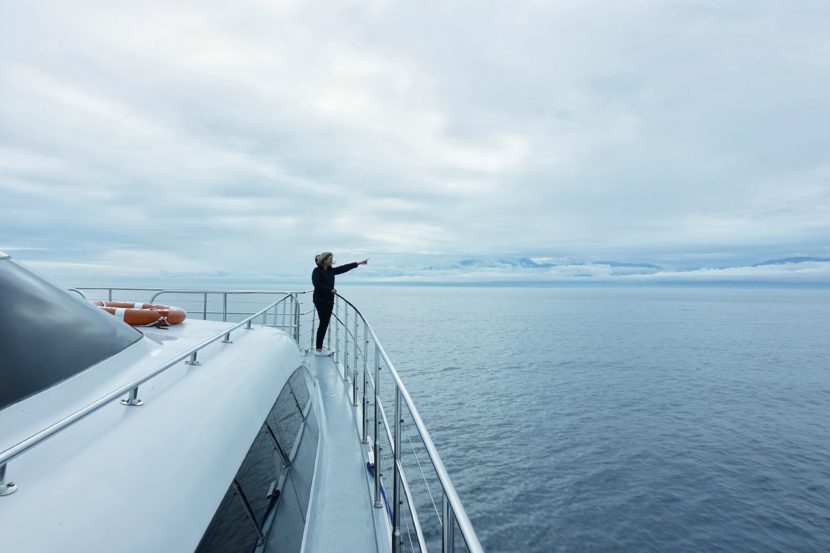 We dropped off our bags at the hotel and walked to Fisherman's Wharf Park, which is a fun place to explore itself but we were there to catch a whale watching tour with Eagle Wing Whale & Wildlife Tours. They have a few different types of boats, including speedboats and catamarans, and we were very glad for the catamaran on the day we went because it was a bit overcast and drizzling. The boat was absolutely beautiful and allowed for us to stay warm and dry inside as we were cruising, and then easily walk out onto the deck when a whale was spotted.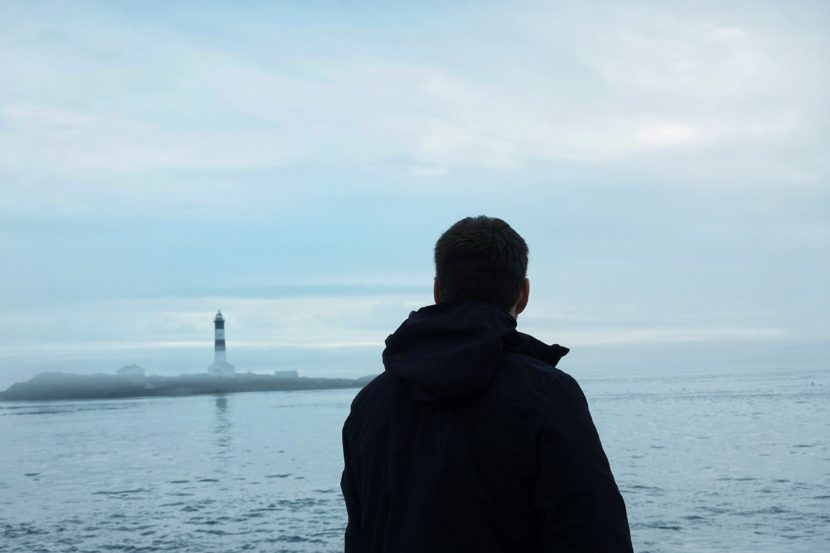 This was our first whale watching tour and we weren't sure what to expect, but we saw both humpback whales and orcas (killer whales), which was really neat! Our tour guide had so much knowledge about whales and wildlife, and we learned so much.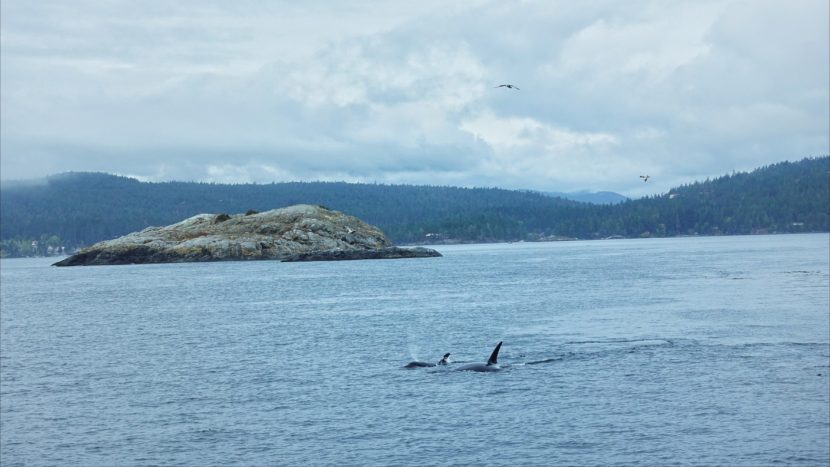 It was so neat to see the whales in their own environment – the orcas were feeding on seals, and I never knew how close they go to the shore while they are feeding! Eagle Wing Whale & Wildlife Tours is the top rated Victoria whale watching tour, and we were really glad we booked through them because of their experience and knowledge about the wildlife.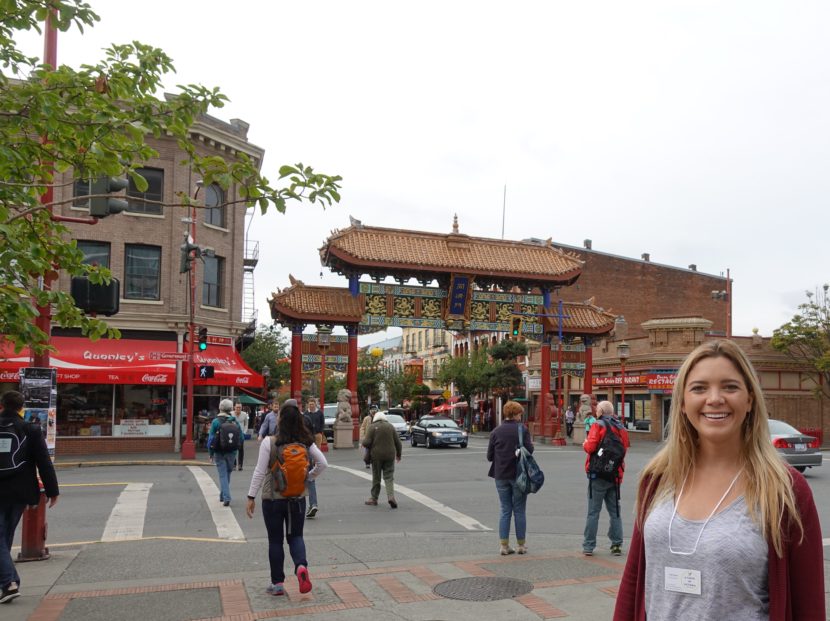 After the whale watching tour, we walked downtown to go on one of the Taste of Victoria Food Tours. Food tours have become one of our favorite ways to begin our time in a new place, because we've found that through the food you can learn so much about the culture and the history of that place. We have been on a number of food tours, but Taste of Victoria Food Tours has been our very favorite!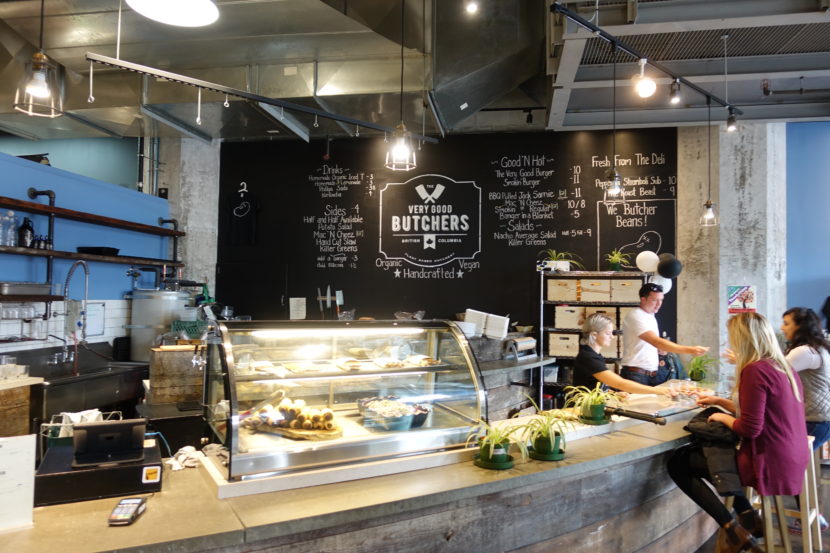 The owner, Andy, is a world traveler himself and he said the same thing we did – the first thing he does when visiting a new country is experience a food tour! Andy recently quit his job in the corporate world to start his food tour business, and you can tell he's very passionate about what he does. He has a great relationship with various restaurants throughout Victoria, and did an INCREDIBLE job of explaining Victoria's history while taking us to stop after stop of amazing food. His tour is very reasonably priced and included bread, pierogis, meatballs, chocolate, and more.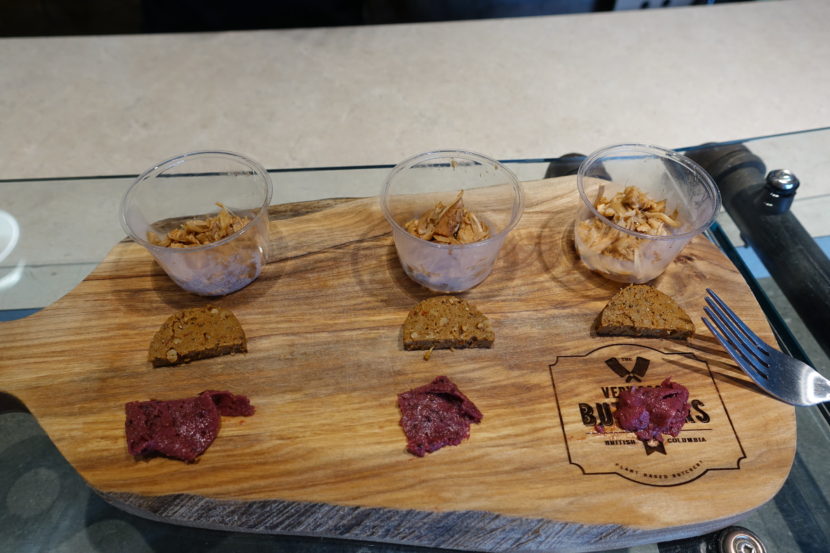 The tour itself covers many areas of Victoria – Chinatown, Olde Town, and the Inner Harbour – which we really appreciated compared to tours where you stay in one place, because not only is it a food tour but also a city tour. This is definitely a must-do when visiting Victoria!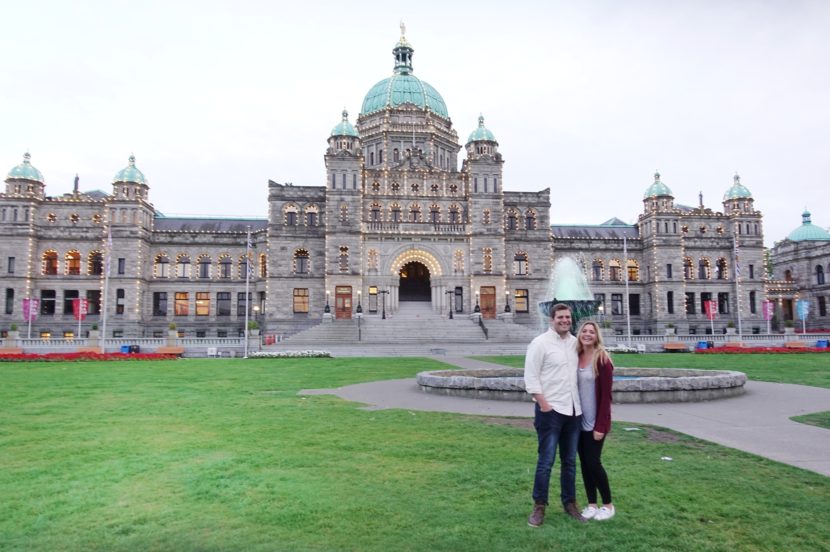 Speaking of the Inner Harbour, that area overlooking the Fairmont Empress along with Government Street and the British Columbia Parliament Building (as Victoria is the capital of British Columbia), is a very neat area / the most well-known area of Victoria and a great place to spend time. We took a CVS Tours bus from this area to the Butchart Gardens, which was very convenient and comfortable transportation to get directly to one of Vancouver Island's top attractions.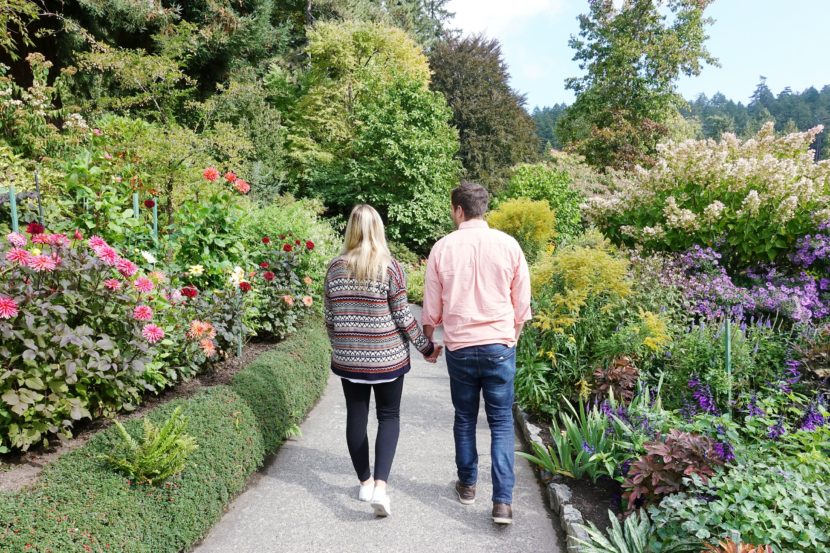 The Butchart Gardens are ranked as one of the top floral display gardens in the world! And WOW they sure are beautiful. Jennie Butchart began building the gardens over a century ago, and they've bloomed (literally) into 55 acres of the most beautiful displays I've ever seen.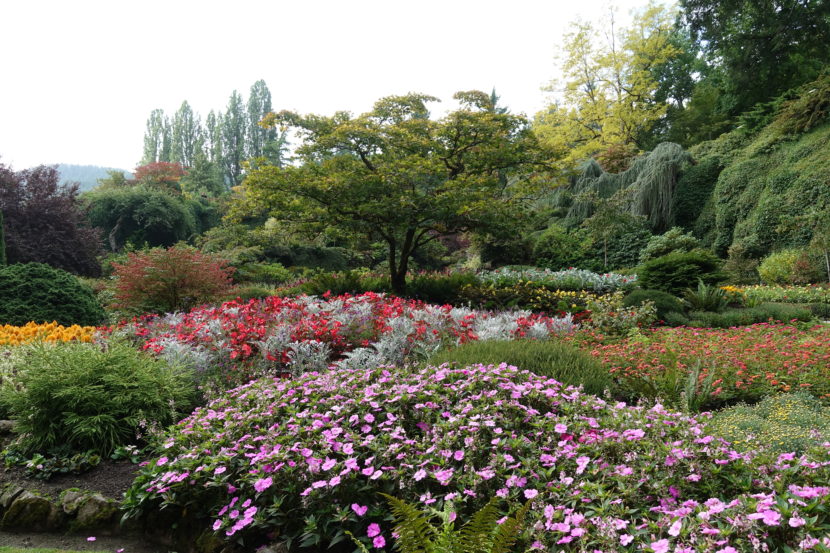 The rose garden was Em's favorite, and the Japanese garden was my favorite, but it's so hard to pick a favorite because every area was so beautiful and you could tell the care that went into each.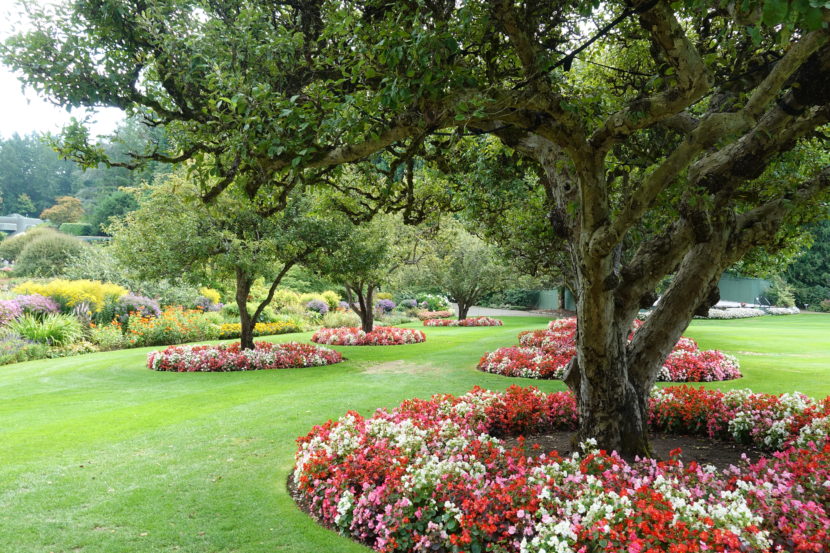 It was incredible to learn that a number of the gardeners have worked at The Butchart Gardens for decades, and specialize in certain areas, so it is not just a job to them but truly a passion that they love to see people enjoy. The Butchart Gardens offers annual passes, and has events and concerts throughout the year. It is truly perfect for all generations to enjoy! We had seen such wonderful pictures of The Butchart Gardens, but even pictures don't do it justice – you have to go!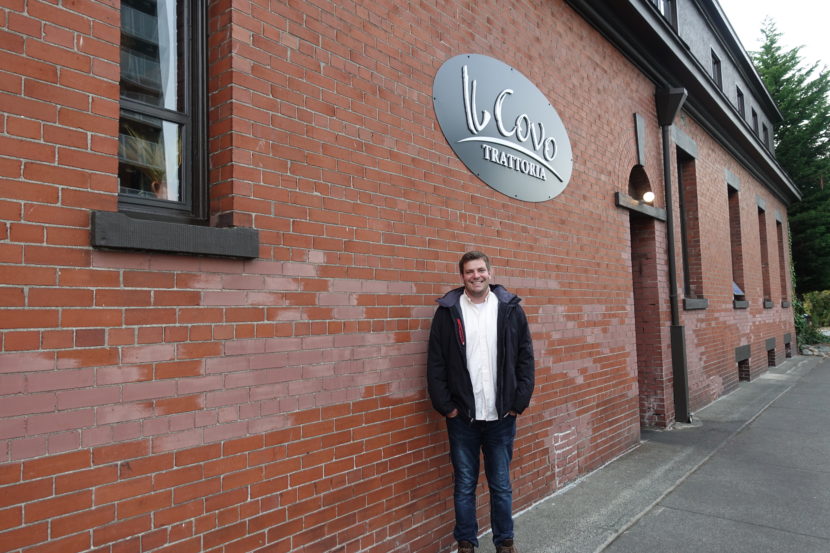 That evening, we had dinner at Il Covo Trattoria. This is an authentic Italian restaurant close to Fisherman's Wharf. It is a beautiful restaurant that has a lot of character and truly makes you feel like you are in Italy in the middle of Victoria, British Columbia. :)
They have a variety of options, and Em ordered their Cannelloni Alla Genovese which was stuffed with crab and lobster (two of her favorites). The food was wonderful, and the staff was even better! They were so kind to us, and our stomachs were so full when we left that we slept very well that night!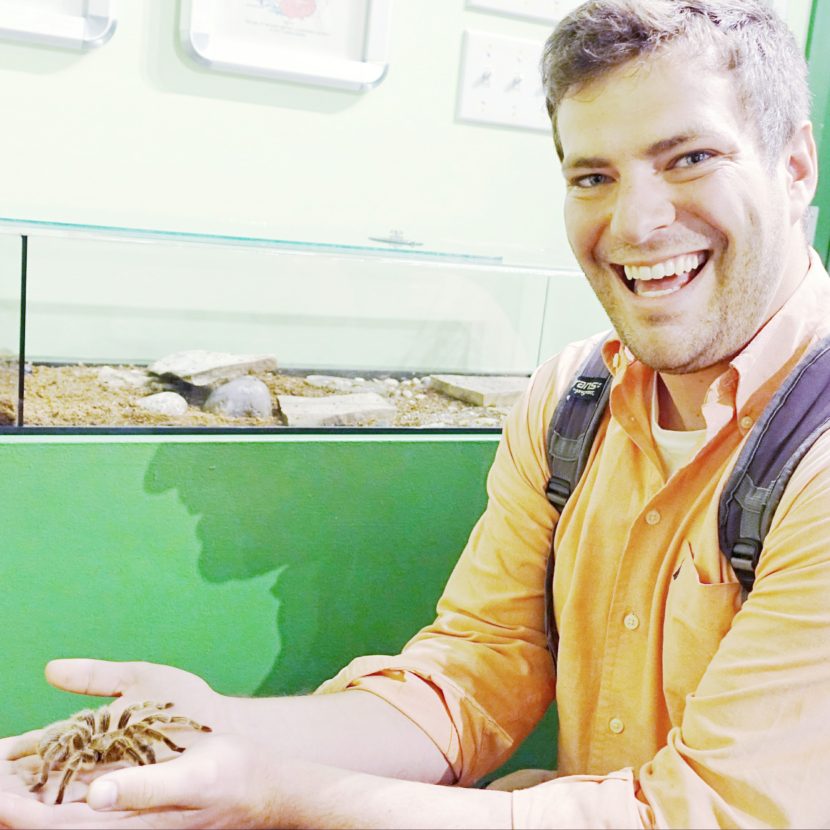 The next morning, we visited Miniature World, which is a museum built of miniature figurines. It blew us away how detailed and intricate everything was! This is a perfect place for kids, as well as the next door attraction – The Victoria Bug Zoo. Now, I have been to a number of zoos in my life, but never a bug zoo – and now that I've been to The Victoria Bug Zoo I'm convinced that there should be more of these in the world! Em and I are not big fans of bugs (actually we really disliked them prior to visiting), but after leaving we had a much greater appreciation for bugs and learned so much about various species.
One of the neatest things about the bug zoo is that you are actually able to hold a lot of the bugs! Em is terrified of tarantulas, but she held one! As well as a scorpion, praying mantis, and the second heaviest bug in the world. It was really neat to see how something we were scared of prior to visiting the bug zoo became something we can appreciate.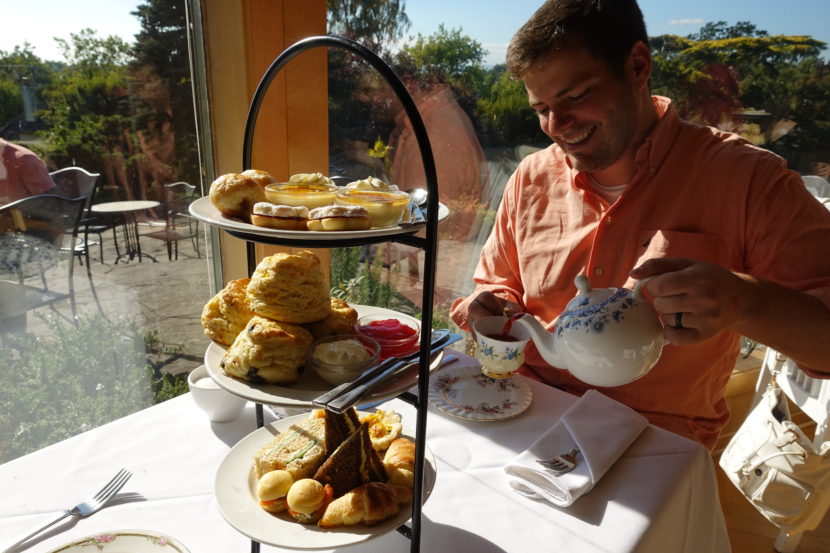 That afternoon, we did a very Victoria thing – had afternoon tea! We visited The Teahouse at Abkhazi Garden, a beautiful hideaway in central Victoria. The Abkhazi Teahouse is world-renowned for its four-star guest service and exceptional food in a beautiful setting.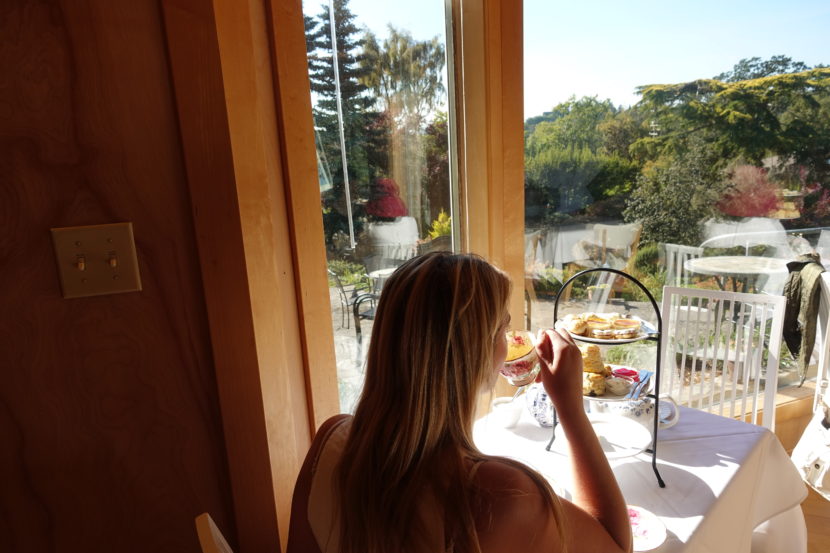 We sat by a window overlooking the gardens, and had afternoon tea based on their seasonal menu including produce grown from their own garden. It was very traditional tea time, and really special to experience together. Having afternoon tea was the most perfect, romantic way to end our time in Victoria, and I'm so grateful for all we were able to experience there.
Alberta and British Columbia are both fantastic provinces that we really enjoyed getting to roadtrip through! Canada is beautiful and so full of incredible memories. We hope to visit again soon and experience even more!