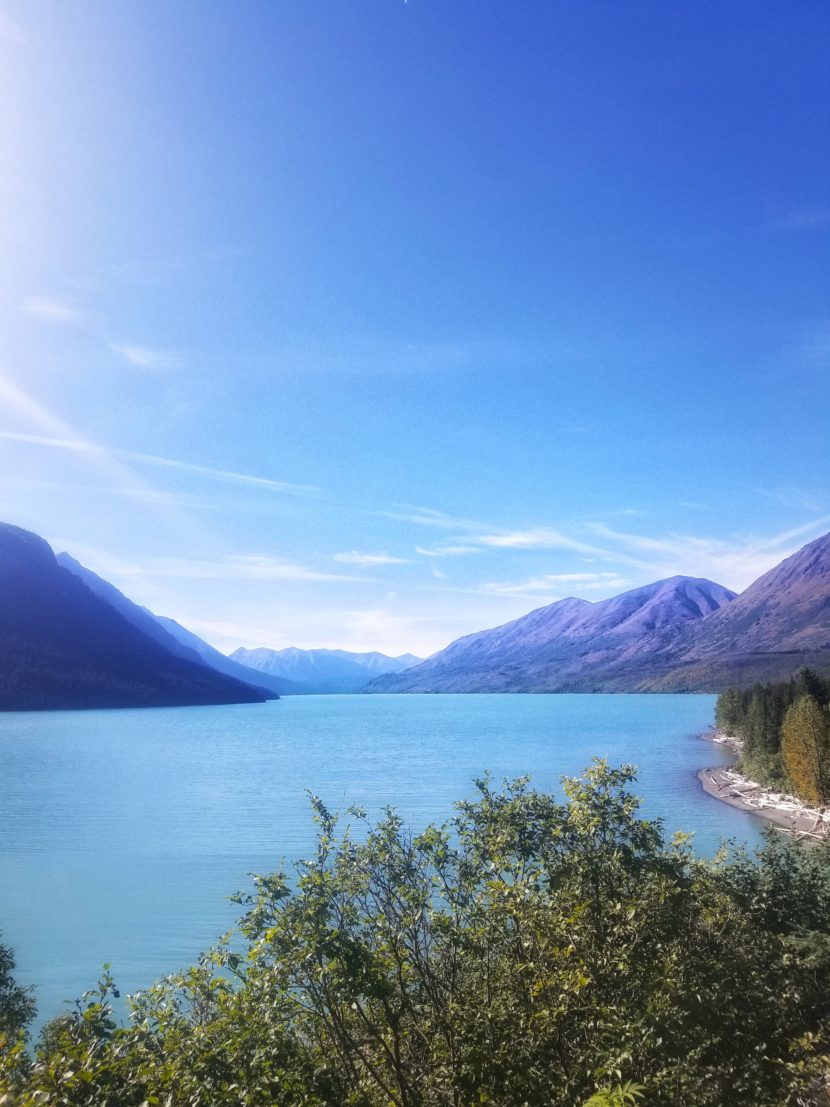 If you ask Em what was one of the states she was least looking forward to on our trip around the US, she may have mentioned Alaska. (She is definitely a lover of warm weather =) But after one week in the largest state in the country, Em now says Alaska is one of her favorite states!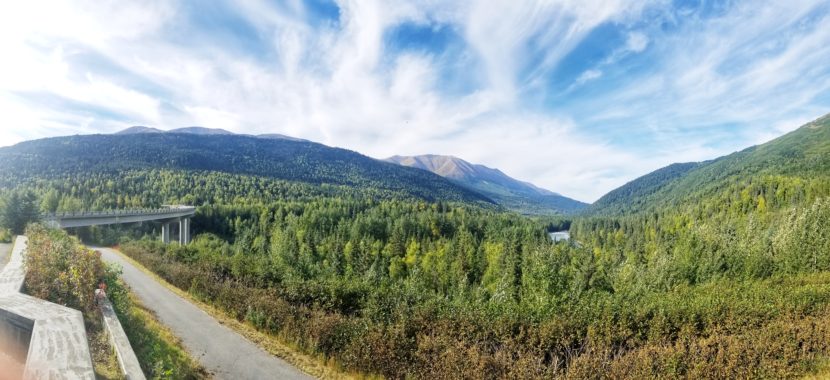 There is just so much beauty and diversity that it offers something for everyone. Much to our surprise, even though we were there in early September we enjoyed 60-70 degree weather most days. We saw incredible wildlife, breathtaking scenery, and had countless amazing experiences! Here are some of the highlights of our time spent in Alaska!
Our trip started by flying into Anchorage, driving to Denali, Fairbanks, Homer, Seward, back to Anchorage, and then flying to Juneau. It doesn't look that far on a map, but by the end of the week we had driven over 1,700 miles and still didn't even scratch the surface of America's biggest state.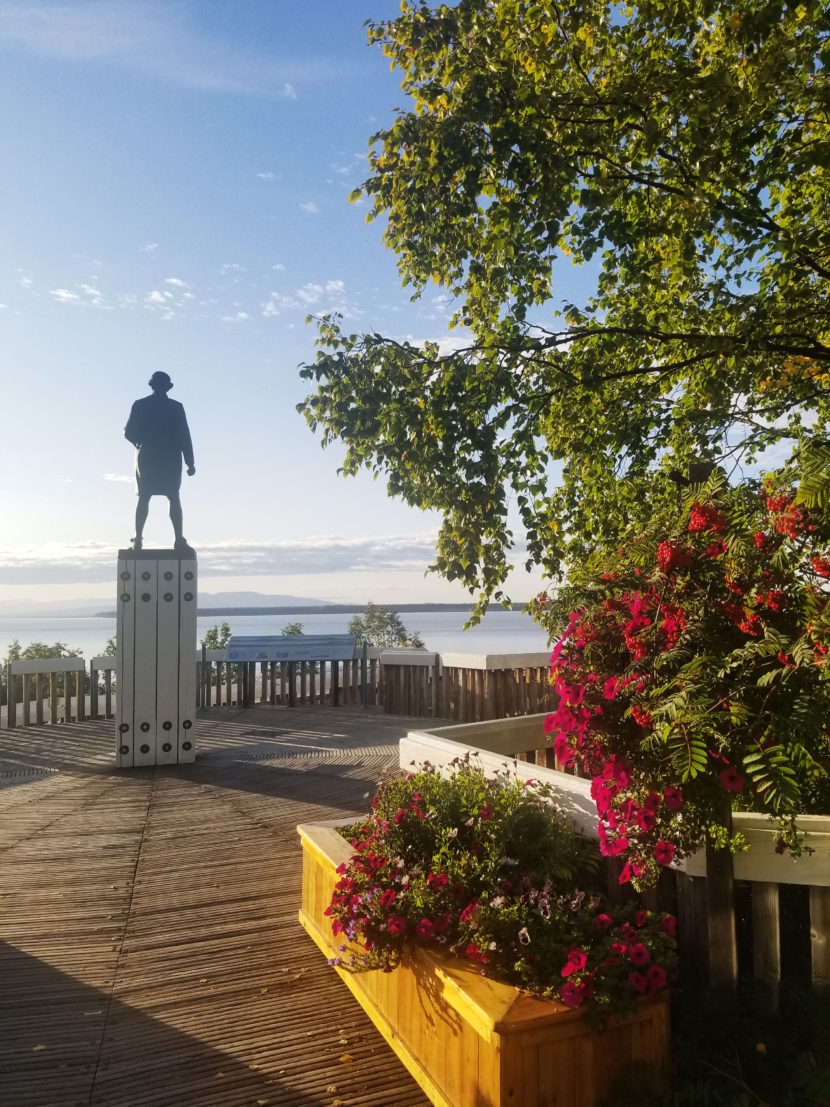 Anchorage
We flew into Anchorage and didn't spend much time there, but on the road out of Anchorage to Denali we kept seeing moose warning signs along the road.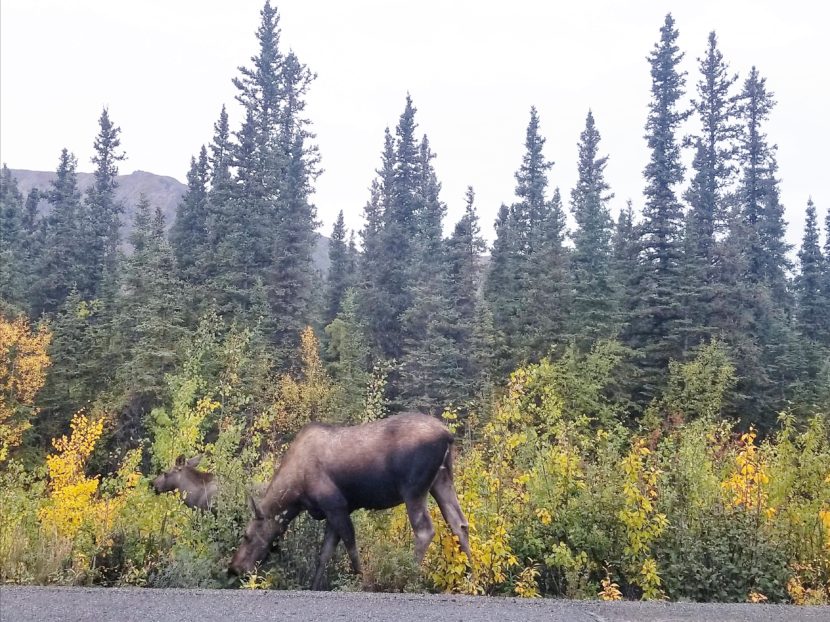 We soon understood why when we spotted a moose right alongside the road (and this was the first of like 5)!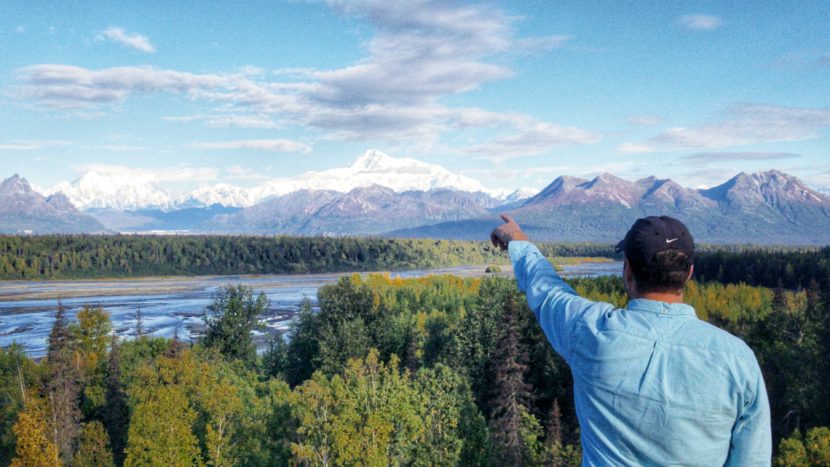 Denali
Denali Views
In the 49 states we have visited so far, Denali National Park is one of the most amazing sights we've seen. Not only is it the tallest mountain in North America, but the surrounding landscape around the mountain range makes it look like something out of a postcard.
There are two problems with visiting Denali. One is that because it is so tall, it can be pretty difficult to see the entire mountain. We were told at the visitor center that the peak of the mountain is only visible 30% of the time.
The second issue is that you can't drive very close to it. The closest you can drive on our own is about 100 miles from the base of the mountain, and even after a 12 hour round trip bus ride, Denali is still 26 miles away. We didn't end up doing the bus ride, but were still really happy with our view and amazed that we got to see the peak!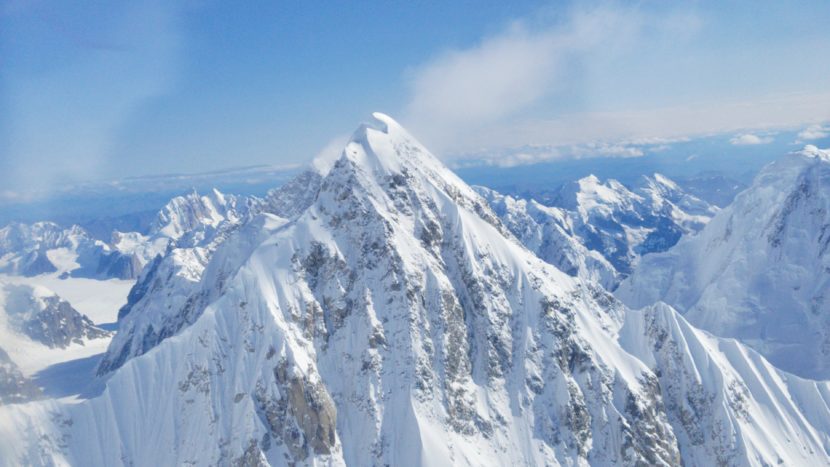 Denali Flightseeing Tour
Em and I decided that we wanted to see Denali as close as we could, so we booked a Denali flightseeing tour with K2 Aviation. Denali was amazing from the ground, and even more breathtaking from above.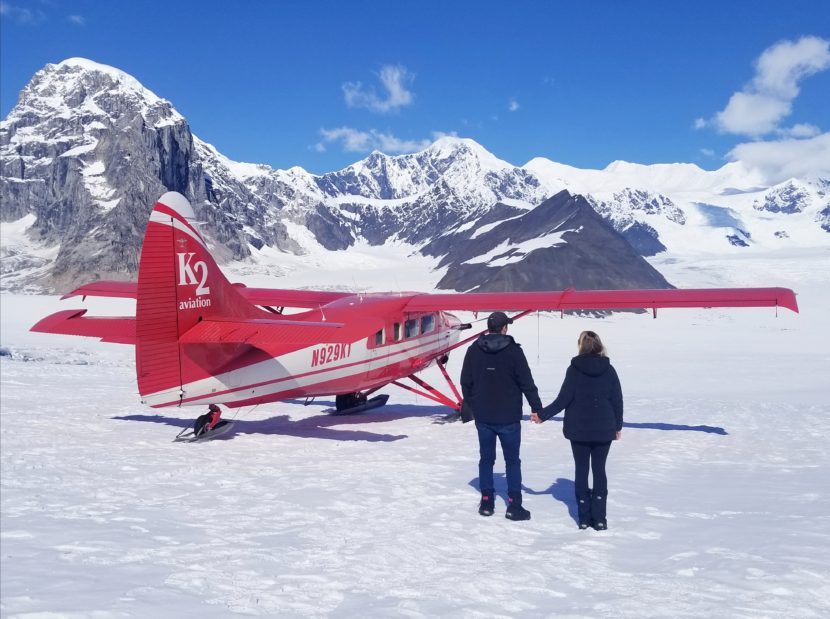 The pilot was awesome, pointing out various glaciers and mountain peaks as we weaved our way through the mountains.
We even got to land on a glacier that had a perfect view of Denali up close and personal!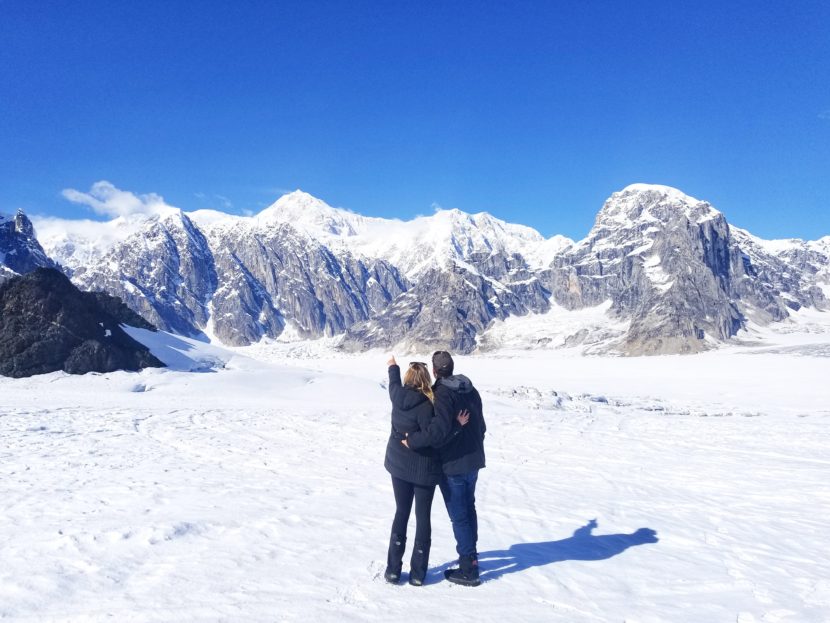 It was a surreal feeling standing on a glacier surrounded by such massive snow capped mountains.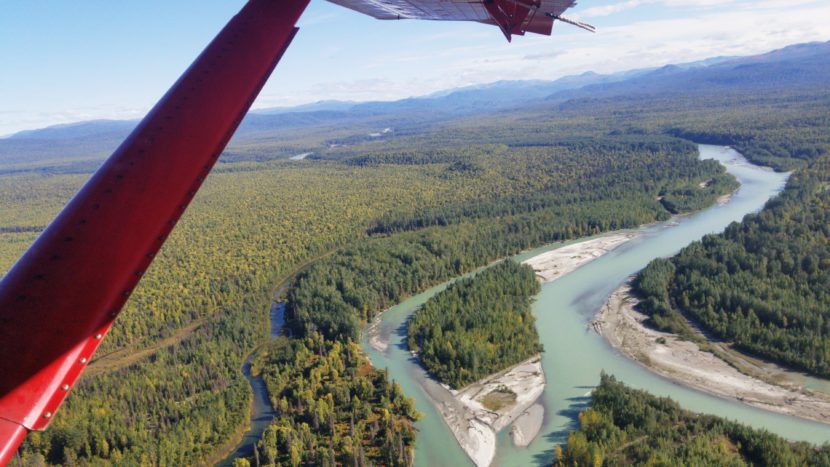 A Denali flightseeing tour is definitely the best way to get to see and experience the full beauty of Denali. Even the views on the way there were incredible!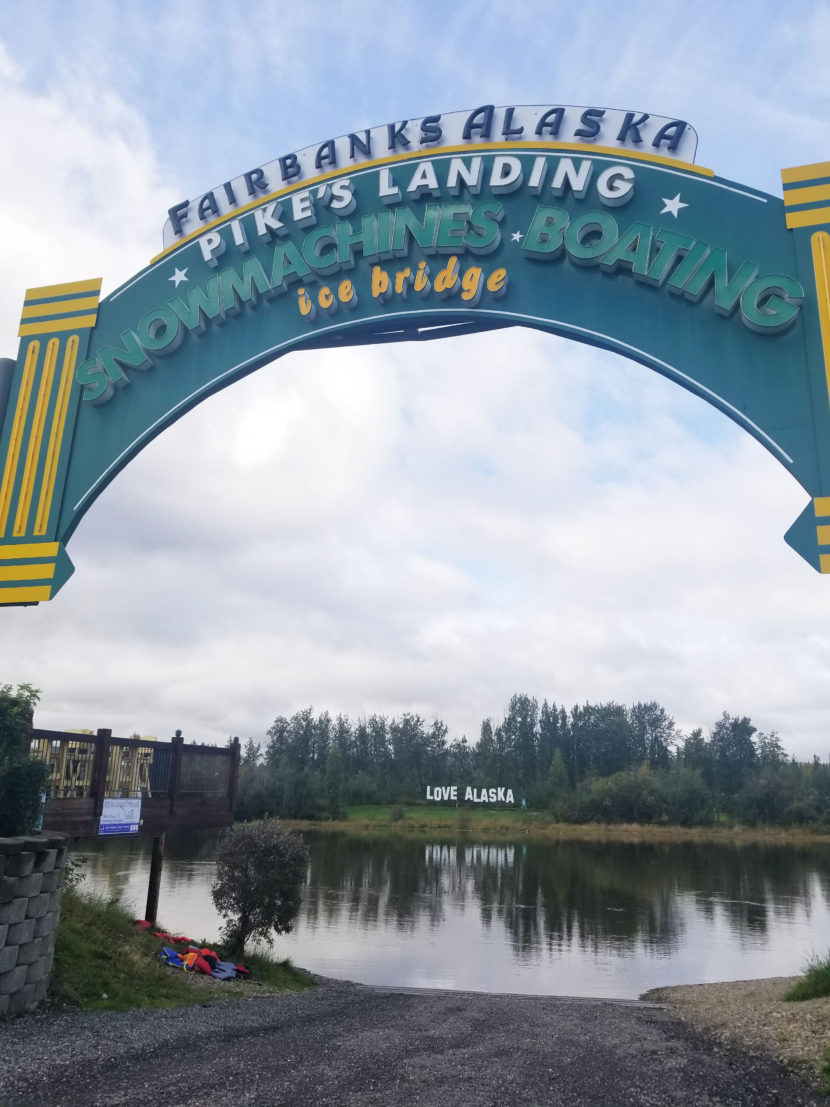 Fairbanks
Fairbanks Accommodations
We stayed for two nights in Fairbanks at Pike's Waterfront Lodge, a really charming local hotel. Our room's balcony overlooked the Chena River. After a full day of traveling Em, hit the steam room and I hit the bed (I think I slept for about 15 hours straight!)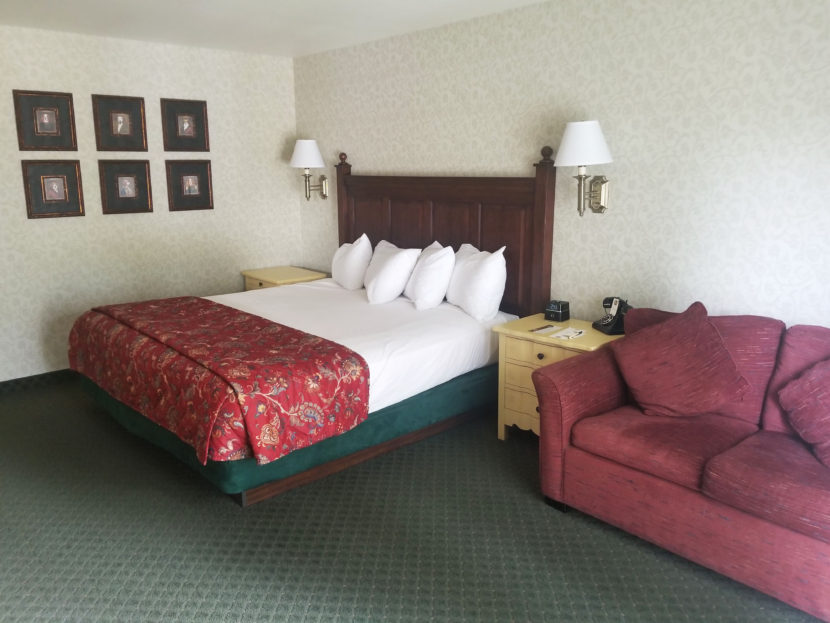 The next morning, we woke up fully rested and had an incredible breakfast at the hotel. One of the neatest things about Pike's Waterfront Lodge is that it has been the starting and finishing point for the Iditarod. There are pictures throughout the hotel capturing what it is like at the end of a 1000 mile dogsled race! (haha kinda puts to shame anything I've ever done!)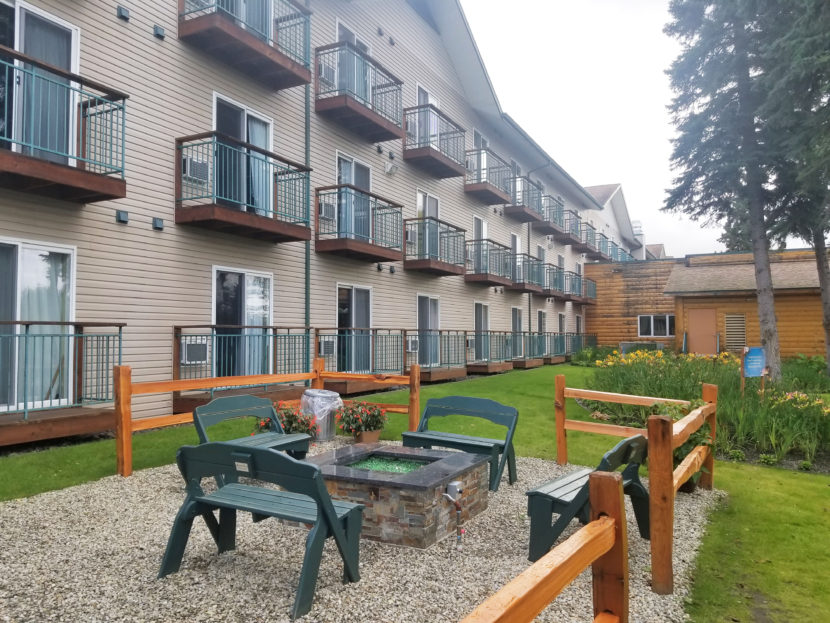 Pike's Waterfront Lodge has so many beautiful places to hang out and a lot of activities to do as well! It is a full retreat experience.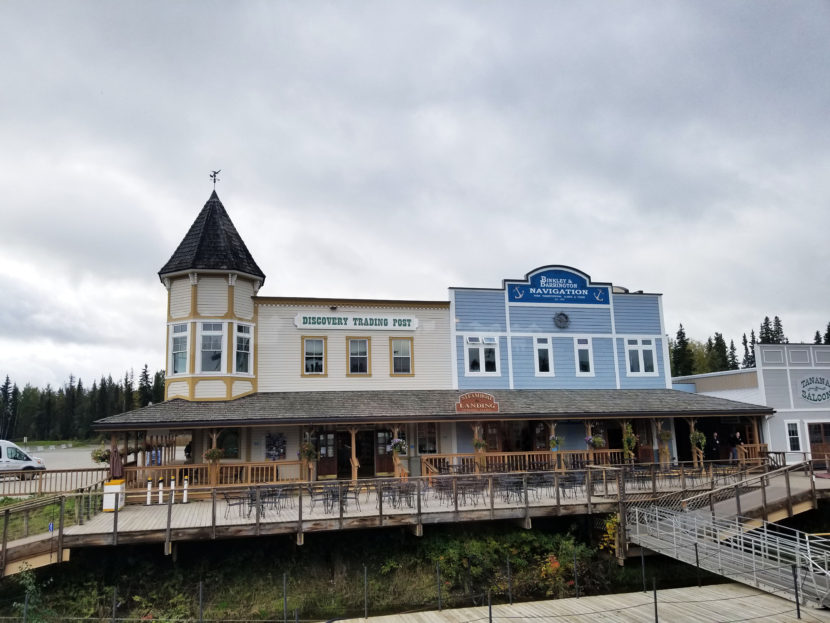 Fairbanks Boat Tour
Possibly the best way to experience Fairbanks, the largest city in interior Alaska, is to take a boat ride on Riverboat Discovery. We found this on the Explore Fairbanks website, and were so glad we experienced the 3.5 hour cruise down the river because we got to see a float plane, dog sled teams, and learn about the Chena Indians and Alaska's history.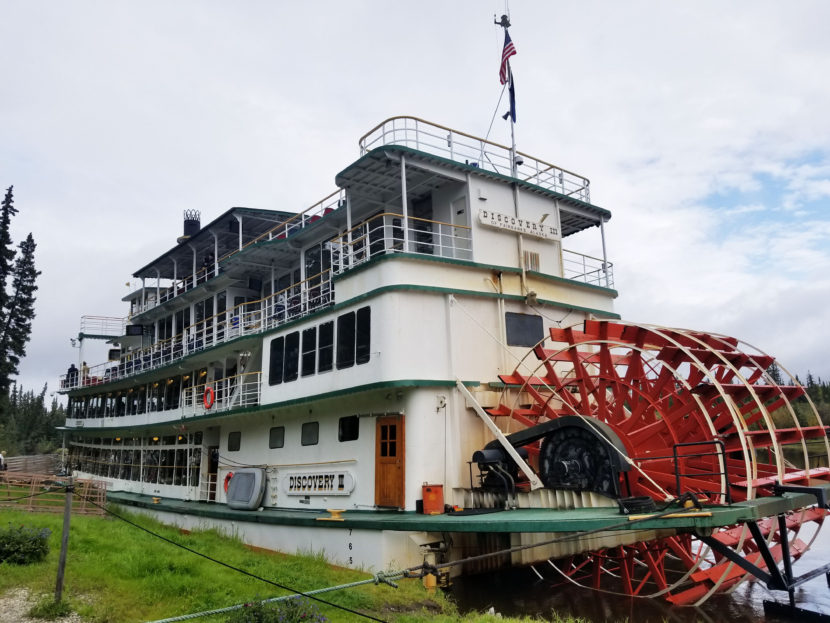 The dog sled home is the kennels of the late four-time Iditarod champion Susan Butcher. Her husband still trains the dogs and shares about his dog sledding experience as the boat floats on by. Another of my favorite parts of the boat ride was getting to walk through the Chena Indian Village. It is amazing to see how the Native Americans survived in the cold, harsh winters long before Western culture ever came to Alaska! The most chilling experience of the tour was the 40 degrees below zero chamber. This gave Em and I a brief taste of what the winters in Fairbanks can feel like! (We determined that summertime in Fairbanks is more for us =)
Northern Lights
Something that Em and I had on our bucket list from before we set out on this trip was to see the Northern Lights. So when we were planning our trip to Alaska, we knew that we had to make seeing the Northern Lights a top priority. Fairbanks is one of the best places in Alaska to view the Northern Lights since it is further north than other major Alaskan cities, so we booked an Aurora Viewing Lodge experience with 1st Alaska Outdoor School.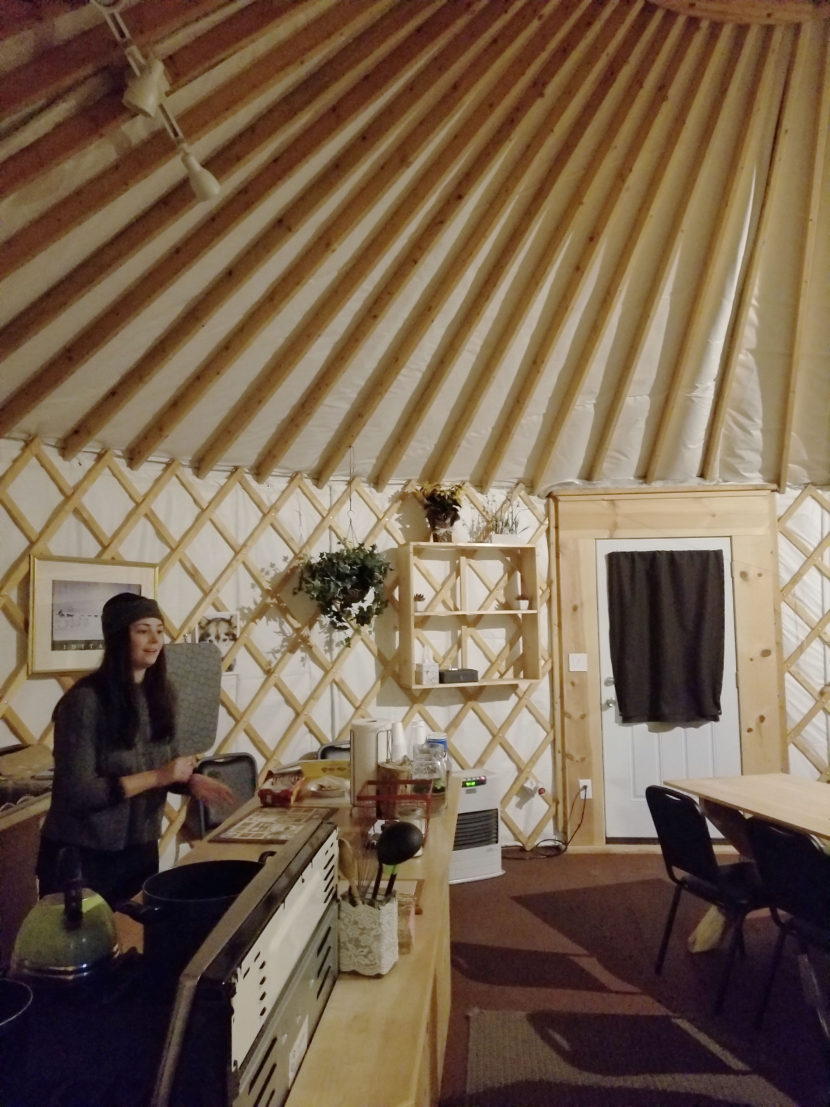 1st Alaska Outdoor School made the entire viewing experience so easy and enjoyable. They picked us up from our hotel and drove us to remote yurts. While we waited for the skies to clear, we made s'mores and chatted with other visitors from around the world. Unfortunately, that particular night was extremely cloudy and we didn't get to see any of the lights. But even without seeing them, we still had an incredible experience and will have to try again some other time!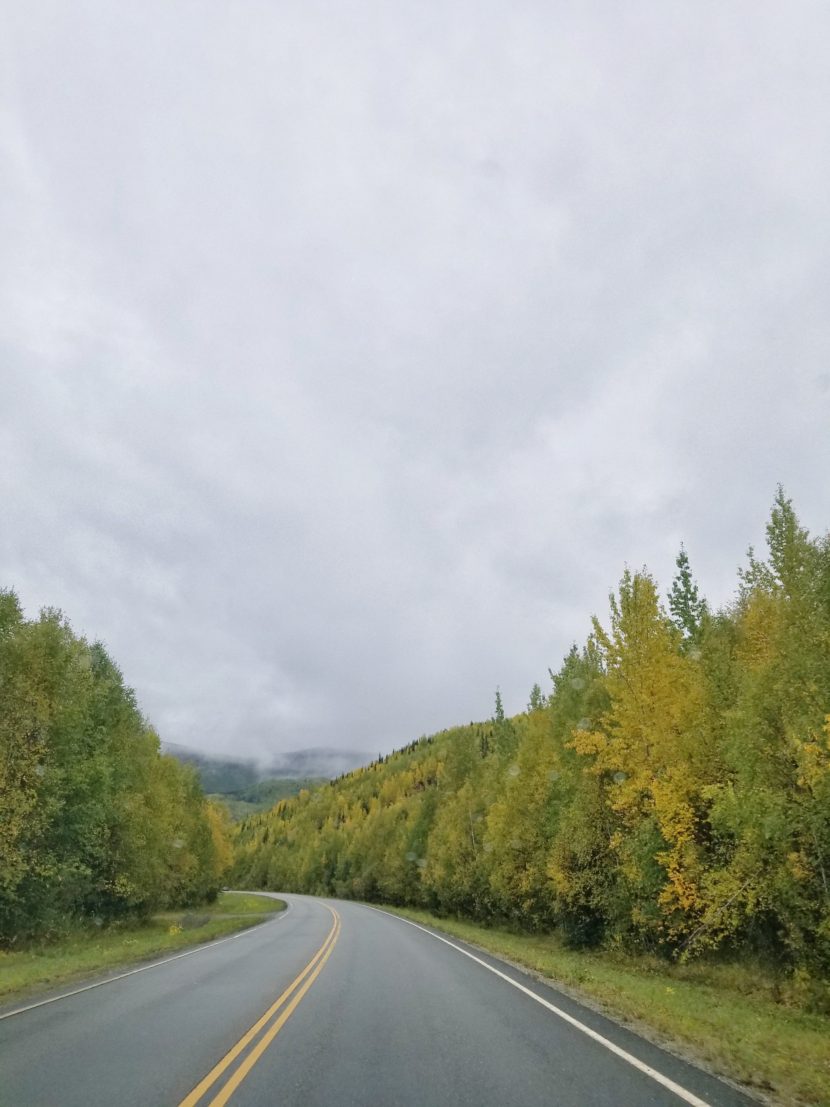 Salmon Bake
Another thing that I think of when I think about Alaska is the amazing fresh salmon. So when we heard that there was an all you can eat fish bake in Fairbanks, we knew we had to try it out! The Alaska Salmon Bake is a fun and unique experience.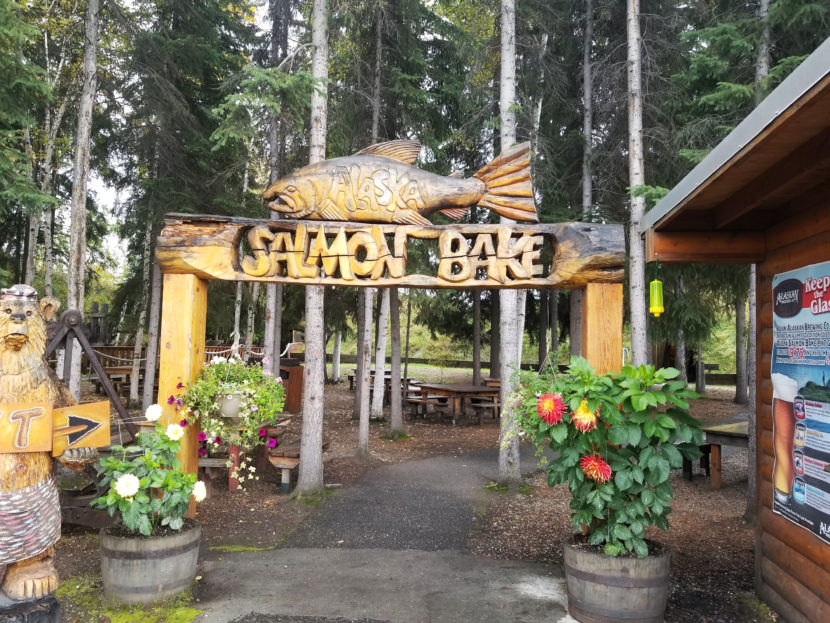 There is indoor and outdoor seating and of course plenty of delicious salmon! Everyone was really friendly and helpful and between the fish, sides, and desert we definitely left full! After dinner, there is also a really neat show Golden Heart Revue, which has been named "The Number One Show Throughout Alaska and Canada."
Dog Sledding
No trip to the Last Frontier State would be complete without a dog sledding experience. At Black Spruce Dog Sledding, we got to see first hand what it takes to prep and train a dog sledding team for the Iditarod. The husband-and-wife team Jeff and Katie, the owners of Black Spruce Dog Sledding, were so informative, helpful and hands-on with the entire experience. It was really incredible to get to hear from someone who has actually run the Iditarod (twice!) all the work involved to raise, train, and run a dog sledding team in a 1000 mile race. Jeff and Katie genuinely care for their dogs and the dogs were so excited to pull the sled!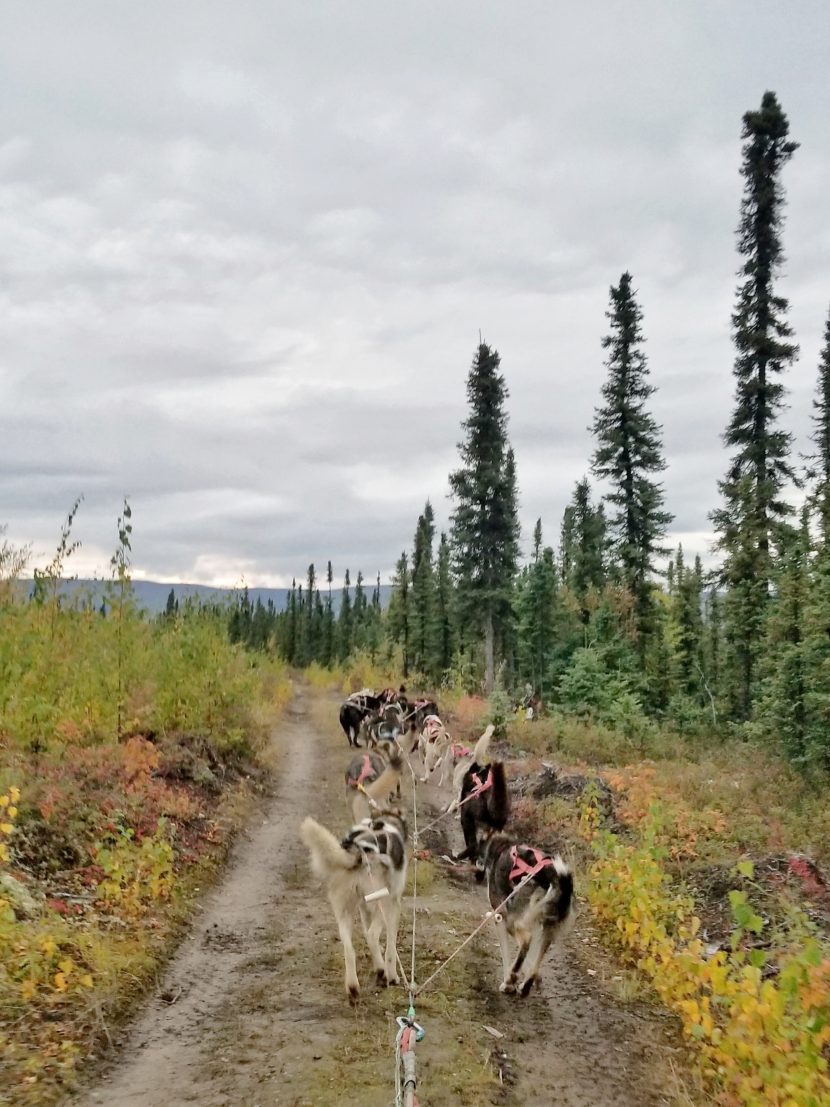 My favorite part of the entire experience was getting to interact with the various dogs and seeing their different personalities and how they all work together as one team. There wasn't any snow on the ground while we were there so instead of a sled, the dogs pulled us on a side-by-side. It was incredible to feel how effortlessly the dogs could pull 6 people along the mountainside! We highly recommend checking out Black Spruce Dog Sledding if you are ever in Alaska to experience a unique, authentic, and personal dog sledding team in action!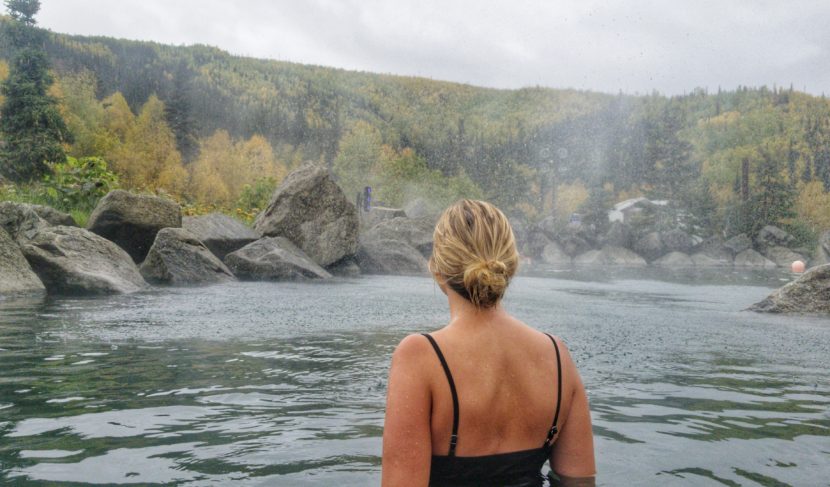 Hot Springs & Ice Museum
Only in Alaska can you be standing in an ice museum one minute and floating in a hot spring the next. At Chena Hot Springs Resort, just outside of Fairbanks, we first got to experience the incredible hot springs. The views were amazing with the steam coming off the water and the mountains in the background.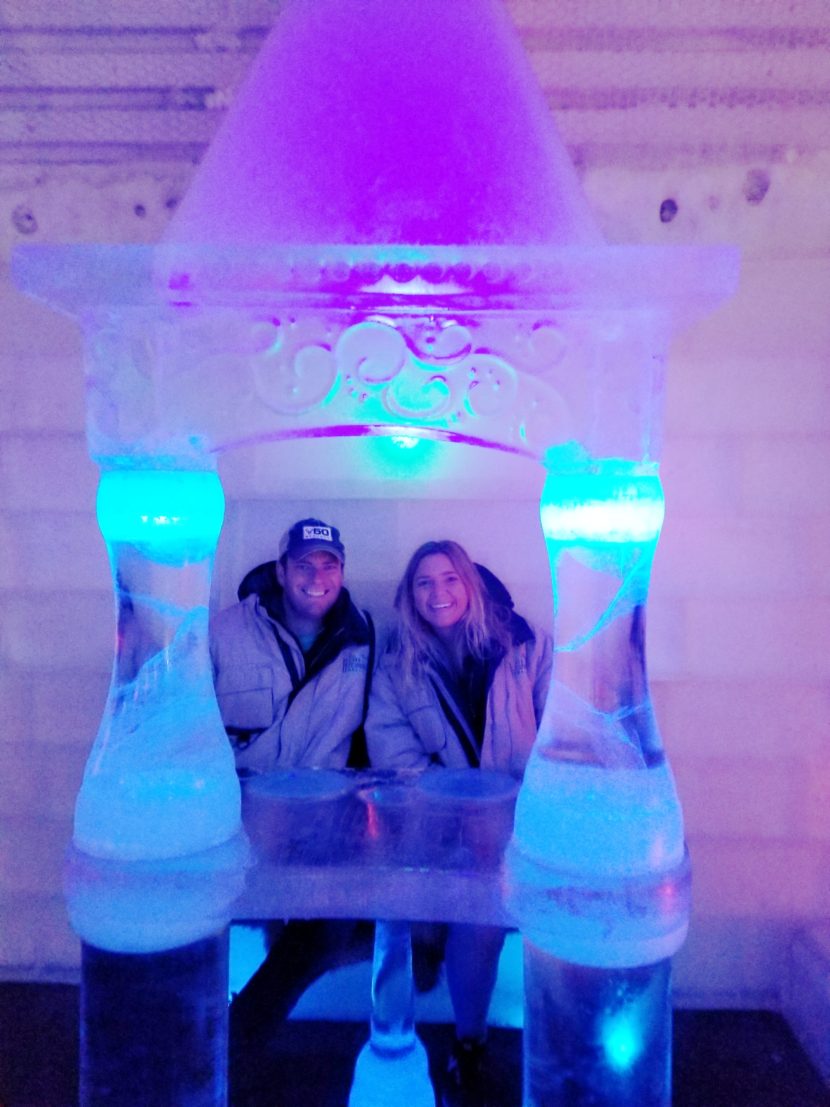 And then after relaxing in the soothing hot springs, we dried off and headed into the Aurora Ice Museum. I had no clue that it was even possible to make some of the things that they had on display! In the first room, we got to watch 16 time world champion Steve Brice and his wife Heather (a 7 time world champion herself!) form incredible pieces of art out of nothing more than a block of ice.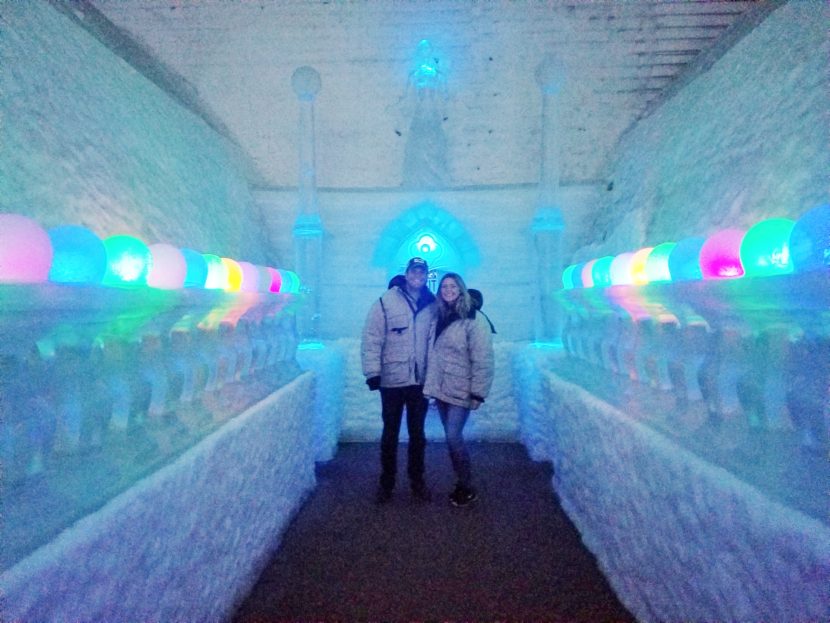 The Aurora Ice Museum even had some hotel rooms for people willing to brave the cold for the once-in-a-lifetime experience! (I think I might have to "warm up" to that one ;)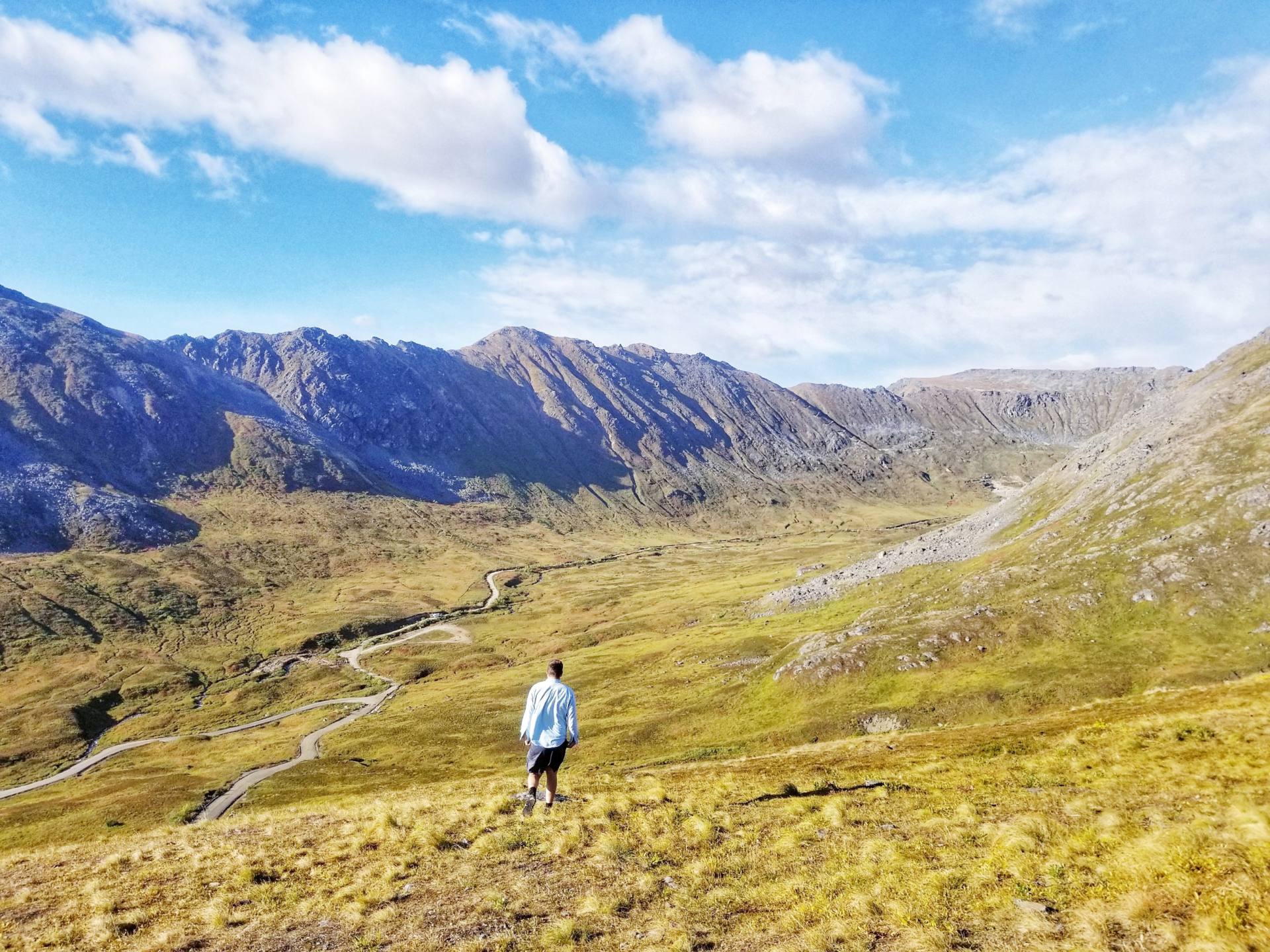 Hatchers Pass
It seemed that everywhere we drove in Alaska, there was a beautiful view. One of our favorite drives was through Hatchers Pass. The majority of the drive is on a gravel road that winds its way through a narrow mountain pass. It really felt like we were in a different country! The first part of the pass wasn't anything too unique and we almost turned around before we made it to the best views of the drive! Thankfully we pressed through and got to see a little more of beautiful Alaska!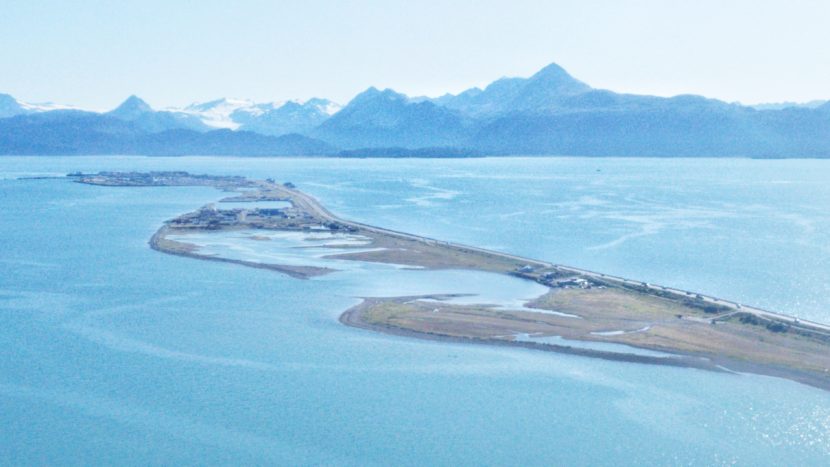 Homer
Homer Accommodations
Alaska is full of breathtaking views, but one of the neatest views we saw on our trip was of the fishing town of Homer. We stayed at Baycrest Lodge, which is the most beautiful modern lodge with 3 bedrooms and 3 bathrooms. But the most incredible part of the whole house is its view overlooking the Kenai Mountains and Kachemak Bay in Homer.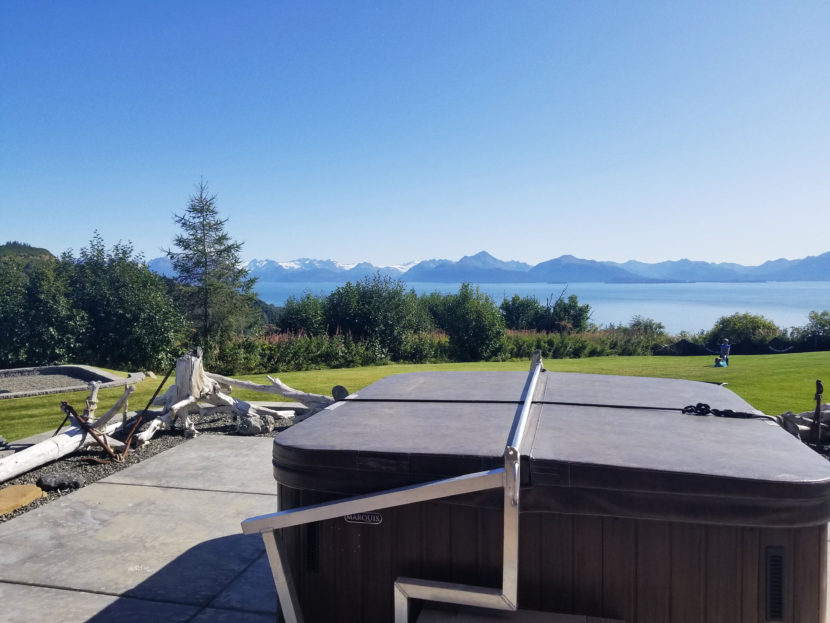 There is a hot tub in the backyard with unbelievable views of the water and snow capped mountains during the day, and beautiful stars at night! It is possibly one of the best views in the entire town!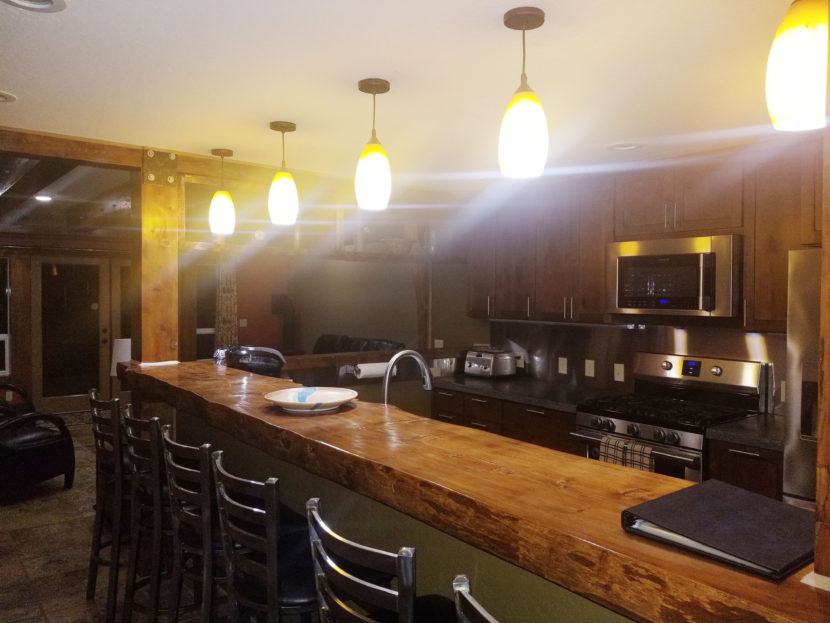 The owners were extremely friendly and had thought of every detail in the home to make the stay as enjoyable as possible! (Right down to USB charging ports beside the bed ;) We kept saying how it would make the perfect getaway destination for family and friends. (Maybe next trip to Alaska!)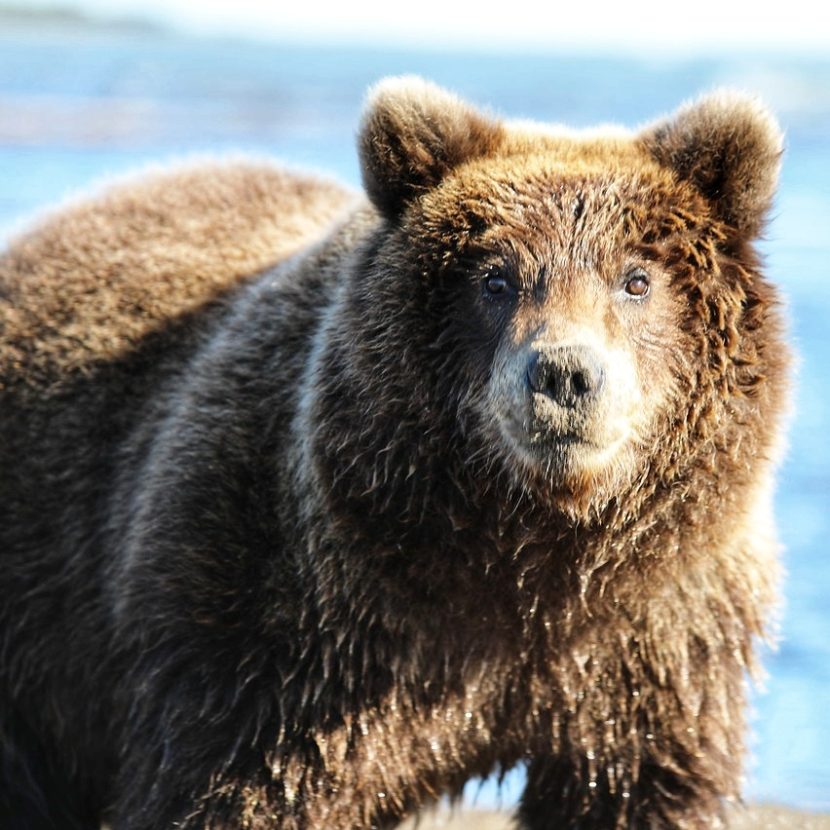 Bear Viewing
During our trip through the USA, Em and I have gotten to see a lot of incredible wildlife. From moose, elk, bison, big horned sheep, and even porcupine! But the one animal we hadn't seen in the wild was a bear! So when we heard about Scenic Bear Viewing and saw the pictures of the bear experience, we knew that we had to go!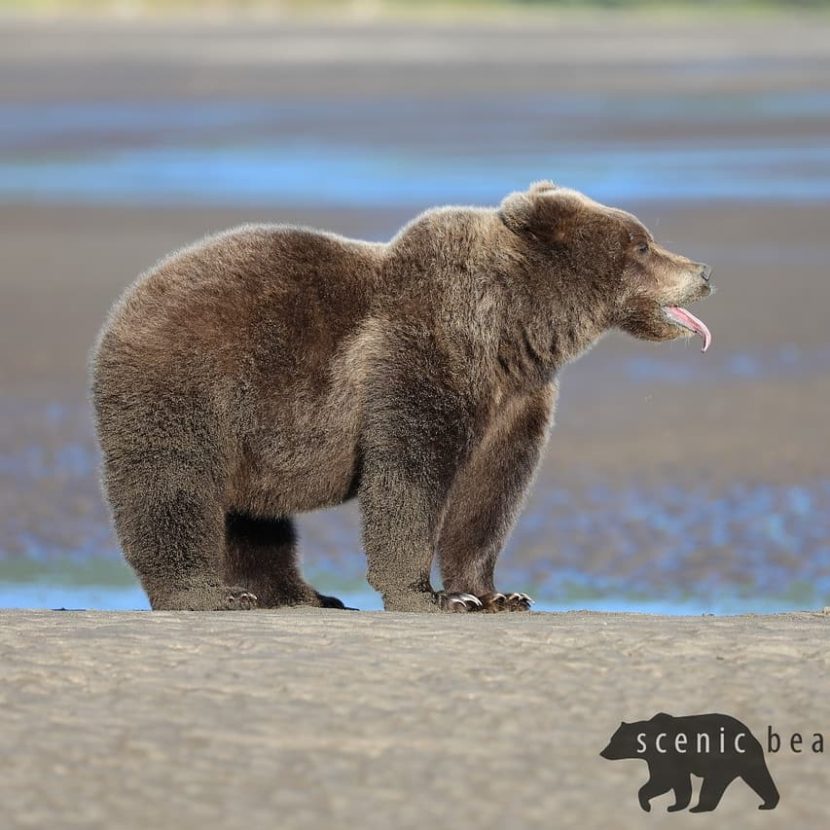 What is really unique and special about this experience is that you get to fly to beautiful, remote locations and see bears in their natural habitat. With over 37 years of flight experience, our pilot and guide Martin was extremely knowledgeable and knew the best locations for us to be able to spot wild bears!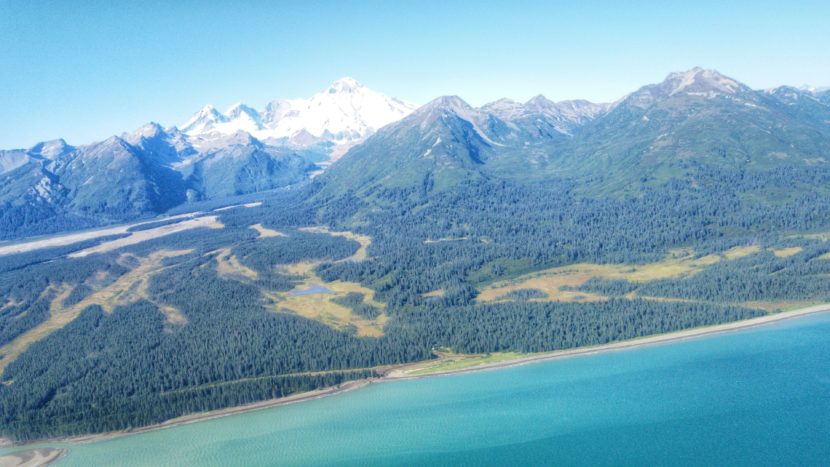 The views from the plane and Lake Clark National Park beaches were alone worth it, but on top of those views we also got to see three bears up close! And when I say up close, I mean really close!! At one point, two bears walked within 10 feet of us. I definitely wouldn't ever get that close to a wild bear on my own, but Martin was well prepared and knew exactly what to do in every situation. We let the bears have their space, and let them pass us as they were fishing for salmon along the shore!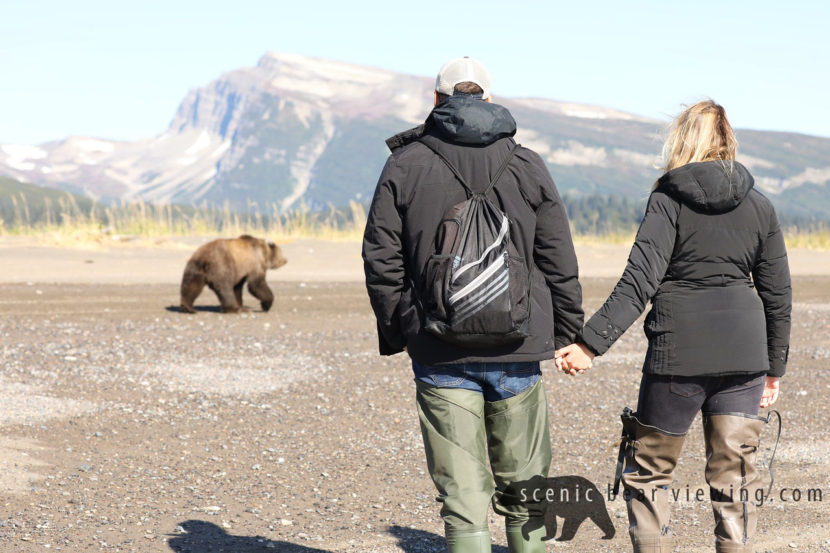 Another amazing thing about Scenic Bear Viewing tours is that Martin takes a professional camera and captures some unbelievable shots! It was a lot of fun being able to just take in the entire experience and not have to worry about trying to get the perfect shot ourselves.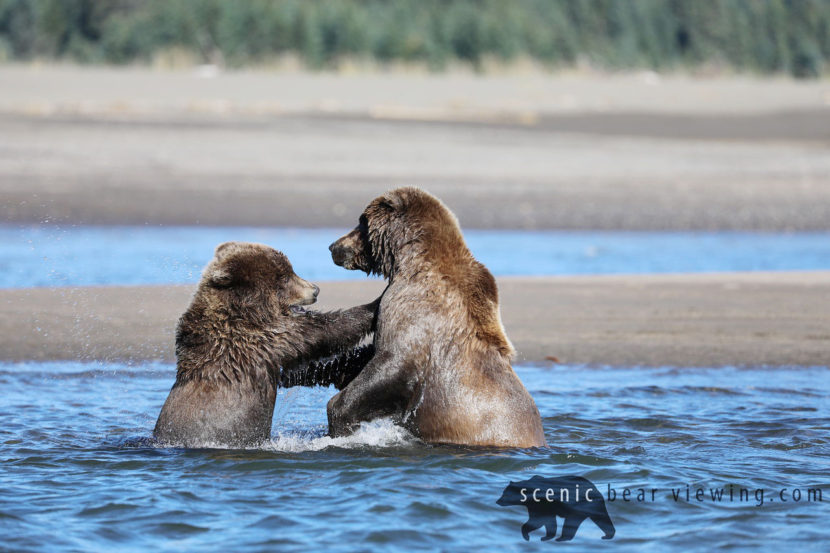 All of these bear pictures were taken by Martin – and they are included for free! The Scenic Bear Viewing tour was one of our favorite animal encounters we have ever had!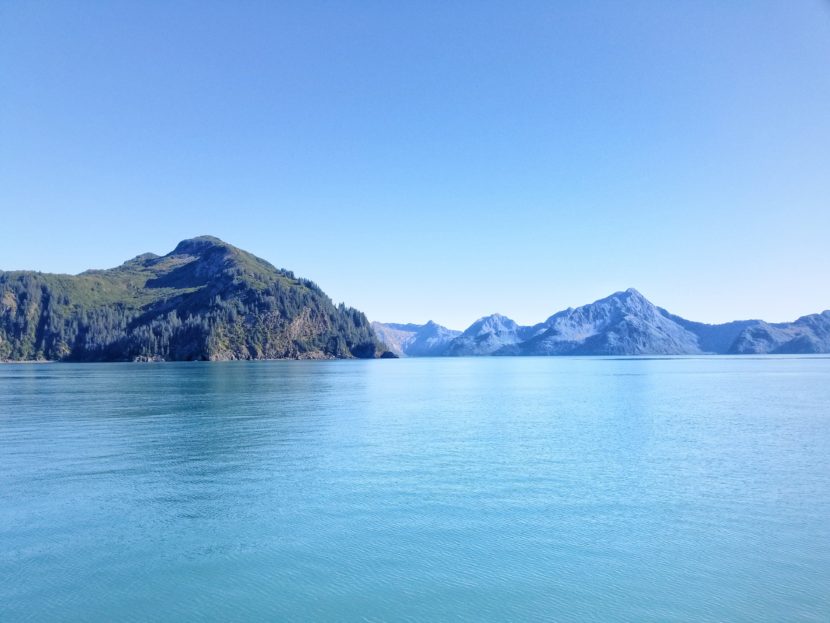 Seward
Kenai Fjords National Park
One of the best ways to experience the Alaskan coastline is by boat. We headed to the small town of Seward, where we did a Kenai Fjords National Park Tour. The views of the fjords were amazing!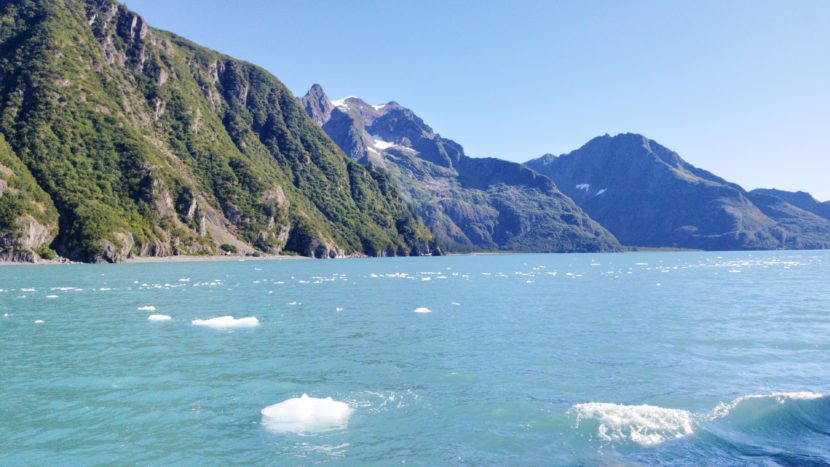 Along the way we also got to see a lot of wildlife including a bald eagle, several otters, seals, and sea lions, puffins, dolphins, and 8-9 orcas!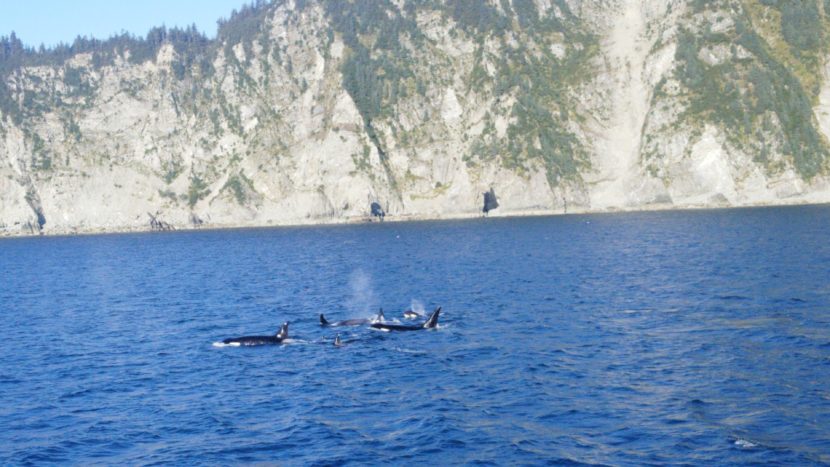 The highlight for me was getting to see the Hubbard Glacier. It is really unique to see a several hundred foot tall wall of ice rising up out of the water!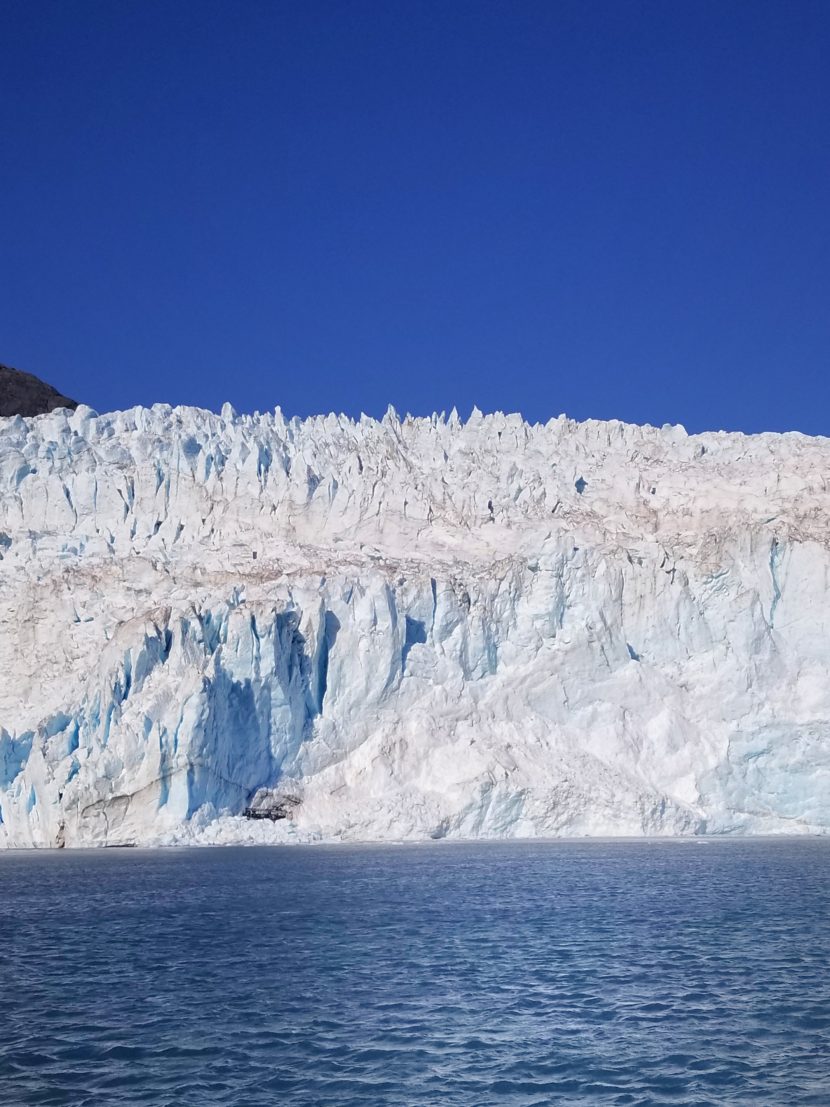 While we were there, we got to see some "calving" as well (where pieces of the glacier break off into the water.) It was definitely an experience that you can't get in any other state.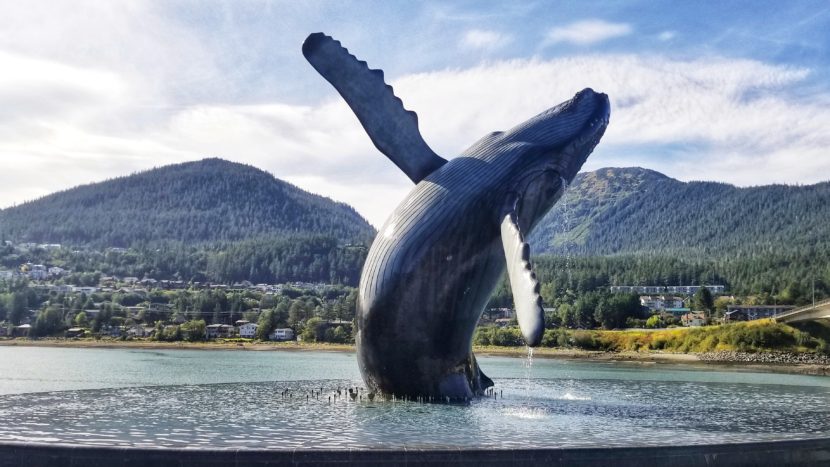 Juneau
Juneau Accommodations
The capital of Alaska is Juneau, with a population of 32,000. The city rests on a harbour in between beautiful mountains. One of the neatest thing about the city is that there are no roads that connect it to the rest of Alaska. So we were able to rent a car and drive from one end of the road to the other!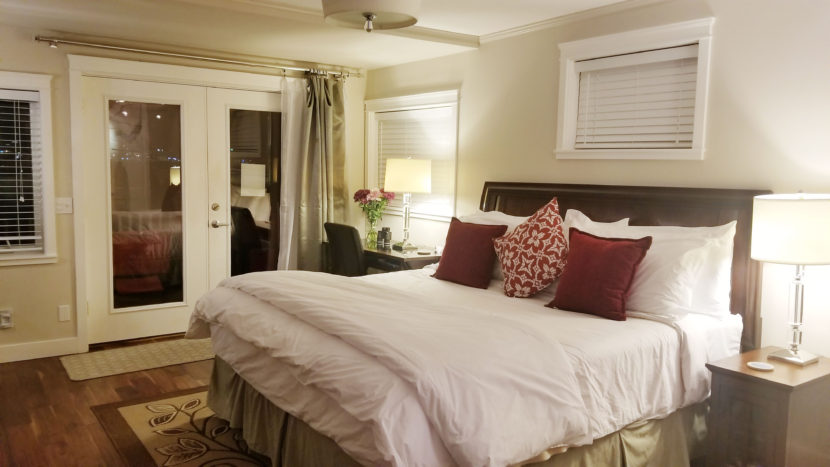 We stayed at Beachside Villa: Luxury Bed & Breakfast on Douglas Island, which has one of the best views in the city, overlooking the water and downtown. Our villa was in an incredible location, close to everything but with the very best view of it all as well!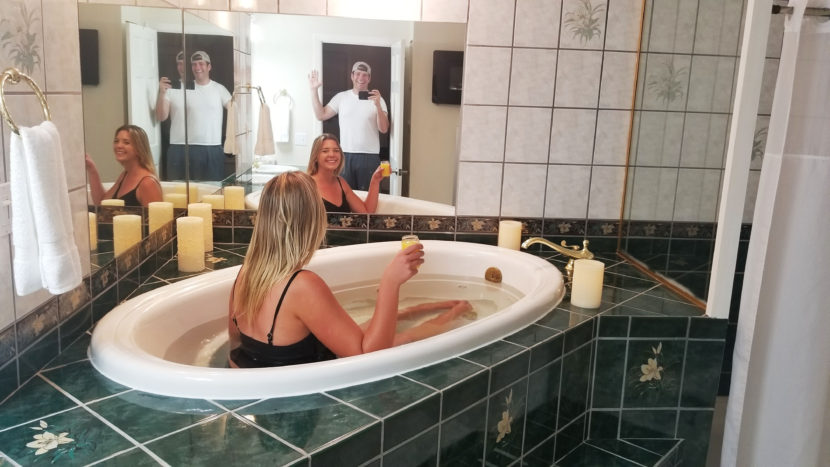 It was the perfect getaway! Susan, the host, is so friendly and accommodating. She thought of every detail and really made it feel like we were staying in a luxury 5 star resort!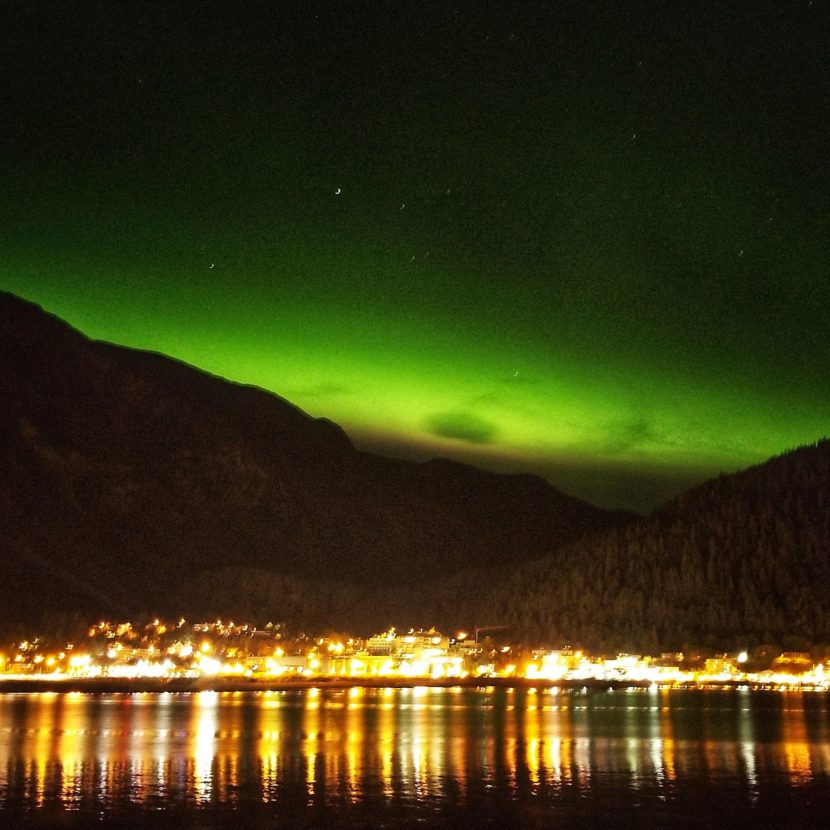 The most amazing experience was waking up in the middle of the night and seeing the Northern Lights lighting up the Juneau sky! We had SO hoped to see the Northern Lights and were very blessed to see them on our last night – and we could just sit on our porch and watch the lights dance across the sky! It was the most beautiful hotel view that we have ever had for sure! We highly recommend Beachside Villa – it is so romantic and an amazing getaway.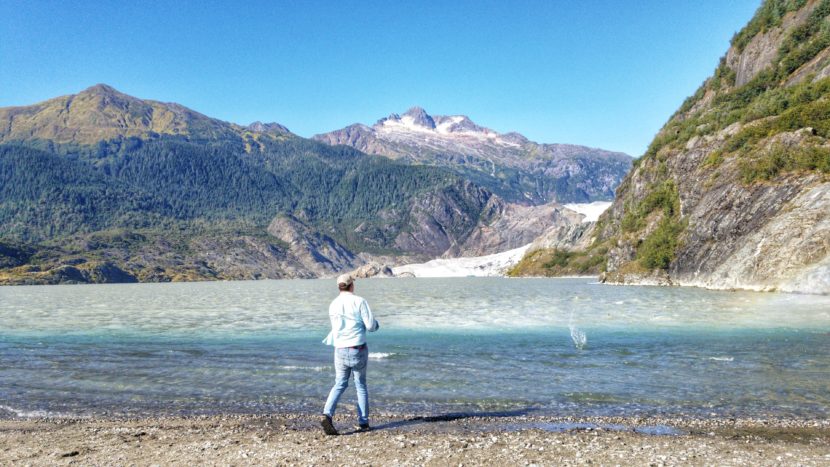 Mendenhall Glacier
A must-do experience in Juneau is to see the Mendenhall Glacier. What a better way to see the glacier than to take a helicopter ride and land on top of it! We booked a flight with Alaska Shore Experts on the Mendenhall Glacier Guided Tour and got to experience the glacier up close and personal.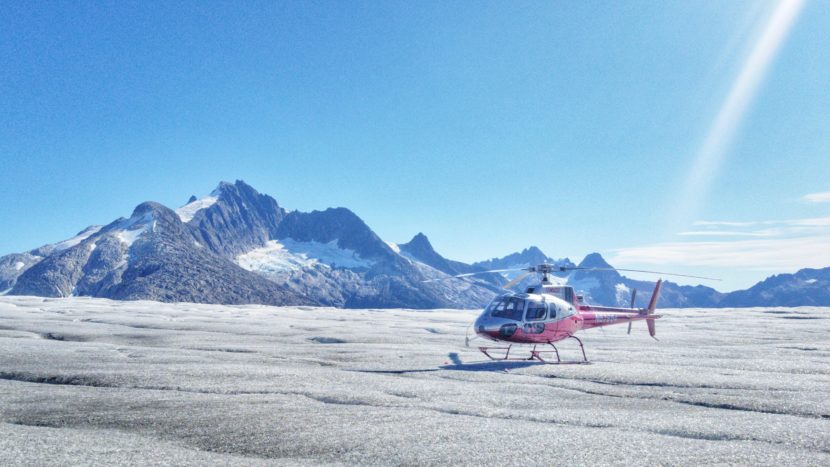 It is incredible to fly over and see hundreds of chasms in the ice and then land on the glacier and realize that each of those "little" chasms are up to a hundred feet deep!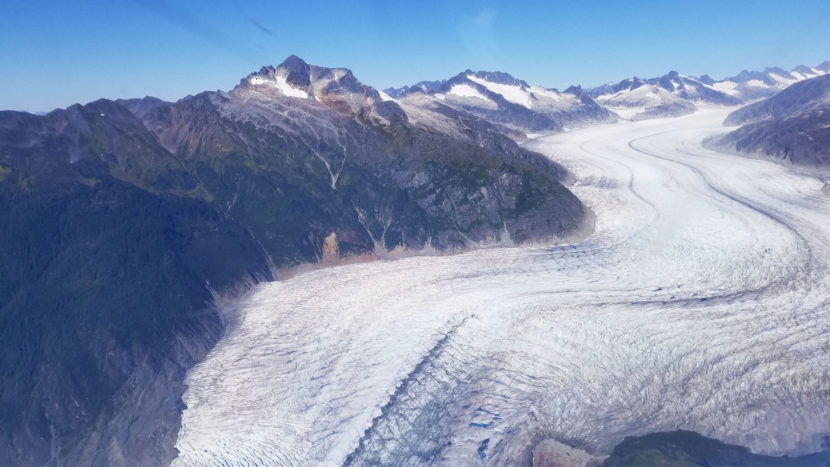 Standing on top of more than 220 feet of ice made me feel like I was walking on another planet!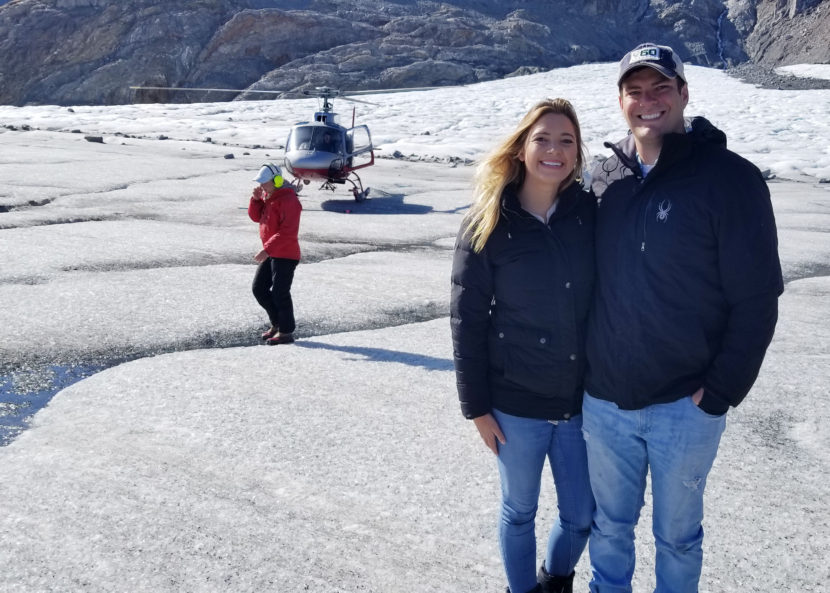 While on the glacier, we had a tour guide teach us about glaciers and how they were formed and change every day. It is a really amazing experience to be standing on a glacier and be able to bend down and drink ice cold glacier water! (That opportunity doesn't happen too often in Pennsylvania ;) Alaska Shore Experts provides amazing once-in-a-lifetime experiences in Juneau, Skagway, Ketchikan, and more.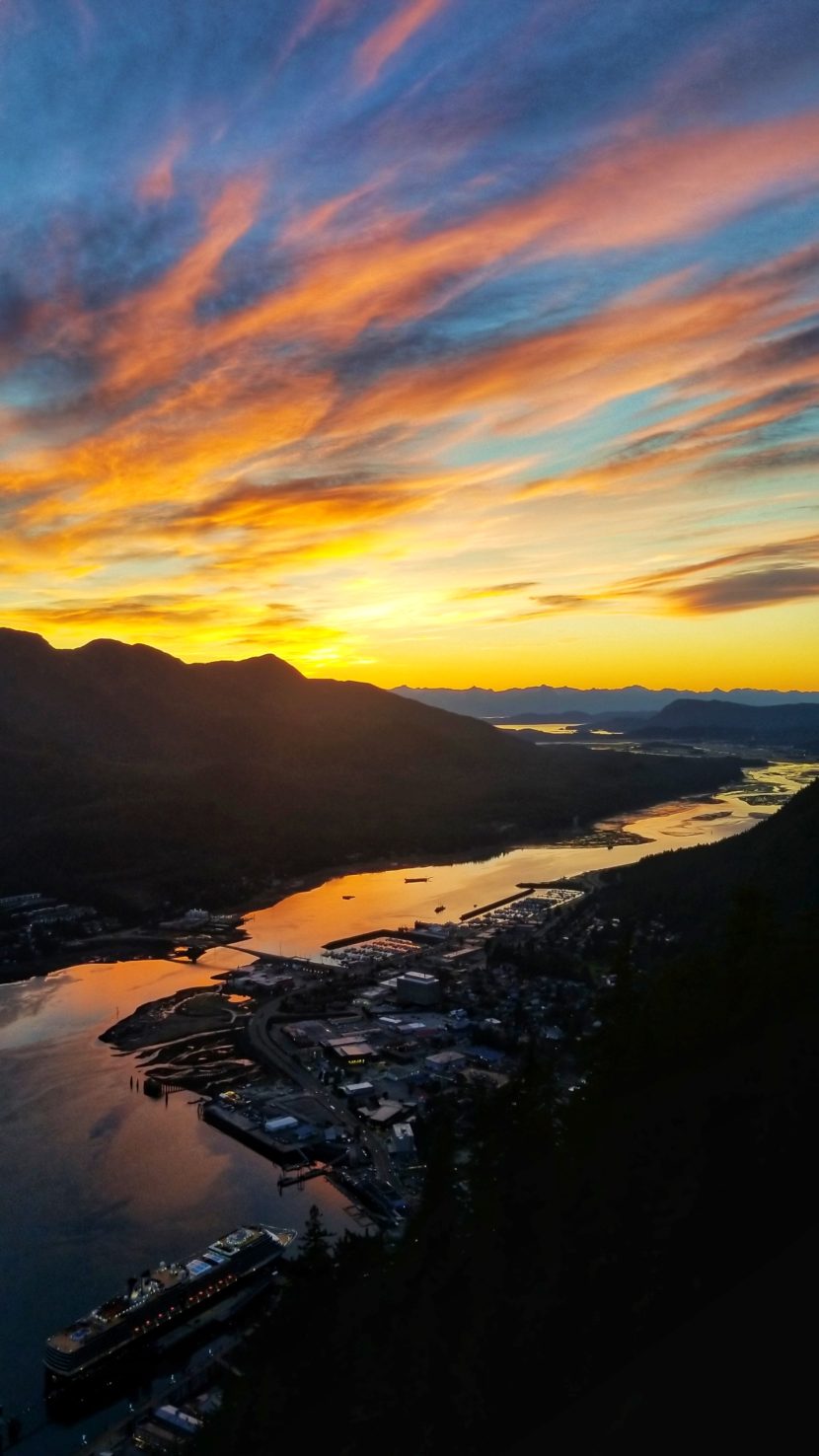 Mount Roberts Tramway
One of the best ways to see the downtown of the capital city of Alaska is to take a gondola ride up the Mount Roberts Tramway. We rode 1,800 feet up to the top of the mountain right around sunset and had an amazing birds eye view of the entire harbor. It was neat to see all the cruise ships from up above. For those who are a little more adventurous, you can also choose to hike to the top of the mountain and catch a ride back down the gondola. Em and I opted for the far less strenuous option and road the gondola!
Juneau Restaurants
We read amazing reviews about Alaskan Crepe Escape, so we stopped by for a delicious crepe and smoothie. They are located right in the center of Juneau's harbor and have numerous tasty options of sweet and savory crepes.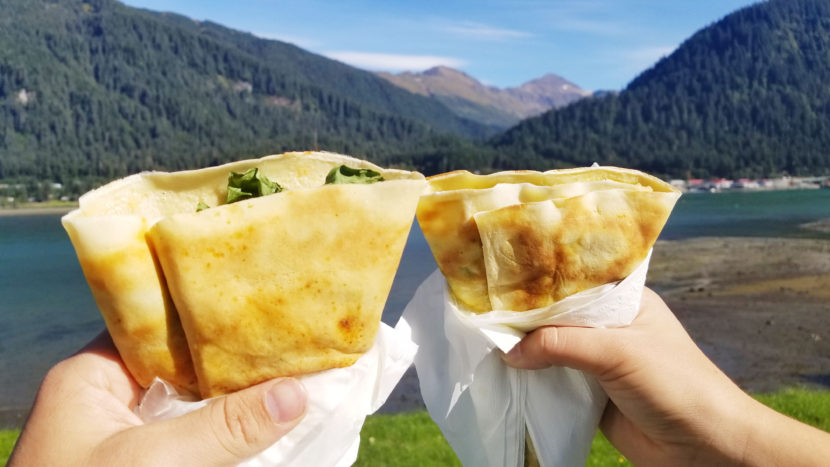 The restaurant is a family run business by a local Juneau resident. With just one bit, you can tell that Alaskan Crepe Escape takes pride in every crepe that they make! Em and I ate our crepes overlooking the picturesque Juneau harbor (makes me hungry just thinking about it now =)
For our last dinner in Alaska, we ate fresh Alaskan king crab legs at Alaska Fish & Chips Company in downtown Juneau.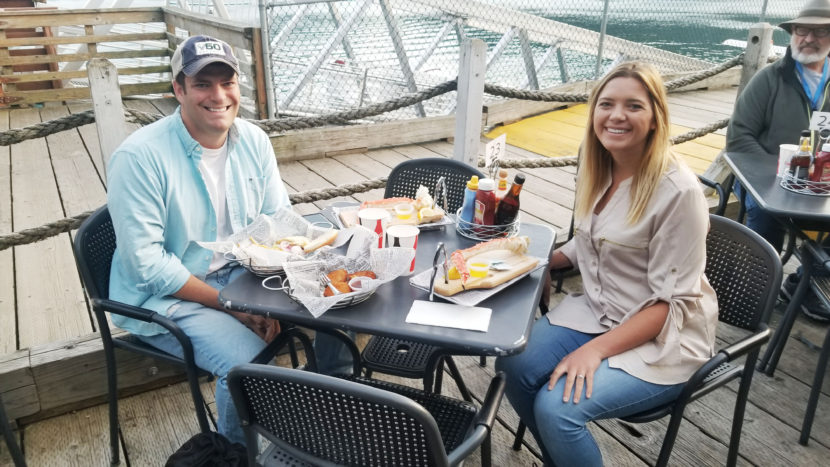 We sat outside on the restaurant's porch and watched the float planes take off from the river as we cracked open the massive crab legs! Compared to the little blue crabs that Em and I are used to eating in Maryland, these crab legs had more meat in one bite than an entire blue crab!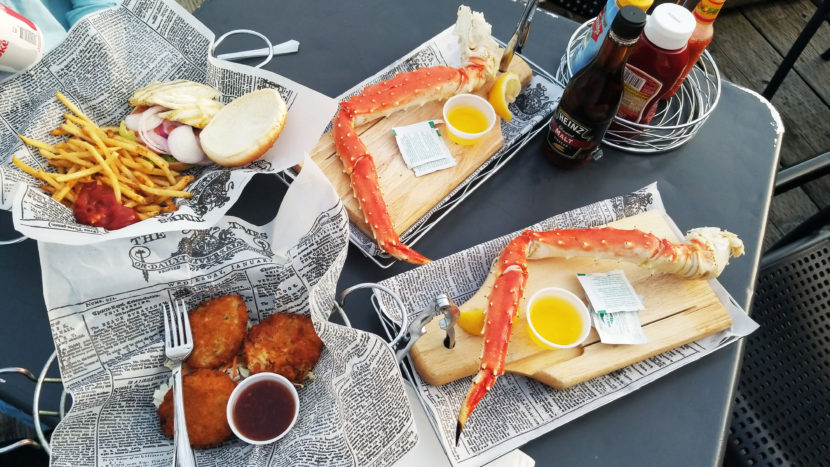 It was the perfect way to end our incredible trip to the Last Frontier State.
We LOVED our time in Alaska – it's now one of our very favorite states! We are so grateful for our experiences there and all the memories of this trip.