As many of you know, Hudson and I got LASIK surgery three weeks ago – and every day for the past three weeks I have asked myself – why did I not get it sooner?!
It has been the most amazing feeling to get ready for bed without having to wonder where I put my glasses, and then to wake up and see better than I've ever seen before without having to put contacts in!
So today I wanted to share a little bit about the process leading up to LASIK, as well as our day-of experience.
I've had to wear glasses/contacts since middle school (and for Hudson it's been even longer). I remember playing on the basketball team and not being able to see the hoop all that well, which is kind of a problem ;) So I went to the eye doctor and have been wearing contacts ever since. Hudson had many issues with his contacts – they'd often irritate his eyes and sometimes even fall out. So we had talked a lot about LASIK, especially about how convenient it'd be with how much we love to travel and do adventurous things. It especially hit me on our Florida trip – I was riding a jet ski and thinking more about my contacts falling out than how much fun I was having!
Our friend had just gotten LASIK and told us all about how amazing, quick, pain-free, and cost-effective the whole experience was, so Hudson and I started talking more seriously about it. I was a little worried at first because I knew someone who had a painful experience (this was 10 years ago and the technology has gotten much better since then), but even that person said they were still so happy they had it done, so I figured it had to be worth it! And it sure has been!!
We went to Eye Doctors of Washington, whose ophthalmologists are among the most experienced in the country and use the very best technology available. I feel like often you hear of one of those – very experienced but outdated, or very high-tech but new to the game – but they have both. They're even the eye doctors for the Washington Wizards and Capitals, so we knew they'd take great care of us!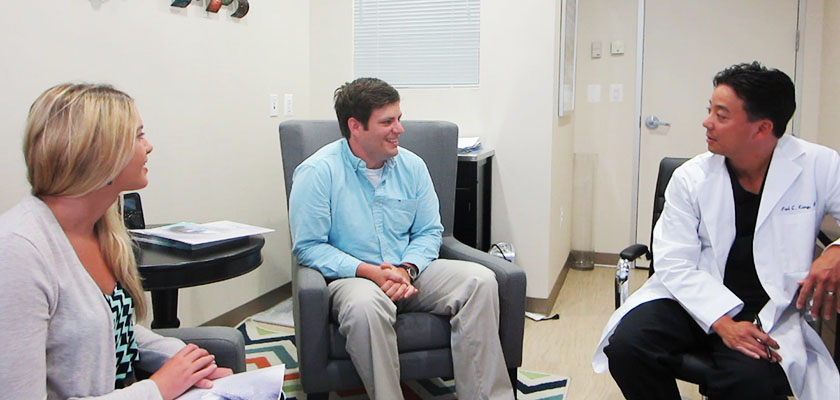 Eye Doctors of Washington (EWOW) has multiple locations in the DC area, and for our LASIK consultation we went to their Tysons office. We felt so welcomed from the moment we walked in – everyone was so friendly, from the front desk staff to the doctors. And we were amazed at how little wait time there was! They saw us almost right away.
Dr. Kang, the eye doctor who performed our LASIK, was also who we did our initial consultation with, which was really neat and made us feel super comfortable about surgery day. Dr. Kang was incredibly patient with all the questions I had, and took the time to get to know us on a personal level too. That meant a lot! And after the EDOW team checked our eyes he pre-approved us for LASIK, so we were excited!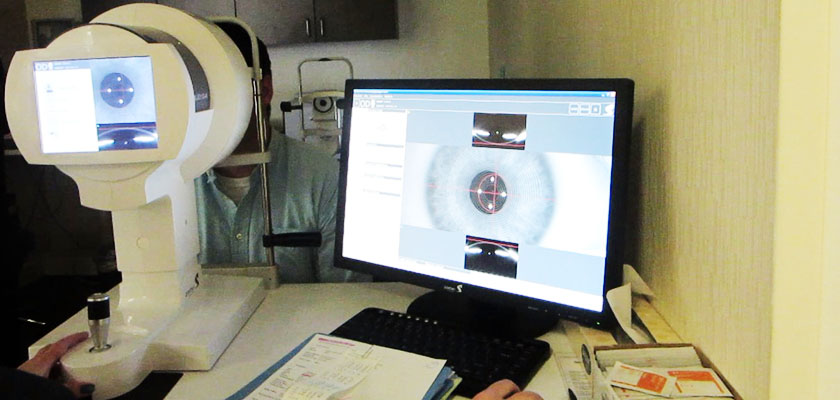 The next week, we had our pre-op visit at their Chevy Chase location. They did a number of other tests and even dilated our eyes, which tests how your eyes perform in darker conditions. It was comforting to know that everything was triple-checked and that if for some reason something showed that LASIK was not a good fit for us, they would let us know upfront. I appreciate knowing that they truly care about their patients, not just about making money! Their price even includes one year of post-op care plus a lifetime warranty!!
Before we knew it, the day of our LASIK surgery had arrived. On the drive there, we were joking that maybe we were crazy for both getting LASIK on the same day (we stayed at a hotel down the road and took an Uber to/from EDOW), but we had such a positive experience that it was not a problem at all!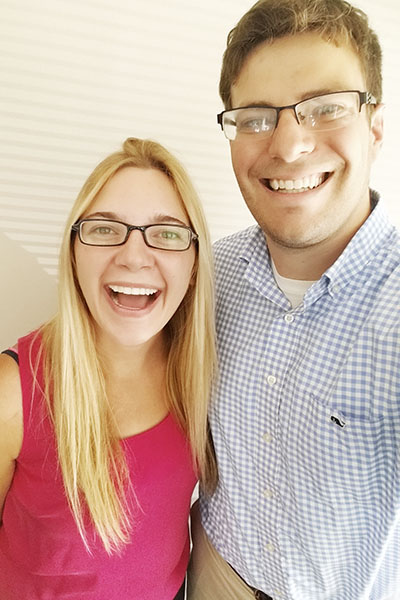 When we arrived, the EDOW team was so excited for us – it literally felt like family! They had made us cookies and set out all kinds of other goodies to make the experience wonderful. Dr. Kang told us the procedure would be quick, but I had no idea that it'd only take like six minutes! Hudson went first and came out smiling (as is usual :) and I stuffed another cookie in my mouth before picking out a stuffed animal to hold from their various options, then laying on the surgery table.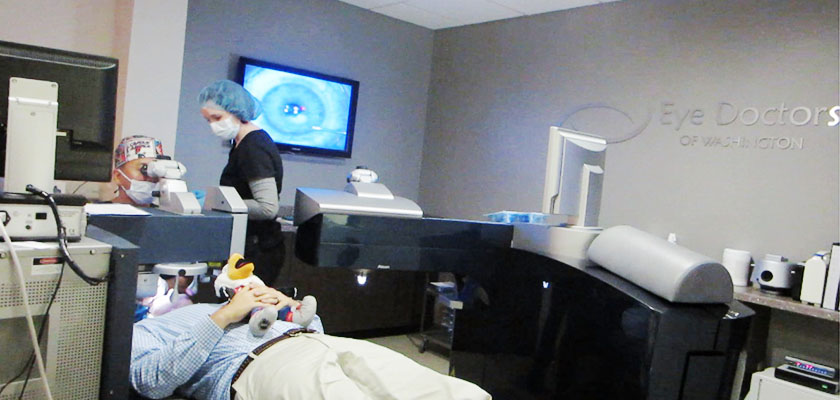 I did not feel any pain during the surgery even though I was wide awake, it was amazing. The most common question I get asked is if I was scared. Not at all! Dr. Kang did such a good job of walking us through the whole procedure. Whenever there was a moment that could have been scary, he would say "You're doing great, this is exactly what I want" which really helped calm any nerves.
Directly afterwards my vision was a little blurry and it felt like there was a piece of sand in my eyes, but that is completely to be expected and I was mostly just amazed at how well I could see!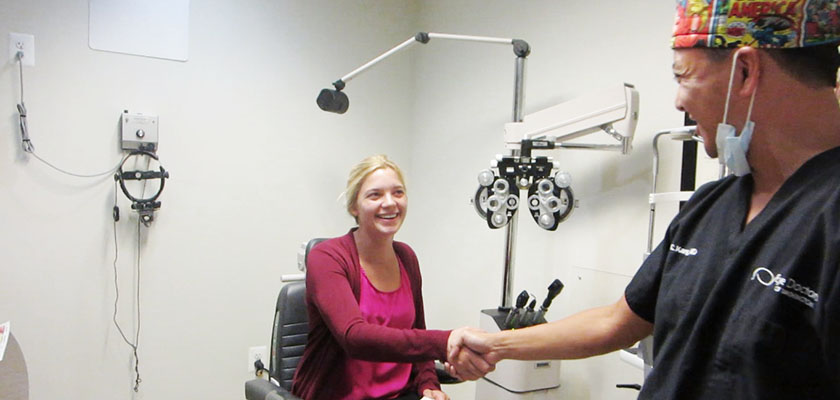 We took a nap when we got home, then ordered in pizza and spent the night relaxing, and when we woke up the next morning could see so well without any pain! We drove in (yes, you can drive the next morning) for our post-op appointment and they told us both of our vision is now 20/15, which is even more amazing than we anticipated.
Thank you so much to Eye Doctors of Washington for making our LASIK experience so incredible! In a few weeks we'll be sharing about how we're doing a month and a half post-op (spoiler alert: it's amazing), a video of our experience, and the answers to some common questions we've received about LASIK.
In the meantime, check out the best LASIK providers ever and follow EDOW on Facebook for more info about LASIK!
UPDATE:
Eye Doctors of Washington is very generously offering an amazing deal to our readers! Just mention us and you get $1,500 off their regular pricing!! The price would be $3,500, which is $400 below their summer special, and includes your consultation/pre-op/surgery/post-ops AND the lifetime warranty!! They offer 0% financing to those who qualify, and the consultation is completely free, so it's definitely worth talking to them!