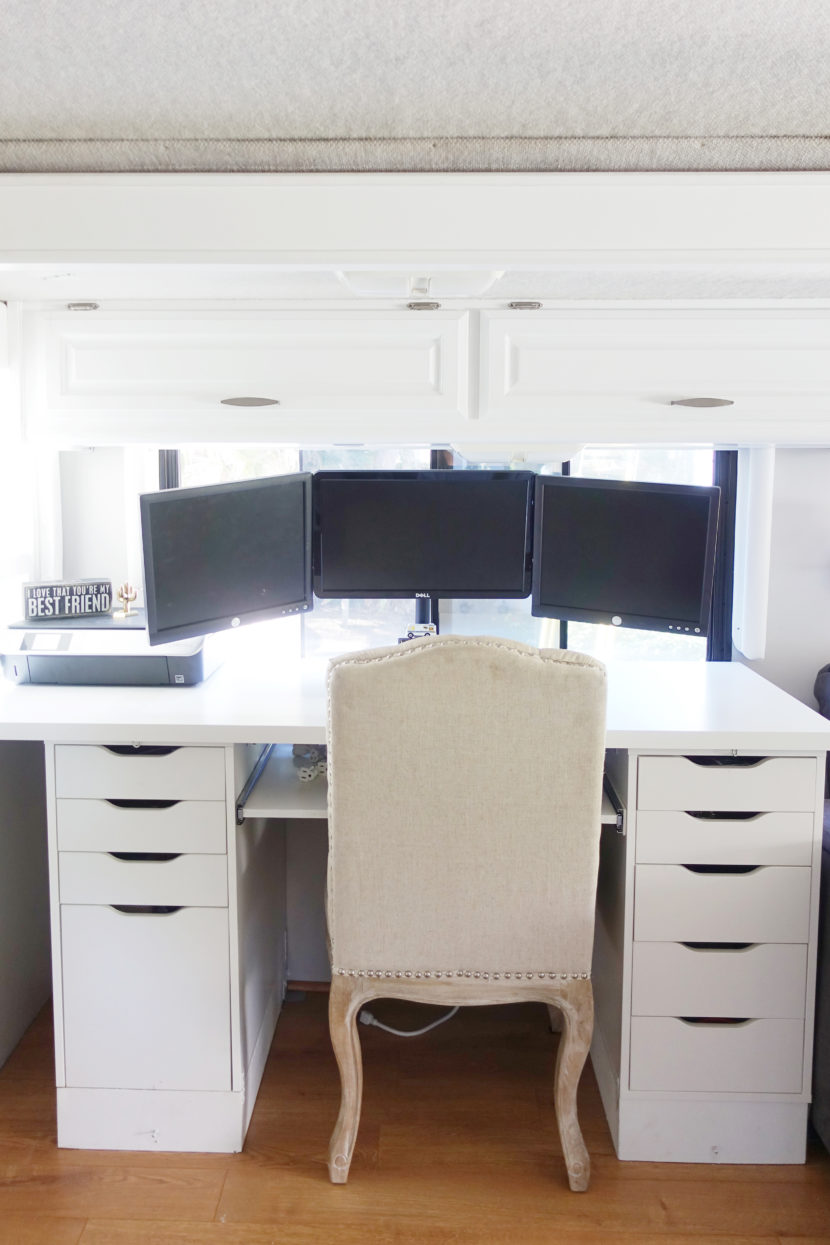 After renovating, the first thing I wanted to do was organize our RV.
When researching about how other RVers organized their lives on the road, I was surprised to read that the biggest issue was not living with less stuff, but feeling like that stuff didn't have a place. RVers have difficulty deciding where to place items in a way that will not only make them easily accessible, but also secure while on the road. Choosing how to organize your home is always a process, but when your home is on wheels – and your stuff can slide everywhere as you are moving – it can add a new level of difficulty. :)
Being a type A person, organization is important to me, so our solution was to first think about what our optimal organization of a home (apart from an RV) would look like, and then conquer how to secure things. However, we found a solution that has helped us do both! It's called OrganizeMyDrawer.com :)
OrganizeMyDrawer.com takes standard drawer organizers to the next level because it lets you completely customize your own organizers! This was such a fun project for us because we had the opportunity to set out everything exactly where we want it in our drawers, and then build organizers based on that. You determine the width, length, height, and all of the spaces in between.
For example, here is our silverware drawer. Fairly standard as far as inserts go, but it is super long and there would have been no standard drawer organizer that would have fit into this space. But then, I was also able to create it based on the exact size of our silverware, and when I noticed that we had more room in the back of the organizer, I added in spaces for other utensils. This organizer makes it super easy to access the silverware, and keeps it from all ending up in a pile when we drive.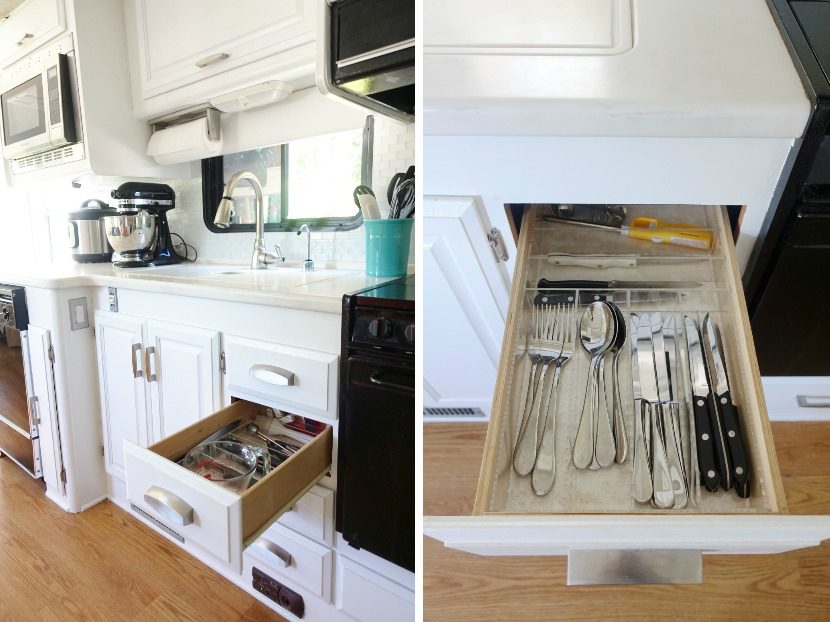 Here is another example – one of our desk drawers. This organizer I made a little more detailed, and I absolutely love it. Gone are the days of having to push everything to the side just to grab the tape or stapler. In this drawer, they have their own place and are so easy to grab out and put back in. Even though this organizer is a bit more complicated, the OrganizeMyDrawer.com website made it so simple – and fun! – to create. Everything is very user-friendly and it even comes with pre-made templates if you'd prefer to start with those and then customize it to your own liking.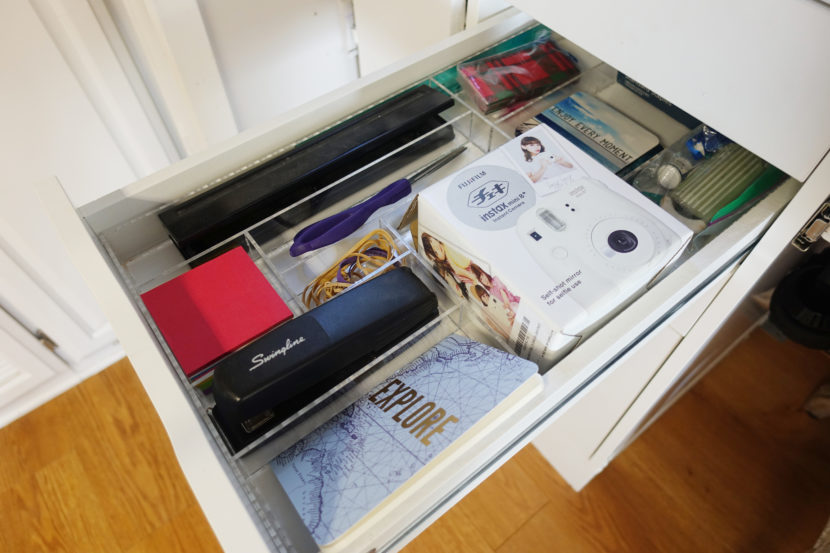 We were so excited about using these for our drawers that we thought we'd try them for some cabinets too. The items in our bathroom vanity were falling over when we drove and then out of the cabinet altogether when we opened the vanity doors. Now, thanks to OrganizeMyDrawer.com, everything stays in its own section and is very easy to view. But that's not even our favorite one – our favorite organizer is for our dishes. RVers typically recommend using plastic dishes and glasses so that they don't break as you drive. But to me, there's just something about using "real" dishes – and my glass mason jars – that feels like home. :) So we created a custom organizer that is about 4 inches high, added some cabinet liner, and it holds everything safely and securely without breaking as we drive!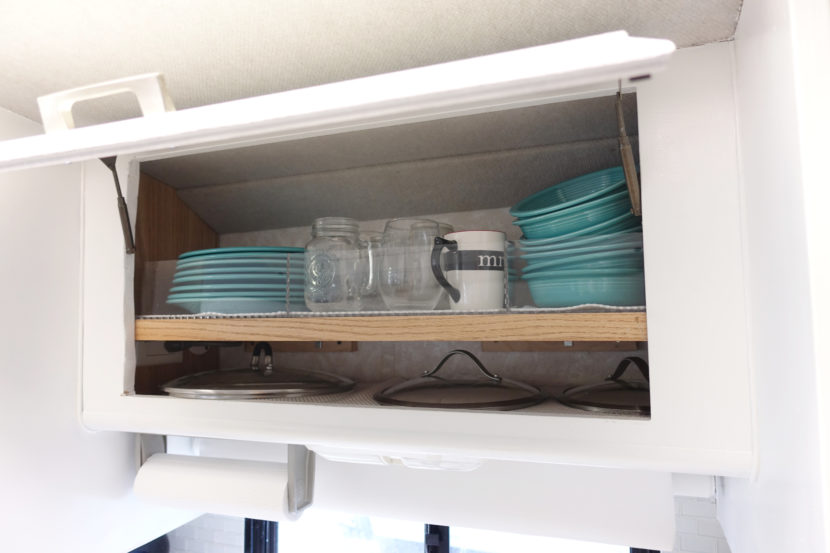 I absolutely love that I am able to take along our trip things that feel like "home" to me like this. For things not in drawers or cabinets, such as our KitchenAid mixer (I know, I know, didn't exactly pack just the essentials ;) most people would put in the sink as they drive, but we found a solution for that as well. We use an industrial velcro called DualLock to keep everything secure directly on the countertop, and it works super well. So that has not only helped us stay organized, but also minimize our pack-up time when we are ready to hit the road again!
I am so grateful for solutions like OrganizeMyDrawer.com for motorhome organization – and I love that they are a family-owned business, which carries into the way they treat their customers. Whether you are building or buying a new home, renovating your current one, or just looking for a way to maximize your space better, there is no better organization solution than this!
Thank you, OrganizeMyDrawer.com, for being a platinum sponsor of our RV renovation! For more info about our renovation, click here.