The Beginning of Our Love Story
Where do we begin…I remember sitting in my sixth grade English class, and in walks this boy.
He was tall, and he was smiling. I fell in love. Well, as much as you can as an 11-year-old!
Over the next five years, we became good friends. I am so thankful for that time because through it we were able to learn so much about each other. And as crazy as it sounds, before we even started officially dating, I knew I wanted to marry Hudson.
Our junior year of high school, we began dating…and have only ever dated each other. We both ended up attending Liberty University – and on August 1, 2011, Hudson asked me to be his wife.
But I'll let Hudson tell you that story…
The Engagement
So Emily didn't know this, but I'd been planning our engagement day for a while. Over four years of dating we had accumulated hundreds of pictures, letters, and gifts – so I decided to create a "Memory Lane" in the woods at one of our favorite parks.
Finally, the morning of our engagement arrived. I headed to Em's house around 7:00, woke her up and made heart-shaped blueberry pancakes for her. While doing this, we looked at old photos of us and danced around the kitchen to our favorite songs. As I videotaped these moments, I couldn't help but smile knowing what would happen later.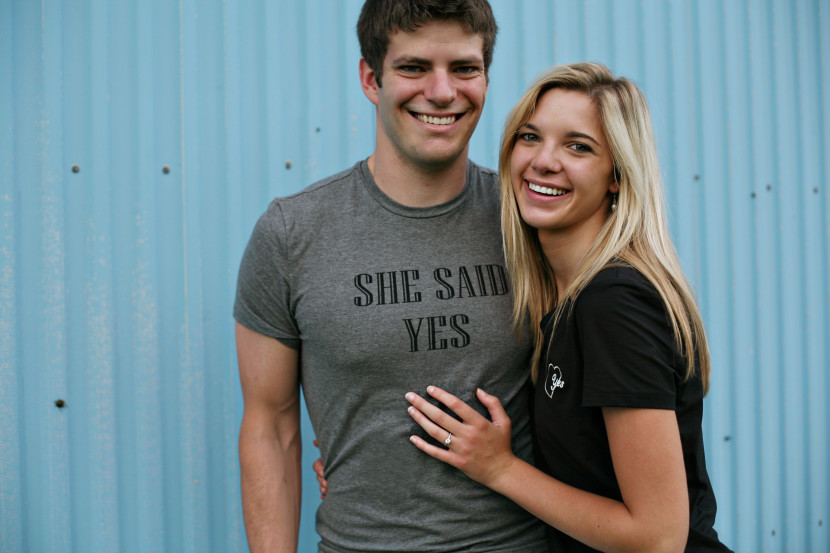 I told Em that because it was such a beautiful day, we should have a picnic. As soon as we got to the park and set down the blanket, my anticipation got the better of me and I announced that we should split onto separate paths to see who could find a deer first. Em wandered off reluctantly, and as soon as I thought she was out of sight, I grabbed my backpack (which the ring was in) and took off running towards the Memory Lane.
The way everything was supposed to go was like this: I'd change into a nice outfit, start the video camera, and then wait for her on one knee. However, no matter how long it took me to plan every detail of the day, there were several little details I could not have prepared for…
Little details like Em calling me six times because I was supposed to have met back up with her five minutes ago. Or that when I finally did answer my phone, Em was crying! Through her tearful voice, I was able to decipher that she had thought someone stole our backpack and killed me, and that now she was all alone in the middle of the woods!
After I explained the situation – that I had "seen a deer on a different path" and that it was me who grabbed the backpack and that I really was alive – I saw my soon-to-be fiancée come walking around the corner.
When she saw me on one knee, she figured out what was happening and said, "Can we start over?!"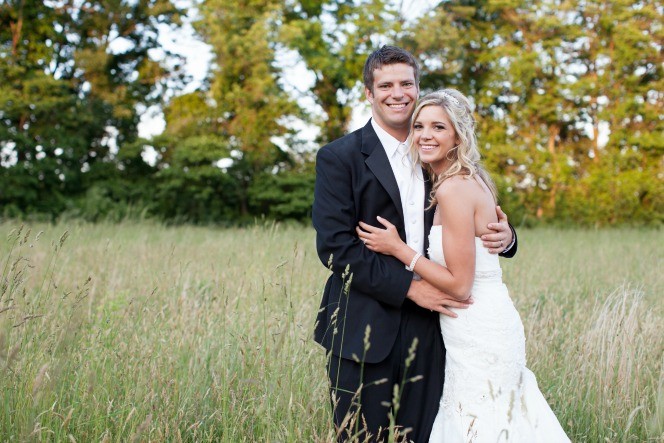 At that moment, I forgot everything I planned to say.
With tears in my eyes and a smile on my face I could only remember to say this: "Emily, from the time I met you I dreamed of marrying you, but never actually thought God would let my dreams become a reality. I have saved these three words for you & you alone because I wanted its meaning to be saved for my future wife. Emily, I love you. Will you marry me?"
She said yes!
So I took Em by the hand and walked her through the Memory Lane – which contained hundreds of pictures capturing the awesome memories we'd shared over the past ten years of our friendship, as well as things like the 365 letters I'd written her the past year.
There at the end of our Memory Lane, we shared our first kiss.
And then…it started raining. It definitely did not go as I planned, but I wouldn't change one detail.
After seeing our families and calling all our friends, I surprised her with a music video I'd made for her of random video clips we'd taken over the past couple years. I then pulled out a guitar and reminded her of "the list" she'd written when she was a little girl. It had all the things she dreamed her future husband would be, with amazing specifics like "brown hair, blue eyes, taller than me, loves Jesus…" There was just one thing on the list I was not able to fulfill. Of course, every husband had to be able to play the guitar for his wife! So sitting there, newly engaged, I made her a promise that by our wedding day, her future husband would learn to play the guitar, and thus have fulfilled all the requirements of little Emmy.
The Wedding
Instead of telling you all about our wedding day, you can watch the video of it below!
The Marriage
You can read our marriage blog posts, or watch the video Hudson made of our favorite memories from the first two years of marriage!