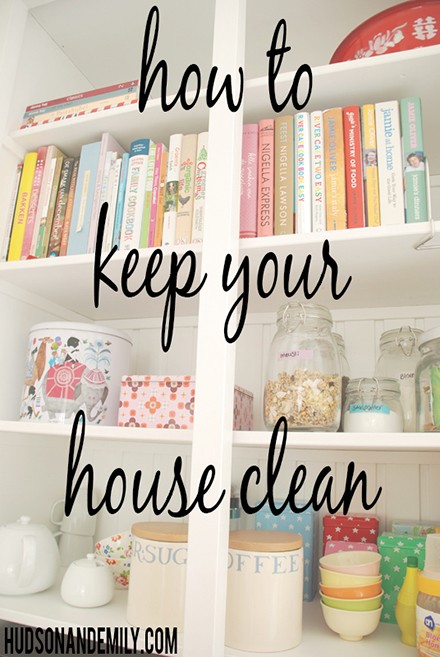 Something you should know about me is I'm a little bit Type A.
I just Googled "Type A personality" and literally laughed out loud at how Wikipedia defines it. This is ME, people, for better AND for worse… "ambitious, rigidly organized, highly status conscious, can be sensitive, cares for other people, is truthful, impatient, always try to help others, take on more than they can handle, want other people to get to the point, proactive, obsessed with time management."
Any other Type A-ers out there? This post is for you.
This post is about cleaning your house, and how to keep your house clean. The secret to a clean house is to make a worksheet checklist like this one. Follow these steps to make your own!
(1) Sit down with a pen and paper, and ask yourself: "What would my ideal clean house look like?" Write down everything you can think of.
(2) Now take each of those things you wrote down, and break them apart. If you were to go through cleaning your house room by room, what would you specifically need to do? Write these down also.
(3) Take everything you have of what would be your ideal clean house, and then put a "D" next to everything you'd like to do on a daily basis (example: make your bed). Do the same thing by writing a "W" next to everything you'd like to do weekly to keep a clean house (example: vacuum the house).
(4) Same thing, but write a "M" next to everything you'd like to do monthly (example: dust the house). Write a "Q" next to everything you'd like to do quarterly (example: wash your pillows).
(5) Now that you have all that, you're ready to begin making your cleaning the house checklist! Open Microsoft Word or something (I made mine with InDesign).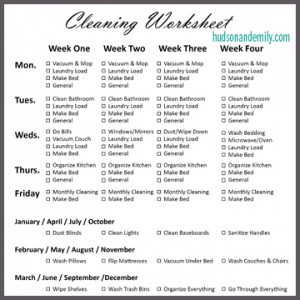 (6) Write all the days of the week Mon-Fri down the bottom and Week 1-4 across the top, like I did.
(7) Then everything you want to do daily, write beside each day.
(8) Separate the things that involve cleaning your house weekly into five categories and mark them down accordingly beside each day.
(9) Separate the the things you want to do to clean your house monthly into four categories. Choose one day of the week that you want to do your "monthly" things, and have them change weekly (mine is Wednesday, so see how the first thing on Wednesday changes each week?)
(10) Separate the the things that involve cleaning your house quarterly into three categories (so I guess it's not really quarterly, huh? Write everything into one group from the monthly lists I have in mine. Choose one day of the week that you want to do your "quarterly" things. Mine is Friday, and you'll see that it just says "monthly cleaning" — that's because I just look to see whatever month and week I am in, and I know what to do from there.
Ten steps later, your worksheet checklist is complete, and you're now an expert on how to clean your house and keep it clean!
photo credit: yvestown via photopin cc (edited)