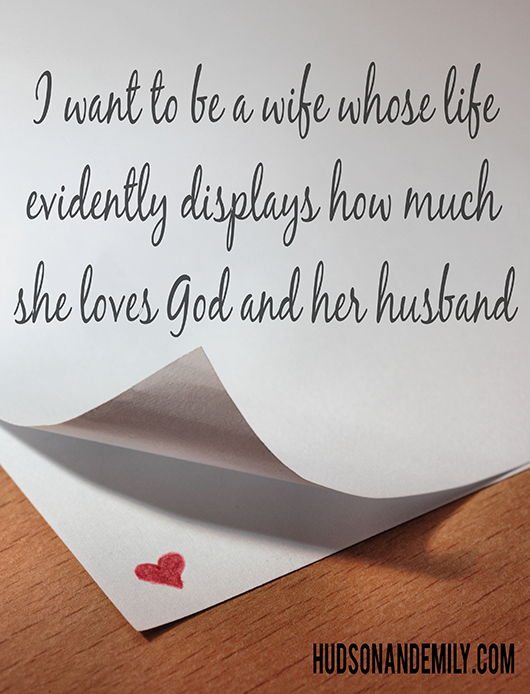 I'm sitting here, eating my breakfast with the sound of the dishwasher in the background and thoughts of laundry piles running through my head.
It's another one of those days where I feel like I have so much to do. I so easily get caught up in my to-do list and forget to step back, take a deep breath, and remember that this is my life. And I want to make this moment count.
And then I think about…what kind of woman do I want to be? I want to ask myself that every day. I could answer that question in many ways, but above all else, I want to be a godly woman.
I want to be a woman whose life so evidently displays how much she loves Jesus and loves her husband, through both her words and her actions.
But that's so much easier said than done. Practically, how can I go about being a godly woman on a daily basis?
What's neat is that there's (almost) a whole chapter in the Bible dedicated to what a godly woman looks like. So today, I'm making it my goal to study that – and I thought I'd share my thoughts below.
*Note: these are simply my thoughts on the verses and how I want to apply them to my life. In no way am I a Bible scholar! I recommend reading the chapter for yourself (Proverbs 31:10-31) – and feel free to share your thoughts in the comments!*
"A wife of noble character who can find?"
When I think about someone who is noble, I think of a queen, or a person who has strong moral convictions and really sets an example. This type of godly woman is so rare. I want to be one of them.
"She is worth far more than rubies."
Rubies are a very rare and beautiful gem. I want to be known as beautiful, not just on the outside but also on the inside.
"Her husband has full confidence in her"
I want Hudson to be able to fully trust me in everything I do. I want him to value my word above anyone else's. For that to happen in the future, I need to continue building a foundation of trustworthiness now.
"and lacks nothing of value."
While Hudson will always be the financial provider for our household, I want to help out financially by bringing in income where I can and by being smart in the way I budget and/or spend our money.
"She brings him good, not harm"
I want to make it my daily goal to try to meet Hudson's needs before my own. I want to speak only good things about him in public, and also really try to build him up with encouraging words in private. This also means that when I get frustrated with him, I want to approach hard conversations in a kind way. Why would I want to hurt the person I love the most?
"all the days of her life."
I want my godliness to be marked with consistency. I don't want to be a good wife one day and a bad one the next. I want Hudson to be able to count on me to be a godly woman on a daily basis. This means I will need to pray daily that I'll be a godly woman, because without God I will fail in all these things.
"She selects wool and flax and works with eager hands."
Now I'm not gonna be knitting clothes anytime soon, but what challenges me here is to "work eagerly." I take that to mean I should find joy in my work (whether that be at a job or in our home) instead of finding it boring and frustrating. It shouldn't be just something I have to do, but something I wantto do because I see it as a way of honoring God and my husband.
"She is like the merchant ships, bringing her food from afar."
I want to remember that it is my job to prepare our food, which means I should have joy in grocery shopping or cooking. Also, I want to be more intentional about making meals that are healthy.
"She gets up while it is still night."
This is the most challenging verse for me! A godly woman isn't a lazy woman – which I currently struggle with! Instead of sleeping in, I should get up early, spend time with God, and then get started on the things that need to be done…I'll be so much more productive that way! The best time for me to read my Bible really is in the morning, before the busyness of life gets in the way. Having a good start to my day will help me have a better day overall!
I only got part of the way through (Proverbs 31:10-15)…here is part two and part three! Also, I realized as I read back through this that I started so many sentences with "I want." I should change that to "God wants" and base everything I do off that.
Will you pray for me as I learn how to become a more godly woman? I'd be happy to pray for you too. Feel free to let me know how I can do that, or share your thoughts on Proverbs 31 below!
photo credit: Neal. via photopin cc (edited)