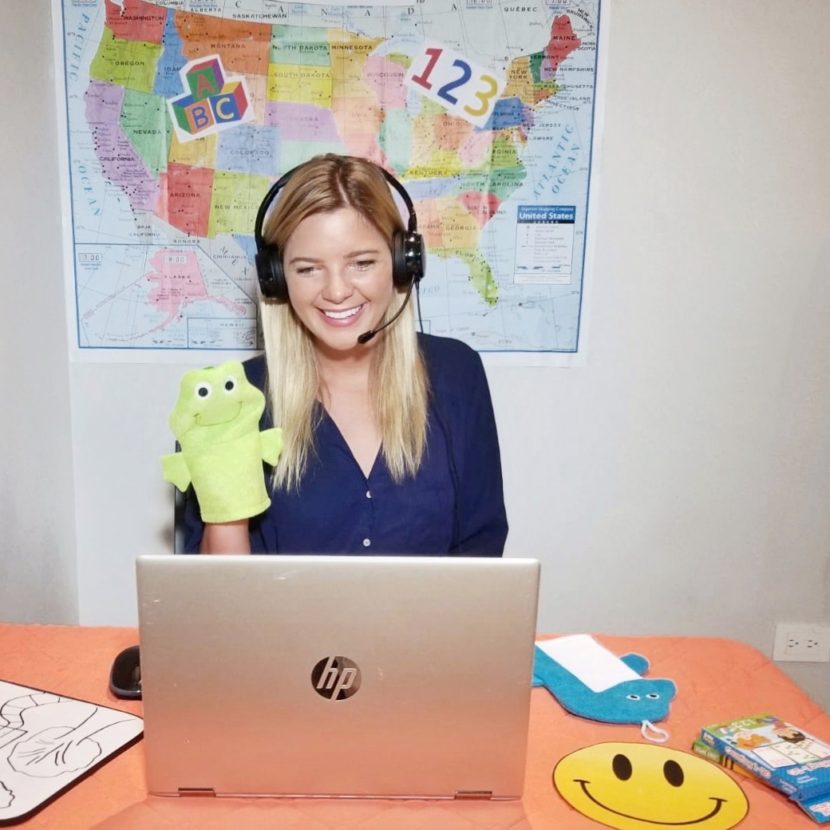 We teach English online with VIPkid, and we love it! If you are looking for a side/part-time job, we highly recommend it!
This blog post gives VIPkid interview tips and info on how to pass the VIPkid demo lesson. This is the second step of the VIPkid application process. The first step is to apply to VIPkid! If you haven't yet applied to VIPkid or have questions about how the VIPkid application process works, read this other blog post first before continuing!
Also, if you have already applied to VIPkid but didn't sign up through our link, it would mean so much if you could add our referral code to your application:
Log in to your VIPkid account and click on "My Account" in the top right corner.
Click on "Add Referral Code" and type this code: EMILY0826
It should now say: "Your Referree: Emily BDU." Thank you so much!
How does the VIPkid interview and demo class work?
Okay so here is where our VIPkid interview tips start!
There are two options you can choose from for this. A very new thing VIPkid implemented is the option for an express interview and demo lesson, where you literally upload a 3 minute video about yourself and teach one slide. Read more info here. It's super easy!
The second option is the traditional one, which is to complete the interview and demo class through the VIPkid "classroom," which is a Skype-like platform through their website. All the information about this can be found in the emails that VIPkid will send you. This is the option that we did, and might get you a higher pay rate since you have the opportunity to interact with the recruiter, but it takes more preparation.

For the mock class (which is step three of the VIPkid application process), you won't have to prepare as much since you will already know if you're hired and what your hourly rate will be. But this step is really important!
How can you prepare for the VIPkid interview?
Be sure to prepare your response to basic questions such as "Why do you want to be a VIPkid teacher?" and "Tell me about your teaching experience." (Again, this can be flexible, but be sure to highlight ANY and all experience you have with teaching and/or kids.)
How can you prepare for the VIPkid demo class?
If you choose the express demo class option, read more info here. For the traditional demo class, you will be expected to teach this right after the interview, and you should receive an email with the lesson Powerpoint. Download and practice for the demo class with this.
The email may say that you have two options and you can choose which class you want to teach. You might also see conflicting information on how long your lesson needs to be (10 minutes or 30 minutes). This is because they recently changed the process so that you now only have to teach 10 minutes!
Top 5 VIPkid Interview and Demo Class Tips
YouTube Videos: The thing that helped us the most with both the interview and demo class was searching for YouTube videos of teachers actually walking you through each slide and explaining what to do. Teacher Erin, Nancy Taylor, Angela Silva, and Michael Venn are some of the best. Note that if you are not teaching the "My Feelings" demo class, disregard the first two videos and search for the class you will be teaching. If you are doing the Express Interview and Demo Class, there are a lot of good videos about that as well.
Energy: The recruiter will pretend to be a young child (usually 5-6 years old) while you teach them. You need to be very energetic when teaching them! Once you become a teacher, you will not need to be this animated (especially for higher level students – I speak in a normal level voice and can even have English conversations with some of them). You can just be yourself then, but in this interview they are looking for energy! 
Timing & Timely Correction: When you practice, time your lesson to try to end right at/around 10 minutes if you are doing the traditional demo class, and 3 minutes for the express demo class. It is important to not end early or go too long. Also, be sure to kindly correct (and encourage!) the student if they pronounce something wrong. And remember that you are teaching a lower level student for the demo, so they will not know big words.
Pronunciation: For pronouncing consonants – for example, pronouncing the sound for "P" – stop at "pppp" and do not say "ppppuhh" (hard to write out but hopefully that makes sense). Otherwise, the kids will say pu-ants instead of "pants" as they are learning. Such a minor detail but they care about that!
Props: You need to prepare props for the lesson! If you are doing the traditional demo class, VIPkid wants to see a minimum of four props for the demo/mock classes. Most props can be pulled from what you have around the house. Other things that are helpful include a white board, a puppet, and even just showing screenshots of images on your phone (although your phone technically only counts as one prop). We didn't want to spend much money on props, so Hudson even drew pictures on paper for his demo class. Once you start teaching, you won't need to prepare props for every class (there is even a Facebook group of VIPkid teachers that share props with each other for free), but you want to put your best foot forward in this demo class!
Don't be nervous! You will be an amazing teacher and, with preparation, will do an excellent job with the interview and demo class! You got this!!