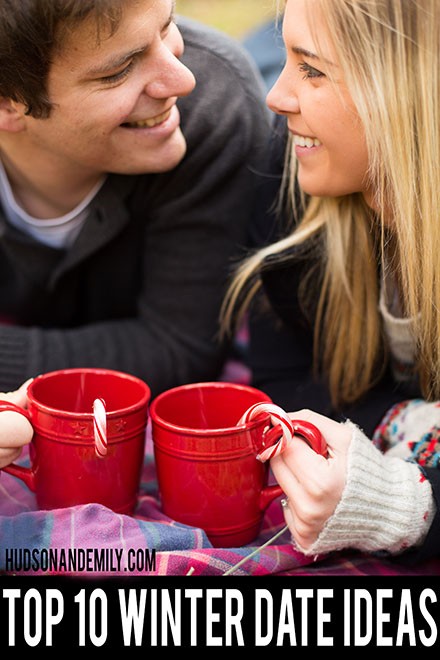 * Here from Pinterest? Welcome! If you want more date ideas, check out our posts about the best spring dates, summer dates, and fall dates…oh, and creative date night ideas too! *
Being able to say that I'm married to my best friend is such a wonderful feeling, but it takes intentional work and time spent together to maintain that.
It can be easy to get stuck in a routine of living together but not really LIVING life together. So Hudson and I love coming up with creative romantic date ideas. Over the past few months, bloggers have been submitting THEIR favorite date ideas. Below you'll find the top 10 romantic date ideas for winter!
10 ROMANTIC DATE IDEAS FOR WINTER
1. This time of year? Bundling up, wearing scarves and gloves, having a hot beverage and strolling through parks filled with lights. Cheap, free, and even doable with kids. -Anonymous
2. In the winter, go to the arcade to spend quarters on games and win tickets! – Rachel
3. For a date this winter, my husband and I are going to go snow tubing. We're celebrating 18 years together and our kids are under 3, so we don't get much time to be alone and just have fun/be silly. I can't wait! – Anonymous
4. I just love to stay at home and watch a movie, nothing fancy, but intimate. – Andie
5. I am usually wooed by any kind of date, even if it is just sitting on the floor eating Chinese takeout in front of the TV. Though, in the wintertime one of my favorite date ideas is to go and see the Rockefeller Christmas Tree in NYC. My ideal NYC date would include seeing the Christmas tree, ice skating on the rink below the tree, getting a carriage ride around Central Park, and snuggling up for cheesecake at D'Auito's. Best cheesecake in NYC! – Karla
6. My husband and I enjoy going to the museum together. It's fun to wander around hand-in-hand and see what catches each other's attention. – Bonnie
7. Attend a cooking class or baking class with wine on the side. Something fun and different than the normal dining out and movie night thingys :) – Elle
8. This is pretty simple, but I've always wanted to find a cute, local coffee shop and read together.. either the same book or a book we chose for each other. – Sarah
9. I love bowling! Honestly, my hubby and I have sooo much fun when we go out bowling. It's such a dorky good time haha. – Lesley
10. A wintery date idea that I love would be ice skating (there's just something romantic about bundling up, being hand in hand!), hot chocolate/coffee drinking, Christmas movie watching, and cookie eating (or baking)! I'm definitely a sucker for themed date ideas! – Natalie