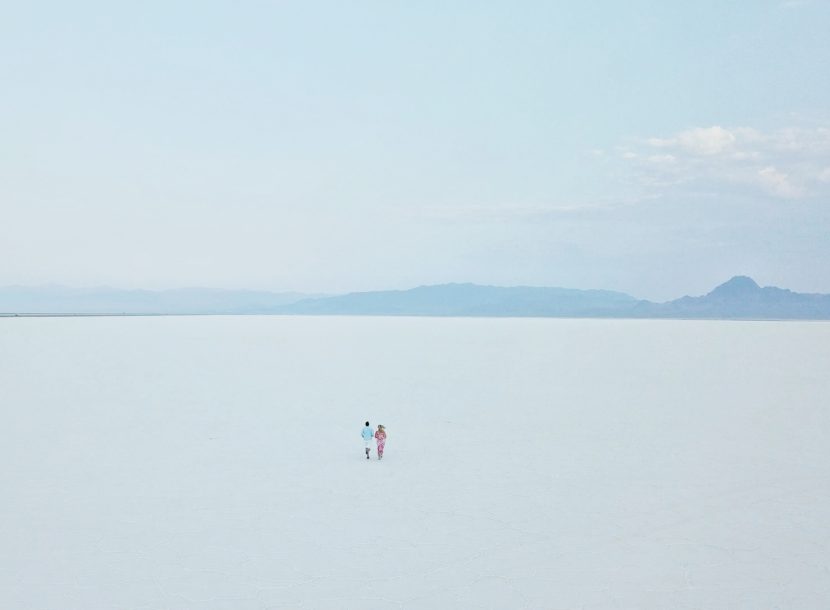 10,000 miles and 11 states into our trip, we made it to Utah! Utah seems to be the home of national parks and beautiful views. Almost in any direction, there is a must-see destination, which is probably why we saw so many RVs in Utah as well! These are a few of our favorite things we did and saw in the Utah (I didn't try to rhyme there, but now that I typed it I don't think I can take it back ;)
Zion National Park & Springdale
RV Life
One of our favorite things about RVing in Utah is all the awesome and easy to find boondocking areas. The first place we camped was about 40 minutes away from the east entrance of Zion National Park. (We did find that internet and cell service can be pretty spotty in this area, so it is a good idea to download an offline map of Zion on Google Maps before you get there).
Our first morning in Utah, we woke up around 5AM to try to be some of the first hikers up the famous Angels Landing Trail in Zion National Park. Well… like a lot of things in RVing life, things didn't exactly go as plan. First off, when we got to the east entrance, we found out that RVs weren't able to drive through that area without paying $15 for a park ranger escort through some tunnels. The problem with that was that since it was still early in the morning, we would have had to wait another 2.5 hours for a park ranger. So we decided to drive around the park to the south entrance.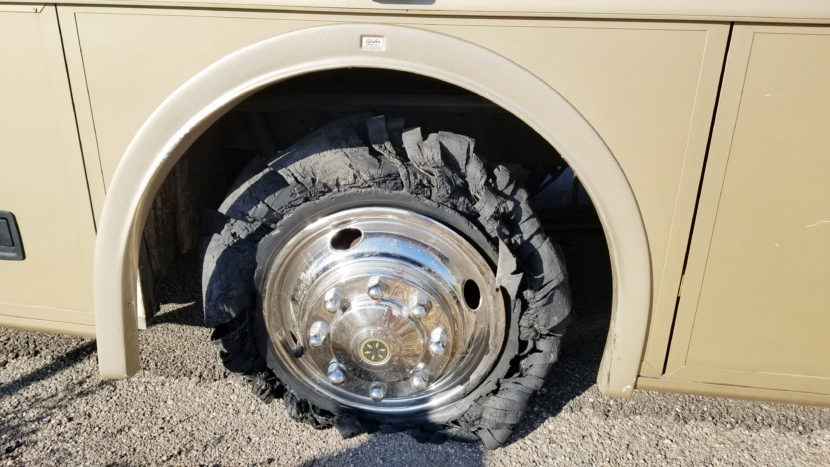 Unfortunately, on the way there, one of our RV tires blew. Although it was scary, it could have been a whole lot worse so we are very grateful. Thankfully, we were safe and someone was able to come change our tire. (It is really cool how God works in the little things. Right when we got the flat tire there was a wide shoulder that I was able to pull over onto and it was one of the only areas that we got cell service that whole day!) The bummer was that by the time the tire was fixed, it was 3PM and we had spent a whole day trying to drive just 1 hour to Zion National Park. It was too late and we were pretty worn out, so we decided to postpone our hike up Angels Landing for another day.
Desert Pearl Inn
Just outside the main entrance of Zion National Park is the Desert Pearl Inn, where we stayed during our time at the park. We decided to stay here because of its easy access to the park so we could get a quick start on the early morning hikes and we are very glad that we did. Not only is it less than a mile away from the park, but there is a shuttle that runs through the town, so we didn't have to worry about taking our RV.
Em had visited the Desert Pearl Inn with her family 12 years ago on a western road trip, and it was one of the highlights of their entire trip! My family then did a similar road trip the next summer, and her family encouraged mine to stay there as well. So we had both visited the Desert Pearl before, but we had no idea what it'd be like 11-12 years later. It was more amazing than we even remembered!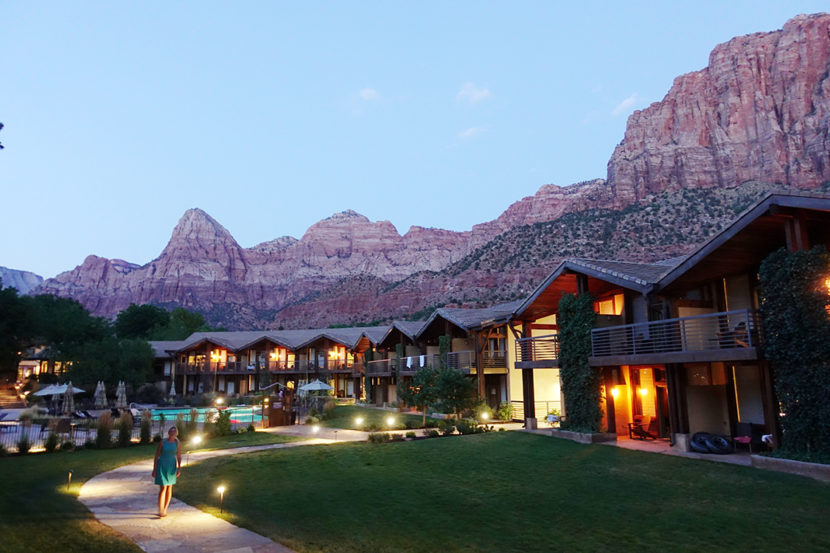 The hotel is like an oasis tucked away in the town of Springdale. It has the charm of a small-town hotel with the facilities of a luxury hotel. The staff is really friendly and helpful. Every room of the hotel has amazing views, as the hotel is surrounded by the massive red cliffs that make up Zion National Park.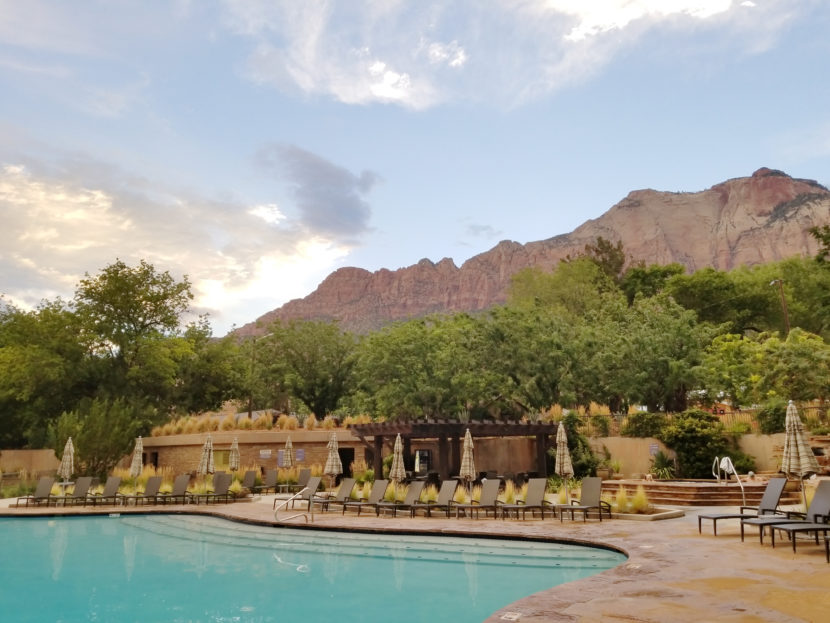 The rooms are so big that it seems more like a suite than a regular room. The room has a fully stocked kitchenette area, complete with dishes and a dishwasher. This was awesome for us to be able to bring some of our food from our RV into our hotel room and not have to worry about it spoiling.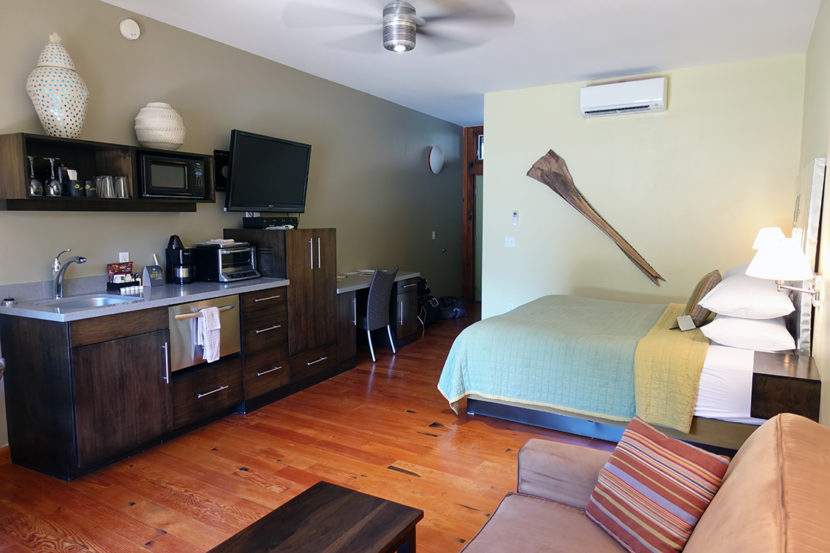 Our back door opened up right to the pool, which is where Em spent most of her time. It got up into the high 90s and low 100s when we were there, so the Desert Pearl's pool felt like the perfect getaway.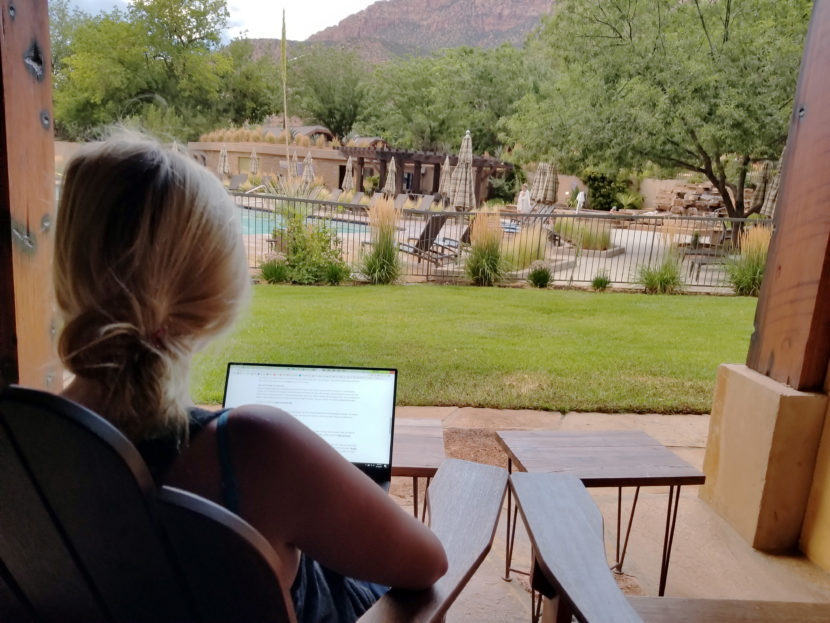 It is a hard to describe just how amazing this retreat of a hotel really is. I think that the pictures really say it all. It was an awesome place to come back to after a long day of hiking. I definitely wouldn't mind coming back to Zion just to stay at the Desert Pearl Inn!
Springdale Restaurants
Springdale, the town just outside the main entrance of Zion National Park, is a charming little town surrounded by the awesome red cliffs that make up the park. The free shuttle is easy to navigate and also means that you don't have to worry about parking. One thing to note, however, is that there aren't any big grocery stores in the town. There are a few small convenience stores that offer all the essentials, but at a much higher price (I think Em and I spent $9 on a case of bottled water). But what the town lacks in grocery stores, they make up in incredible restaurants. And one of the coolest things about the restaurants is the outdoor eating and amazing views.
Here's a recap of our five favorite restaurants in Springdale!
Whiptail Grill
Em and I love eating at awesome restaurants with a unique history. The Whiptail Grill has an amazing history of being transformed into a restaurant from an old Texaco Gas Station. The gas station was built in 1965 and the restaurant has preserved and repurposed the gas station awning for amazing outdoor seating that is surrounded by the incredible red cliffs.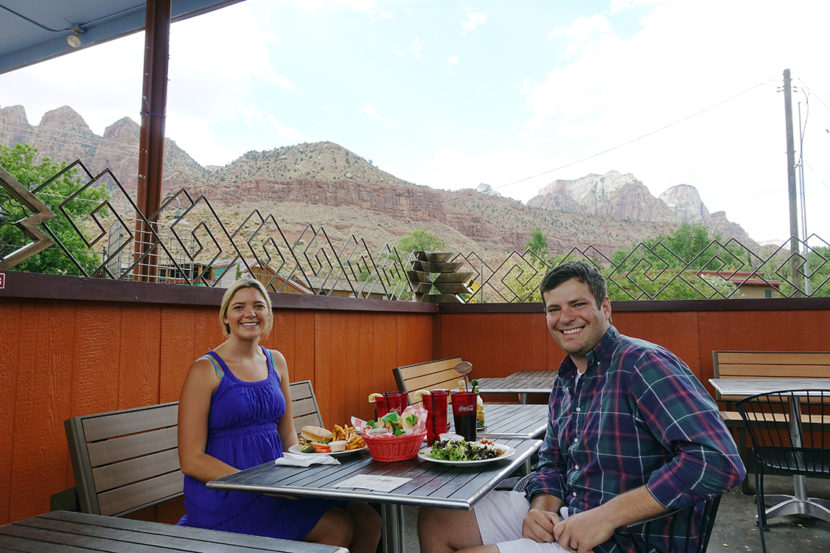 Not only is the atmosphere awesome at the Whiptail Grill, but the food is also incredible. The restaurant has a reputation for being the best Mexican food in Springdale. It was a difficult to order because everything on the menu looked so good, but I picked the Chipotle Chicken Enchiladas and was glad that I did!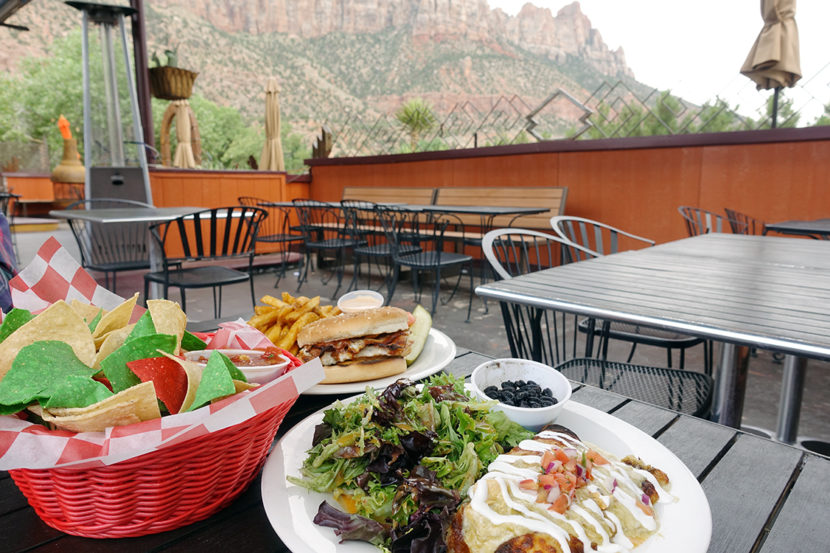 Our waiter was really awesome too. He gave us a lot of great suggestions on which trails to hike inside and outside of Zion National Park, as well as some hidden local gems to check out around the area. If you are looking for great Mexican food or a place with an incredible history, Whiptail Grill is a great place to eat!
Cafe Soleil
Cafe Soleil is an awesome local cafe that is located within view of the Zion National Park Entrance. In fact, it is so close that a lot of people order sandwiches and pack them for their hikes. THh restaurant caters to hikers by wrapping the sandwiches and placing them in a plastic bag for just $0.35. Which is an awesome idea to help sandwiches from getting all soggy and gross. (I just wish Em and I would have thought about that before stuffing messy peanut butter and jelly sandwiches into our backpack for our hike through The Narrows).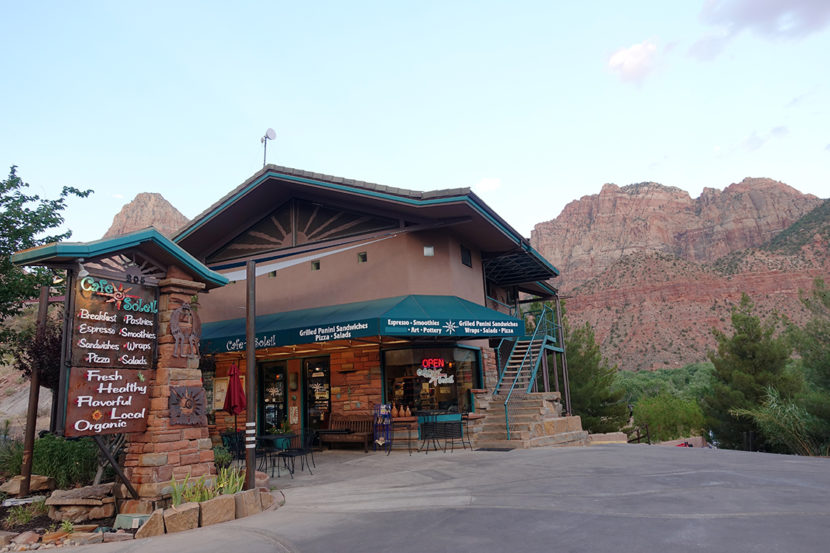 Cafe Soleil focuses on using the freshest, organic ingredients around. Em and I tried their organic strawberry smoothies which were awesome! They also told us that their coffee is made local in Logan, Utah – so that is another awesome idea to stop and get before an early morning hike. (If only Em and I drank coffee!)
Another really cool thing about the cafe is how much pride they have in their own employees. One of their employees makes an organic energy bar that is sold in the restaurant, and the amazing art hanging on the walls is also created by one of the employees. Whether for a tasty trail lunch or an after hike celebration meal, Cafe Soleil is an awesome local restaurant gem.
MeMe's Cafe
If you are looking for awesome crepes with outdoor dining, MeMe's Cafe is the place to go! The cafe is named after the owner Mechelle, who accomplished her dream of opening a restaurant in beautiful downtown Springdale, Utah. The outside of the cafe looks like something out of a magazine – it's beautiful.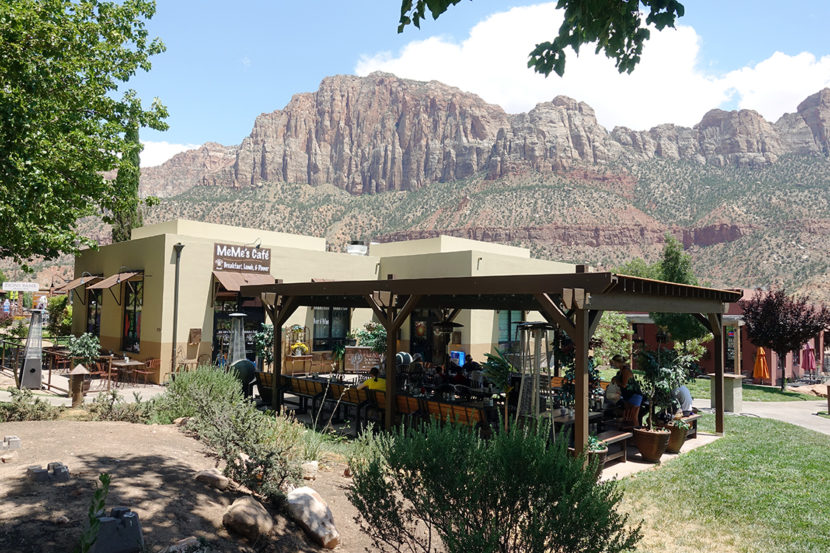 However, the cafe is so much more than just great crepes and great views. The restaurant has a huge list of sandwiches, burgers, and salads. One of the things that caught my eye on the menu that I want to go back and try is their BBQ Pork Sandwich. Our waiter told us that the pork is slow roasted for over 10 hours and is worth every bite.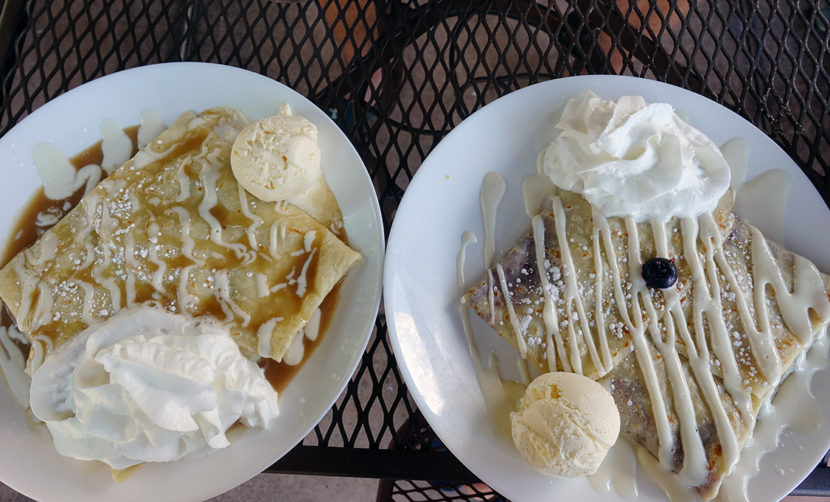 MeMe's Cafe has an awesome variety of sweet and savory crepes. Em tried the Very Berry and I had the Poppa's Harvest Dream crepe, which were both amazing! One of the coolest things about the cafe is their commitment to offering a number of gluten free items. Even their crepes are gluten free. This cafe has such an awesome, wide variety menu that it makes it the perfect place for friends and families with all different types of tastes to come and experience the amazing food and atmosphere.
Deep Creek Coffee
If you are looking for great coffee, amazing acai bowls, or awesome rooftop views of the Zion cliffs then look no further than Deep Creek Coffee. Right when we walked in the store, we could tell that it was a very family-friendly feel. The menus were all handwritten on chalkboards, and the staff was super friendly and helpful in that local cafe sort of way!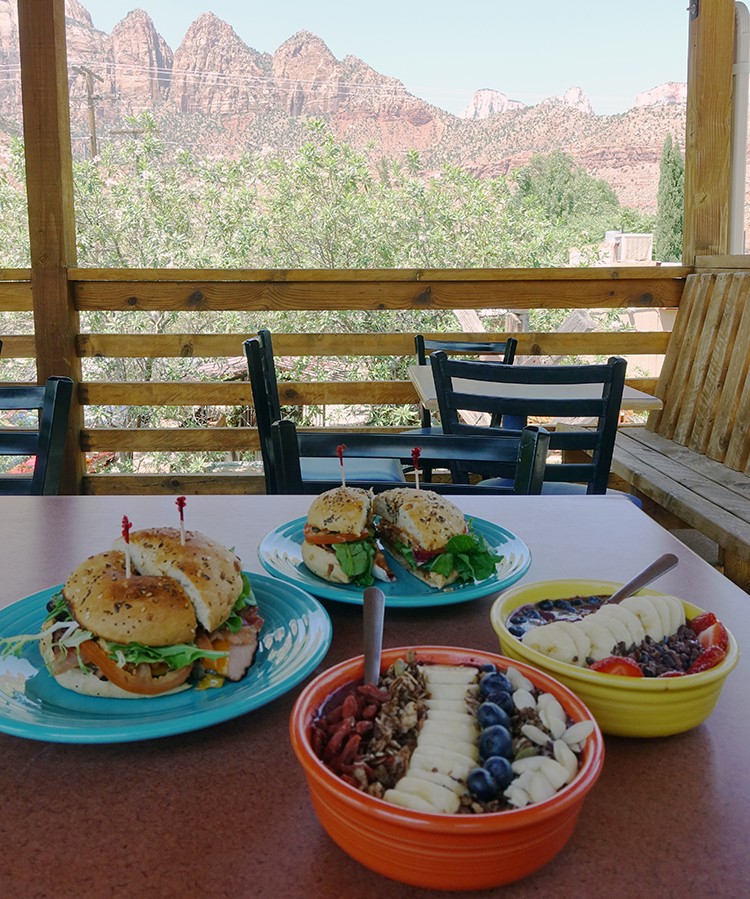 My favorite part of the cafe's aesthetics is the second story rooftop seating area. This area sits up higher than the other buildings in Springdale, so we had a clear view of the amazing red rock cliffs. Deep Creek Coffee looks like the perfect place for early morning coffee and breakfast. I can imagine eating breakfast, sitting on the second story balcony, and looking out to the awesome cliffs that surround the town. The cafe has an awesome breakfast selection, from breakfast burritos to freshly made belgian waffles!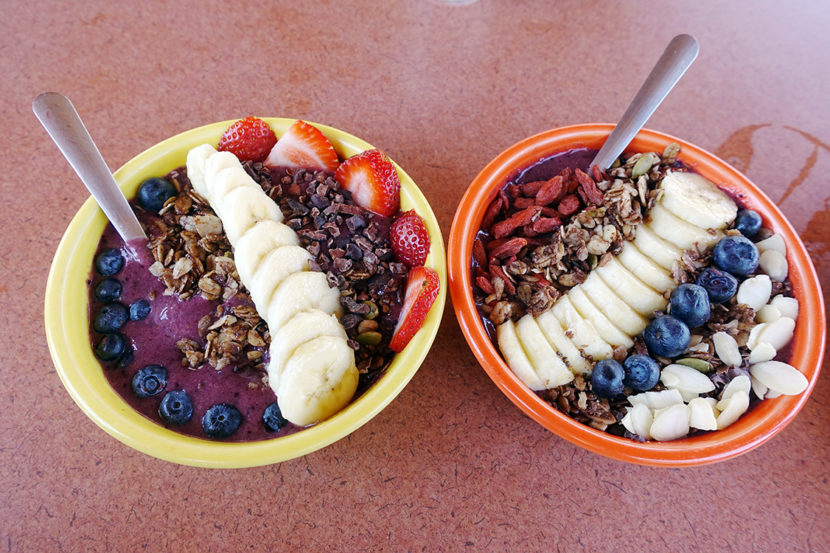 \
Em and I decided visit Deep Creek Coffee to celebrate completing a hike with amazing bagel sandwiches and delicious acai bowls loaded with fruits, granola, and cacao nibs! (Definitely a great way to celebrate after a long hike!) Another incredible thing about the cafe is that they use organic ingredients whenever possible. So not only does the food taste awesome, but you can feel good about eating it too! For the coffee, food, and views, Deep Creek Coffee is a must-visit in Springdale!
Bistro H
For our last night in Springdale, we ate at Bistro H. This restaurant can only be described as Zion National Park's best fine dining experience. Bistro H's chef, Scottie Lewis, is an award winning Utah chef who makes incredible food! It is awesome to have an exquisite dining experience just minutes away from one of the most beautiful areas in the US!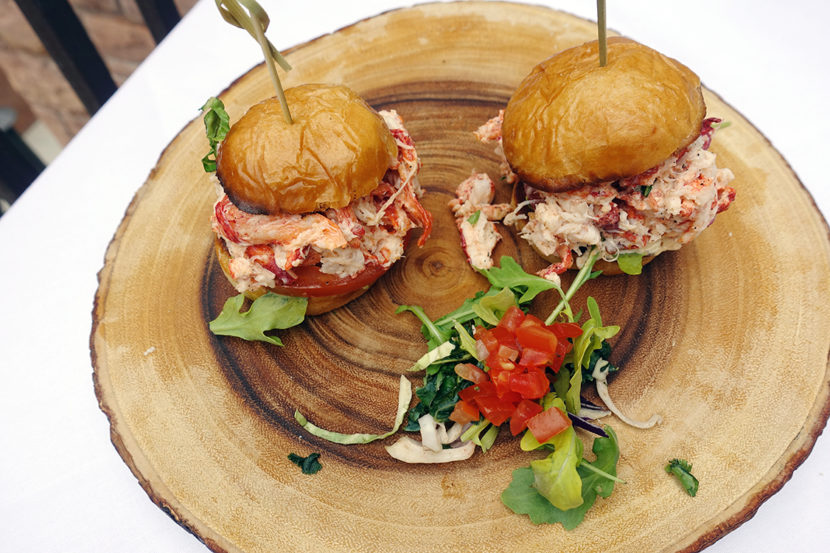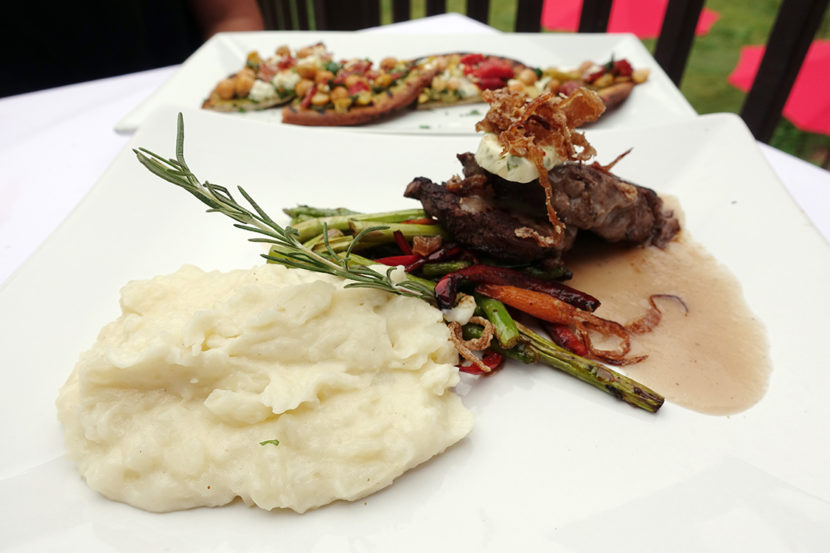 Em and I had lobster sliders, beef tenderloins, and Italian pizza which were all amazing. For dessert, we had an awesome skillet brownie topped with whipped cream and vanilla ice cream. This was an amazing way to spend our last night at Zion. Not only is the food amazing, but the scenery is incredible as well! On top of being surrounded by the stunning red cliffs that make up the park, Bistro H overlooks a beautiful green oasis along the Virgin River. It is a really pretty and peaceful dining experience to have after a long day of hiking!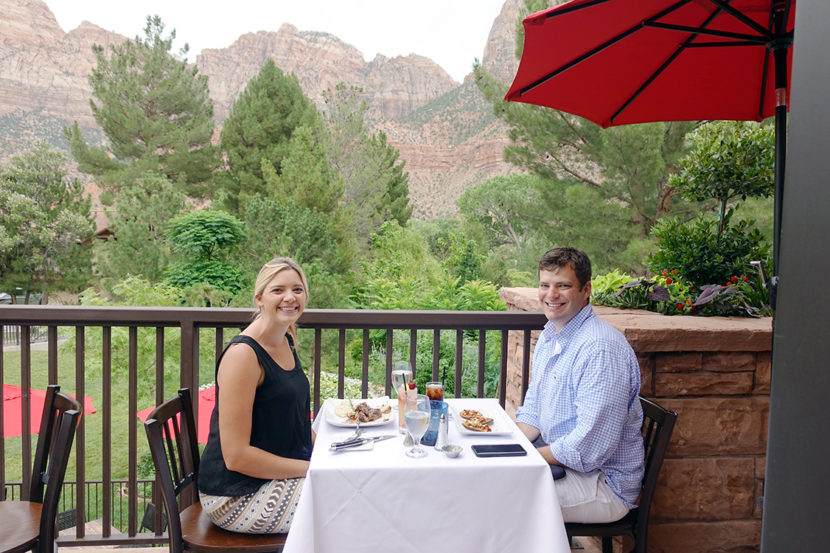 Our waitress Arielle, along with the rest of the staff, were very friendly and helpful! So the food was awesome, the location incredible, and the staff very friendly, but something that makes Bistro H even more incredible is that the Cliffrose Lodge, the hotel where the restaurant is located, also rents out Polaris Slingshots!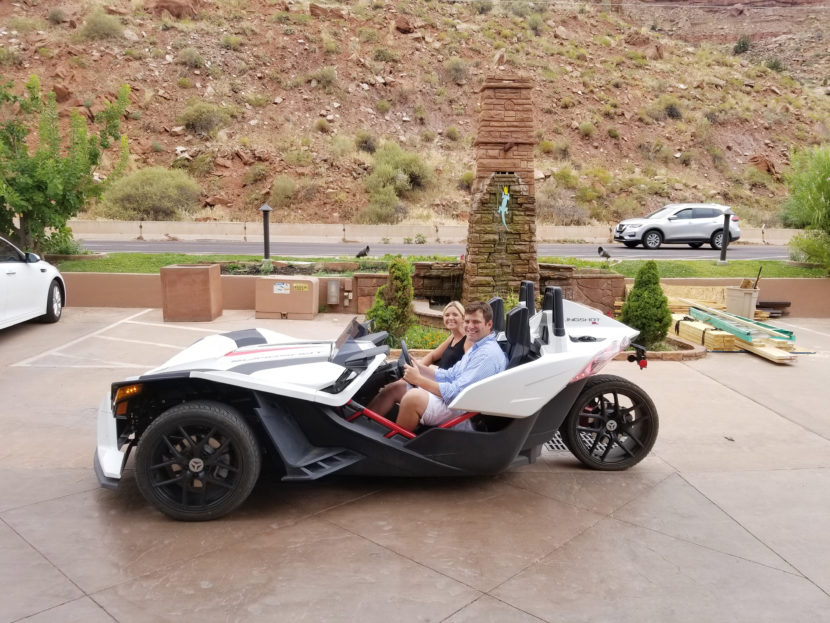 If you don't know what a slingshot is, you have to Google it. They are really cool and Em and I knew that we had to try riding one through Zion National Park. We were all set and ready to go, when I realized that the slingshot was a manual transmission which I haven't ever driven (I know, I know, how could I not know how to drive stick?) Our motorcycles are manual, but I figured I shouldn't have my first experience driving a stick-shift car be in a brand new Slingshot! But, since I am probably the only person out there who doesn't know how to drive stick, if you are in Zion make sure to stop by the Cliffrose Lodge, have some dinner and try out Slingshot Zion for me!
Hiking the Narrows
Our first hike in Zion was The Narrows. This hike up the Virgin River is one of the most popular hikes in the park, and for good reason. Pretty much the entire hike, we were walking in the river with the water sometimes getting up past our waists (I heard that it is even higher in the spring)!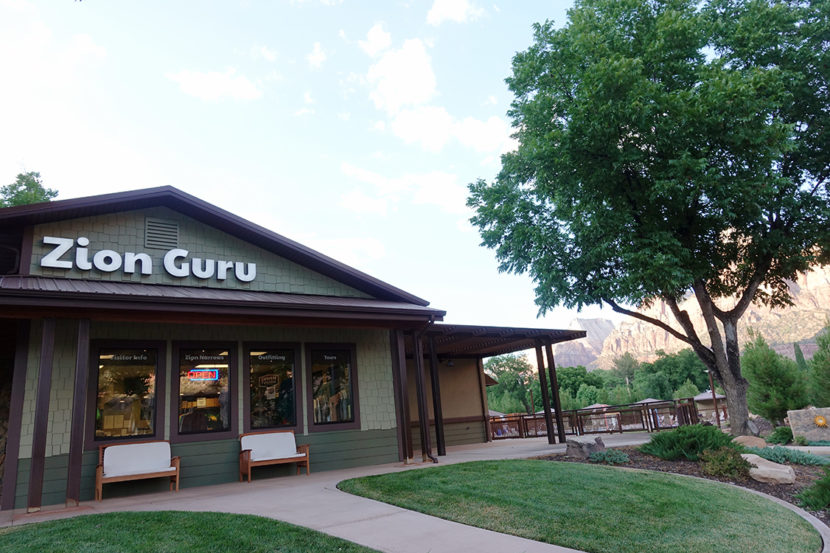 Fortunately for me, I have a smart, well-prepared wife who looked this up before we started the hike and found that there is a local shop called Zion Guru that rents out waterproof liners (socks), boots, dry bags, and walking sticks.
Me, being the unprepared, ahh-it's-no-big-deal type of husband that I am thought that we didn't need any of that stuff. Fortunately I have learned that my wife's wisdom is usually right, and decided to get the rentals. And of course, she was right. I am very glad that we did because the water is pretty cold and my feet and hands are usually the first things to start freezing but, because of the waterproof liners, my feet didn't really feel cold at all. Also, the boots had awesome grip and were great for walking over the slippery rocks without having to worry about slipping.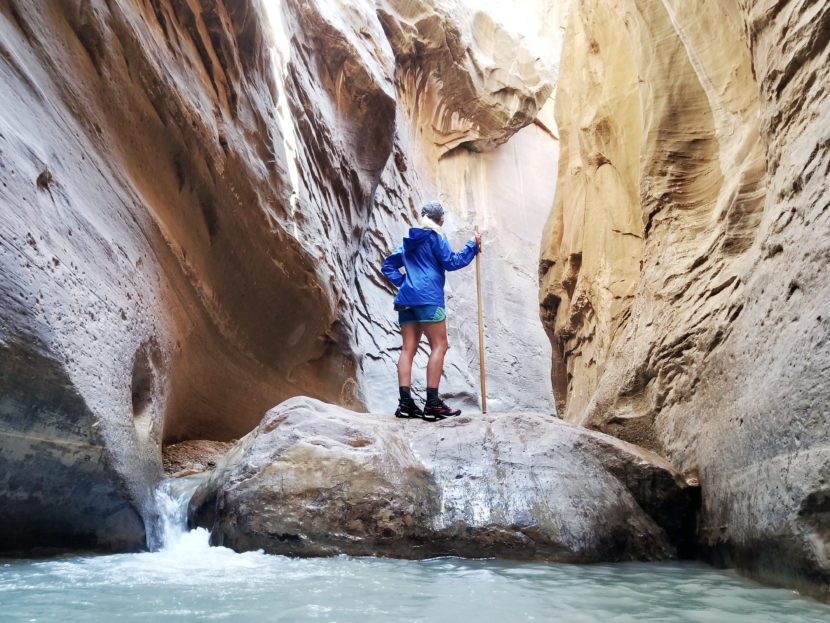 I would say that the rental is worth it even just to keep your regular shoes dry and ready for your next day's hike. (I can't really imagine the blisters that I would get from wearing wet shoes the whole way up Angels Landing). And the dry bag allowed us to bring our camera and cell phones and not have to worry about what if we fell in the water or the water somehow found its way into our Ziploc bag (like it did when we were kayaking in Florida – one ruined phone is enough for me =) Unfortunately, I didn't completely listen to my wife and decided not to take a walking stick. I never really used one before and thought it would just be another thing to carry. But after about 10 minutes into the water, I started to realize that it would have probably been a good idea to have listened to Em and brought a walking stick to help balance in some of the faster parts of the water.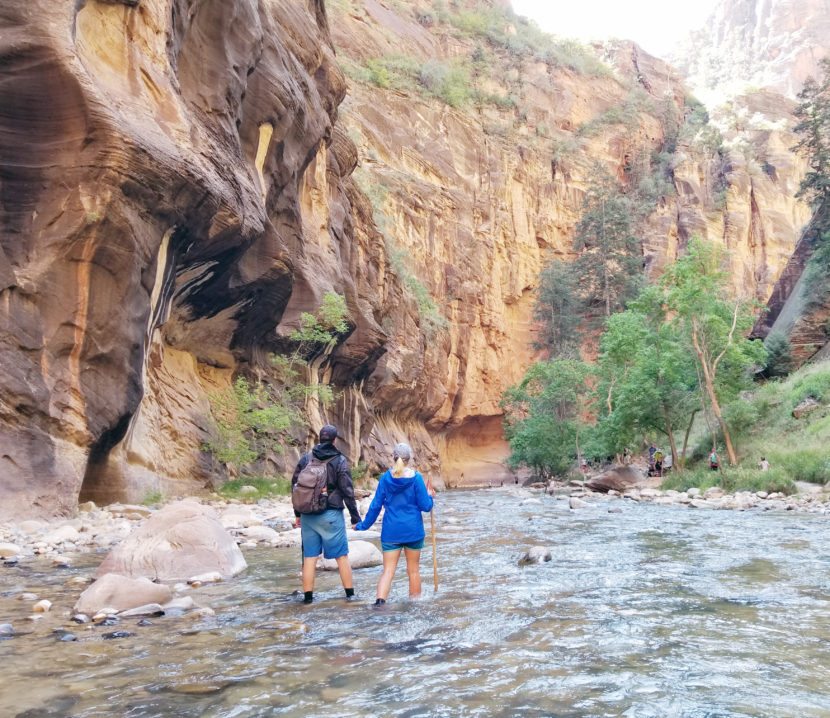 The Narrows were a really cool and unique experience to hike for about 4 hours in water. Around every turn is another awesome view. Em and I are glad that we did this hike early in the day, as there are less crowds (it was definitely a lot more crowded on our way back out) and the cliffs keep the trail pretty well shaded until midday, when the sun is directly above. It's definitely worth checking out this hike if you're in Zion!
Angels Landing
Angels Landing is one of the best-known hikes in Zion National Park. It isn't a very long hike (I think less than 2 ¼ miles one way), but the last half mile is one of the reasons why it is so popular. The last half mile is a pretty narrow "trail" (I say "trail" because Em assures me that it is more like a side of a cliff than an actual trail =) that climbs up to the top of a narrow peak that overlooks the park. There are chains in some of the areas, but they at times tend to be more of an aid in pulling yourself up the path, rather than a rail to keep you from falling. The trail got its name Angels Landing because it was said that it is so high up that only the angels could land there. I am not sure about all of that, but it is a beautiful view!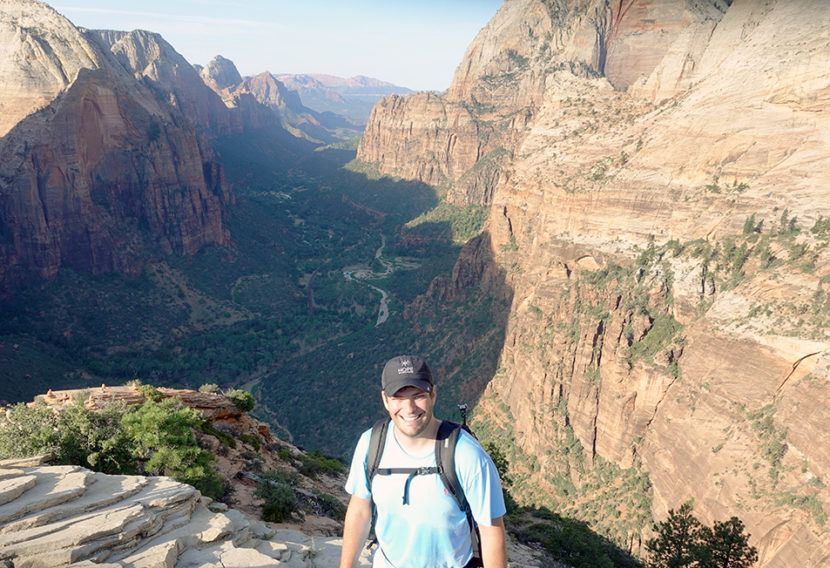 I had hiked this trail with my brothers back when I was about 16. Em hadn't ever hiked the trail, but had heard a lot about it from other people who had visited Zion. She isn't very afraid of heights (we've jumped off a building in Vegas, dangled over the edge of the CN Tower in Toronto, and did a 120-foot freefall into a net in Dallas) but she is not a fan of doing things that a wrong step could mean a reallyyyy long tumble. So she wasn't sure if she would be up to the last half mile of the trail, but wanted to hike the first 2 miles with me anyways!
We woke up around 5:30 and walked to the park entrance. The first bus into the park starts at 6AM, so we wanted to be there for that in order to beat the crowds and heat that come later in the day. The first 2 miles of the hike are pretty steep as you gain 2037 feet in elevation. (One piece of advice in doing this trip is to not count the switchbacks. There is one section of the trail called The Wiggles that just keeps winding back and forth for a long time. I started out trying to count the switchbacks on the trail and quickly realized that it made me tired just thinking about it!) But like I said before, the trail isn't too long and the view at the top is definitely worth the elevation gain.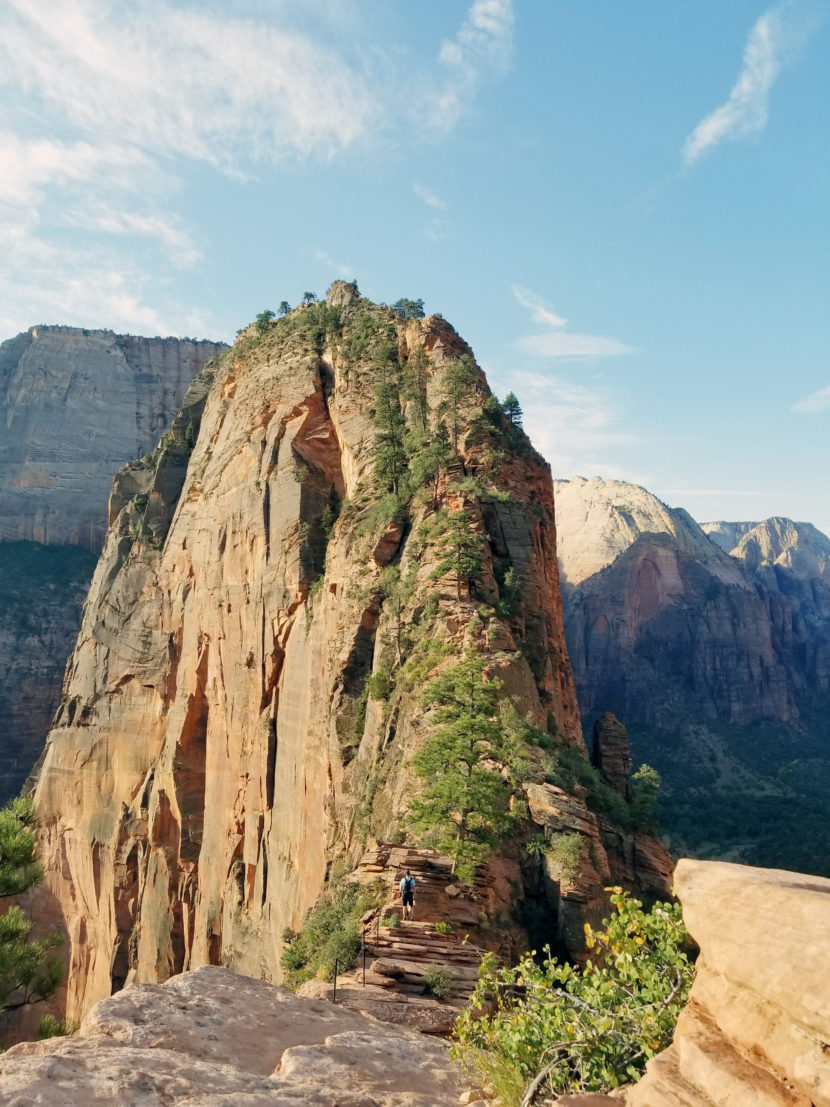 At the top of the trail, before the last half mile begins, is a flat plateau area that I think should be called "Decision Point." That's because it is the last part of the trail before you have to make the decision to hike with 1000 foot drops on either side. (My advice would be to not stop to think and just keep going for it =) Em and I pressed on and made it through the first little section of chains. There is a great area by a tree to stop and take some pictures of the last part of the trail that climbs up to the narrow peak of a cliff. We made the mistake of stopping here and taking some pictures.
I say mistake, because once we stopped we had time to actually think about the next leg of the hike, and Em decided it wasn't for her. I am really proud of her. I think it is really important to know your limits and she didn't want to put herself in a situation where she might get too scared and get stuck. (She is still one of the bravest little daredevils I know!) She still wanted me though to continue on and complete the rest of the hike (although come to think of it, maybe that was just so I could get a picture from the top of the mountain =) I continued up the path and made it to the awesome pinnacle that looks down through the valley of Zion. It is a really cool view and definitely worth the hike up to the top!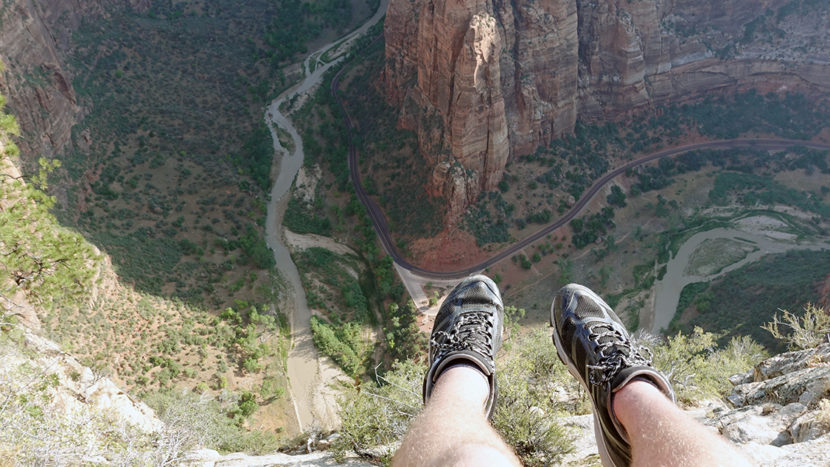 Fortunately Em and I were some of the first people on the trail because, by the time I started heading back, it was already getting more crowded. On a crowded summer day, the last half mile of the trail can be extremely slow-going because, in most areas, it is only wide enough for one-way traffic. Also, if heights aren't your thing, a park ranger and a few other people told us that Canyon Overlook Trail and Observation Point are two other trails that aren't as narrow and have just as good of, if not better, views of the park. But, at the same time, hiking Angels Landing is a pretty unique and thrilling experience and definitely something that I would say is a must-do experience for anyone who loves to hike!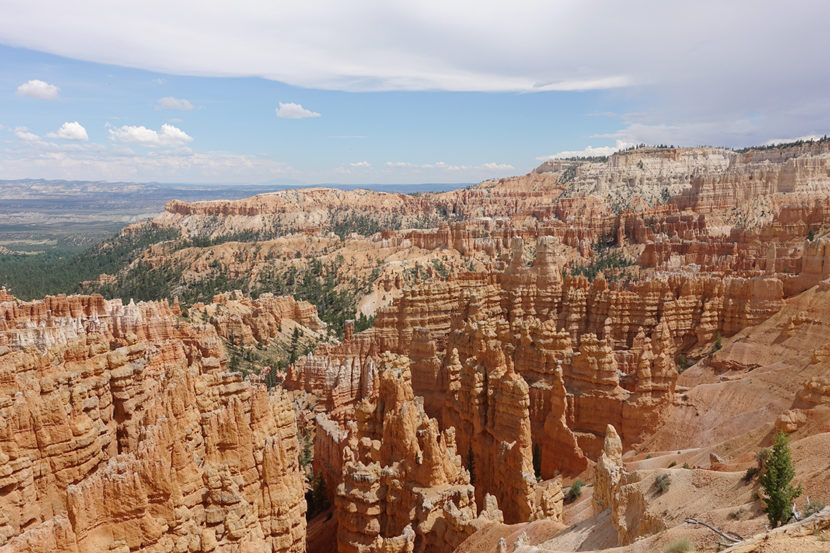 Bryce Canyon National Park
After Zion, we spent a day at Bryce Canyon National Park. Although we didn't have a whole lot of time there, we really enjoyed our experience and the day was absolutely beautiful! The shuttle system through the park is great and really easy to navigate. We took it to one of the campgrounds and hiked along the rim of the canyon up to Inspiration Point. If we had more time, we would have loved to hike down into the canyon, but we will have to save that for trip round two. ;)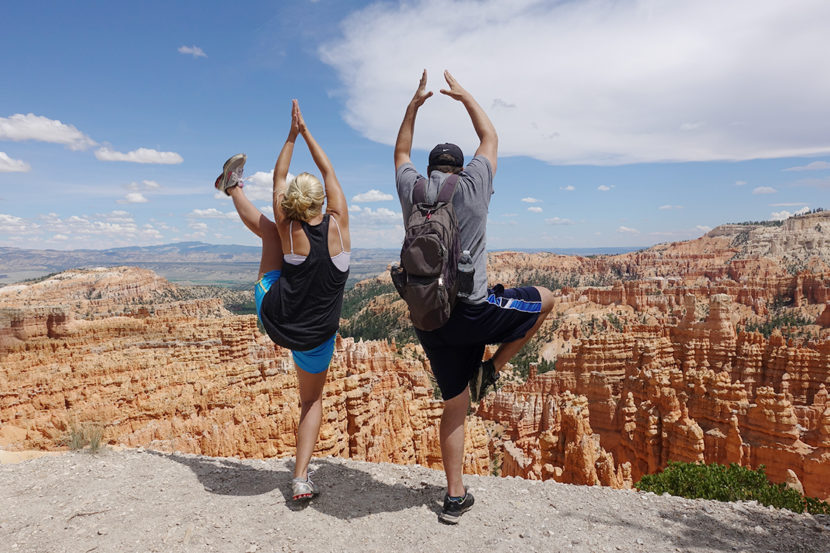 Although there were some crowds, it was easy to get away from them by just going up the path a bit. We enjoyed doing our best impressions of the Bryce "hoodoos" and got some good laughs. :) Clearly we don't do yoga, ha!
Monument Valley
Em and I usually take the divide and conquer method for certain road trip tasks. For example, I usually drive the RV and she plans out the details for our next destination. But every once in awhile, I'll decide to "plan" our next stop, and it sometimes doesn't turn out so well. Our drive to Monument Valley was a perfect example of one of those times I "planned" our next stop.
The drive from Page, AZ to Monument Valley is a little over 2 hours. If you haven't heard of it, the desert rocks of Monument Valley looks exactly like the landscape in an old western movie (and for good reason, because a lot of old western movies were filmed here). There are flat desert plains and then massive standalone rocks that jut out from the ground. It is a pretty awesome sight!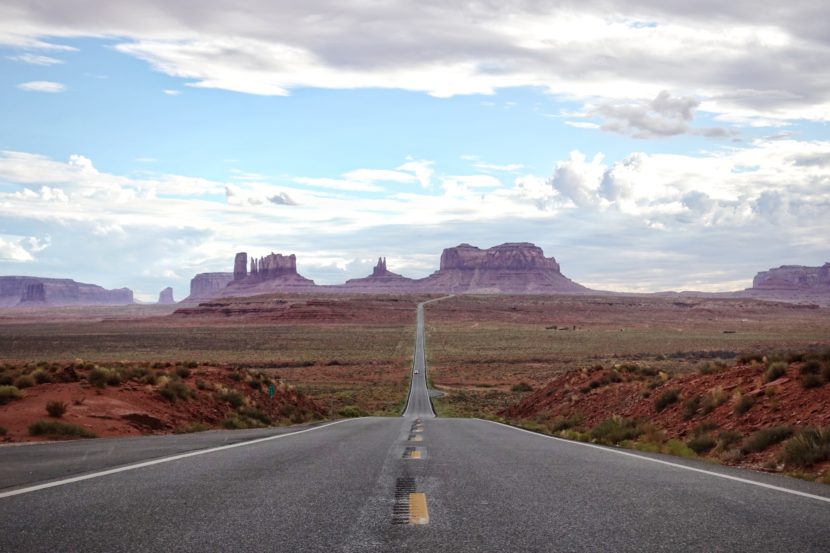 However, due to my poor planning, our experience of Monument Valley wasn't quite as amazing as it could have been. The first issue was that, after blowing a tire, we noticed two of our other tires had been losing some air. So we kept pulling over on our drive to check the tires to make sure they weren't losing too much air. This quickly turned a 2+ hour drive into a 3+ hour drive. Next, the main road of Monument Valley is on Navajo land and costs $20 to drive on. So Em and I waited in a line of cars for about 30 minutes, only to find out that neither RVs or motorcycles (the two types of vehicles we happen to drive) are not allowed through the main area.
But that was okay, because there were still plenty of awesome views from the road outside the paid area. We took some pics and really enjoyed just driving around and seeing the sights. But after about a half hour, we found that our tire pressure was low and one of our air suspension bags was torn and leaking air. (The air suspension is the same thing we had fixed two times before and what left us stranded next to the World's Largest Ball of Twine in Kansas, so we weren't about to take an chances.)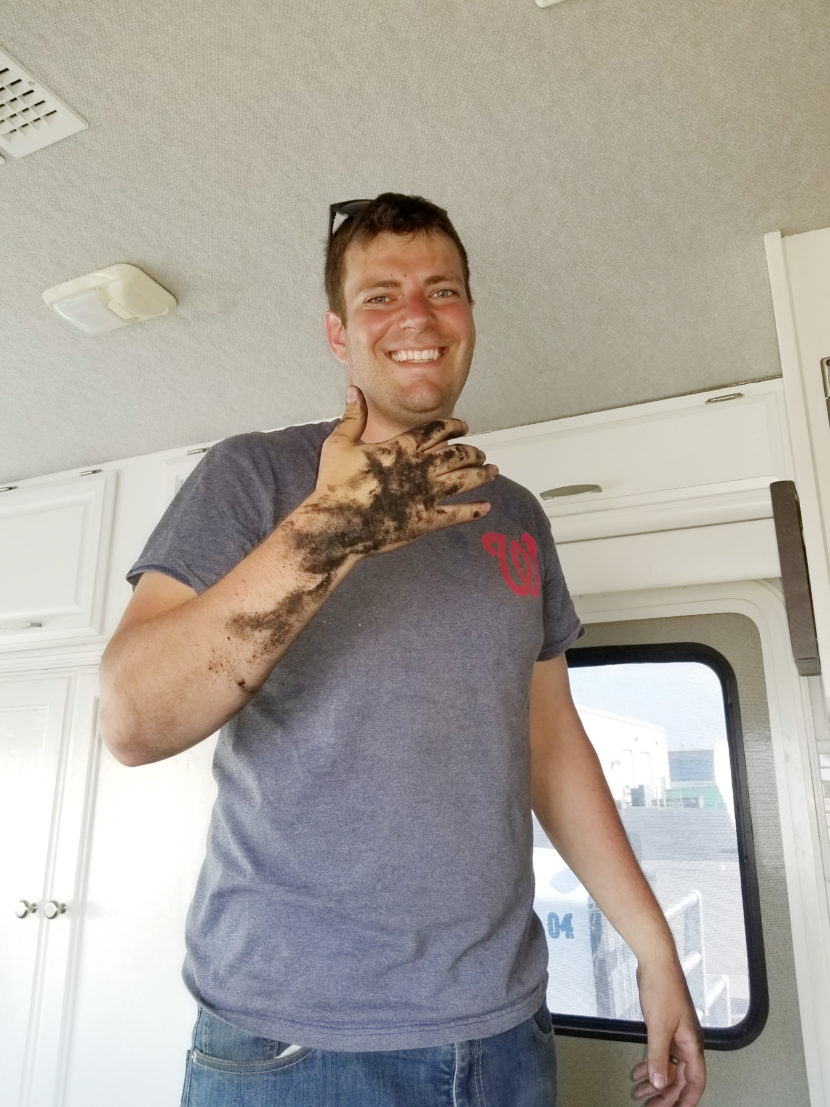 So I wish I could tell you if it is worth paying $20 to drive through Monument Valley or to just see it for free from the side of the road. But thanks to my great planning, I can't =) (I will say that it is still a really awesome view from the road. Just don't plan on going to the main area in an RV).
Since we were having RV issues, we decided to skip Moab and Arches and drive straight to Salt Lake City where we had an RV appointment. Which does really stink because we not only missed out on Arches National Park, but Canyonlands, Hell's Revenge, Natural Bridges, and a lot more. Oh well, I guess there is always next time! =)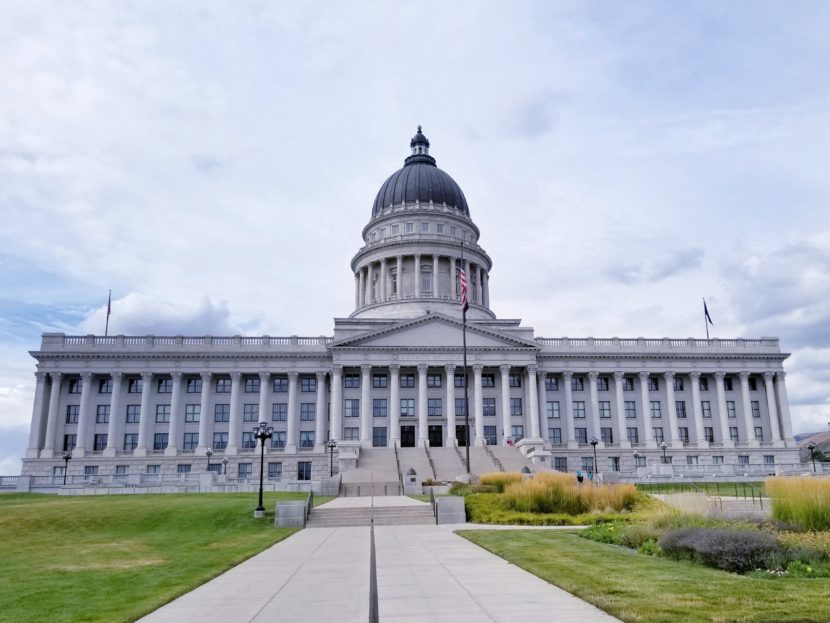 Salt Lake City
It turned out that driving straight to Salt Lake City instead of heading toward Moab was the right decision. The next morning when we went to drive our RV, it was riding really rough and we couldn't drive it more than a couple of miles (turns out there were a couple other issues with the air suspension too). I don't usually shout out RV repair places because 1. It isn't exactly the most fun thing to be stranded for a few days and have to pay more money and 2. It isn't that helpful or exciting to write about, but Legacy RV Center in Salt Lake City did an awesome job of getting the parts and fixing the issues with our RV. (We also have had some really bad experiences with RV repairs, so I guess I just like shouting out a place that did a great job for us!)
It took a couple days for some RV parts to be shipped, so that meant we had a couple days to explore Salt Lake City on our motorcycles! We drove around to different areas of the city and got to see some local parks, the state capitol, the Mormon tabernacle, and eat at some great restaurants too.
Just Organic Juice
One of the awesome places we discovered in Salt Lake City is Just Organic Juice. Em and I love finding local places to eat. And not only does their awesome food taste great, but it is certified organic as well. That means that not just certain items on the menu are listed as organic, but the entire store is certified.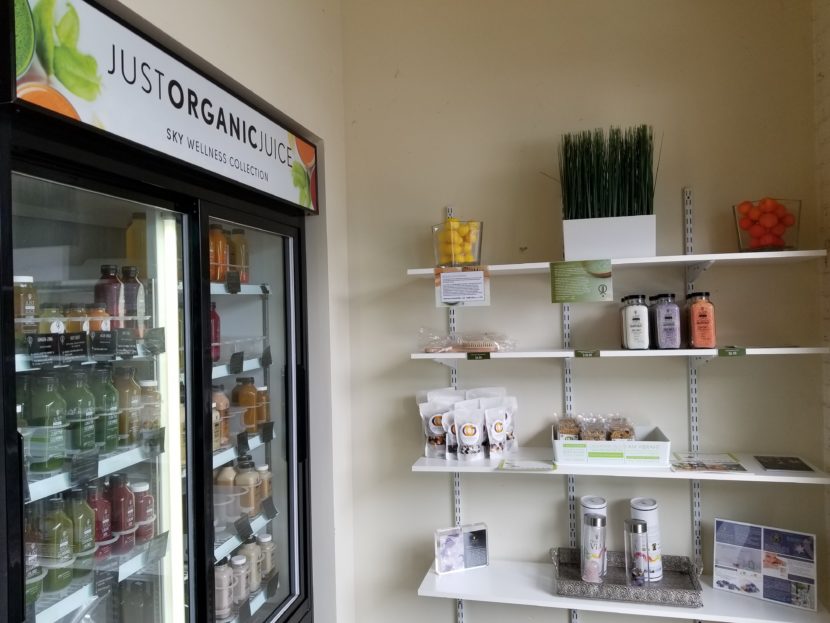 Just Organic Juice uses the top methods to press raw, organic fruits and vegetables into delicious tasting juice. They use only non-pasteurized fruits and vegetables with no preservatives, press all their own fruits, and handmake their nut milks. Just Organic Juice has an entire menu to make it easy for people interested in trying a juice cleanse, as well as other delicious options including smoothies and acai bowls. It was a really tough decision of what to order because everything looked so good!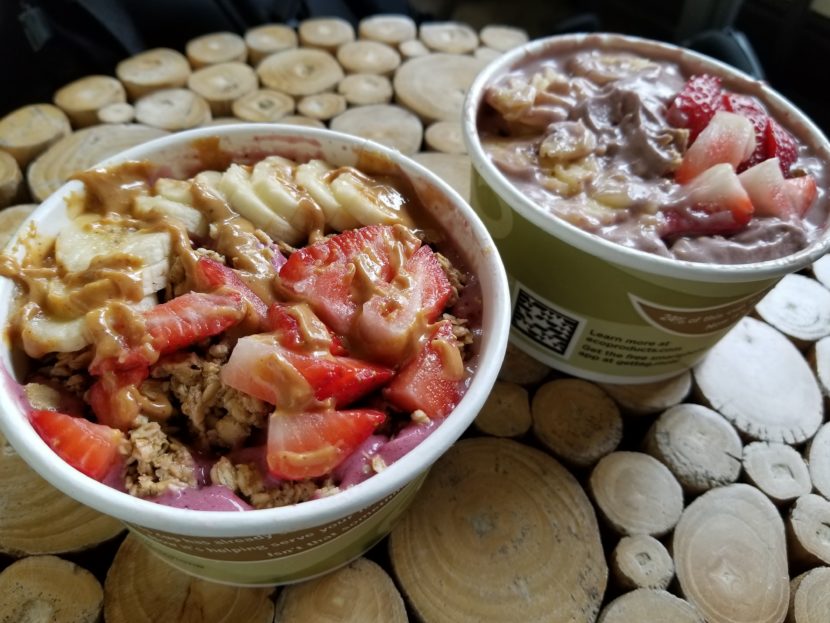 Two of their most popular smoothies are Harmony Honey (raw almond milk, bananas, natural peanut butter, strawberries, local honey, bee pollen) and Grounding Greens (apple juice, avocado, peach, kale, celery spinach, apple cider vinegar). The smooothies all looked so great but, after riding around the city on our motorcycles all day, I had to try their acai and peanut butter mixed bowl. (Just writing this makes me hungry for another. =) It was delicious!
Pulp Lifestyle Kitchen
Since we were still waiting for our RV to be fixed, we had a couple more days to explore Salt Lake City. Right downtown, a couple blocks away from Temple Square, we found this awesome health food restaurant called Pulp Lifestyle Kitchen. The restaurant itself has an awesome atmosphere with a huge menu! They offer pressed juices, food bowls, salads, wraps, acai bowls, and a ton of other healthy options. It is awesome for people who are looking to just grab-and-go or for people looking for a sit down meal.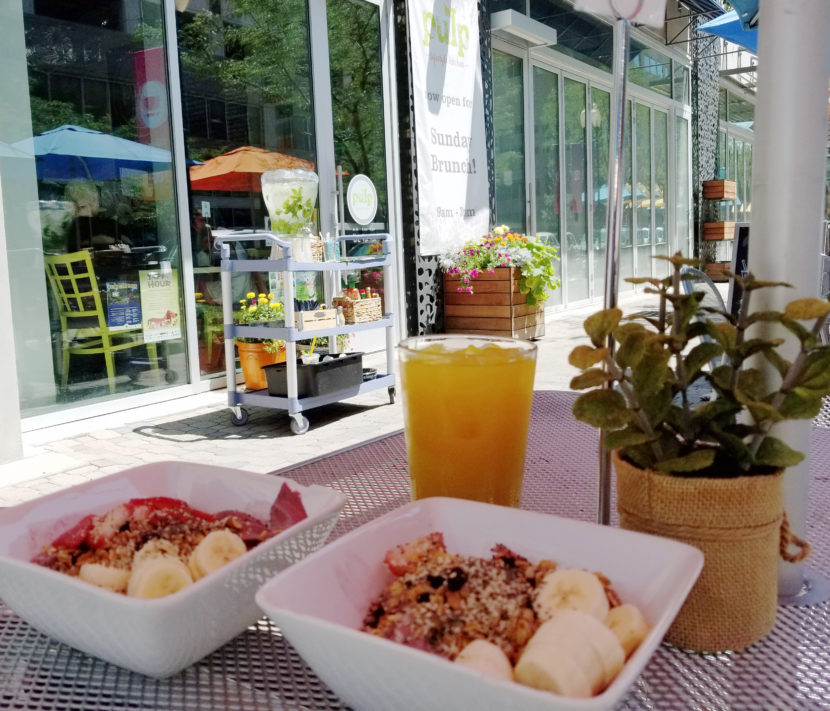 Since we had plenty of time to spend and it was a beautiful day outside, Em and I decided to eat at one of their outside tables. Even though Pulp caters to both grab-and-go orders and sit-down diners, this doesn't mean they skimp on the dining experience. The first thing we noticed is that, instead of plastic cups for water that most casual restaurants offer, Pulp had glass cups. The dishes and silverware were just as nice as any other fine dining restaurant. They even had three different flavors of fresh fruited water! The staff was really helpful and friendly as well.
Em and I tried some of Pulp's juices, health bowls, and of course we couldn't resist ordering acai bowls for dessert! I had the Sano bowl with chicken, rice, sweet potato, corn, black beans, scallions, avocado, cotija, cilantro, lime, and house-made salsa. The ingredients individually taste awesome, but somehow in Pulp's Sano bowl it tasted extra delicious all together. Even the juices, which to be honest I was expecting to be more "healthy" than tasty, actually were delicious and really good for you!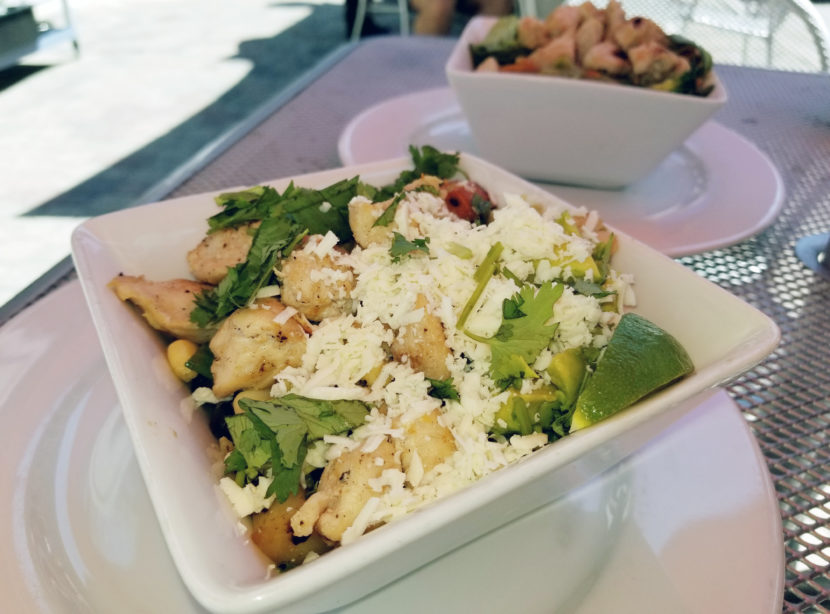 Pulp really lives up to their name. We found out that the restaurant takes all of their leftover pulp from their juices and uses it to make these really tasty and healthy, all organic chips. I am usually not a huge fan of things like veggie or kale chips, but these chips tasted amazing! It is also really cool to hear when restaurants go the extra mile to not waste food and find amazing and delicious ways to repurpose their leftovers! If healthy food tasted this great when I made it, I think I could eat healthy all the time!
Landis Lifestyle Salon
While in Salt Lake City, Em decided to get her hair done. For the past 13 years, she's been highlighting it with a box kit from Walmart, and since getting married I have taken over the role of being her hairdresser (I know, what a great husband – although she cuts my hair for me and has to do this three times as often as I highlight her hair, so I guess that makes up for it. ;) Anyways, she heard about Landis Lifestyle Salon, which has won the award four years in a row for being the best salon in Utah, and figured that they might just be a little better of hairdressers than I am. ;) So since we had extra time to spend in Salt Lake City, we thought it would be a special thing for her to get her hair done. I will let Em take it over from here to explain her experience!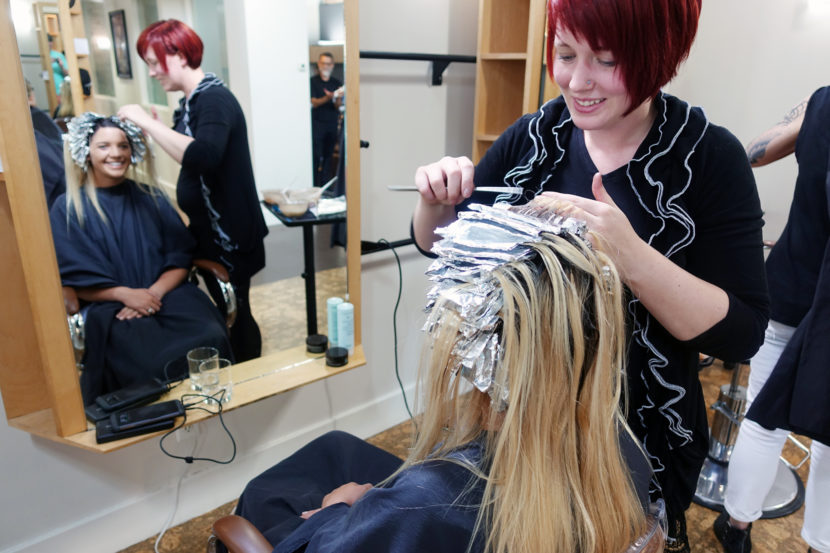 I was so impressed with Landis Salon! From the moment I walked in, it seemed like such a retreat-like atmosphere. One of the first things I noticed was how friendly the entire staff was, from the front desk associate to my stylist. The second thing I noticed was that it smelled great, very unlike other hair salons I've been to in the past! And Hud loved the waiting area, which had huge couches and even free Wifi. It was definitely a very relaxing and enjoyable atmosphere to spend the afternoon.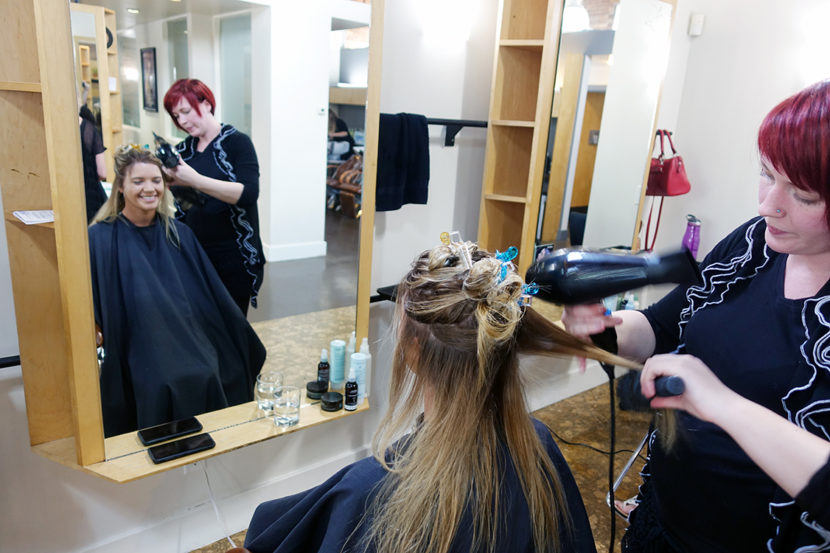 My stylist, Kylie, was super kind and took the time to listen to what I was hoping to achieve and then recommend what she thought would be best. She ended up filling in more of my natural color at the roots, blending some of that color down through the blonde, and then pulling some lowlights through the ends. I also got a deep conditioning treatment, which made my hair feel amazing! Kylie then styled my hair with Aveda Smooth Infusion Styling Creme, and I even got to take some home – it's amazing! And I learned that many of their products are up to 98% all natural, and cruelty free, which made the experience even better. Here's my before and after!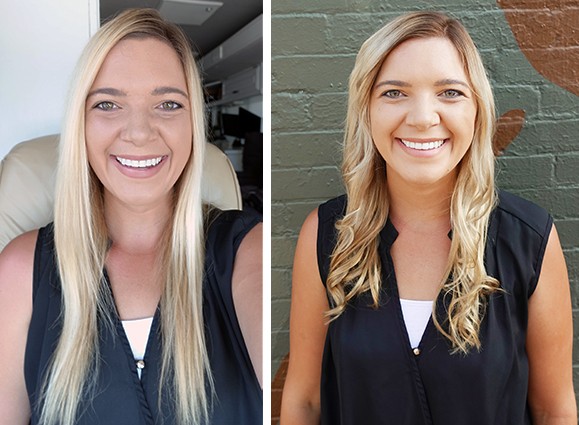 If you're looking for a great salon in Salt Lake City, I highly recommend Landis Lifestyle Salon. Whether you live in the area or are just traveling through, they will make it a wonderful experience for you! Back to you, Hud! :)
Park City
It isn't too often that you get to visit a place where the Olympics were held, let alone actually ride on some of the official Olympic courses! So when Em and I found out about the Utah Olympic Park in Park City, we knew we had to visit. The park offers tubing, ziplining, an alpine slide, ropes courses, a free-fall drop tower, rock wall, and even a 70 MPH ride down an official Olympic bobsled track!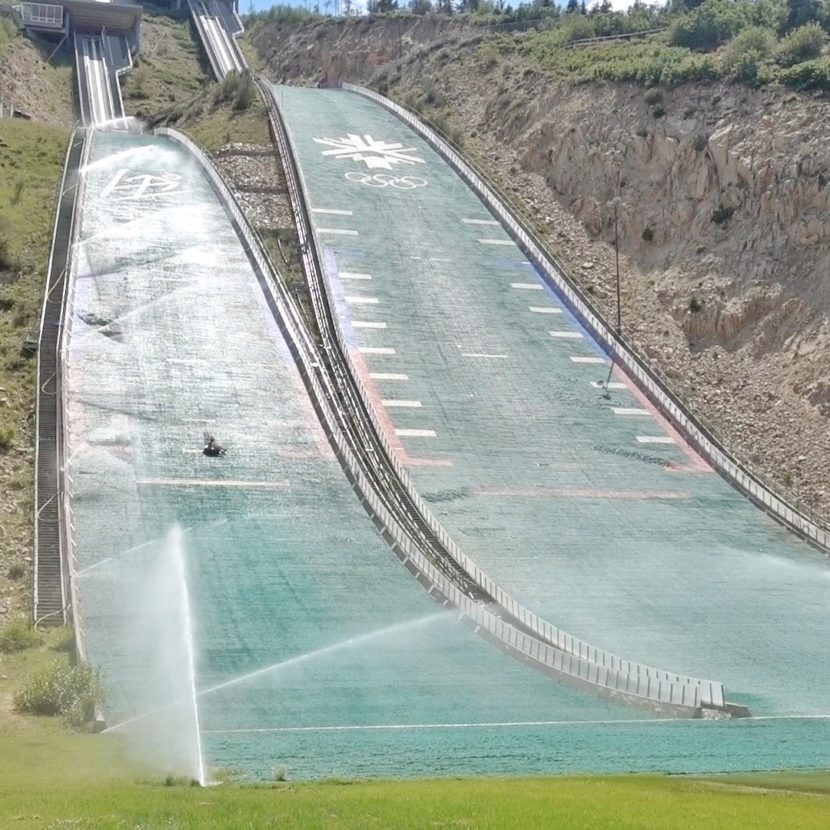 We started our day with a zipline ride over the huge K120 Nordic Ski Jumping course. (That's the massive ski jump that skiers go more than 60 MPH down and jump further than a football field)! I don't think that I am going to be jumping over football fields on skis anytime soon, so this was an awesome (and a lot safer way) for us to get a taste of what it might feel like for the Olympic athletes! There are two different ziplining courses at the park. The bigger of the two starts at the top of the mountain and goes all the way to the bottom of the jump, reaching speeds of 50 MPH! (Unfortunately for Em and I, the big zipline course was closed for maintenance, but we still had a blast getting to ride its little (but still really big and fast) brother. =)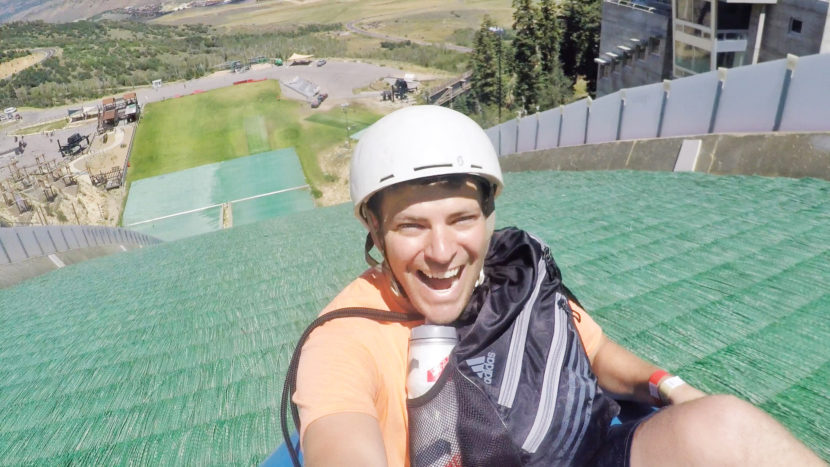 One of my favorite rides of the day was getting to experience extreme tubing down the landing hill of a Nordic Ski Jump. This type of tubing put to shame all other tubing rides I've ever done! I have to admit that it was a little intimidating standing at the top of the hill and not being able to see the bottom because of how steep it is! All you have is a tube, helmet, and 10 white knuckles that are standing between you and the ground, and you rush down the hill at 50 MPH. It was so much fun that we had to ride it several times! I kept thinking that if tubing down the hill was this nerve-wracking, I can't imagine what it would be like to be soaring in the air above the hill on skis!
The park also offers three different high ropes courses and a drop tower. Em and I tried the Summit Adventure Course. Some of the obstacles were pretty challenging and the whole course was a lot of fun. I always laugh how walking across a beam may seem easy when you are only two feet off the ground, but when swinging 55 feet off the ground, things somehow become a little bit more difficult!
The drop tower is a 65 foot free-fall to the ground. It starts off with a 37 foot zip line ride to the top of the tower. Once we made the decision to zipline across, the only way down was to jump. It is funny that Em and I have done the 120 foot free-fall outside of Dallas and jumped 829 feet off the Stratosphere in Vegas, but for some reason, no matter the height, it still a little intimidating deciding to jump off a perfectly good platform. But every time I make the decision, it is always a ton of fun and I am thankful that I did!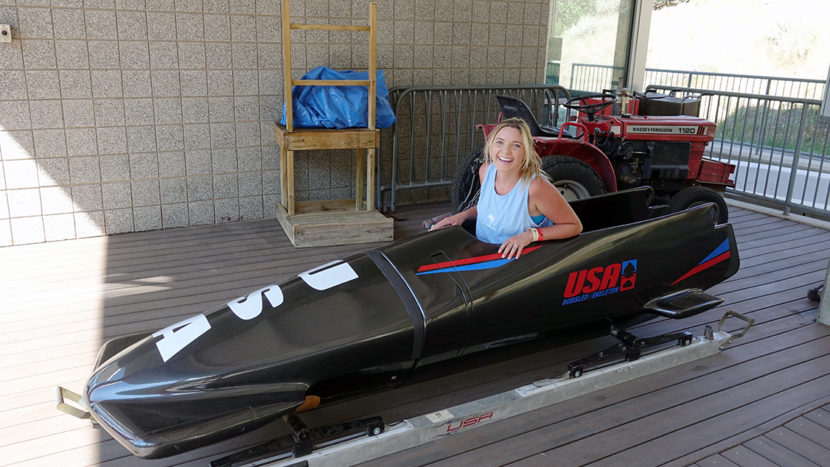 Probably the coolest experience at the Utah Olympic Park is getting to ride in a bobsled down the official Olympic track! There are only two official bobsled tracks in America, and we actually got to go down one of them in a bobsled! This was definitely one of those bucket list items to experience. Our top speed was just under 70 MPH, but when we were flying around those sharp banked turns it felt like we were going 170 MPH! In the Olympics, bobsledders can go more than 90 MPH.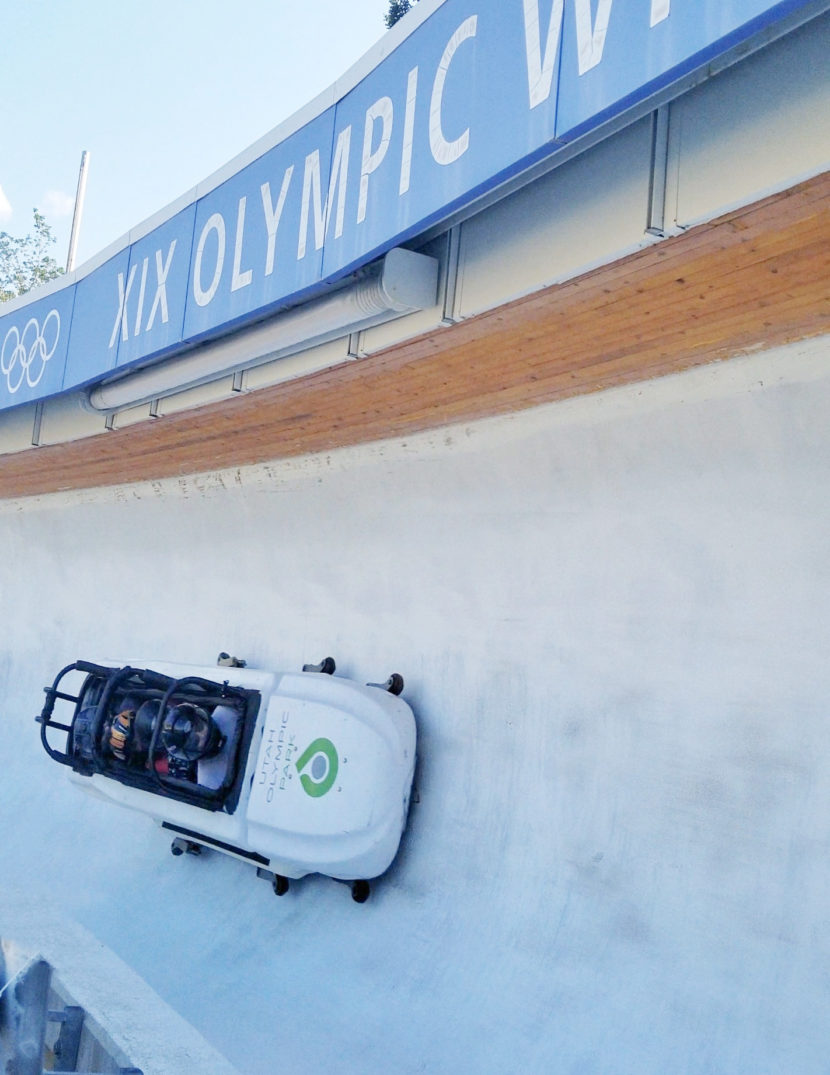 It is pretty crazy to look to the side and see that only a couple of inches of air are all that separate my head from the wall! It was so fast and bumpy that I had trouble just staying upright in my seat, but I can't imagine how the Olympians are able to go 20 mph faster and have to steer the sled! Although it was a really thrilling experience, our driver was awesome and did a great job of explaining how the sled worked – most importantly, he made sure that we stayed safe on the track! If you are ever near Salt Lake City, a trip to Utah Olympic Park and and a ride down the bobsled is definitely worth it!
Salt Flats
Located a few miles away from the Utah/Nevada border is the Bonneville Salt Flats. This 40 square mile stretch is the largest and best known salt flats of several salt flats in the greater Salt Lake City area. It is so flat and vast that it is said that you can see the curvature of the earth. It was about a 2 hour drive from Salt Lake City to the Bonneville Salt Flats. The 4 hour roundtrip was definitely a long way to drive, but since we have already logged more than 10,500 miles on our trip, we figured what's another 250 miles? ;)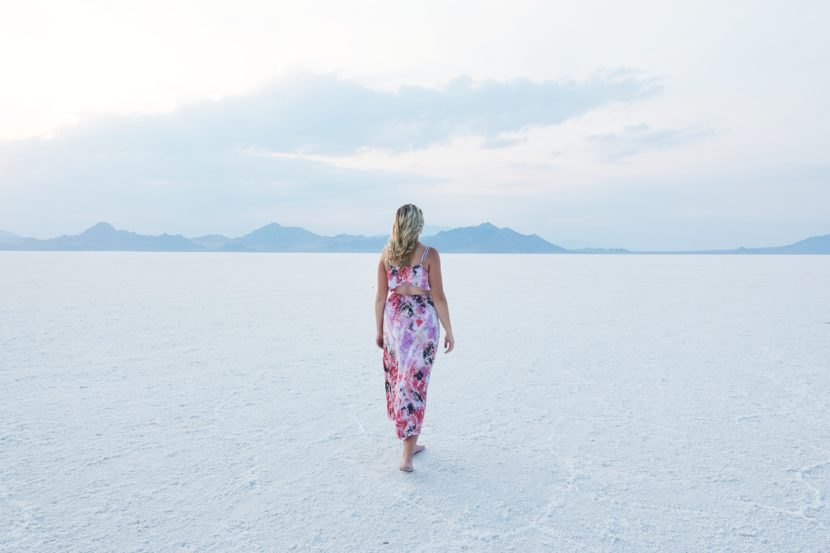 One of the biggest surprises was that the main "visiting area" of the salt flats is nothing more than a large pull-over on the side of the highway. (There is a truck stop a few miles further down the road, but the salt isn't as white there). If I didn't plug it into the GPS, I probably would have driven right past it! For as many pictures we've seen posted on social media of the salt flats, I almost expected there to be hundreds of people scattered across the salt flats, but there were never more than a handful of people the entire time we were there!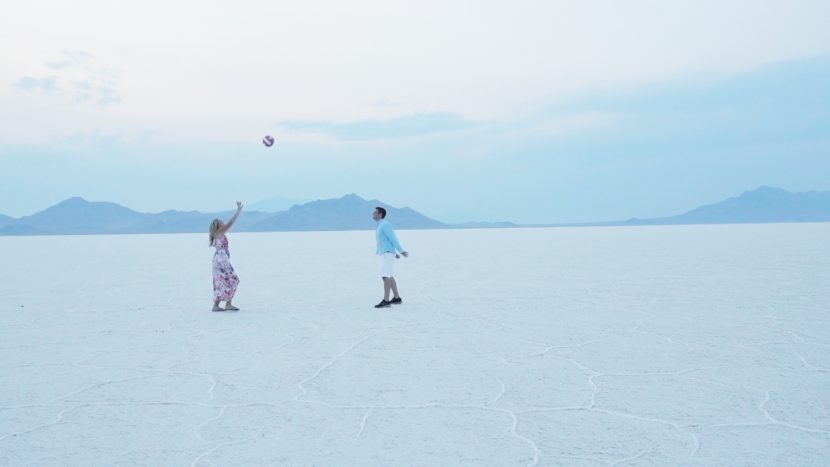 The Bonneville Salt Flats are probably best known for their speedway, where several of the world's fastest speed records have been made. We were really tempted to take the RV or motorcycles out on the salt flats, but since we had just spent more than a week getting our RV fixed, we decided that the risk of rusting out our rides probably wasn't worth it (but we did see someone doing donuts and it looked like a lot of fun!)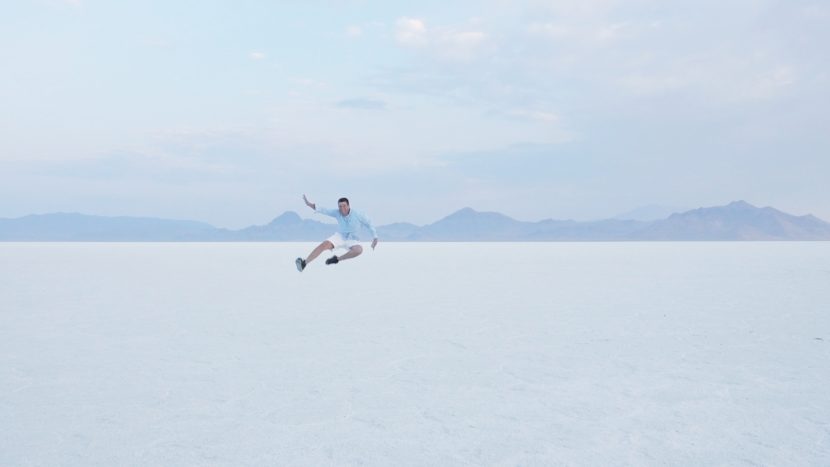 We took a ton of pictures and even got the drone out (finally a place that we were allowed to fly it!) We arrived to the salt flats right before sunset and it got pretty dark pretty quickly, so we decided instead of driving back in the dark that we would just sleep at the pullover and head out the next morning. (One of the awesome advantages to driving an RV! =) It was a long drive, but well worth it for the memories!
So that was our time in Utah! It exceeded our expectations of being the home of national parks and beautiful views. Not only was the landscape amazing, but the people were really friendly, and despite the RV issues we had a really wonderful experience.