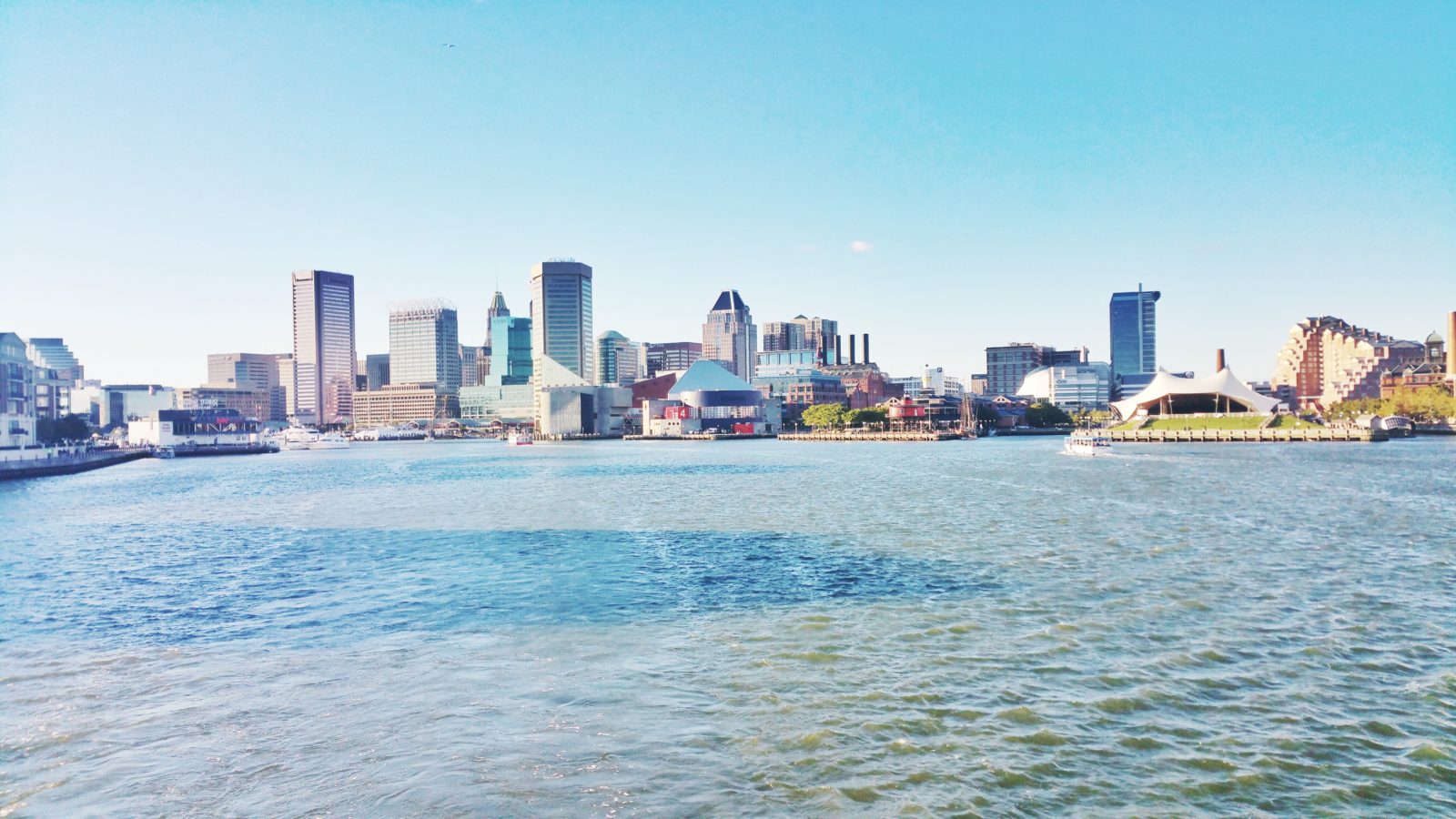 Last month, Hudson and I spent a weekend in Baltimore and had such an incredible time! We wanted to do all of the "touristy" things we hadn't experienced before, plus some additional things – like see our friends' newborn baby! – and it was an even more incredible weekend than we imagined.
Baltimore makes a perfect weekend getaway – there is just so much to see and do! Here is a recap of our trip, which covered some of the very best things to see, eat, and do in Baltimore.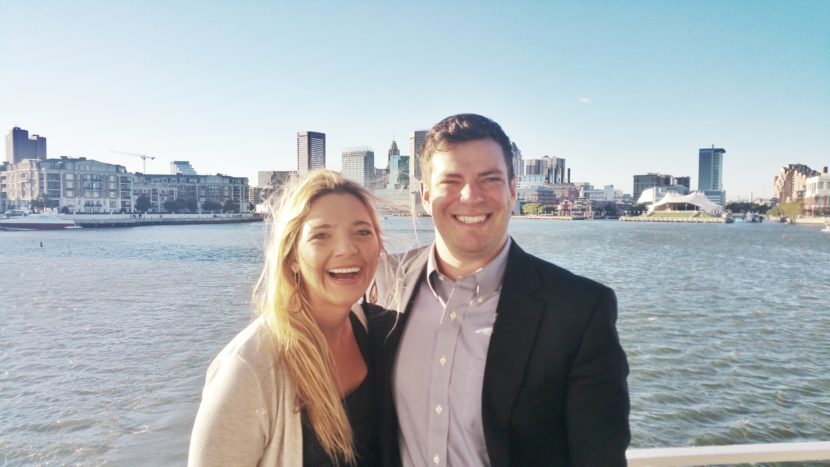 As we were planning our trip, we utilized the Visit Baltimore website to make a list of all the things we wanted to see and do. At the top of our list was a dinner cruise! We cruised on the Spirit of Baltimore through the Inner Harbor and beyond. It was really neat to see some of the areas we hadn't seen much of before, like the Baltimore Shipyard. And the views of the Inner Harbor were absolutely incredible – it was great to be able to take photos from the water!
The cruise was about 2.5 hours long and it was the perfect opportunity to get dressed up and have a fun date night out together. There were actually two weddings on board, and we got seated in the same room as one of the receptions which was really fun! The ship's rooftop had some fun activities as well – we had an intense foosball match!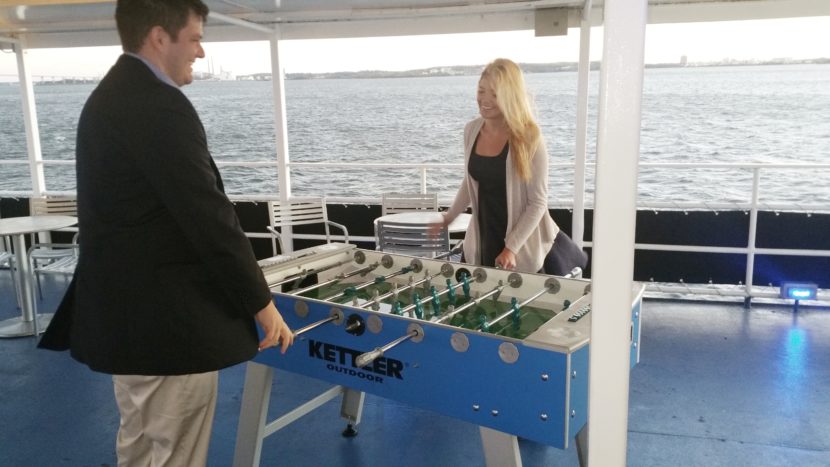 The food was absolutely delicious. It was a buffet so there were many different entrees (chicken, pasta, fish, etc.) and sides, plus a lot of desserts. It was an amazing night and something I wish we would have done sooner because it is definitely a must-experience activity in Baltimore!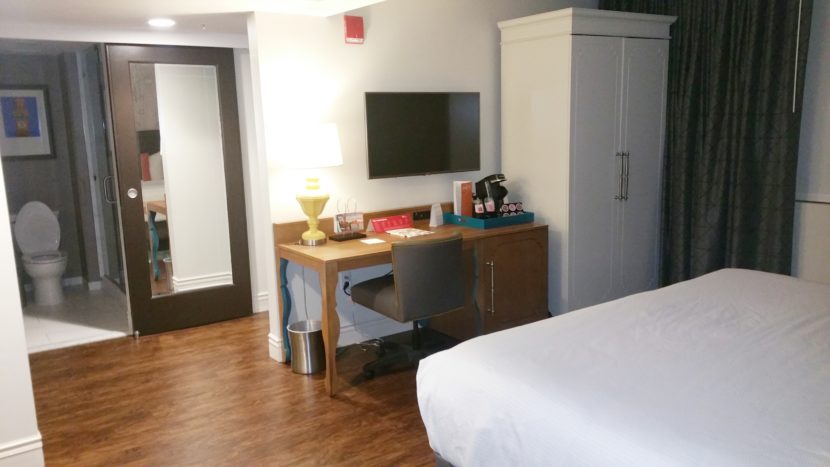 We stayed at Hotel Indigo, which is a super-cute hotel in the Mount Vernon area of Baltimore. It was the perfect location because it was more secluded from the touristy areas of Baltimore, but still within walking distance of the Inner Harbor. The sun was shining and it was tank tops in October type of weather, so we walked both days!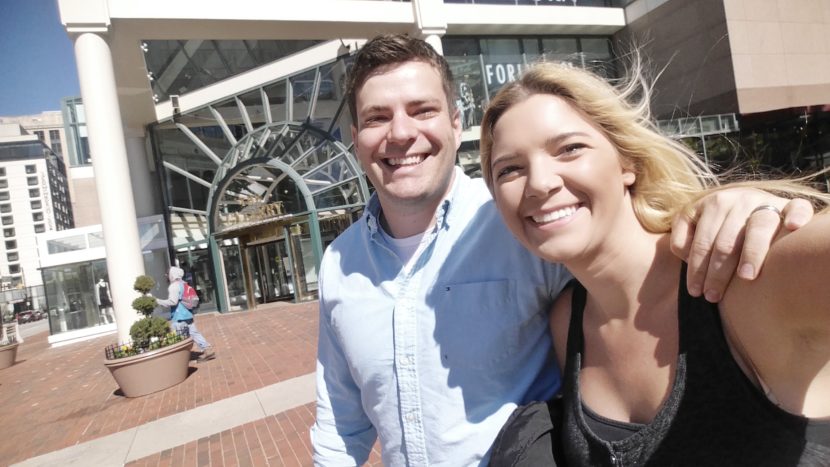 The hotel is also a great option because it is in a more historic part of town, but has been renovated to have wonderful, modern rooms.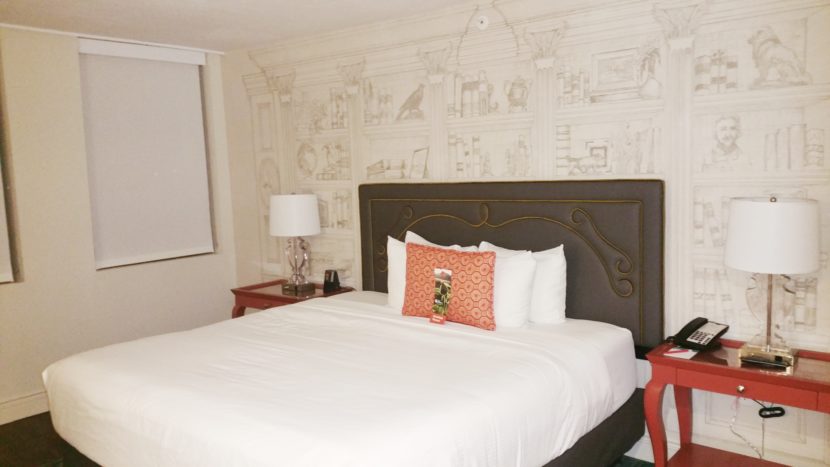 We were amazed at how big our room was, even having a separate area with a couch and TV!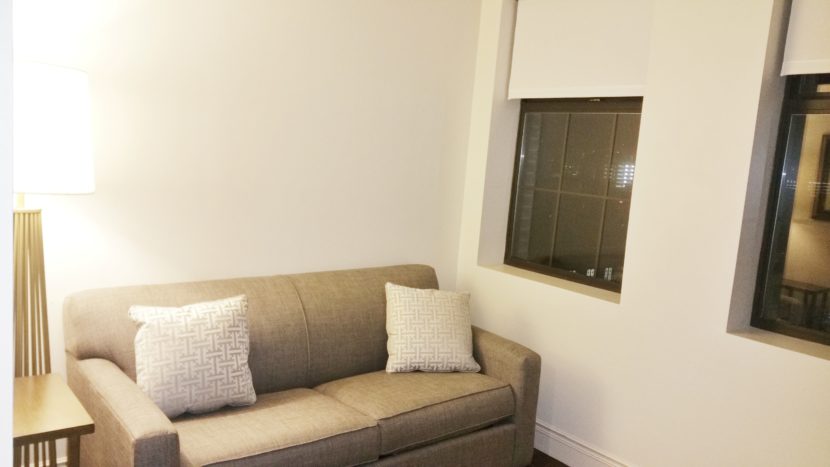 The staff at Hotel Indigo was very friendly and made us feel right at home during our stay. It is rare anymore to find a "family feel" hotel that is still really nice accommodations, and the Hotel Indigo was the perfect combination of both!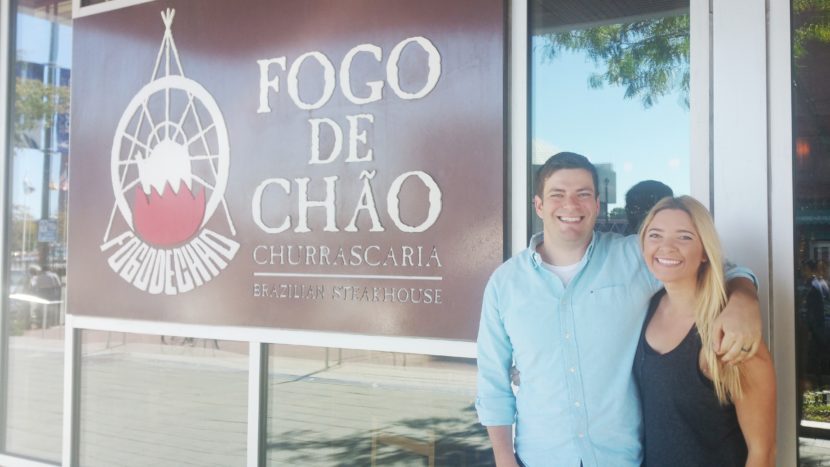 The following day, we had lunch at Fogo De Chão – one of our all-time favorite restaurants! This was our second time visiting the Baltimore location and it was even better than we remembered. Endless meat plus numerous sides and delicious desserts are always a win :) But the coolest thing about Fogo De Chão is that their "gauchos" both prepare AND serve the meat! They butcher, skewer, season, cook and personally deliver the meat.
If you have never been to a Fogo De Chão, there are over 10 different types of meat in their "churrasco experience" and you have a card which you simply flip to green when you'd like to be served, and flip to red when you need to take a breather on eating so many delicious meats. :)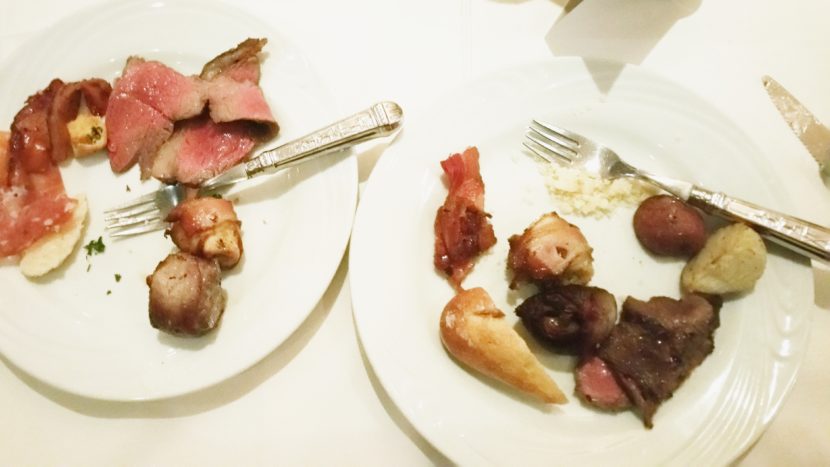 The gauchos are amazing at Fogo De Chão because, as soon as they see your card flip to green, they are right there to serve you!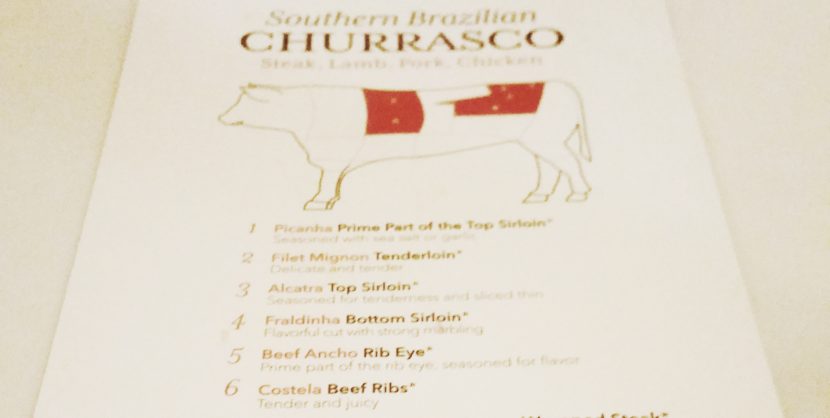 My favorite meats are their Picanha and Alcatra – the sirloins. Hud also loved the Medalhoes com Bacon, which is bacon-wrapped steak…talk about a great combination! We left Fogo De Chão very full and very happy!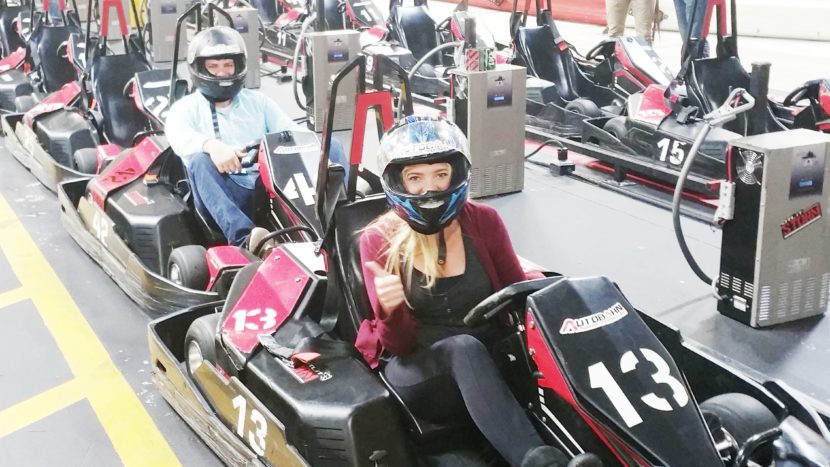 Next, we went to Autobahn Indoor Speedway, which I'm now convinced is every guy's dream. A month later, Hud is still talking about how much fun he had and how he really wants to go back!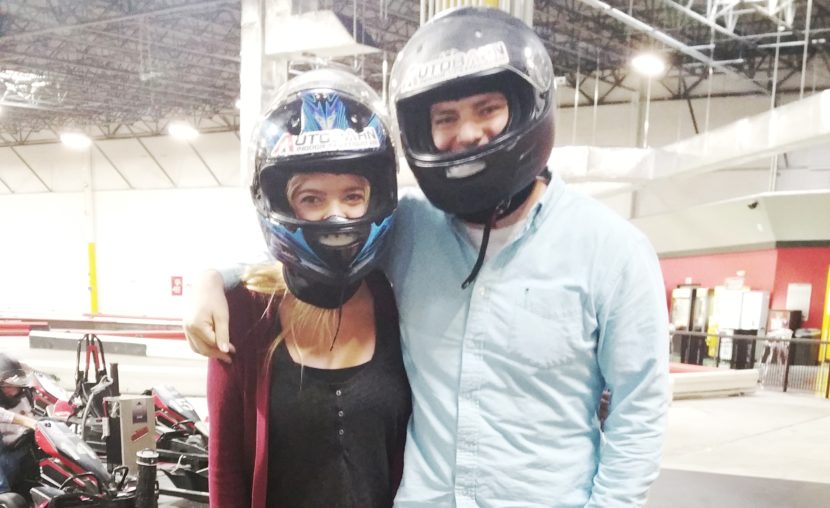 Autobahn Indoor Speedway is a racing slicktrack with locations nationwide, and thankfully there are two near Baltimore! We went to the one in Jessup and had a really great time racing each other and other people.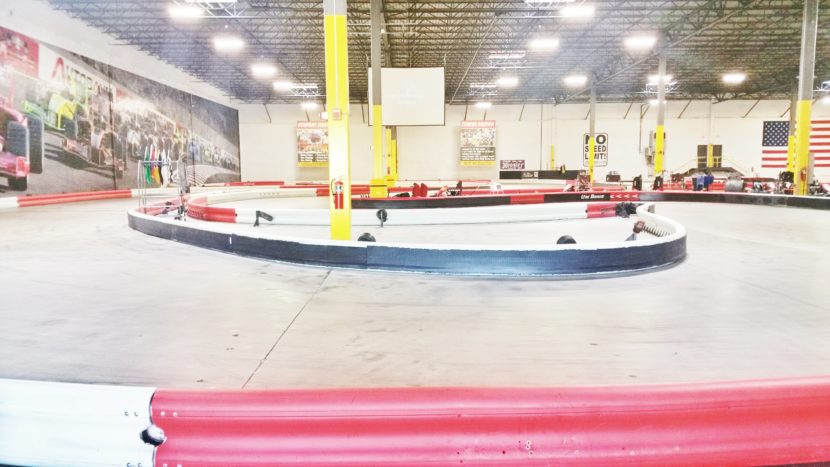 The speedway is set up really well – they even give you a sheet at the end showing your times and how you did on every lap! I will show you Hud's because mine may or may not be nowhere close to as good :)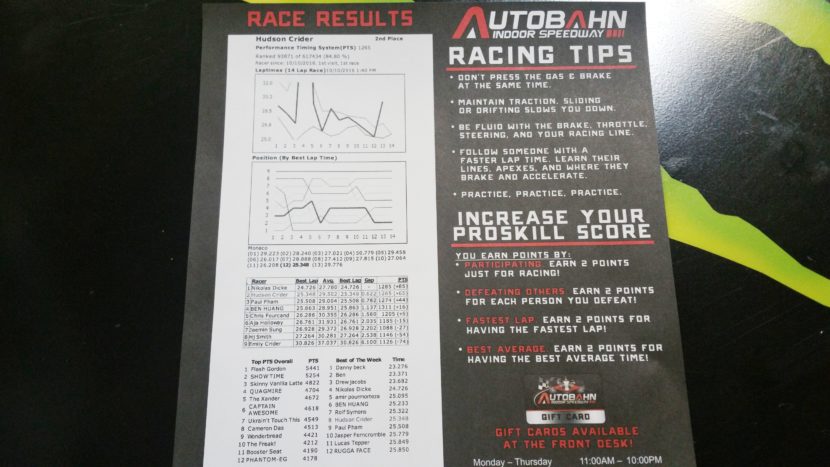 There was a company who was having a staff day there when we went, which I thought was a really neat idea. Autobahn Indoor Speedway would also make a great bachelor party, birthday party, or even just a night out with friends or your man. Hud and I both had a lot of fun and look forward to hopefully going back soon (and this time hopefully I will beat Hud)!
That night, we had dinner with our friends! We got to meet one of our couple friends' newborn baby boy (he is so incredibly precious!) and say goodbye to another couple who was moving out of the state. It was a really special night together and I'm so glad we could make it happen!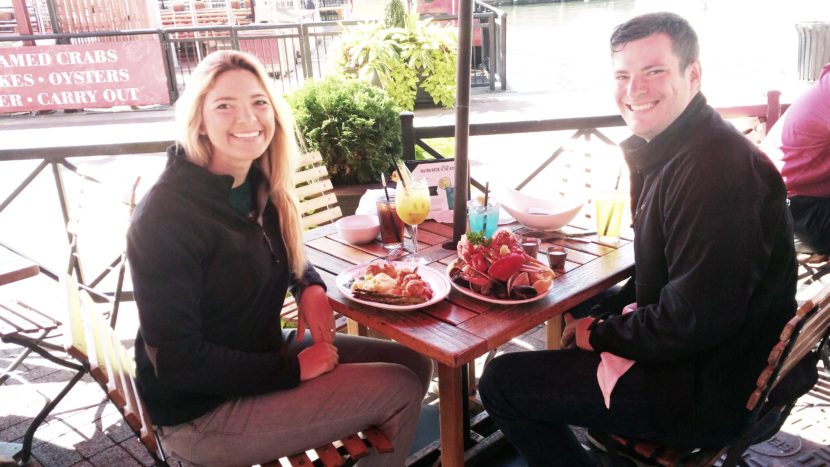 The next day, we had lunch at another one of our favorites-of-all time restaurants – Phillips Seafood! The weather was again amazing, so we got to sit outside and it was a perfect afternoon. Um WOW was the food ever amazing!! I want to go back right now as I write this!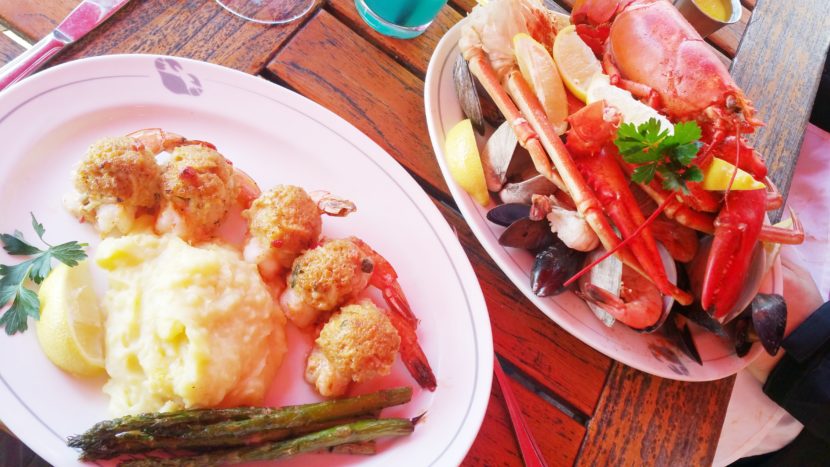 We started with steamed shrimp and mini crab cakes (yes that was just our starter, ha!) and then had THE MOST DELICIOUS entrees! I got crab-stuffed shrimp and Hud ordered a seafood plate that had a huge lobster on top!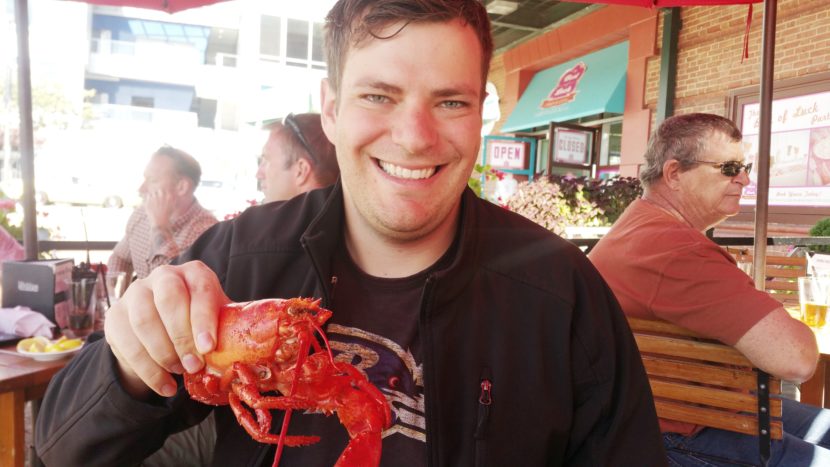 Then, they brought out their ultimate crab cake…I don't think I will ever again have a crab cake that good. It was literally all meat (no filling whatsoever) – and I can't even imagine how many crabs it must have taken to make it because it was huge! This is a must-order if you are going to Phillips. Another is their Bali Barramundi, which is sustainably sourced right from Phillips' own fish farm located off the Northwest coast of Bali, Indonesia.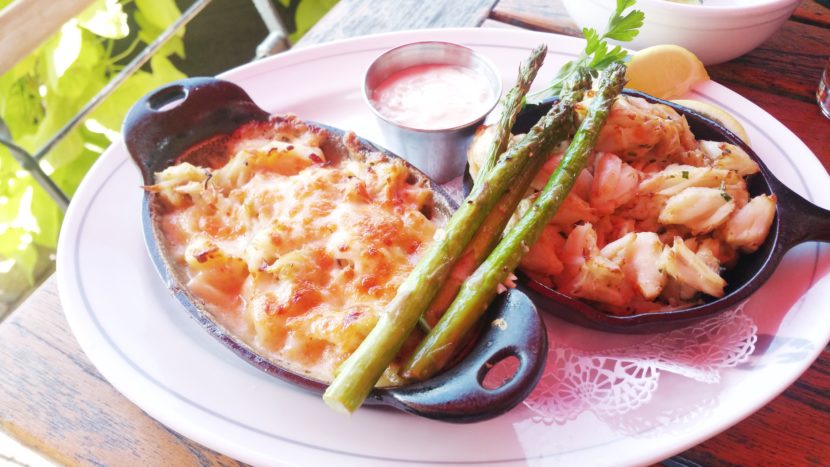 Our waiter Stephen was amazing (this is our second time there and the waiters were incredible both times!) and brought us out some drinks, including their Blue Crab Margarita which is especially neat because the proceeds go to the Maryland Watermen's Association, giving back to the bay.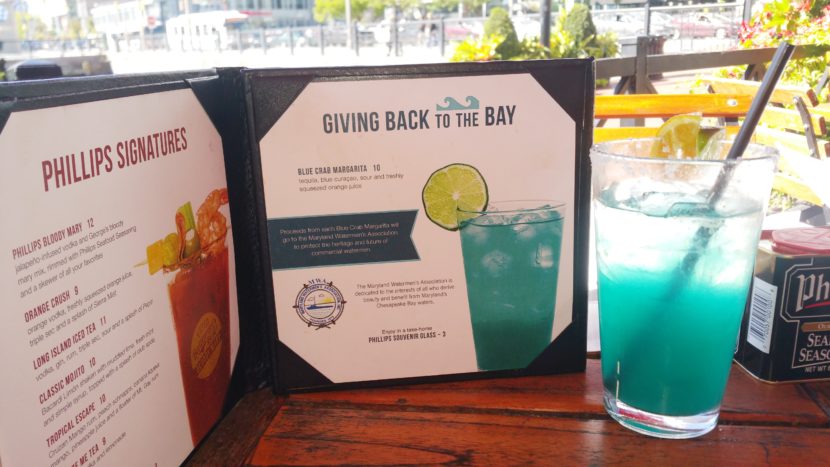 After lunch, we did some exploring around Baltimore! We started by visiting the Historic Ships.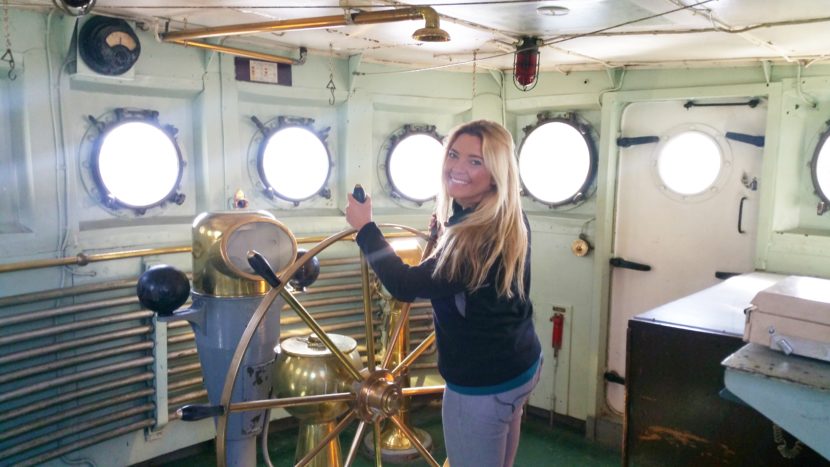 Wow do I ever have a greater appreciation for those in our military after seeing these ships!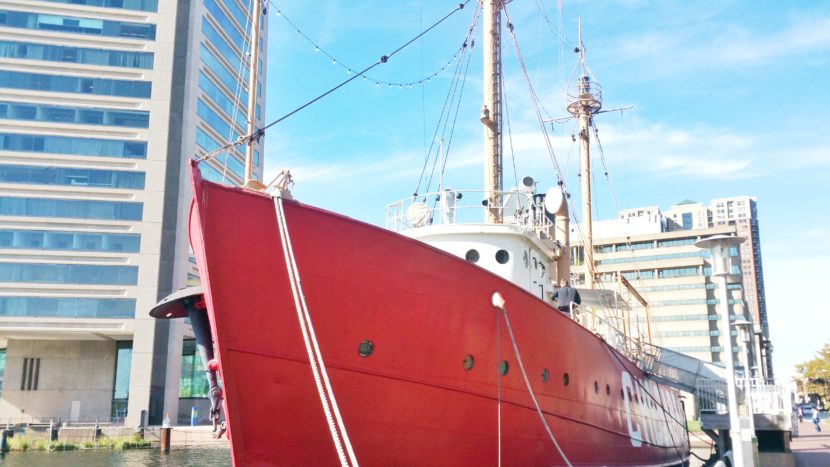 We saw war ships and submarines and I could not even imagine having to live on those! It was really neat to see, though, and to learn more about the history behind them.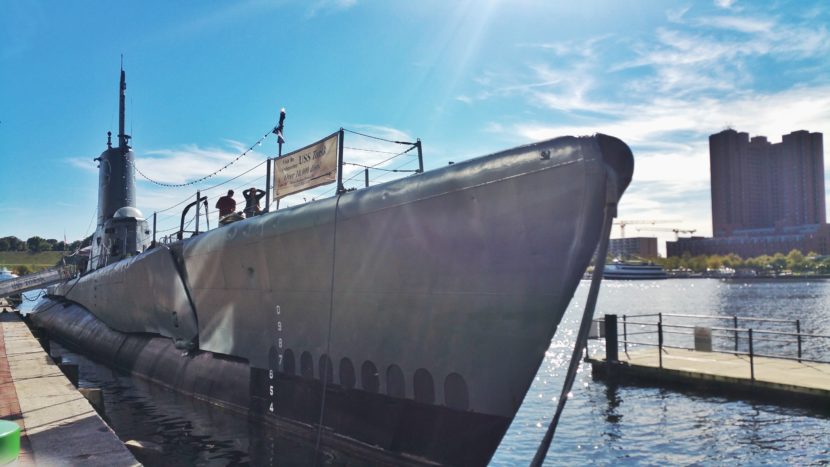 The most eye-opening thing for me was definitely the submarine. Like can you even imagine this being your home for months, even a year, at a time – under water? I felt claustrophobic just walking through it for 15 minutes above water! But I learned a lot and walked away with a much greater appreciation of those in the Navy and Merchant Marines (and all military – thank you so much for your service)!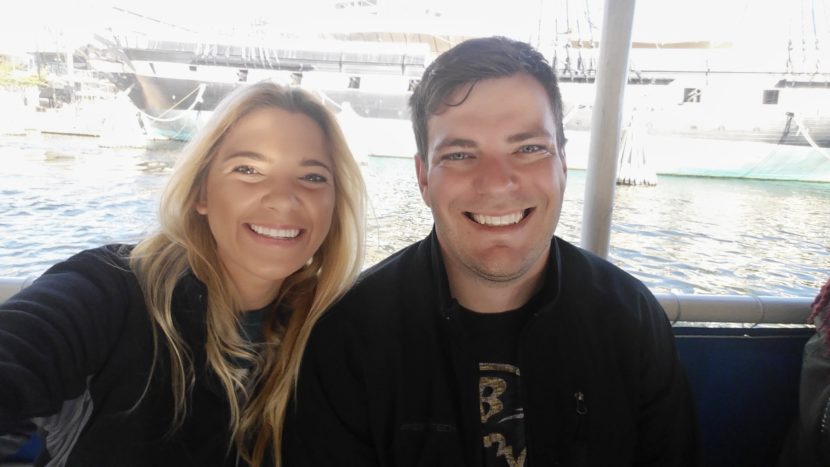 We then took the Baltimore water taxi to the other side of the harbor – this has been something I've wanted to do since we first moved to the Baltimore area! Even in October, the weather was perfect for it and the views were incredible! P.S. Can you see Phillips?!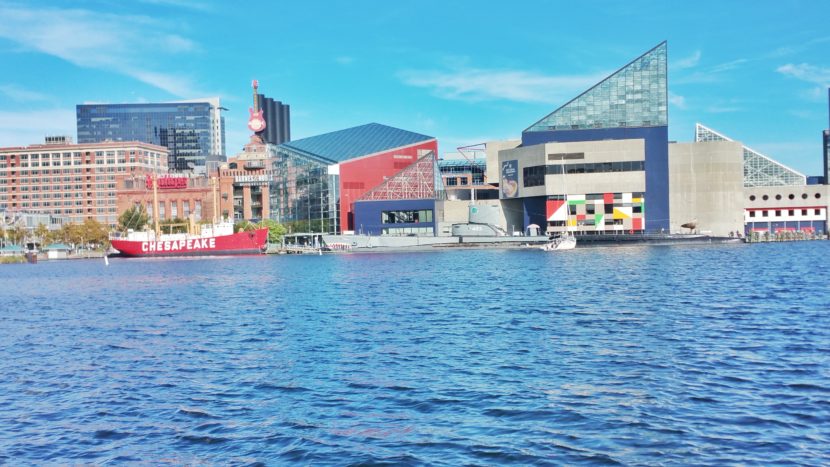 The crew was really nice, too, and it was so fun getting dropped off really close to our next location! Which was…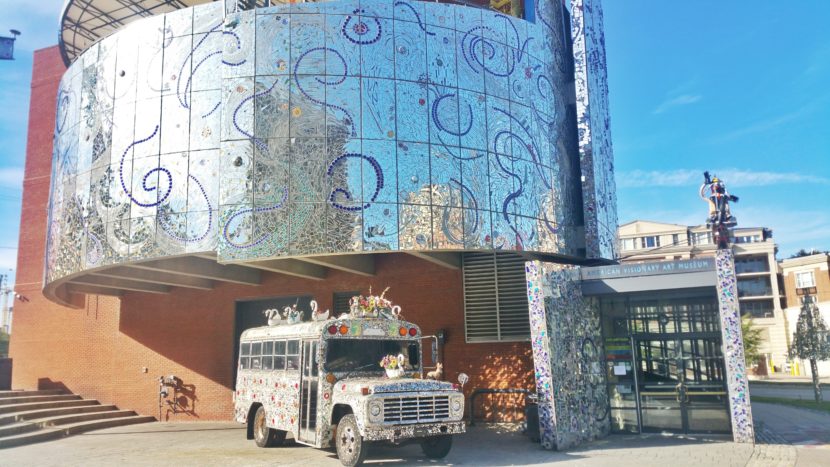 The American Visionary Art Museum! This museum has some of the most creative modern works of art – we could have spent a whole day looking at everything! Here were two of our favorite exhibits…
The "Yummm!" exhibition…or, named by me, The Bread Wall. Yes, all of this is made of bread!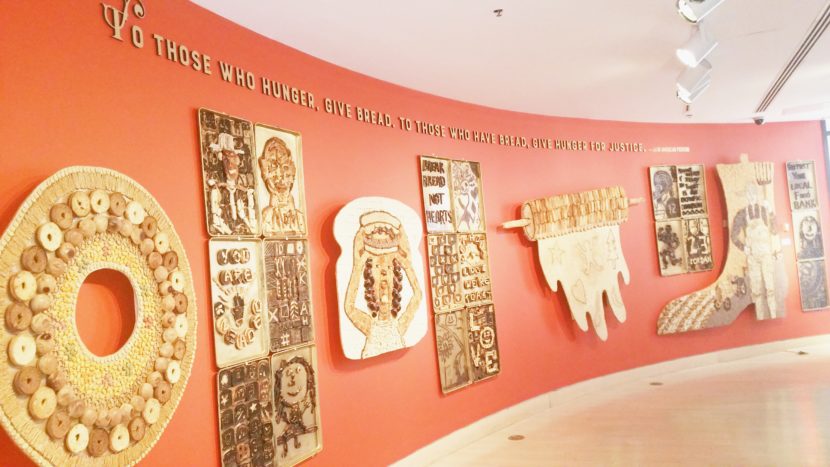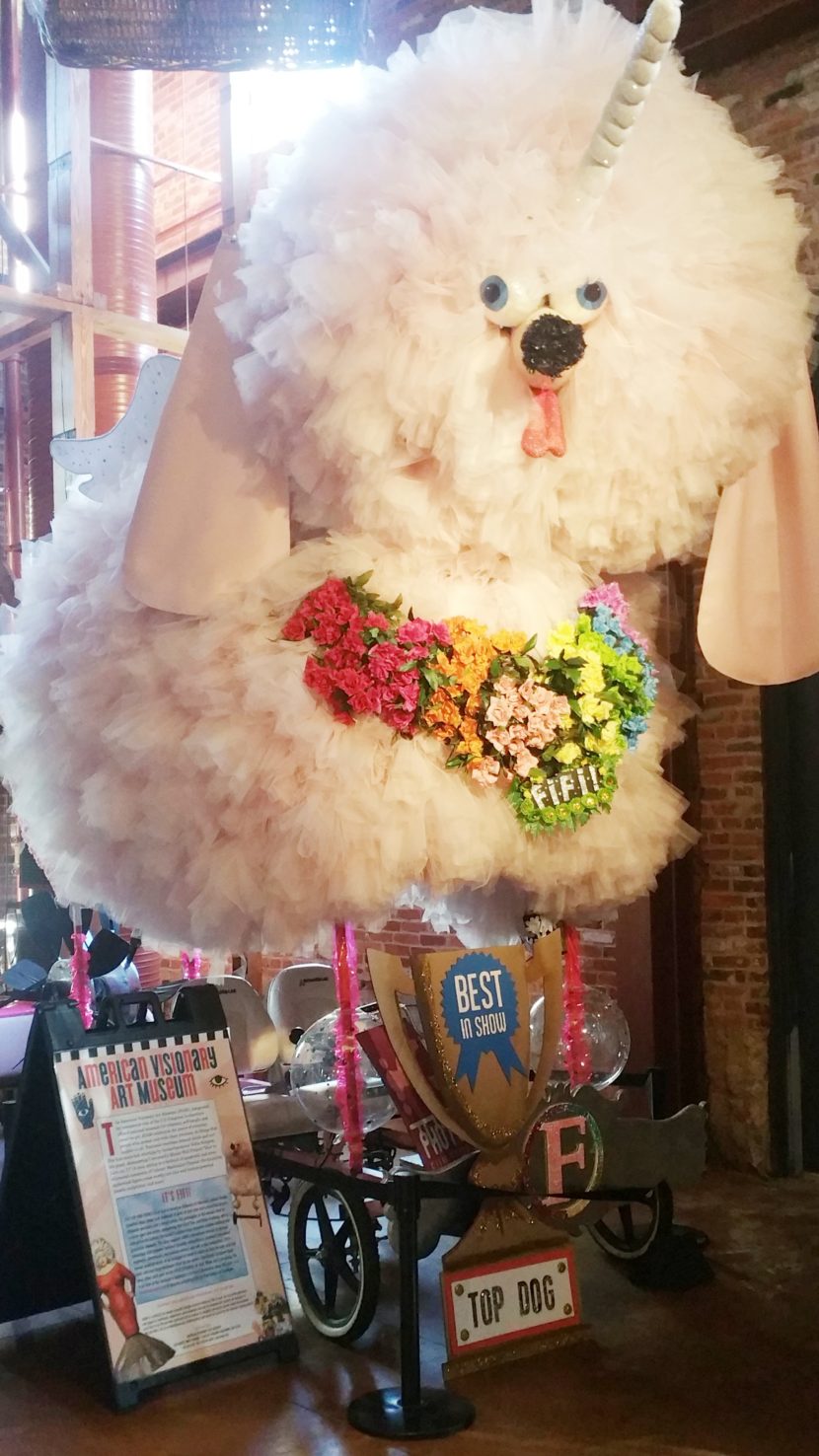 The dog from the Kinetic Sculpture Race. This is an annual event in Baltimore that Hud and I got to go to last year, and it's amazing! People make creative bicycle/boat combinations and they race around the city before ending up in the water! This won the best in show.
There was so much to see, and they are continually adding new exhibits so it's definitely something you should check out again even if you have been there before.
And if you like the American Visionary Art Museum, you would also like Ripley's Believe It or Not!, which is in the Inner Harbor and we had the opportunity to go to earlier this year, along with the Medieval Times Dinner & Tournament, National Aquarium, and The Preakness. Just more fun things to add to your list for the best things to do in Baltimore. :)
It was a wonderful weekend and reminded us how perfect Baltimore is for a getaway weekend – whether you are driving or flying, it makes for a great destination with lots of things to do, eat, and see. Thank you so much, Visit Baltimore website, for a wonderful experience!!