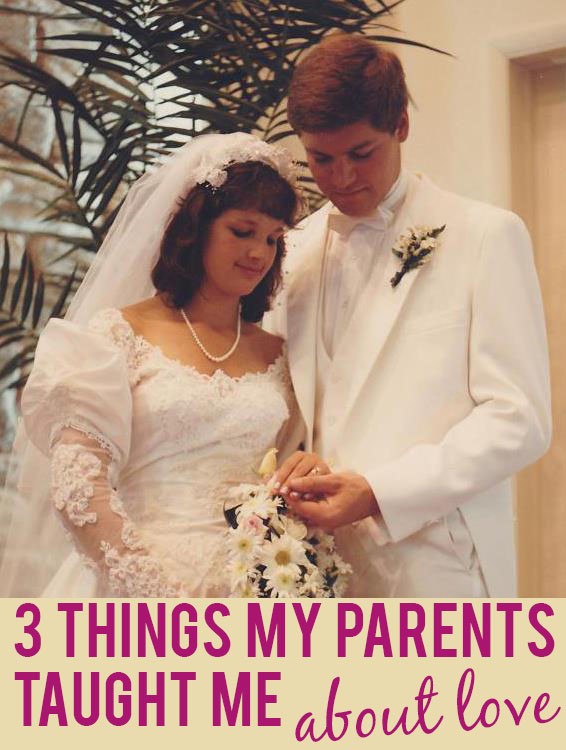 Well, today is my parents' anniversary, and my post about three things my mom taught me seemed to be so well-liked by you all that I thought I'd dedicate a post to three things my parents taught me about love.
May 30th, 2014 marks 27 years of marriage for them.
TWENTY-SEVEN.
Sometimes I think about how much Hudson and I have grown in our two years of marriage, and it blows my mind to think about how we will be in 25 years from now.
I pray that our marriage will be as strong as my parents', because if it's anything like theirs, I know we'll be more in love with each other 25 years from now than we are today. But at the same time, I know it's not easy. Here are three things my parents taught me along the way:
1. Be intentional.
Whether it's making sure they kiss every day when my dad gets home from work, or choosing to never to go to bed angry, my parents have shown that marriage takes hard work. They've set standards and rules for themselves so that they are consistently thinking of and honoring each other. Most importantly, they both love Jesus and have set the "triangle example." They are the two bottom corners and God is at the top – as they become closer to Him, they also become closer to each other.
2. Be best friends.
Something rare that my parents have is that they truly are each other's best friends. They've often said that if they have a free evening to spend with a friend, there's no one they'd rather spend it with than each other. And, even neater is that they have similar passions – one being collecting vintage decor for my wedding reception, which turned into launching a whole business of vintage event rentals! It's been fun to see them run that as they can work together on something they both enjoy .
3. Be sacrificial.
Marriage takes selflessness – something that I am still really trying to work on, but my parents have done an excellent job of demonstrating. One example is that when us kids were growing up, they often skipped on going out with their friends so that they could stay in and have "family night" with us. And I truly believe that them being each other's best friends and putting our family first has made all the difference.
Happy anniversary, Mommy and Daddy. I love you!