This is a compensated sponsored post, though all opinions are my own.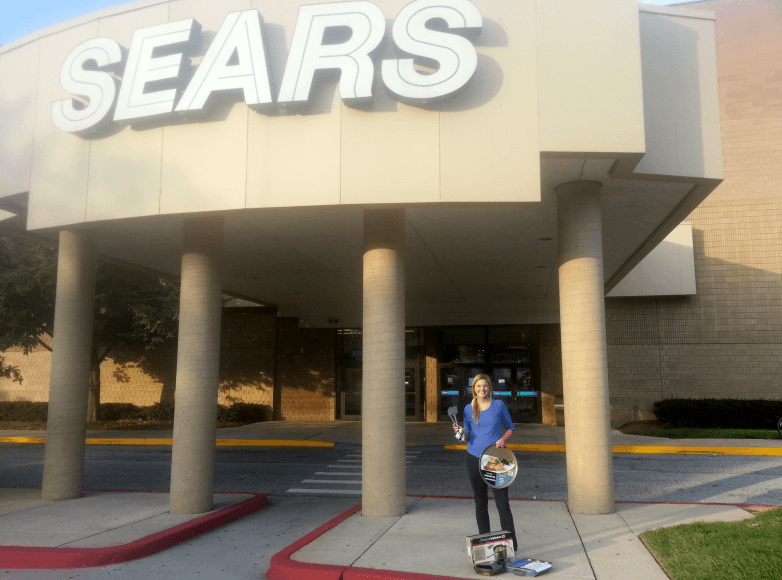 Hudson and I are part of the Sears Blogger Squad, so this is one of many posts we'll share in the next couple months about the benefits of shopping at Sears! As I shared in our post about best kitchen gadgets, Sears is Hudson's all-time favorite store and I love it too! When we have date nights at the mall, we enjoy strolling through Sears trying not to spend everything we made that day!
One thing I like about Sears is that they're all about giving their shoppers more value, through anything from selling more brands to offering more rewards. This is so important to Sears that they launched a campaign called "More To You," where they find tweets of actual people and surprise them with a Sears giveaway of something awesome!
And because Sears cares about giving more to you, one of you readers will win a $50 gift card to Sears (hint: read through until the end of this post for the Sears giveaway)!
As part of the More To You campaign, Sears created a series of online videos capturing the joy on the faces of the people they surprised.
This video about sending your child off to college resonated with me the most. Obviously not because we have a child going to college anytime soon (or a child at all, for that matter!), but because I vividly remember what it was like to move all of my college stuff from Pennsylvania to Virginia and back each year (and then again from Pennsylvania to Maryland when we got married and moved here). It's not easy! Going to college is such a transitional and emotional time in general, that the stress of moving doesn't make it any easier.
I think the part of this video that especially resonated with me was when the son told his grandpa he was leaving for college. My grandma was one of my role models; she had more joy than almost anyone I know and set such an example of how to be a godly woman, wife, and mother. Well, the day I left for college she was in the hospital (in a sort of coma) and I remember holding her hand – knowing it was the last time I'd ever see her – and telling her how much I loved her and that I was going to Liberty University, a Christian college, to learn more about sharing the love of Jesus with others like she had done for me. I remember her gently squeezing my hand and subtly turning her lips into a smile. She passed away my first day of classes, and I was not able to attend her funeral because of the distance, but I am so glad I had that moment with my grandma.
All of that to say, my first couple weeks of college were really emotional. The fact that I was in a new place with so much going on at home, and had to move everything down and get adjusted, didn't help either.
I sure wish I had known that with Sears, you can order online and pick it up free at any Sears location! It would have made life SO much easier to not have to drive hundreds of miles with everything in the car but do what this family did, order everything from home and just pick it up at the mall next to my school.
Did you know that Sears has in-vehicle pickup to save even more time? In this video, the son gets out of the car to pick up his order. But when I recently ordered a dress from Sears for my friend's wedding, I used in-vehicle pickup and it took less than a minute! I just chose "Free Store Pickup" on online checkout, received an email when it was ready and let them know I was coming, pulled up in my big van, and Sears delivered it right to my car! I was amazed at how quick the process was (they guarantee five minutes) and that shipping to the store and in-vehicle pick-up was completely free.
Sears giveaway
Want to try in-vehicle pickup or another Sears service yourself? Enter below to win a Sears giveaway: a $50 gift card!
a Rafflecopter giveaway

Now that you've entered the Sears giveaway, want to watch more videos from their More To You campaign?
Another video I love is this one about someone trying to bake a birthday cake on a grill after her oven broke. I feel like that would totally be me, haha! Here are some other campaign videos:
Which video is your favorite?