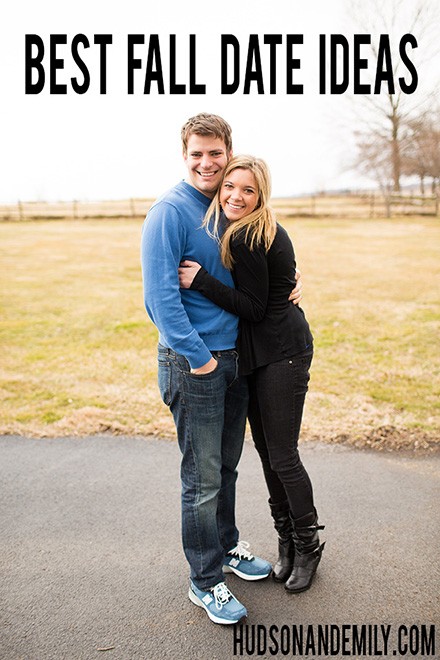 * Here from Pinterest? Welcome! If you want more date ideas, check out my posts about the best spring dates, summer dates, and winter dates…oh, and creative date night ideas too! *
Can I be honest for a minute?
I used to hate autumn.
I'm such a summer girl that the thought of winter approaching was just depressing! Anyone with me?!
This fall, though, I've actually taken some time to sit back and enjoy the little things. And I have to say, I'm actually kind of really liking this season and all that it brings.
Like apple crisp. And Starbucks' caramel apple spice (who cares that you can get it all year round?). And pumpkin anything…okay wait, I just realized those are all food-related. I should probably stop.
Now onto the real point of this post…date ideas for fall :) As you know, over the past few months, bloggers have been submitting their favorite fall date ideas. Below, you'll find some awesome fall date ideas!
BEST FALL DATE IDEAS
1. Set up a tent and camp in the backyard. – Sarah
2. Go fishing. Fishing and being out by the water can be so romantic. If you don't like touching the fish, he can do all the work :) – Courtney
3. Go on a long bike ride adventure. Doing an active sport gives you a bonding experience. – April
4. Make a trip to a local supermarket together and pick out some yummy things you wouldn't normally buy. Pack it all in a basket and head for a picnic in your local park! Bring a frisbee and some extra bread to feed to the ducks, and then sit together to watch the sun go down :) – Amy
5. Go to the zoo! – Kalyn
6. Take a road trip…without knowing where you'll end up. – Anonymous
7. Go hiking. – April
8. Sit under the starts and tell stories about your childhood. – Anonymous
9. Choose a day/afternoon to sort of relive your wedding. My husband and I went back to the bakery that made our cake and ordered one of their cupcakes, similar to what we had at our wedding. You could go all different ways on this: turn on the wedding day playlist, repeat your vows again, etc. You could even get all dressed up again and do a first(second) look all over again. – Anonymous
10. Drive-in movies! Pack a picnic and blanket or popcorn/sweets and enjoy a movie when there's good weather. – April
What are YOUR favorite autumn date ideas? Post them below!