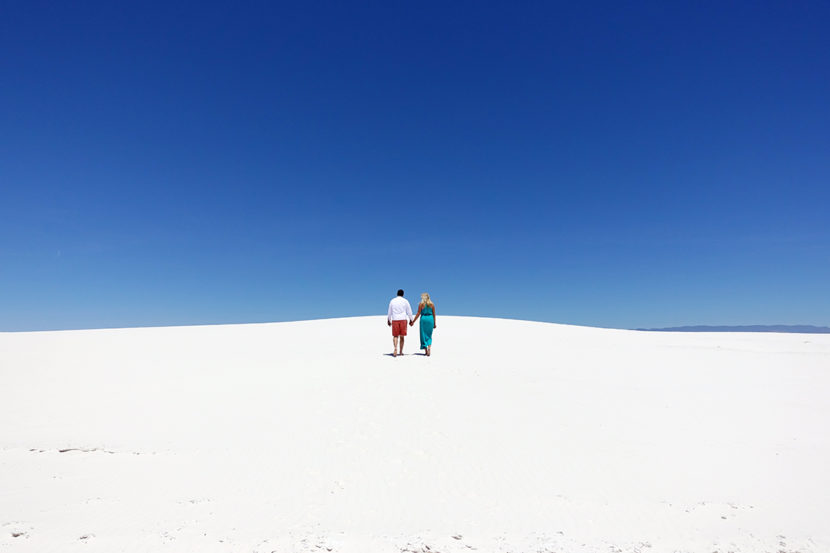 New Mexico's state slogan is "The Land of Enchantment" and, after driving more than 1000 miles through this enchanted state, it is amazing just how diverse the state really is! To be honest, before I visited New Mexico, I pictured the entire landscape to just be one gigantic desert with nothing else in sight. And although there are plenty of wide open desert areas, the state is also home to huge mountains, massive caves, endless pure white sand, beautiful gorges, countless Indian dwellings, and a bunch of very unique sights. All of this in a state that has a smaller population than the city of Chicago! We knew that we couldn't see it all but, since Em and I figured that we probably wouldn't have many other chances in our lifetime to come back to the Land of Enchantment, we were determined to see as much as we could!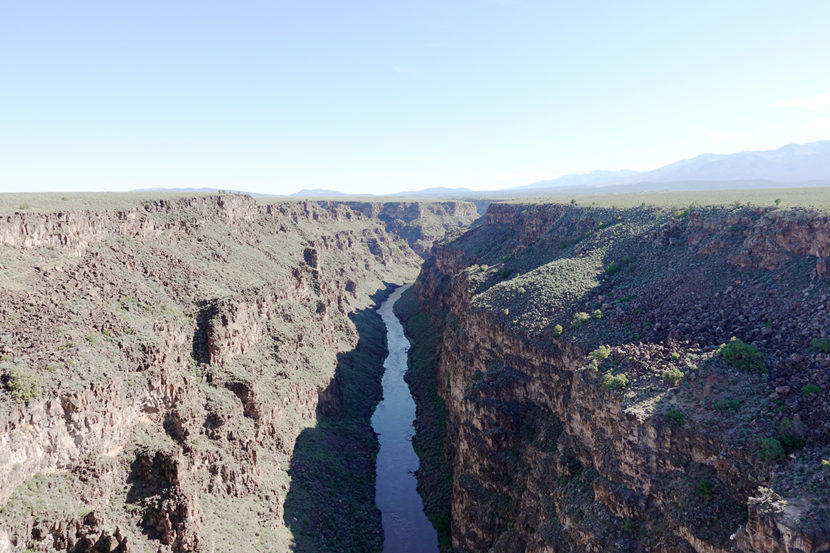 Rio Grande Gorge
Our first stop in New Mexico was the Rio Grande Gorge. The viewing area is really just a bridge with a highway over the gorge, but what the gorge lacks in amenities it makes up for in the view. There is a pull-off parking area (parking that is even big enough for our RV) right before the bridge and a sidewalk on the edges of the bridge so we could walk out to the middle of the gorge. Another reason that I was really excited about this area is that I had been looking for another area that I could legally fly our drone. It seems that many of the pretty places we go, there are restrictions on flying drones, and I always try to make sure that I am not flying it where I am not supposed to. But apparently, New Mexico is one of the most drone friendly states and I hadn't flown the drone since Monument Rocks in Kansas. So I dusted off the drone, turned it on, and… the drone was broken. Haha, somehow the camera gimbal decided to stop working while it was in its traveling case, so no flying for me =( But, drone or no drone, the view through the gorge was really pretty and we are glad that we stopped by. (Just a heads up. There isn't a whole lot to do around the gorge and the view itself is literally just a sidewalk on a highway, so I would probably suggest visiting the Royal Gorge Bridge in Colorado before the Rio Grande Gorge, but both are really pretty. =)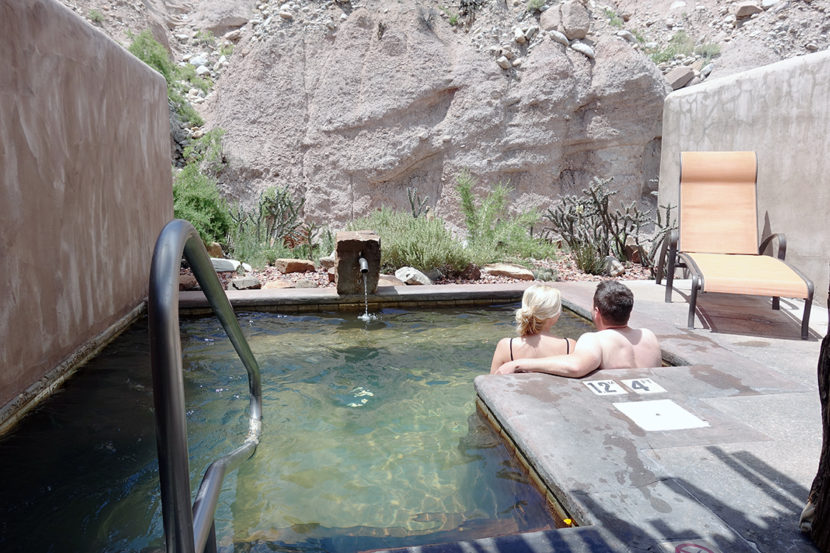 Ojo Caliente Hot Springs
One of the things that I really wanted to experience on our trip was a hot spring. Growing up in Pennsylvania, there aren't too many options for hot springs, so when we heard about Ojo Caliente Mineral Springs Resort & Spa we knew we had to stop by. Now if you are like me, you are probably thinking "there are hot springs in New Mexico?" Like I said earlier, New Mexico is diverse and full of surprises! The hot springs resort has several pools with over 100,000 gallons of geothermal mineral water flowing through them each day. And probably one of my favorite things about the hot springs is that they are sulphur free, so they felt great without smelling like rotten eggs all day! Each spring is unique in its own way. They even have a mud spring where you are supposed to cover yourself in mud and let it dry on your skin. (I think that it is supposed to do something good for your skin, but my theory is that it's also just a good excuse for grown adults to play in mud =) Em and I had lunch here and our own private pool for an hour. I feel like I am now going to be spoiled for any other hot springs we go to!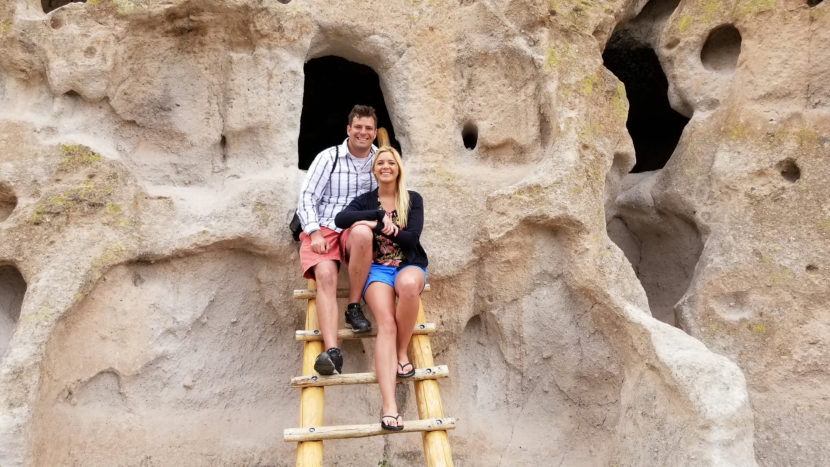 Bandelier National Monument
New Mexico has a rich Native American history, and many of their dwellings are still preserved today. One of the best-known Indian dwellings in New Mexico is called Bandelier. This National Monument includes several well-preserved Indian cave dwellings. My favorite part about Bandelier is that you can actually climb up into some of the cave dwellings to get a sense of how the Native Americans in this area lived! The park ranger told us that there is evidence of humans living here from many thousands of years ago!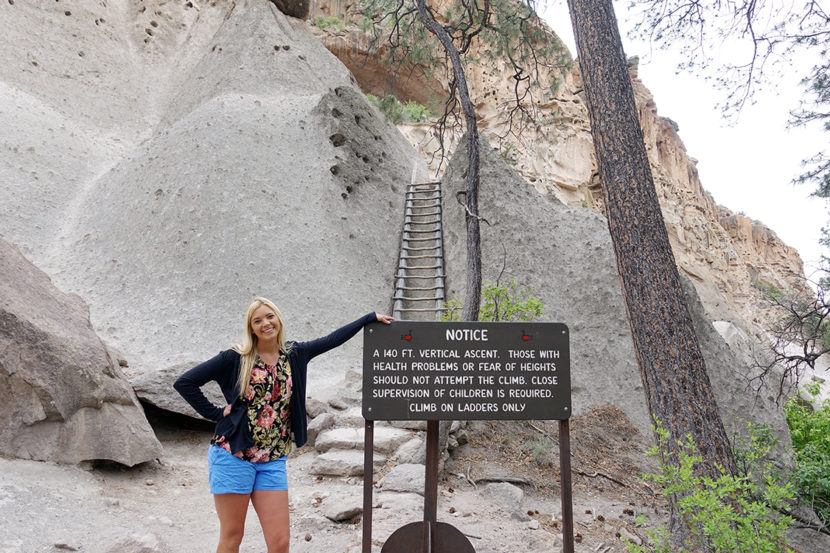 At the end of the trail is a place called the Alcove House. The only way to access the cave is by climbing a series of ladders 140 feet up to the alcove. It is a really cool experience and amazing to think how the Native Americans who lived there were able to construct such intricate dwellings thousands of years ago with no power tools =)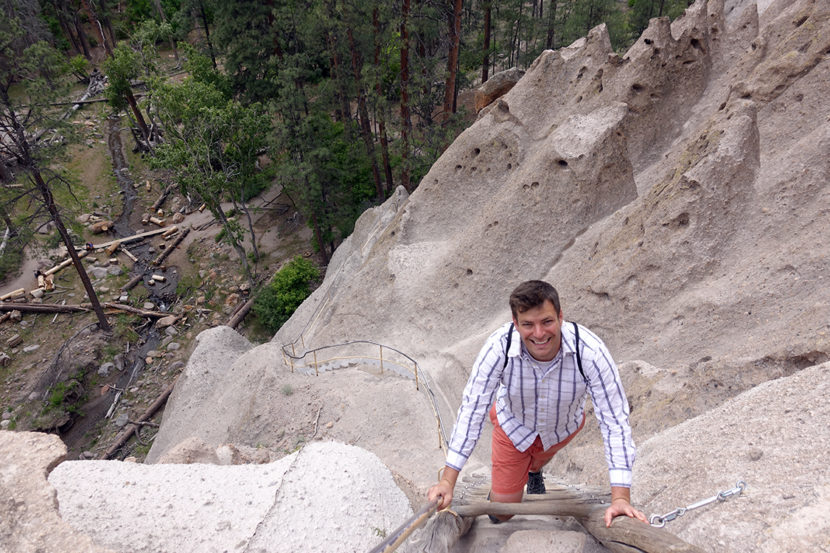 Santa Fe
Something that I didn't know before visiting Santa Fe is that it is actually 2000 feet higher than Denver in elevation! It was also a lot cooler than I thought it would be. The city has a charming small-town feel to it. (Which also means that it is realllly difficult to find RV parking in or around the city. At one point we were driving through a construction area, and I have no idea how we didn't knock over a construction cones!)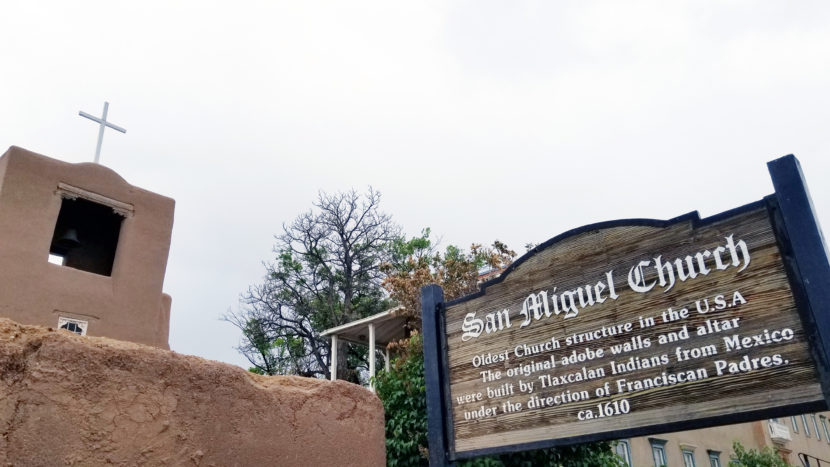 Santa Fe is not only the state capitol, but is also home to the oldest church in America! (After growing up near Philadelphia, I find it hard to believe that New Mexico would have an older church than our nation's first capital city, but I guess I'll just have to believe the internet and historical plaques =) There is also the legend of the Loretto Chapel Staircase in Santa Fe. There are a few versions about the staircase and a movie was even made based on the story. From what we heard and read, the actual story is that when the chapel was constructed, there was no staircase that went up to the choir loft. The nuns prayed for an answer to this dilemma and a stranger, who happened to be a carpenter, showed up and built a beautiful spiral staircase and left before he could ever be thanked. The story itself is pretty remarkable, but the legend of the Loretto Chapel Staircase has grown even more now. Unfortunately, the building was closed when we were in Santa Fe, but it was fun learning about the legend behind the staircase all the same!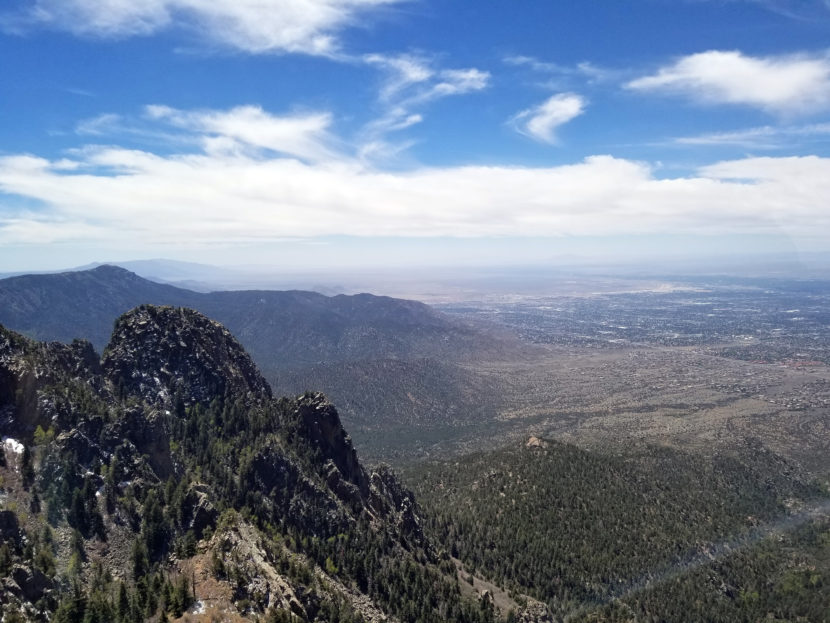 Albuquerque
No matter how hard I try, I still can't seem to spell Albuquerque correctly (a special thanks to the creators of spell checker ;) But despite the difficult spelling, the largest city in New Mexico is home to several Route 66 stops, one of the largest arrays of petroglyphs, and of course the hometown of the TV show Breaking Bad =) Albuquerque has more than 300 days of sunshine and has a similar population size to Baltimore (Yeah I found that kind of hard to believe too! Baltimore = 614,000 to Albuquerque's = 559,000. And I even fact checked that on Wikipedia so it has to be true =P) Enough of Albuquerque's population size, but it was a really cool bigger city with a small town feel.
Sandia Peak Tramway
Our first stop in Albuquerque was the Sandia Peak Tramway, probably the most popular tourist attraction in the city. This cable car transported us 2.7 miles from the base to the top of the Sandia Mountains that overlook the city. The tramway is the longest aerial tram in the US and third longest single span tram in the world. We went up about 4,000 feet in elevation and the temperature dropped from about 65 degrees at the base to 32 at the top! (Em and I were wearing our winter coats at the end of May in New Mexico!) It is definitely a great way to see the whole city. I think it would be even cooler to go back and visit in 2018 because the tramway operator told us that an alpine rollercoaster and a bunch of other new things are being added at the top of the peak.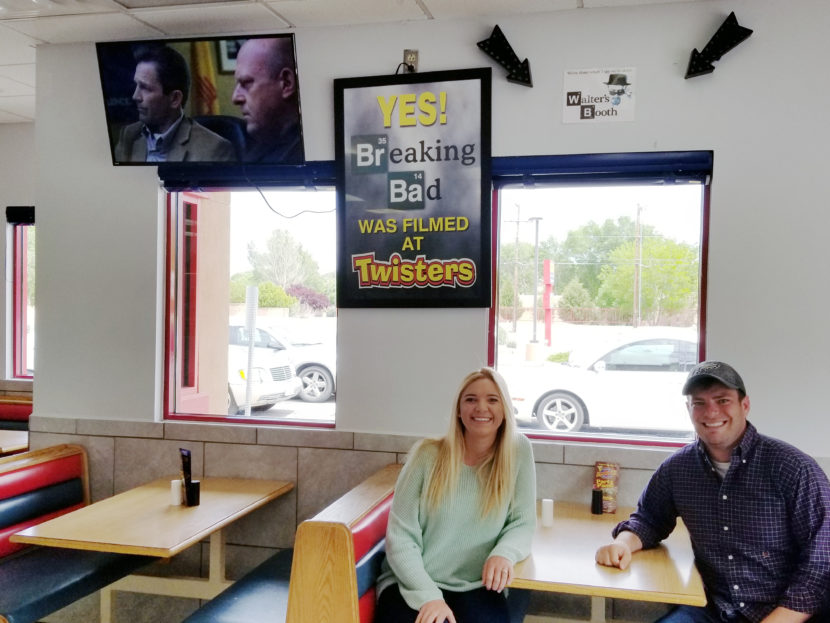 Our Own Breaking Bad Tour
One of the most common tourist things to do in Albuquerque is to take a Breaking Bad RV tour to all of the TV show's most popular locations. So since we were already in our own RV, we figured we'd save some money and make our own Breaking Bad RV tour. It was pretty easy to find the top locations online and, with the help of Google Maps, we headed out on our self-made tour. (Em hadn't even seen the show but had fun turning it into a real life scavenger hunt around Albuquerque =)
We found Walter White's (the main character) house, the car wash, Saul Goodman's office, the laundromat, motel, and Los Pollos Hermanos (the chicken fast food chain store). We figured we might as well try to make this little scavenger hunt practical, so we tried to get our RV washed at Walter White's car wash. (It looked like they had outside washing, but they said they don't wash 39 ft vehicles!) So then we went and ate at Los Pollos Hermanos (which is actually called Twisters in real life. And the real life Twisters menu is huge! They have a really good American and Mexican food options. Our favorite was definitely the sopapillas for dessert!) Inside the store, they have a plaque that shows you where Walter's actual booth is along with a lot of other things that are featured in the show.
Probably the most interesting stop on our little tour was the main character's house. We didn't really have much time to stop and take a picture because the owner of the house was sitting out in her lawn chair swearing at us. (I had mixed emotions about this. On one hand, I definitely understand how annoying it would be to have people stopping by to take a picture of the outside of your house all the time and I would want my privacy. But then we looked up online and found out that the same owner was the one who agreed to be paid in order for the TV show to film there. Maybe she didn't really know what she was signing up for at the time!) Regardless, we wanted to respect her space so we kept moving, but it was quite the experience!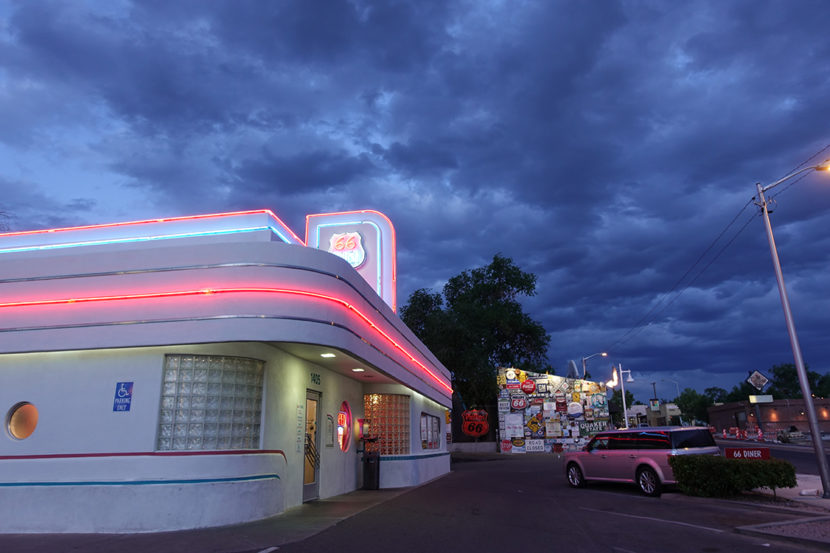 66 Diner
Historic Route 66 runs directly through downtown Albuquerque. And minutes outside of downtown is a really cool, classic 50's diner. Outside the diner is a huge wall of old road signs that remind you of what you might have seen while driving down old Route 66. This massive mural of road signs is probably one of the most photographed locations in the whole city. It also pays homage to the fact that the diner was originally an old gas station and service garage on the historic highway.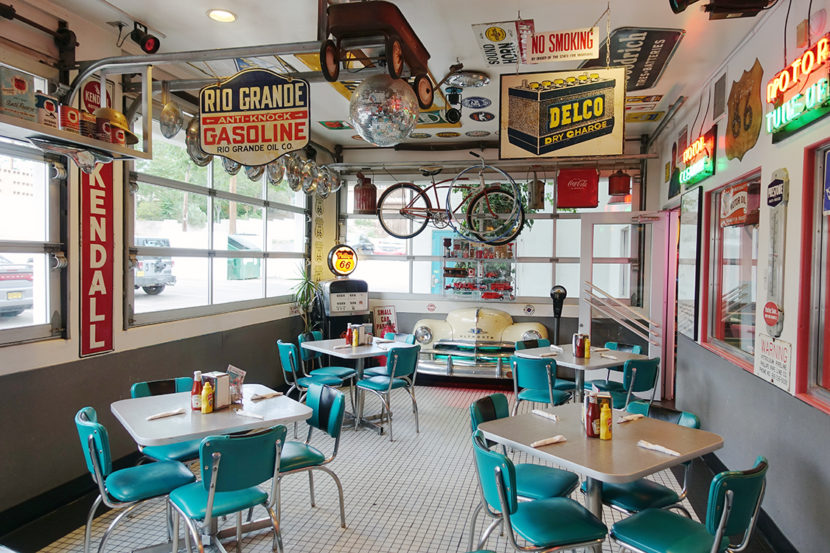 Inside the diner, we felt like we were transported back to the 50's and 60's era of roadside diners. There was a soda fountain, jukebox, and the waitresses were even dressed in vintage uniforms. Our waitress was really friendly and the milkshakes tasted awesome! It was a great way to get a little taste of what a diner would have been like back in the 50's on the old Route 66.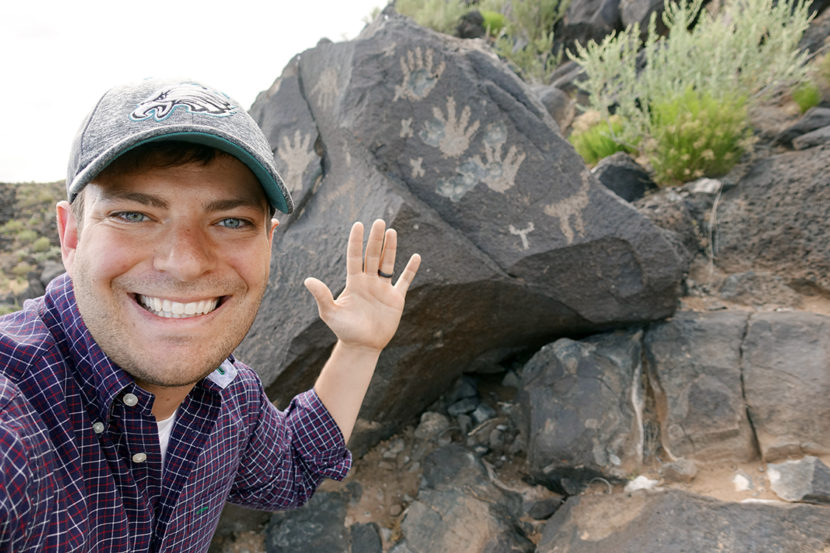 Petroglyph National Monument
Just outside the city is the Petroglyph National Monument. Stretching over 17 miles and home to over 25,000 stone carved images, this national monument is one of the largest and most well preserved collections of petroglyphs in the US. Many of the petroglyphs date back to 1300 A.D. but it is believed that some of the rock carvings may date back as far as 2000 B.C. It was neat to see and also to be reminded that civilization and US history goes back way past 1607 Jamestown (the first English settlement). Em and I walked about a mile of the national monument. (I did though laugh and told Em that what if some of these rock drawings were some sort of ancient teenager graffiti. The kids might have gotten in trouble for their artwork back then, but they could have told their parents "Hey, someday this graffiti will become a national monument." Em told me that it is a good thing I didn't become a historian or park ranger =)
The Very Large Array
We were faced with a tough decision for our next stop. Do we drive three hours out of our way to the middle of nowhere in order to see a bunch of really big, alien looking satellites, or do we do the more sensible thing and continue on with a straight path? The advantage of being on a long RV roadtrip is that things like 3 hours out of the way and needing to find a place to stay aren't quite as big of factors as they might otherwise be. (Although diesel is definitely a big factor in these types of decisions) So we came to the conclusion that this is probably the closest we will ever get to really cool, weird looking satellites and decided to go for it!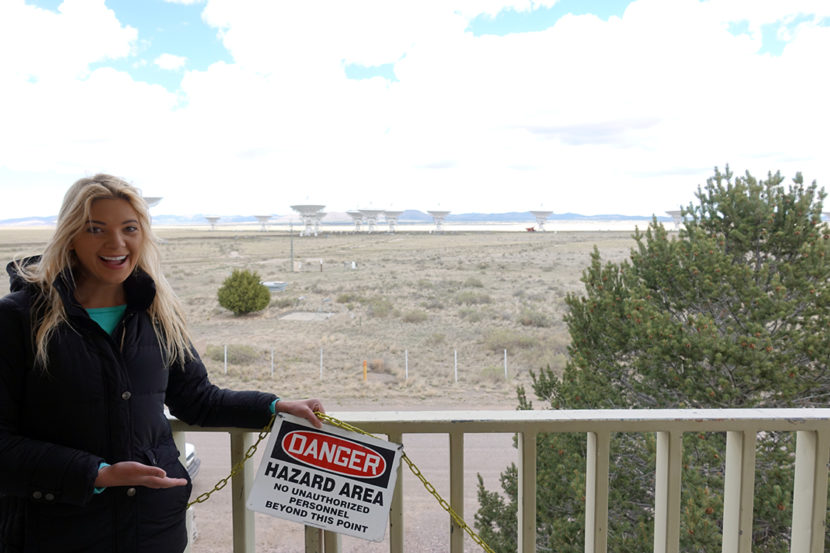 The Very Large Array, also known as the National Radio Astronomy Observatory, is a group of 27 satellites that are used to collect data from very far away (like other galaxies type far away). There is a lot of science behind these massive radio telescopes that I found really cool but at the same time didn't at all understand, so I'll just stick to the easy physical facts I do understand. =)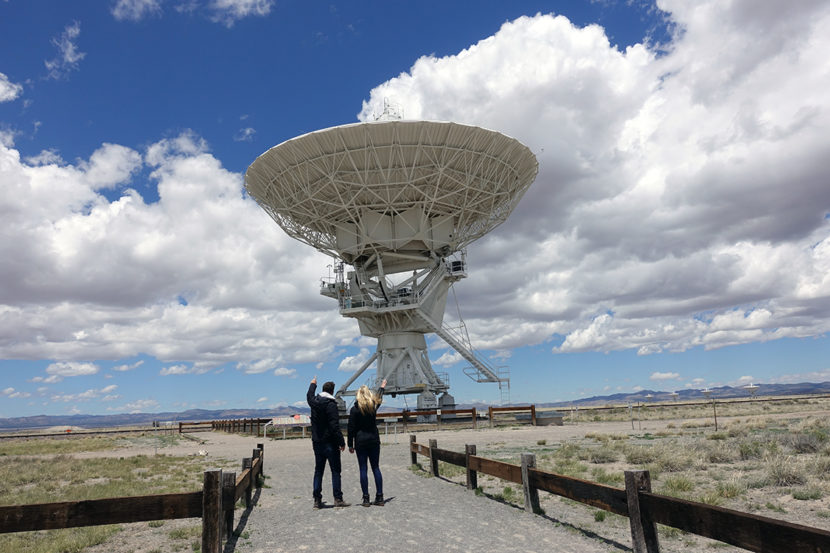 Each of the 27 satellites is 82 feet wide (that's more than 2 of our RVs!) and weighs 209 metric tons. Each antenna is on a track and is able to move into different formations (which is crazy to think that something that big and heavy is able to move around so much!) It is a worldwide collective research facility, so really smart scientists from all over are able to use these satellites for research. It was built in New Mexico because it has a flat, high elevation with little light pollution. And it is called the most productive radio telescope in the world. It was definitely a really unique thing to see after driving for 3 hours and only seeing a handful of other cars on the road!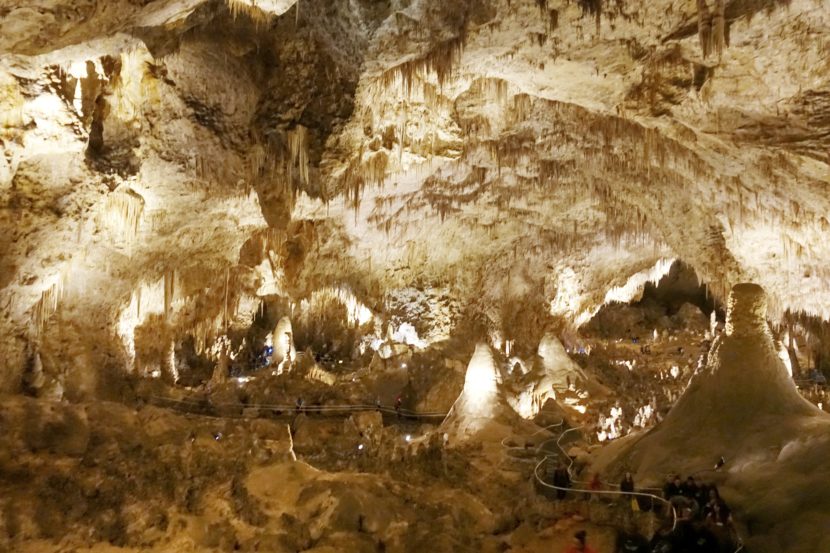 Carlsbad Caverns National Park
Carlsbad Caverns National Park has huuuuge caves. When people said that The Big Room (the main cave) was big, it is hard to imagine just how massive it actually feels. It is almost 4,000 feet long, 625 feet wide, and 255 feet tall. And that is just the biggest cave! There are a total of 119 caves in the national park. It was 1.5 mile trail just to walk around the main room. Em (who isn't usually a big cave fan) was really impressed with the size and beauty of the cavern. It is pretty far on the southeastern side of New Mexico, but it is so well-known that it still attracts an average of more than 400,000 guests a year. It was really cool to read about all of the different explorations and discoveries that have been made in the caves. Although, Em and I kept saying that we can't imagine what the first people to explore it might have felt like crawling 625 below ground and finding this seemingly endless maze of caves! And it's not like they would have had the paved paths or electric lights like we did for our exploration!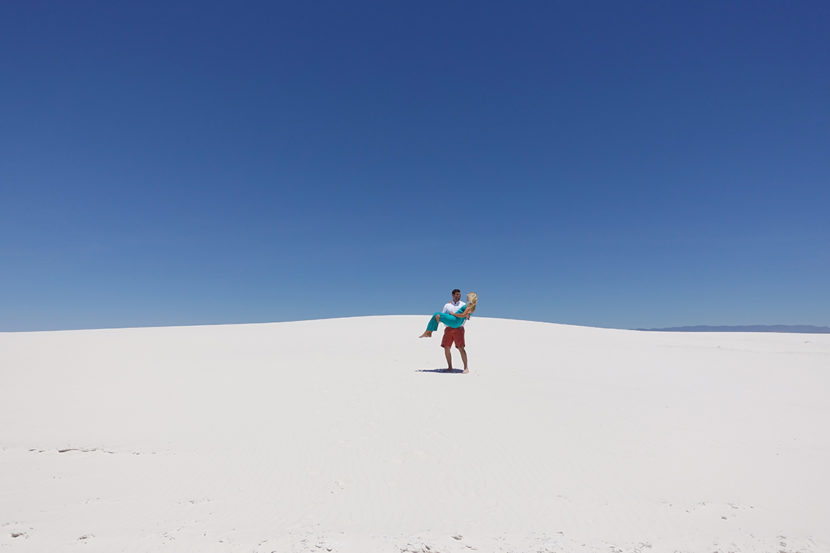 White Sands
If you haven't heard of White Sands National Monument, chances are you probably have seen a picture of it at some point. It is a group of seemingly endless dunes that are formed out of pure white sand. In total, the white sand covers 275 square miles of the New Mexico desert, which makes it the largest gypsum dunefield. The dunes are so white that they seem like something made up out of a movie. From our visit, we learned that the further back you drive, the more straight sand areas (without any bushes or grass growing up through the sand) you will find. A lot of people take sleds here to go down the dunes too (I think that the Great Sand Dunes in Colorado were definitely better for sledding. But if you are at White Sands, I'm not sure it is worth the 7 hour drive just to find a better sledding hill =)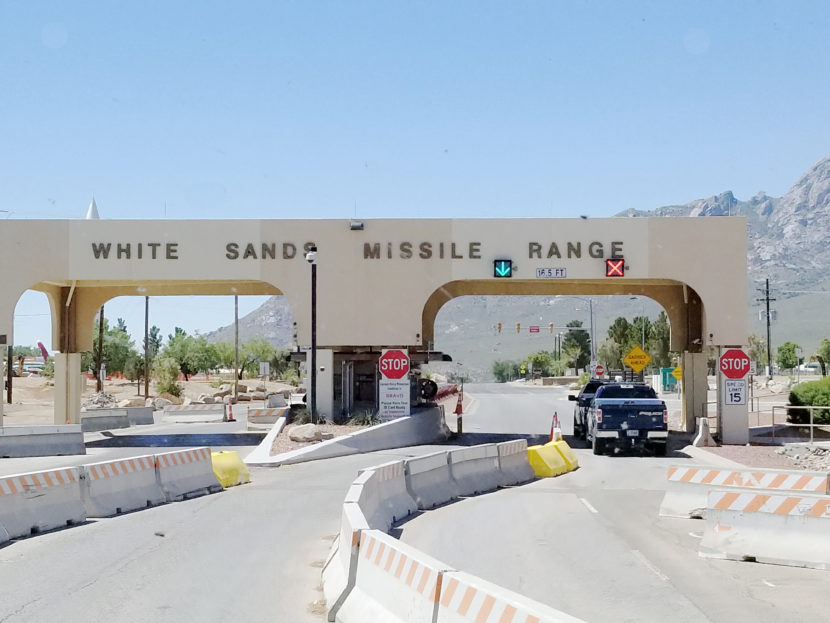 Also, if you are typing White Sands into your GPSm make sure it says "White Sands National Monument" and not just "White Sands New Mexico." I made that mistake and ended up a half an hour down the road at the Army's White Sands Missile Range. (Which I'm sure is also a very interesting place, but I'm not sure they offer tours =P) White Sands is just another awesome example of just how diverse America's land can be!
We are so grateful for our time in New Mexico, and loved getting to experience so many awesome places in the Land of Enchantment!