So far on our trip Em and I have been to 17 states, 2 Canadian Provinces, and several major cities. Out of all of the places that we have visited, Vancouver and Victoria are two of our favorites!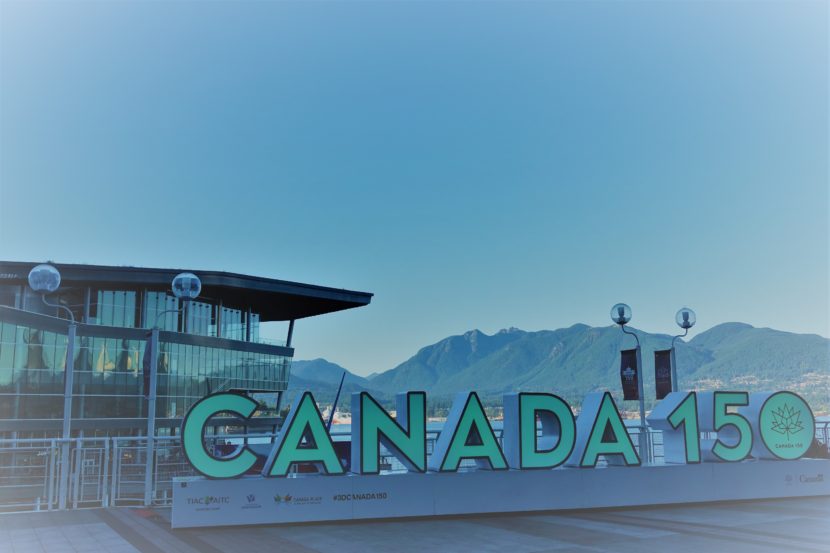 As the third largest metropolitan area in Canada, Vancouver is home to beaches, skiing, an incredible skyline, and an urban park that is bigger than NYC's Central Park. With a city that has a little bit of everything, we weren't exactly sure where to start. So we decided to start our time in the city with a couple tours!
Our first tour was a bus tour with Landsea Tours & Adventures. The best thing about this tour compared to other bus tours we've experienced is the size of this bus only held about 20-30 people, so it felt more personal. It was the perfect way to get the lay of the city and through a local tour guide! The tour started out downtown and took us around to Stanley Park, Granville Island, Gastown, Yaletown, several beaches, and ended at the Vancouver Lookout Tower. An added bonus of the tour is that it included tickets up to the top of this 553 foot rounded observation tower. But probably my favorite part of the tour was getting to eat lunch on Granville Island. This island is located right outside downtown vancouver and is home to a large indoor market, several shops, and restaurants. We had an hour to just wander around, take in the sights, and find our favorite place to eat. It was definitely a great way to start our visit off in Vancouver.
One of the most fun and exciting experiences of our visit to Vancouver was getting to do a night-time photo walk through Granville Island. Em and I love taking pictures, but our photo skills are pretty limited. So when we heard about the opportunity to be taught by a pro photographer and get some awesome pictures of the beautiful skyline of Vancouver and sights of Granville Island, we knew we had to go for it! Vancouver Photowalks is rated #1 photography class in Vancouver on TripAdvisor, so we knew that we were in good hands. Suzanne, our guide and teacher, was incredible! She was super friendly, personable, and knowledgeable about photography. She was able to balance teaching total beginners like us while still helping improve the skills of advanced photographers as well. We did the "City Reflections at Night" experience, but there are several other amazing photo classes that take place all around the city! Her class was extremely informative and flexible so as to make each tour as personal as possible. She started with the three basics of photography: shutter speed, aperture, and ISO, and then taught us several other helpful tips and tricks. We are still far from expert photographers, but after just 2 short hours I definitely have learned so much more about photography and have gained the courage to change our camera from auto to manual ;) Not only did we get to take away new photography knowledge, but some pretty incredible Vancouver photos as well!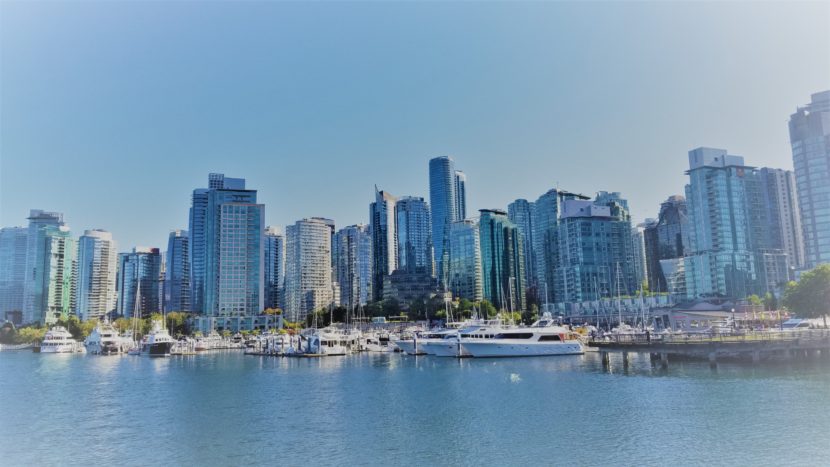 The downtown area of Vancouver is located on a peninsula, so water plays a big role in the makeup of the city. It is home to Canada's largest port and world's largest seaplane airline, so it just seemed to make sense to take a boat tour around the downtown. Em and I booked a 1 hour sightseeing tour with Harbour Cruises and boarded onto a large ship powered by a giant paddle wheel! The tour guide was really informative as we floated around the city. Seeing the skyline from the water gave us a new appreciation for just how amazing is Vancouver. We got to cruise past sights like Stanley Park, cruise ship terminals, massive container ships, historic Gastown, and the North Shore Mountains.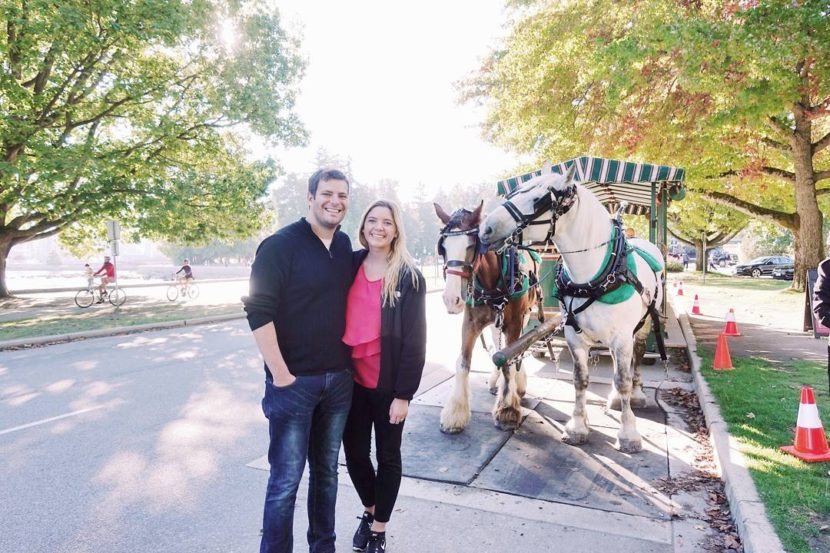 Wanting to cover all of our basis of travel (that day we'd already traveled by bus, boat, RV & motorcycle), we decided to head over to Stanley Park for a horse drawn carriage ride. These rides are always extra special to Em, because her mom used to give horse drawn carriage tours in Charleston, SC. Our tour guide in Vancouver was really friendly and informative! What makes the park so amazing is that it is right on the pinnacle of the peninsula – so it would be prime real estate, but the city has preserved this area as a park. Much like Central Park in NYC, Stanley Park is a close, convenient getaway from the busy streets of downtown. The total size of the park is 1,001 acres (Central Park is 843 acres). Another really cool feature of the park is that it wasn't created by architects, but rather remains as the ancient dense forest that it always was. Out of the nearly half million trees in the park, some of the tallest stretch up to nearly 250 feet! One of the man-made features of the park is a giant seawall that makes up the park's perimeter. The wall, which was built to prevent erosion and help preserve the park, was constructed between 1917-1971. Over the 54 years, the construction of the wall took thousands of manhours, even as much as 2,300 men working on it at the same time. But the result today is a beautiful park, protected from erosion and an amazing place to run, bike, explore or take a horse-drawn carriage tour through!
After our day of touring by bus, boat, and horse drawn carriage, we figured it would only be fitting to go flying too! Em and I headed downtown to experience a ride called FlyOver Canada. It was a simulated hang gliding tour over the beautiful Maple Leaf Country. The ride simulated the wind in our faces, the mist of the water, and even dive and turn just as if we were hang gliding from sea to sea over Canada. Em and I had a lot of fun and thought that it reminded us a lot of the "Soarin'" ride at Epcot in Orlando. It turns out that the ride was designed by the same person!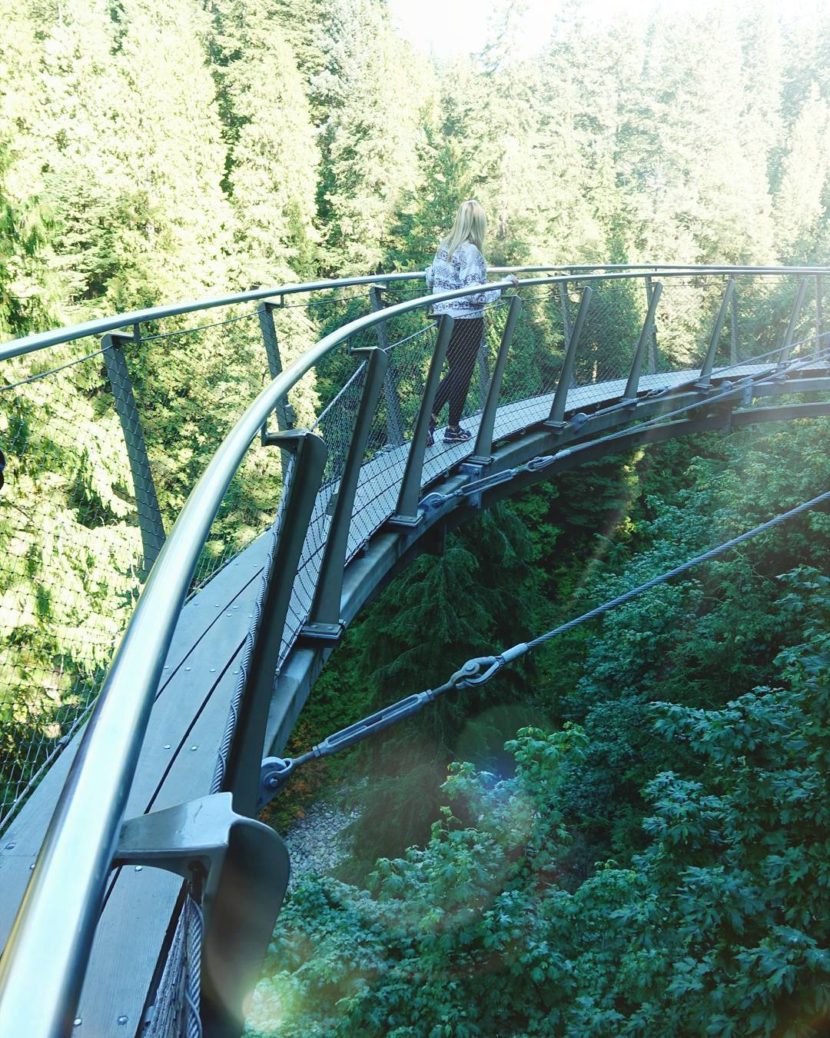 The next day, we headed out of the city and across the water to the Capilano Suspension Bridge Park and Grouse Mountain Park. It is amazing that within 20 minutes of downtown Vancouver, we could find ourselves walking through a dense forest filled with 200+ foot trees. The suspension bridge is 460 feet long and hangs 230 feet tall. It was pretty cool getting to walk out to the center and feel just how much the bridge swayed without breaking! The park also had several other smaller suspension bridges and cliff walks, which allowed us to get up close to the amazing ancient forest.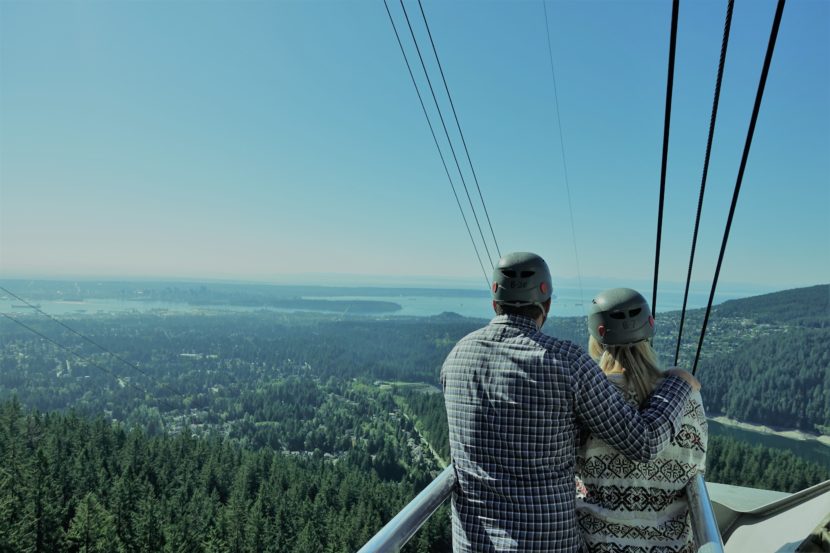 Just a little ways up the road was Grouse Mountain Park, which is a ski resort by winter and an outdoor activity center by summer. Em and I road the gondola up 2,800 feet to the top of the mountain, but we didn't just ride on the inside of the 105 person cabin. We got to stand outside on the top of the gondola and experience what they call the skyride surf adventure! The views of the city skyline were incredible. We learned on our ride to the top that this gondola operates 365 days of the year and is the busiest gondola in the world! At the top of the mountain was a bear exhibit, lumberjack show and ziplining. They also had an experience where you could climb to the top of an active windmill which would have been really cool, but it was closed during our visit. I guess that is just one more excuse to be back to visit Vancouver!
We absolutely loved Vancouver, and were so grateful to also get the opportunity to visit Victoria. More on that to come as we share about our favorite things to do in British Columbia!