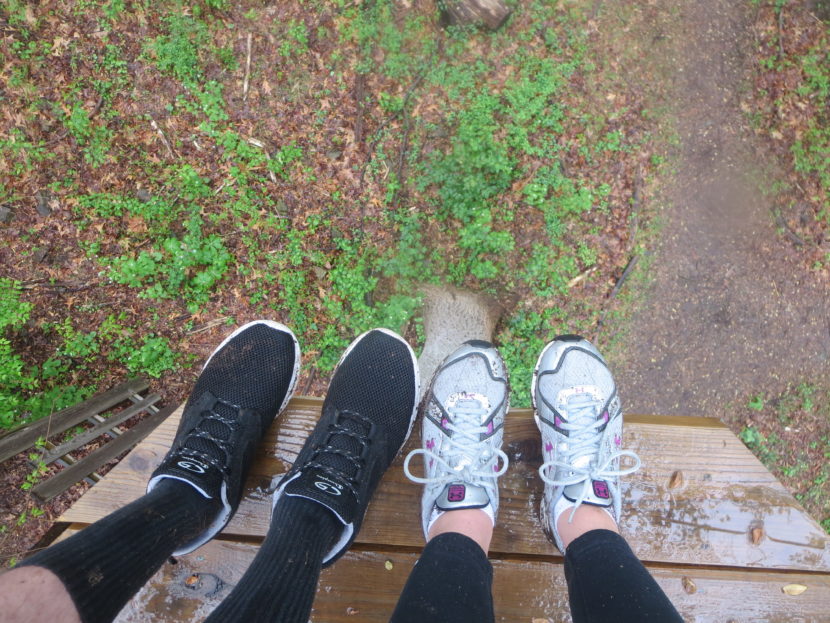 For our J date we went "Jumping though the Jungle!" Haha even writing that sounds like a little bit of a stretch. Let me explain…
We went to a Go Ape zipline and high ropes course in Rockville, Maryland. Em and I love trying fun, active new adventures and have heard so many awesome things about this particular high ropes course that we knew that we had to do this for one of our dates! The only problem was we had already done "G" on our golf course camping date and we weren't about to wait 17 more weeks to go ziplining for "Z," so we were left with the letter J, and decided that we would spend our Saturday jumping though the jungle (well more like the woods, but you know! :)
Before we went, I was not too nervous about the high ropes course. I had done a couple high ropes courses at some camps before and thought that this course would be the same. But boy was I wrong!
The course was divided into six different individual sections made up of 44 different crossings, six ziplines, two Tarzan swings, and USA's first skateboard zipline!
I wouldn't say that I am scared of heights, but I would be lying if I didn't say that I may have hesitated an exta second before jumping off the first platform! The 44 obstacles were an awesome challenge and ranged from a rope bridge to swinging rings!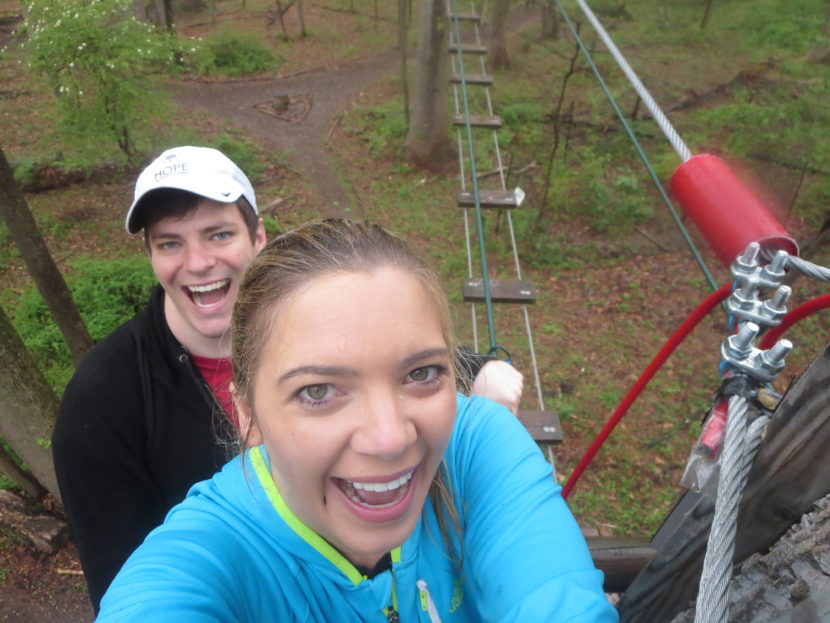 Two of my favorite obstacles were the skate board zipline and the free jump! The skateboard zipline is just like regular skateboarding, except that you are 40 feet in the air and feel like you are skating through the air! There is a regular skateboard deck that is attached to a zipline so that, once you step on it, it takes off sailing through the treetops! (Don't worry, if you fall of the board you are still attached to the line above!)
My other favorite obstacle was the free fall. For this one, you are standing on a perfectly solid platform at the top of a tree and you jump. The few split seconds of free fall seem like forever and then the harness catches you and you swing into a large cargo net. It's a little difficult to convince yourself to take the first step off the platform and into a total free fall, but once I was holding safely onto the cargo net, all I wanted was to do it again!
Em and I would compete to see who could complete the obstacles the fastest or without using our hands. And I will have to confess that she beat me in most of them! She is fearless, fun, and has way better balance than me!
The course is set up so that people who love a challenge or are terribly afraid of heights can still both enjoy it! At certain parts of the course, there are options to take the more difficult obstacle route or the less challenging route. The course could also be the perfect thing to help someone overcome their fear of heights. The staff was awesome and super helpful! They take you through a safety course and let you practice on obstacles just a few feet off the ground. Once you feel comfortable on the practice course, they allow you to go at your own pace through the rest of the course and encourage you along the way.
So although the date may have made a little bit more sense to wait to go ziplining for Z, Em and I were so thrilled that we went now! We liked it so much, and since Em did beat me in most of the obstacles, that we might just have to have a rematch sometime in the future!