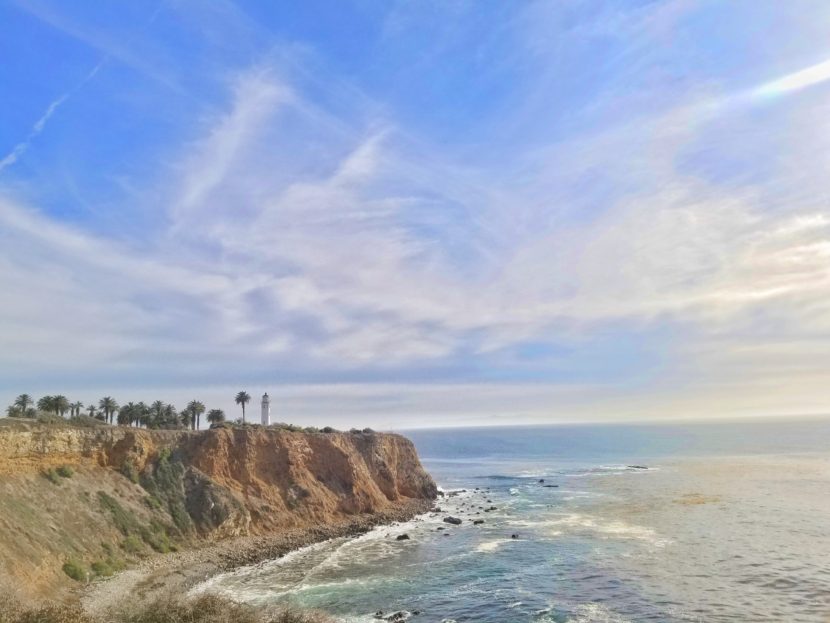 California has always been one of my favorite states. Beautiful views and amazing weather make for a wonderful combination! Before beginning our trip, I joked with Hud that California deserved a whole month of our trip – and as we started planning it, we realized it needed closer to two months :)
Many people who do California roadtrips start in the south and work their way north, but since we were coming from Oregon, we entered into Northern California and worked our way south. This was awesome not only because the weather continued to get warmer even as we got closer to Christmas, but also because we got to drive right along the ocean on many areas of the Pacific Coast Highway!
We had such an awesome time in California and are so grateful to experience many different areas of the state. Today I wanted to share the favorite things we experienced during our California roadtrip. And because I had a feeling that the post was going to get a little long, I decided to break it up by area of California – so feel free to click on any of the following to jump to that section of the post!
California
Northern California
Redwood Trees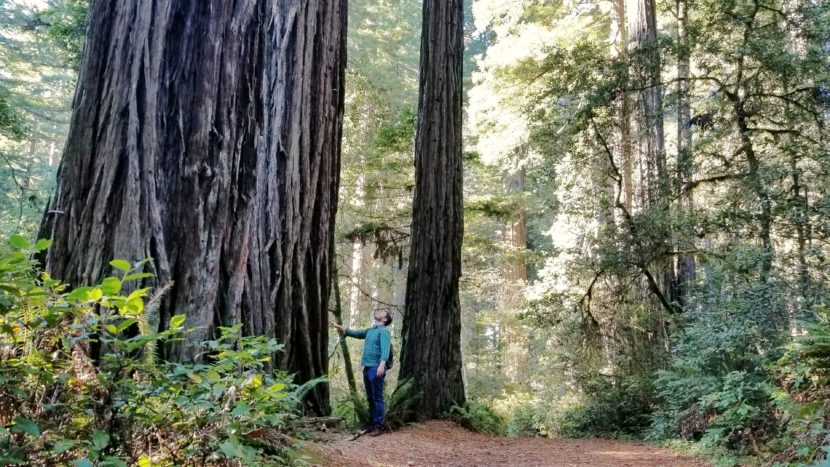 The redwoods have been on our bucketlist since the beginning of planning our RV trip! It felt surreal to see them in person, and even more so to drive our RV through them! There are actually redwoods in more areas than we realized, but our favorite spot to see them is called Avenue of the Giants.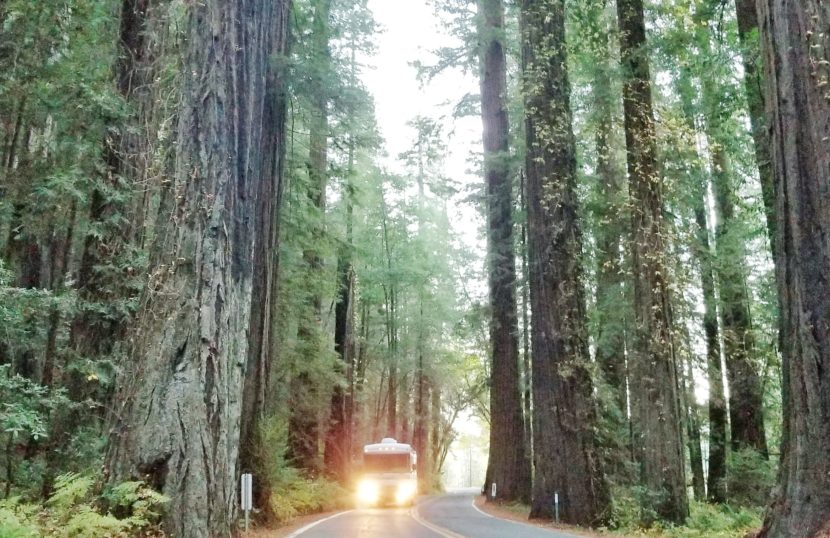 The Avenue of the Giants is a stretch of road where the trees tower above you on either side. There are not too many things that make our RV look small, but the redwoods sure did!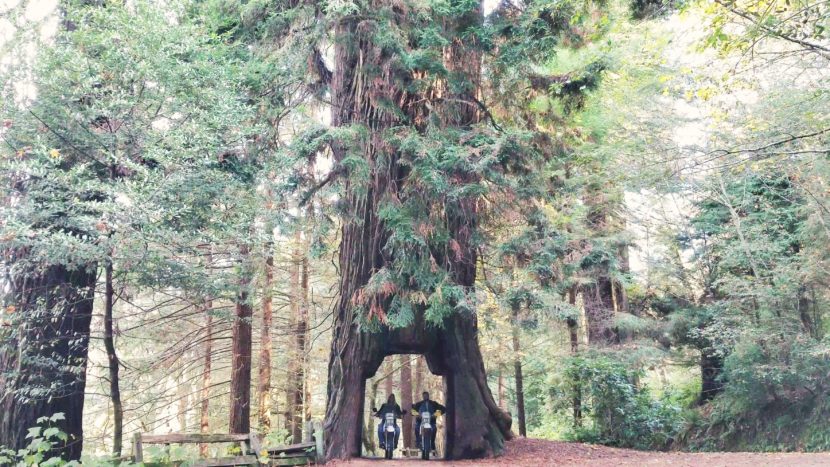 It was crazy to us that there were trees big enough to drive cars through! We didn't attempt driving the RV through a tree, but we did ride our motorcycles through one! We also did a gondola through the redwoods at Trees of Mystery. It was a really neat feeling to be up in the forest and get to experience how tall the trees are from a different perspective.
Burney Falls, Lake Tahoe, & Yosemite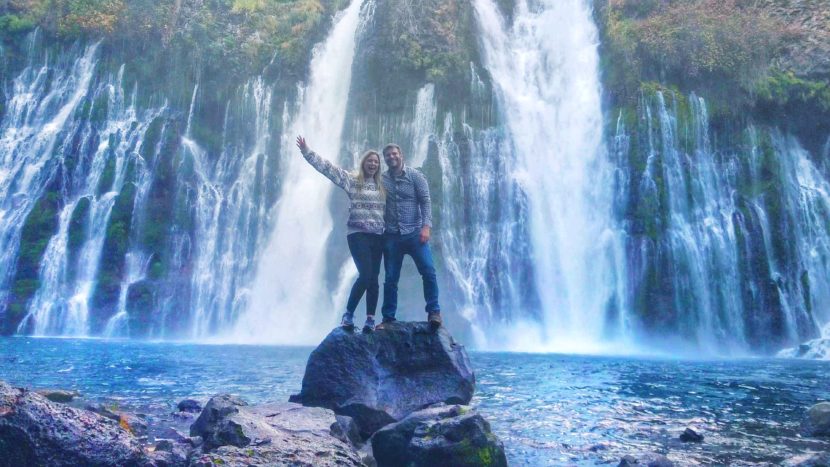 After spending a few days with the Redwoods, we drove east across the state – and drove on some of the most winding, hilly (with straight drop offs) roads of our entire trip in pitch darkness. Totally worth it to see Burney Falls! It felt like what the Garden of Eden may have been like!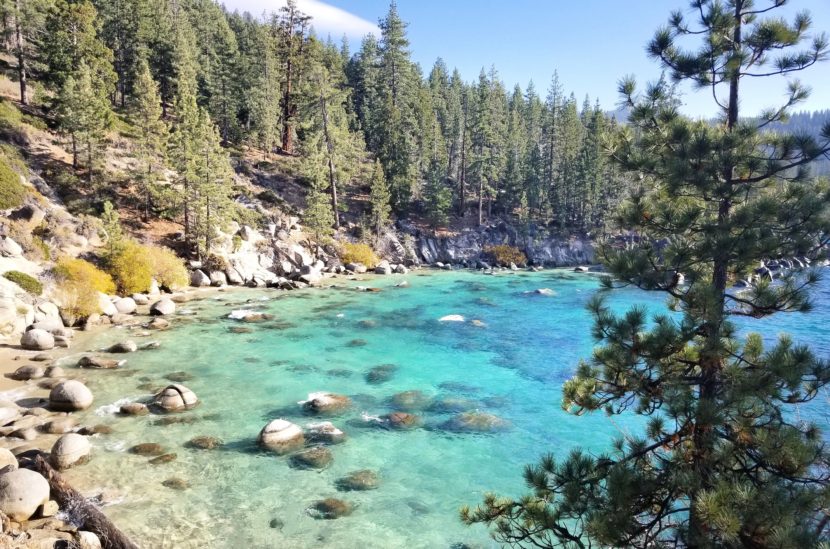 We then continued on to Lake Tahoe, which almost felt like we were at the ocean because of how blue and clear it was! We hiked to one of the more secluded "beaches" of the lake, and came across an old man's bare behind ;) and a lot of sights more pretty than that, haha!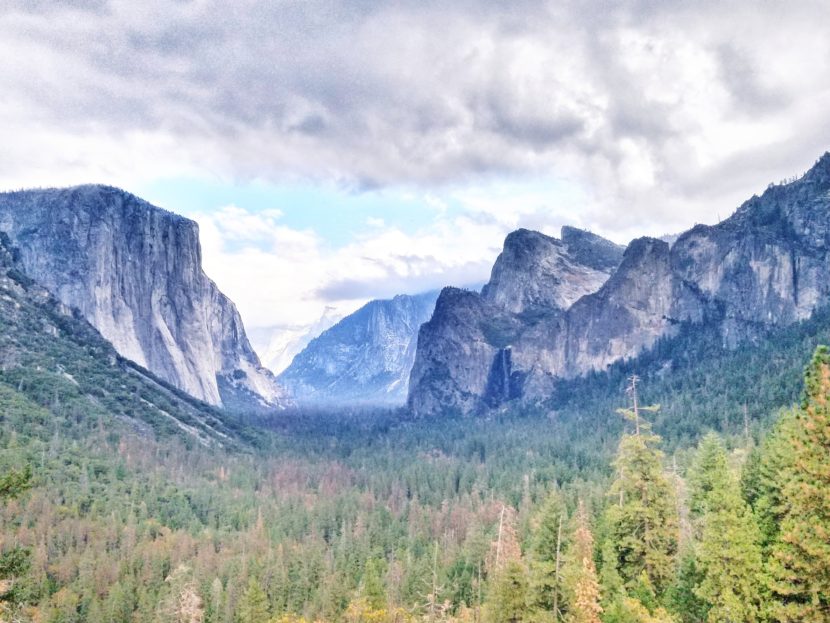 We then continued on to Yosemite, and were blown away by how California literally has everything – from forests, to the ocean, waterfalls, and lakes, to the desert, and then some of the most beautiful mountains!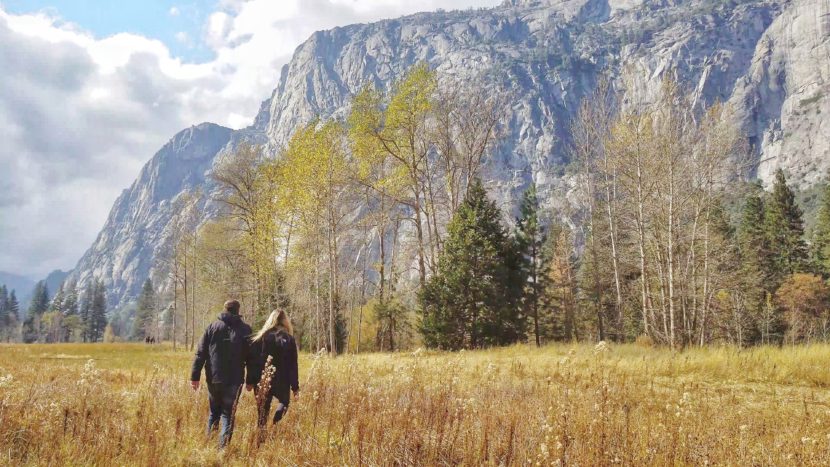 We did a few smaller hikes around Yosemite – two of our favorite spots were Glacier View and Valley View – but unfortunately the bigger hikes, like summiting Half Dome, were closed for the winter. Makes for a great excuse to come back to California! :)
Gold Panning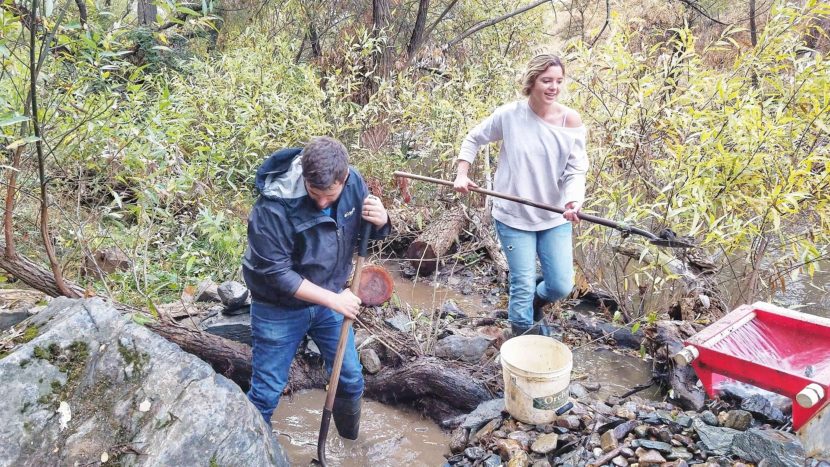 Fellow RVers had told us that gold panning in California was one of their favorite experience, so we decided we had to try to strike gold! :) We now have a renewed appreciation for how hard of work it is to be a gold prospector! Miner Gary from California Gold Panning showed us the ropes, and we were glad to learn from someone who knew what they were doing because we sure didn't! We loved having a "real California experience," thinking of what life must have been life back during the gold rush, and leaving Northern California with a few little gold pieces of our own!
Sacramento, San Francisco, & The Bay Area
Sacramento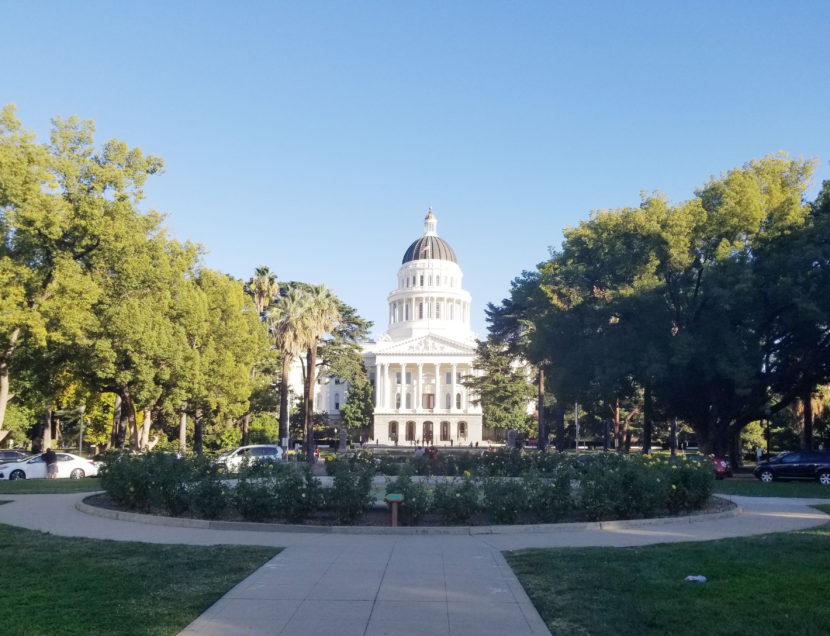 We've loved seeing the capitals of many of the states we've visited on our trip, so it was really special getting to visit Sacramento! And we especially loved the city because they had RV parking!! A very rare thing for a city to have, and we were big fans. We were able to park the RV in the city while we spent the night at the Holiday Inn Downtown Sacramento Arena, which was in the perfect area right near Old Sacramento.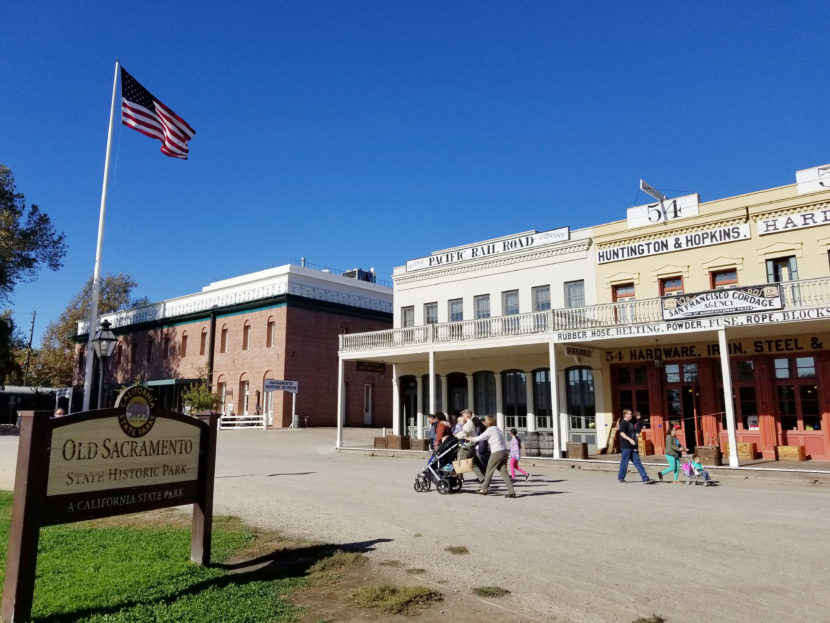 Old Sacramento is a state historic park and a very charming part of the city. It's designed to make you feel like you're in the Sacramento of the 1800s. We started our morning at Temple Coffee Roasters and then did an Old Sacramento Underground Tour, which was a really neat way to learn about the history of the city. You get to actually go into the underground of buildings that were in use back in the day!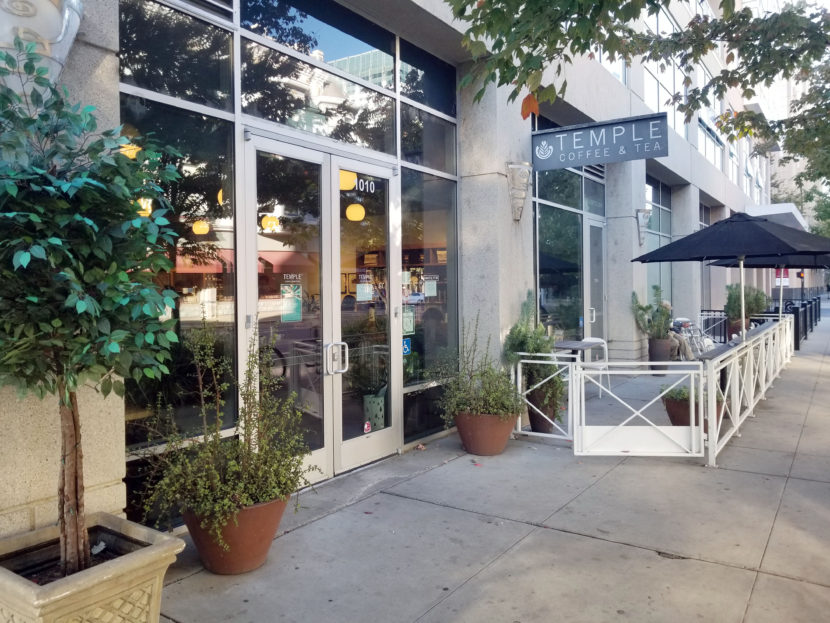 After our tour, we got burgers at Ten22 in the heart of Old Sacramento as we watched the horse-drawn carriages go by. Sacramento is America's Farm-to-Fork Capital, so they are known for their delicious food culture as well as having lots of things to see and do!
Santa Rosa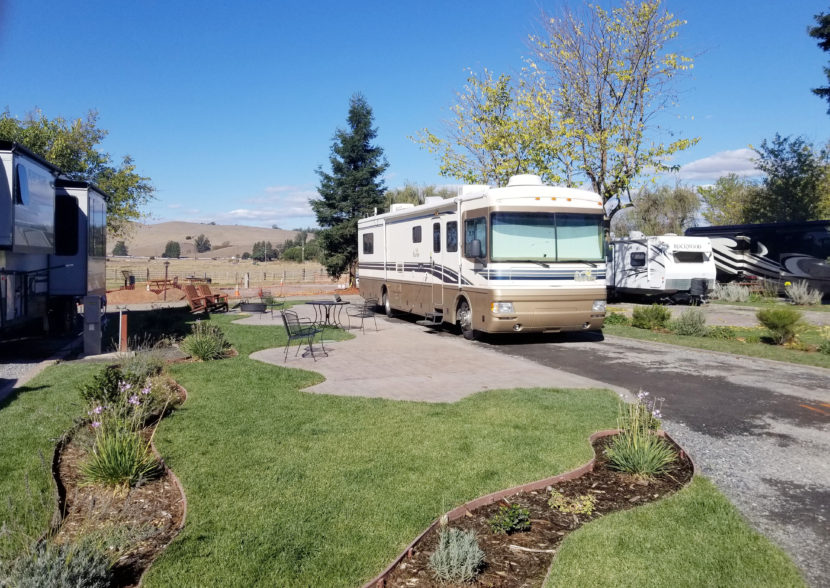 After Sacramento, we continued on to the beautiful wine country of California! We stayed at the San Francisco North / Petaluma KOA. Our RV site had the most beautiful patio area, and there was even an outdoor kitchen! Not too many places in Pennsylvania can you cook outdoors in November, so we were loving it! The KOA was nestled in between Sonoma County wineries and just about 10 miles from downtown Santa Rosa.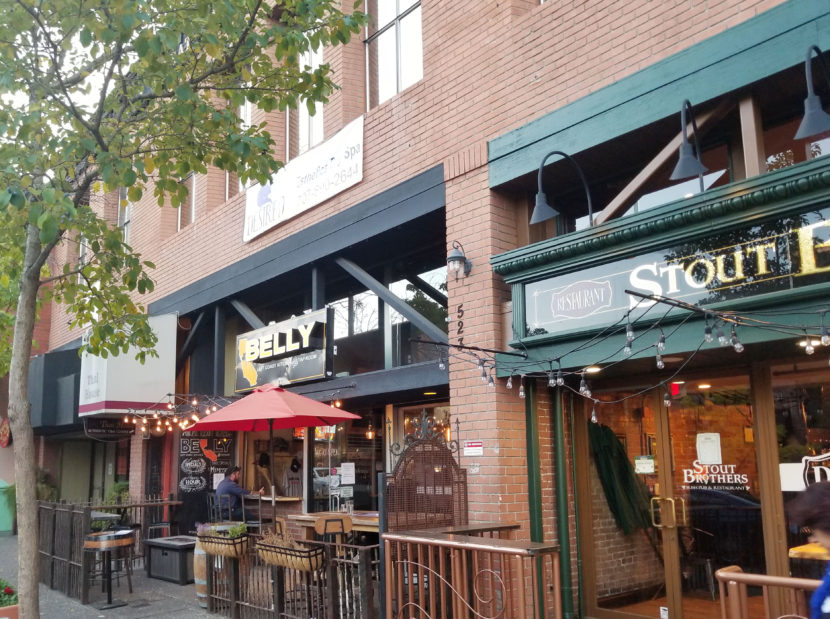 Santa Rosa is such a charming city! There are many great places to eat and shop, and they even have a California Welcome Center in Historic Railroad Square. After enjoying an evening walk around downtown, we had some delicious pizza at Belly Left Coast Kitchen & Tap Room.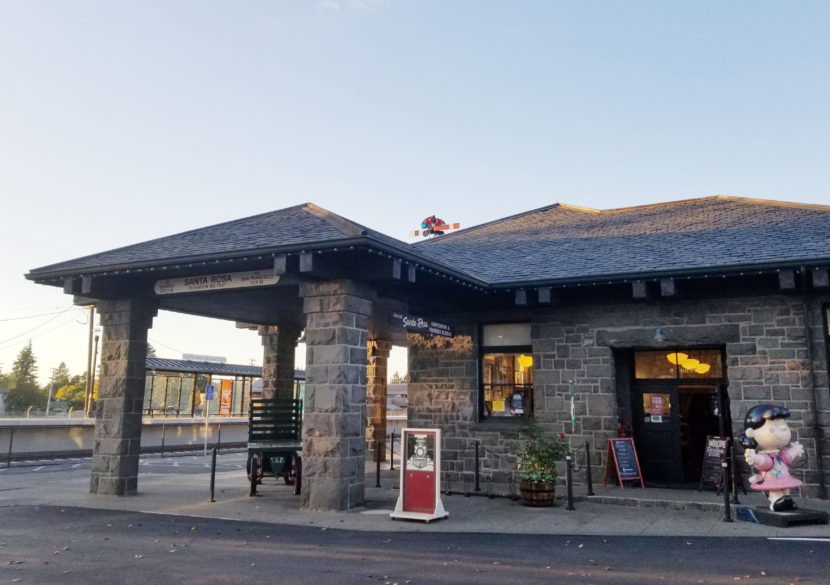 We visited just a few weeks after the Santa Rosa fire, so it was really sad to think about the wonderful people there being affected by such a tragedy, but also really incredible to hear stories about the community coming together to be there each other. Most Santa Rosa businesses were open and we were glad to support them as they support the local community.
Sonoma Valley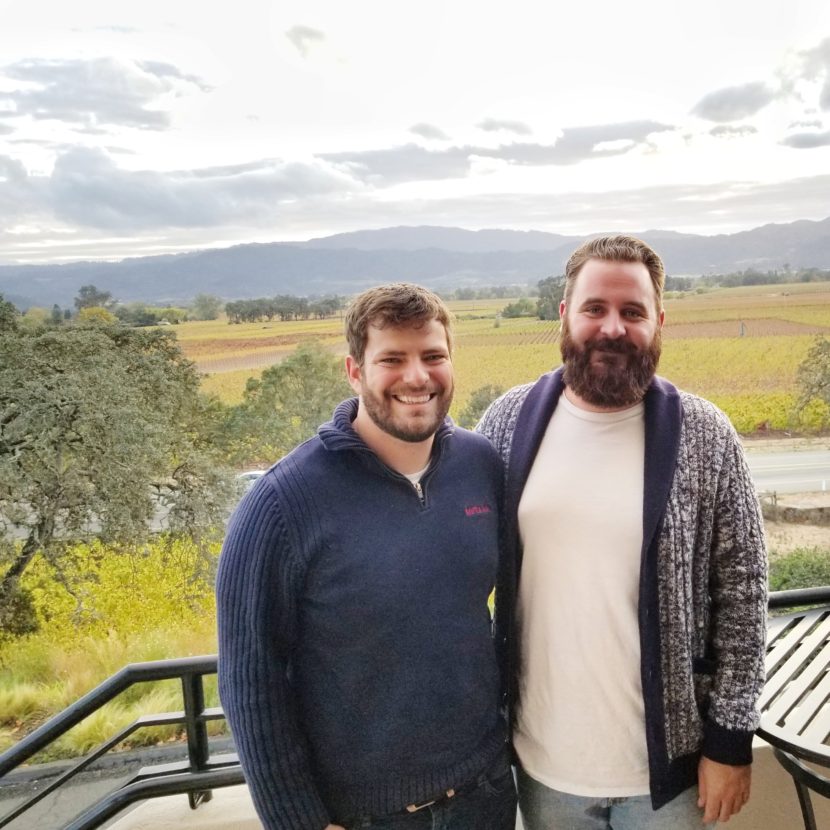 Sonoma County has many beautiful areas. One of our other favorites was Sonoma Valley, which is known as the birthplace of wine in California and has over 100 wineries. One of the groomsmen in our wedding took us wine tasting in Sonoma Valley, and it was such a neat experience! Although we aren't big wine drinkers, we are always looking for experiences that are true to each state, and a wine tasting definitely fits California. It was very interesting to learn about the winemaking process, and of course beautiful to see all the vineyards in Sonoma Valley!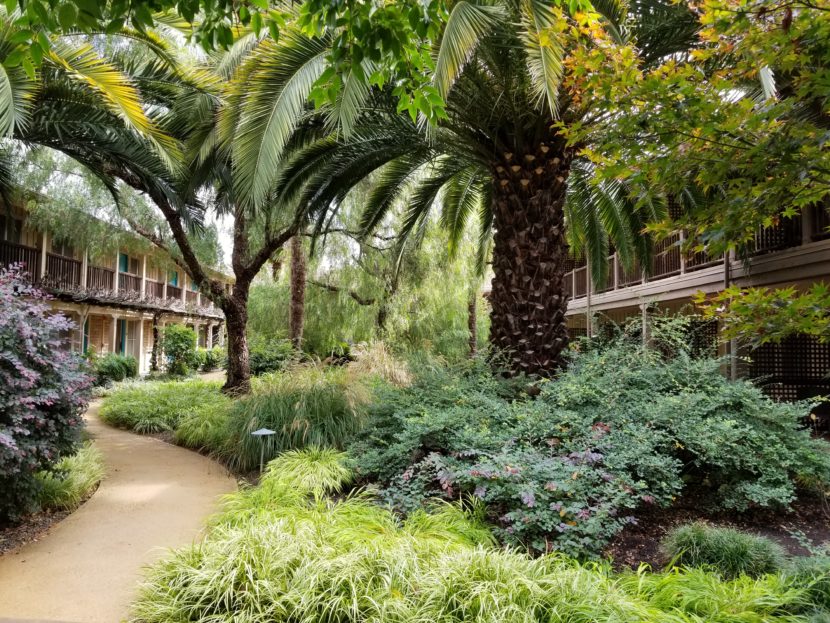 We stayed at the El Pueblo Inn, which is a perfect little getaway in wine country. It is in an amazing location in downtown Sonoma, but the landscaping made us feel like we were in another world. We were also big fans of the complimentary breakfast in the morning!
San Francisco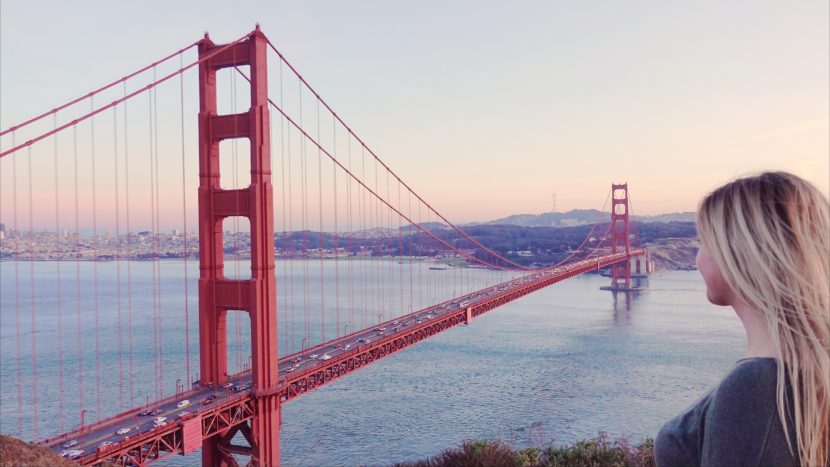 Seeing the Golden Gate Bridge in person felt surreal! We had the true pleasure (except for the toll ;) of riding back and forth across it four different times, and the feeling never got old.
One of our favorite things to do in cities is to do a tour on the first day, so that we get a feel for the different neighborhoods and a better understanding of the history and culture. Dylan's Famous Tour was a great choice for this, especially because it saved a lot of time riding our motorcycles up and down the hills of SanFran! The tour took us all around the city, and even to Muir Woods Redwood National Monument (never knew there were redwoods just outside the city). Hud and I kept saying that San Francisco is so unique in that each neighborhood feels like it has its own personality.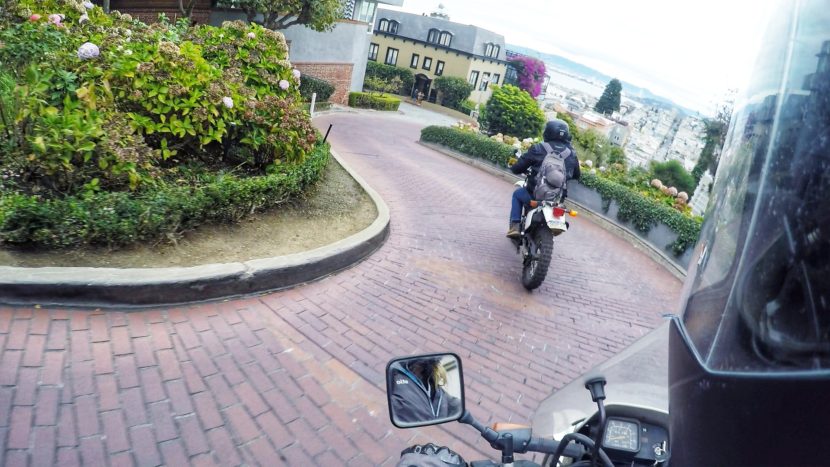 Thanks to doing the tour the first day, we were able to mark down a bunch of stops we wanted to go back to, and the next day road our motorcycles down Lombard Street – the "crookedest street in the world!" Another favorite of ours was the Palace of Fine Arts – it almost made us feel like we were in a different country. We've been amazed at seeing the various things that cities built for the World Fair decades ago that are still a major part of their city!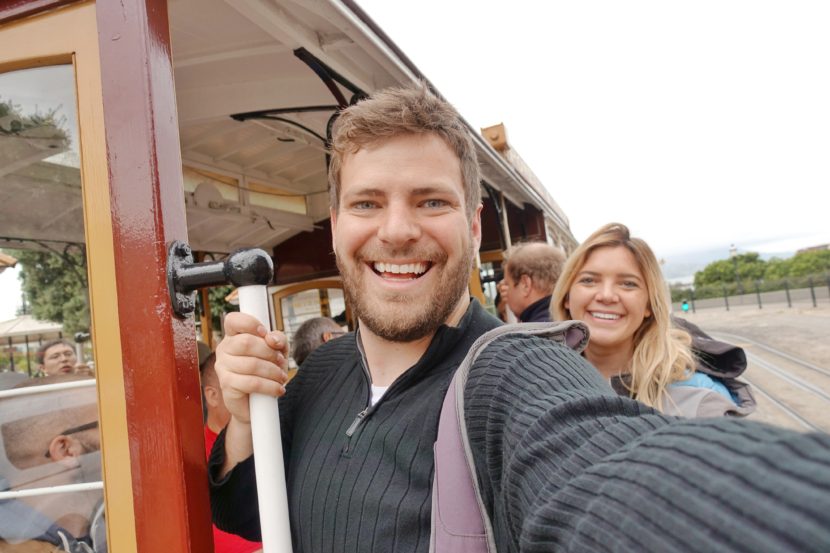 And of course, we couldn't visit San Francisco without riding a cable car and visiting infamous Alcatraz Island. What blew us away was how close Alcatraz is to the city!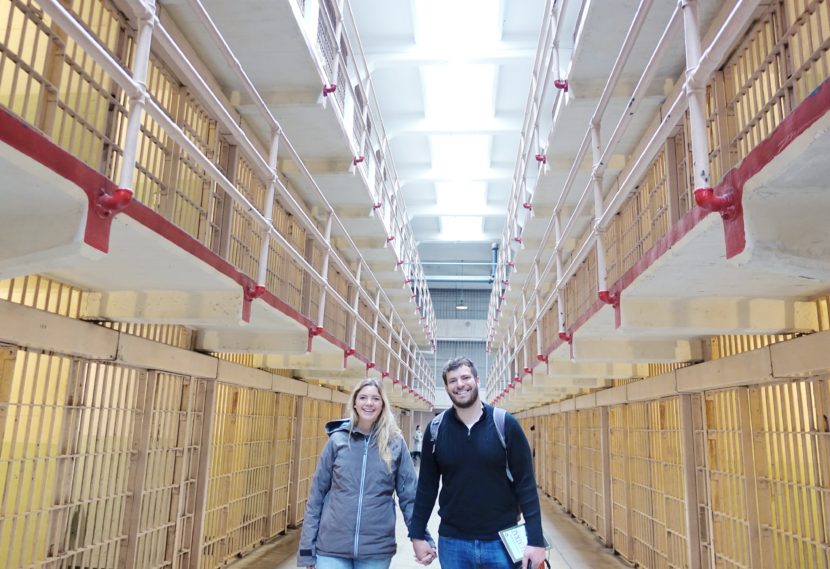 It almost felt like you could swim there, except for thankfully we didn't have to try that because Alcatraz Cruises provides a much quicker option. It was crazy to see the prisoners' cells, and we learned that knowing the proximity of Alcatraz to the mainland made the jail even more awful for prisoners.
San Francisco Bay Area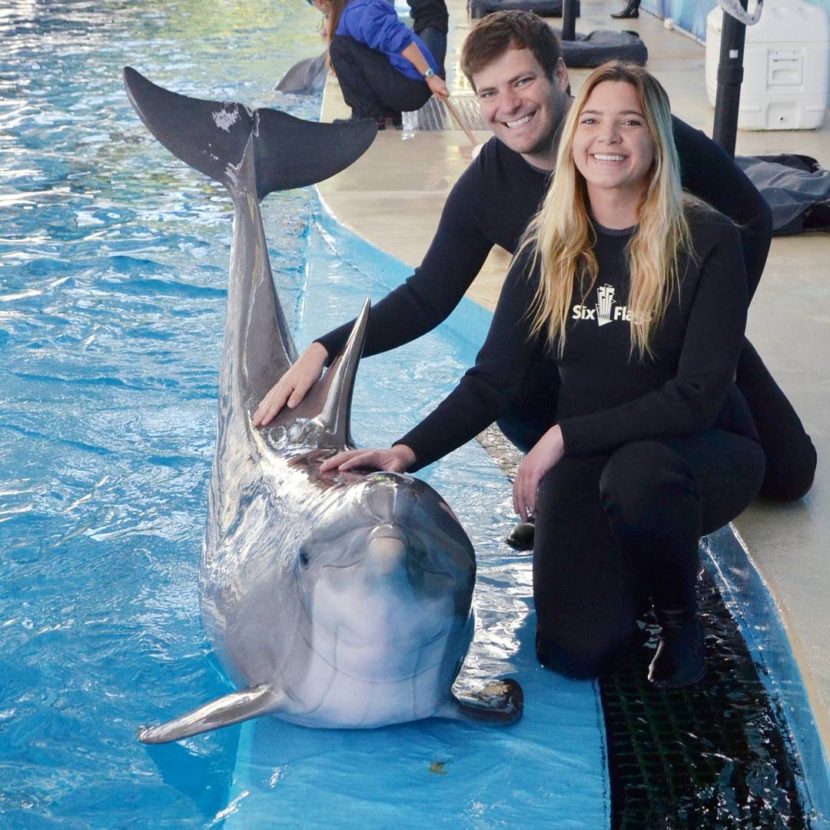 Before heading down the coast, we visited Six Flags Discovery Kingdom and got to do one of my favorite things – swim with dolphins! I always wanted to be a dolphin trainer when I was growing up, so it was awesome to get a little taste of that. Although we found out that actual dolphin trainers don't even get the day off on Thanksgiving and Christmas – they're that dedicated to taking care of their "children!"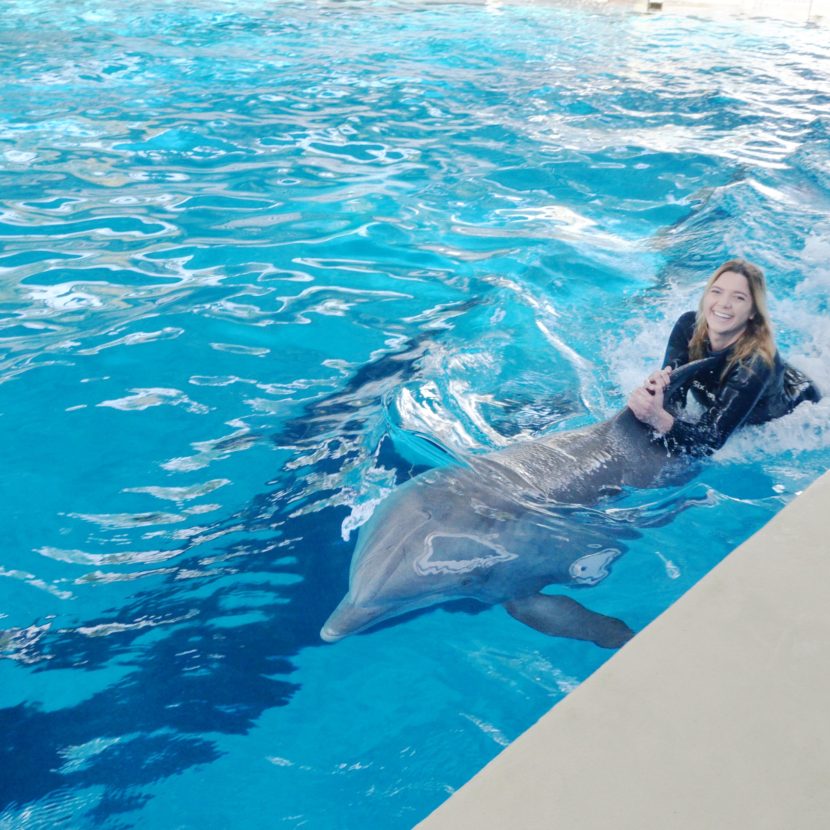 We absolutely loved getting to feed the dolphins, see them respond to our hand signal commands, and have them pull us through the water with their dorsal fins. Definitely an experience we won't forget!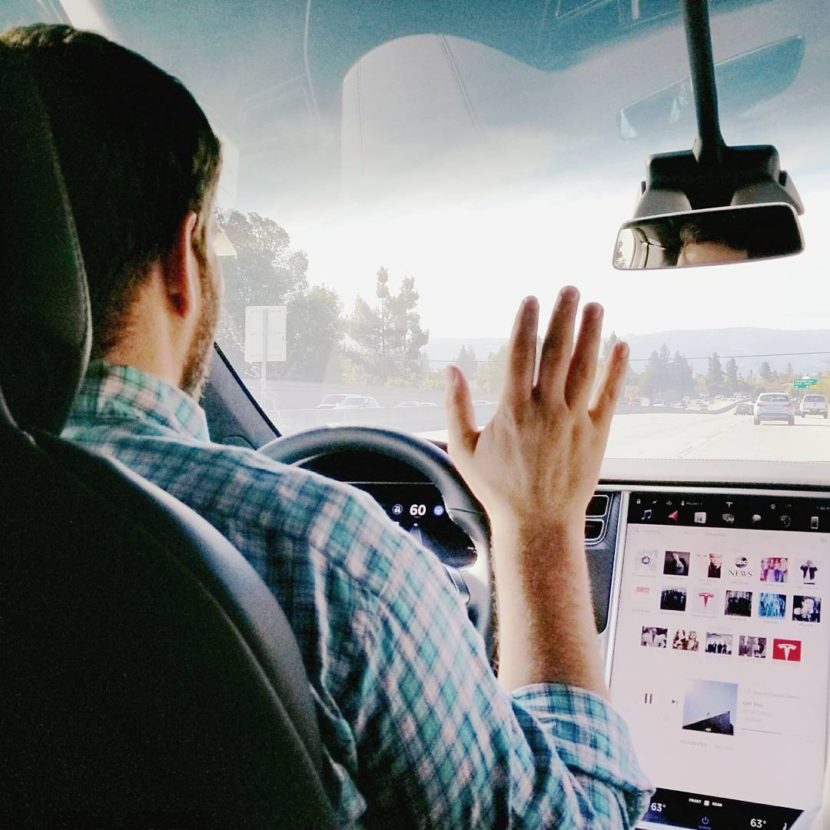 Before continuing down the coast, we spent a day driving through Silicon Valley – home to hundreds of tech headquarters. We both have our MBAs and love following business news, so it was fun to see the headquarters for Microsoft, Apple, Google, and many more. We stopped by Tesla's flagship store and randomly got asked if we wanted to test drive their new Model X! It was a crazy experience to have the car driving us (!!!) but the coolest to see what a difference technology can make.
Central California Coast
Santa Cruz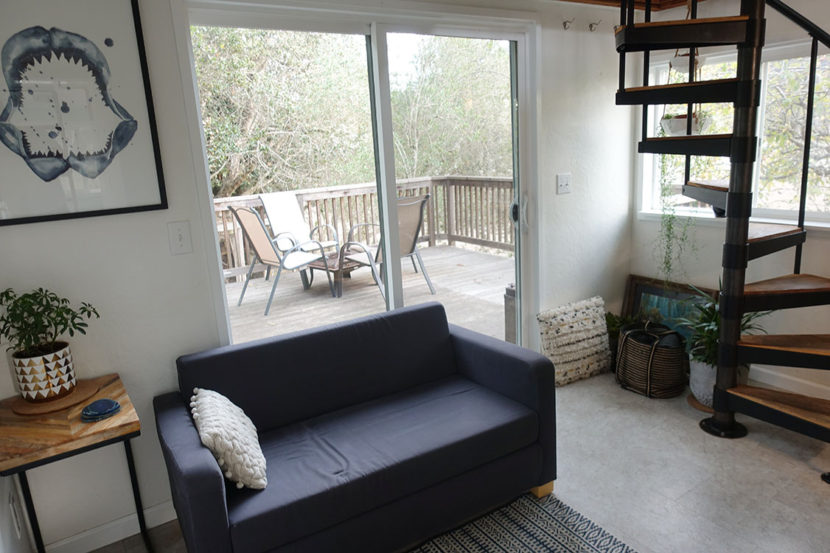 We were blessed to get to meet up with a lot of friends in California, and to meet some new ones too! Like Laura and Bill, owners of the coziest AirBnB near La Selva Beach. We stayed in their private cottage for a night and it was the cutest!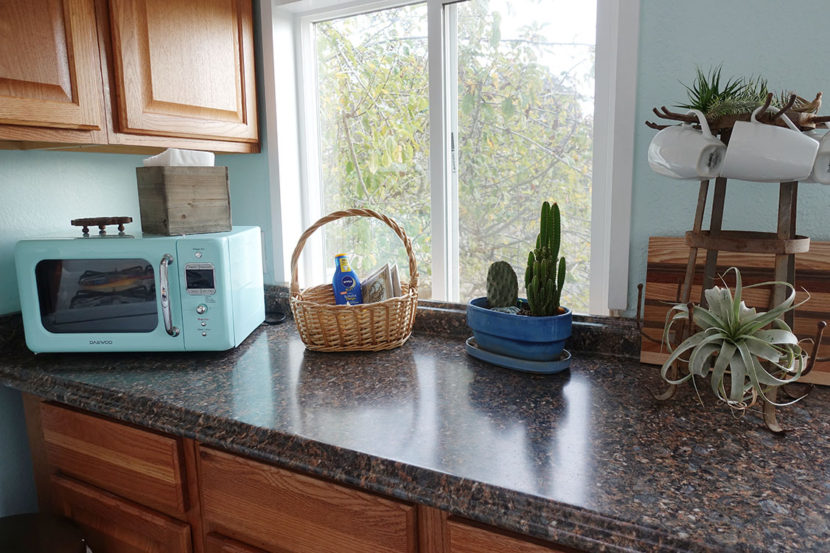 It's nestled in a farming community, is within walking distance from the beach, and is decorated so nicely (probably because they also own RetroXO, a reclaimed wood furniture and home decor business which was recently featured on a TV show)! We really enjoyed our stay and are grateful for how even strangers can feel like family when you're the whole way across the country!
Carmel-by-the-Sea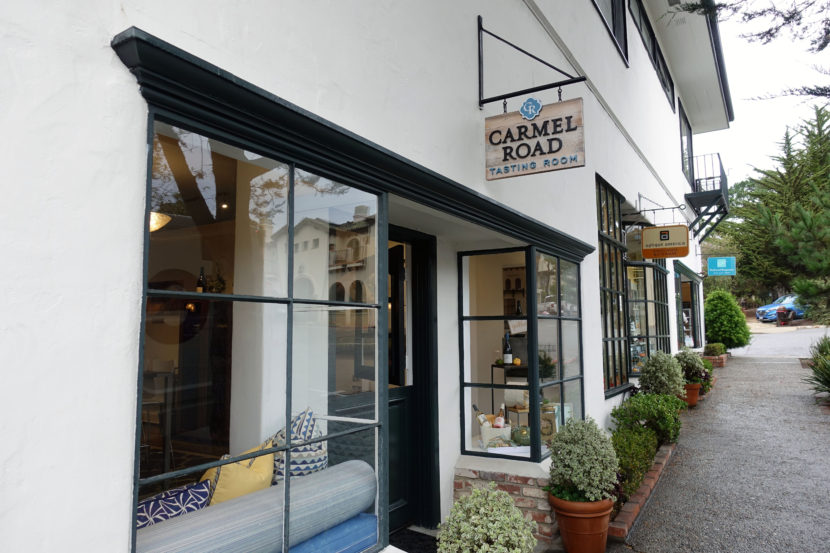 Our next stop was the beautifully quaint town of Carmel-by-the-Sea. Apparently the goal of the town's designers was to create a town that had casual European elegance with the warmth of family hospitality, and they absolutely nailed it. We loved strolling through the town (they even have a "Wine Walk" pass so you can explore the various wineries!) and along the scenic road walkway right by Carmel Beach.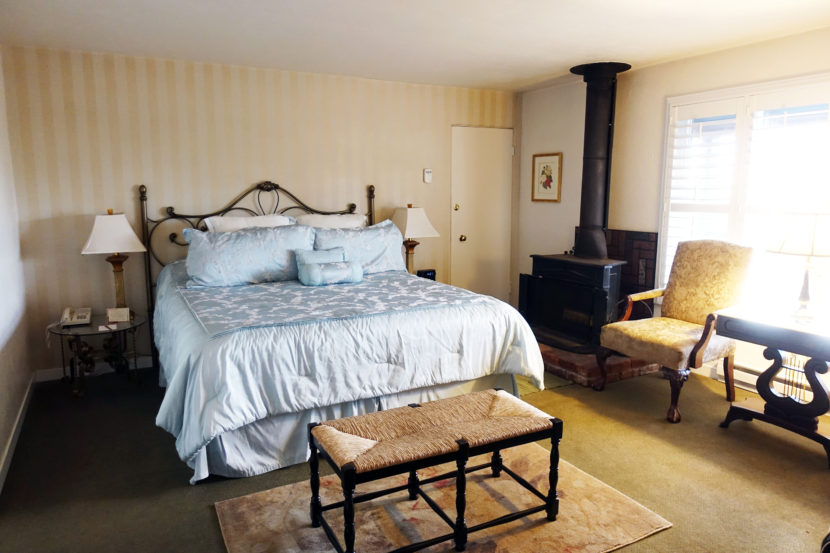 We stayed at the Hofsas House, which is a super cute boutique family-owned inn. Each room is uniquely decorated, and ours overlooked the beautiful Pacific Ocean! We had the most amazing sunset views each evening, and then a delicious breakfast in the morning.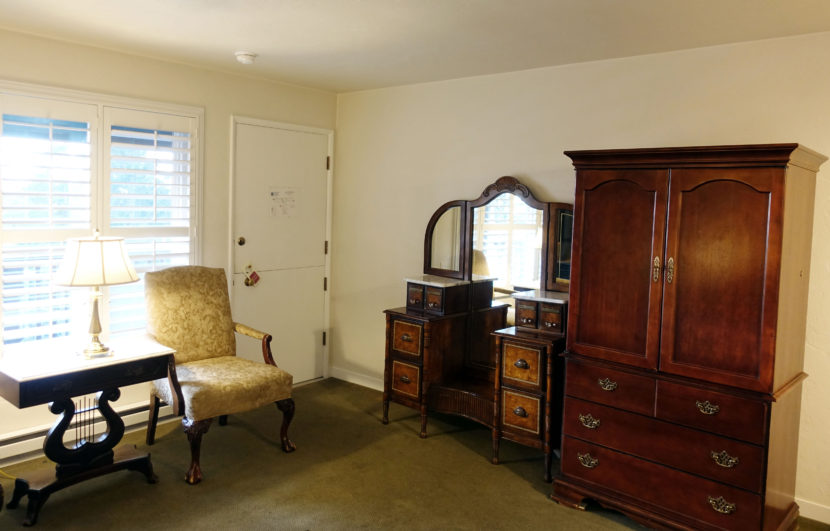 The family's Bavarian ancestry plays a large part in the inn's theme. I had the privilege of meeting the current owner, Carrie (and her sweet mom), whose grandmother started the Hofsas House over 70 years ago – a true testament to the authenticity of the inn, and a clear reason for how it's such a family-friendly (and pet-friendly!) place to stay. Our room had a fireplace and was so beautiful that we wanted to just stay there all day, but there was so much in the area to get out and explore!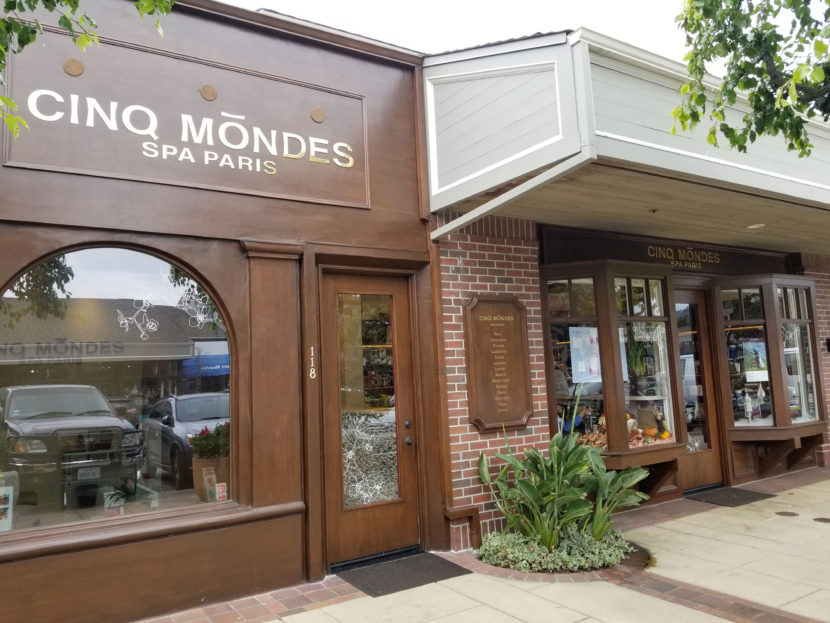 I got a facial at the nearby Cinq Mondes Spa (the only flagship location in the US!), which was super relaxing and refreshing. Their philosophy is "to offer the purest product recipes and best treatment rituals of the world," which made so much sense after visiting. Cinq Mondes is a leading spa in France (again showing that Carmel-by-the-Sea is very European inspired), so I was glad to experience a taste of it in the USA!
Monterey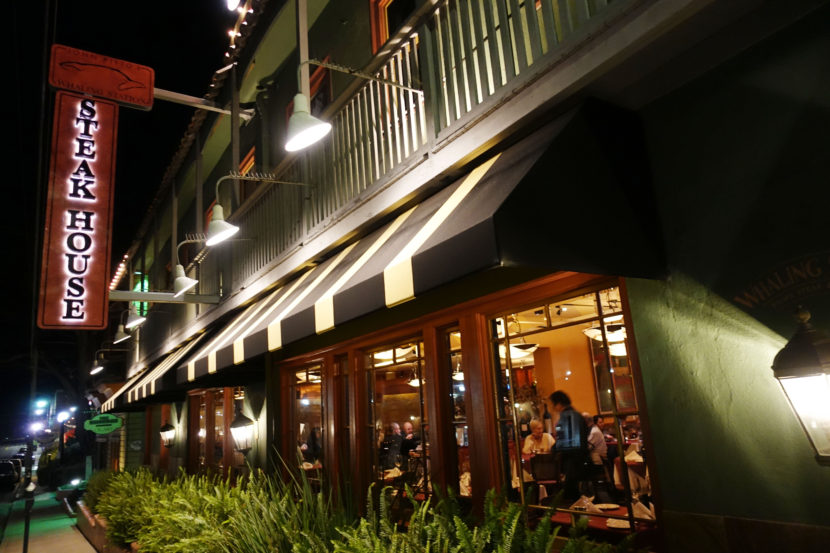 The town of Monterey borders Carmel-by-the-Sea, so we had dinner at the Whaling Station in Monterey our first night there. The Whaling Station is located in Cannery Row, the most popular part of Monterey, and has been the #1 Monterey County steakhouse for over 40 years. It was easy to see why – the service was incredible!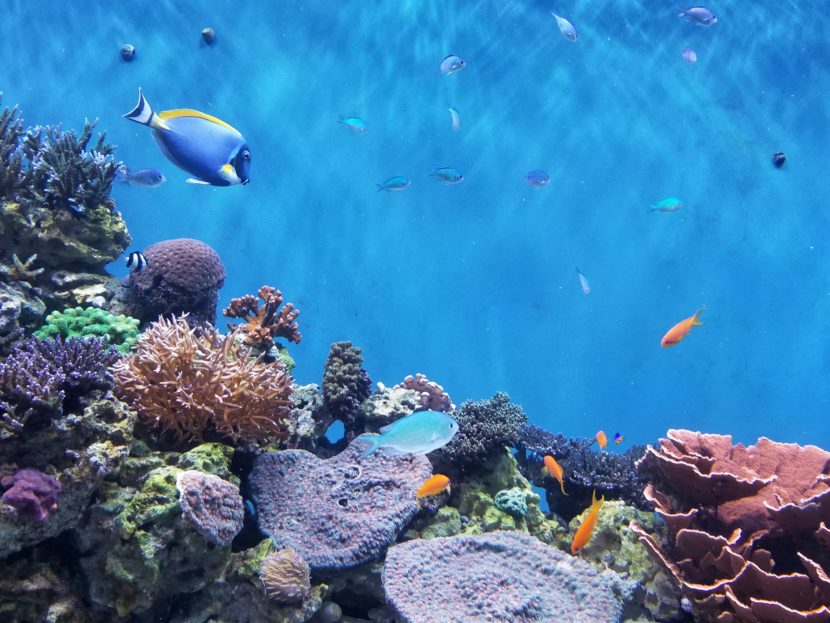 The next day, we went to the Monterey Bay Aquarium, which is rated as the #2 aquarium in the world!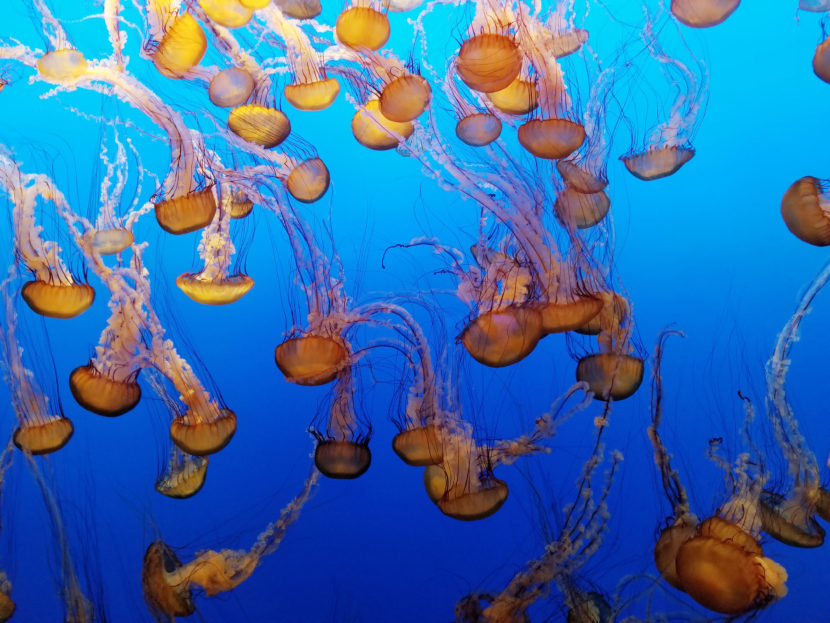 My favorite exhibit was the jellyfish: bright orange jellies glowing in a blue tank. We also saw a very cool presentation by a diver in one of the tanks, who was feeding the fish and talking from inside the tank at the same time!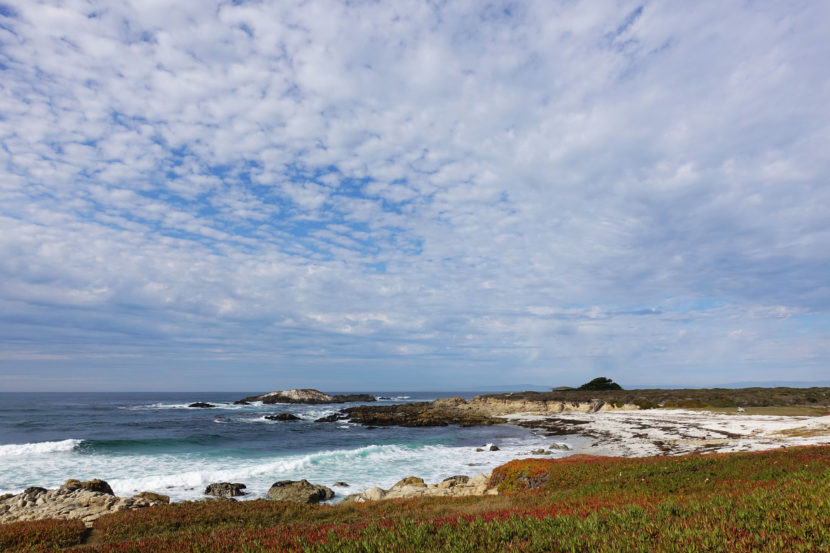 We then did Monterey's famous 17-mile drive, which was absolutely beautiful, before going to The Beach House at Lovers Point for more incredible views as we enjoyed dinner.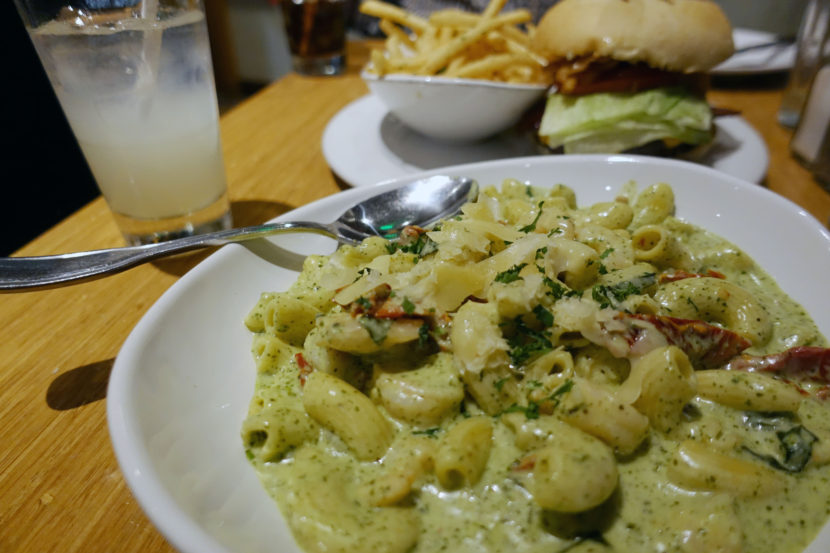 They had a little of everything on the menu, and our meals were absolutely delicious! It was a great way to end our time in Carmel-by-the-Sea before continuing on to Big Sur.
Big Sur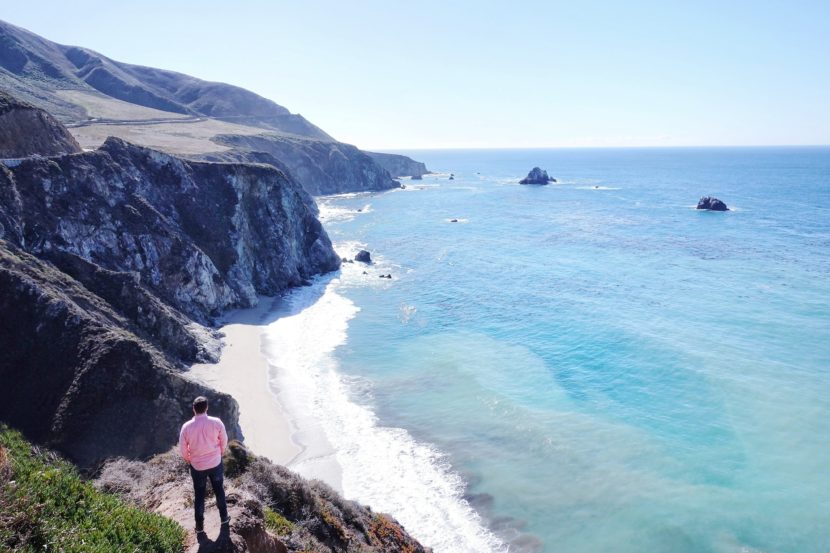 The views of Big Sur are hard to put into words. Everywhere we turned, there was a new gorgeous view up ahead, and there were so many places to pull off and enjoy the beautiful scenery.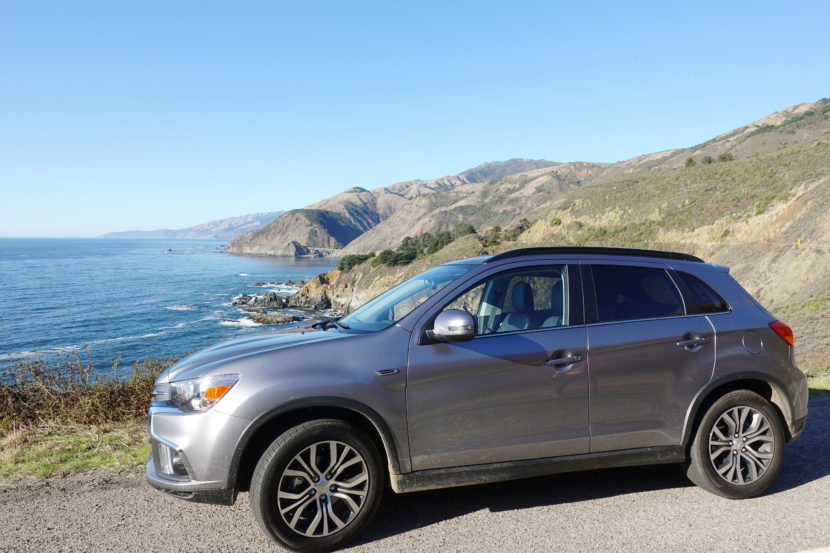 We decided that, as much as we love our RV, it'd be more fun to travel the coast in something a little smaller than 40 feet long. :) So we traded up for a 2018 Mitsubishi Outlander, and were very glad we did.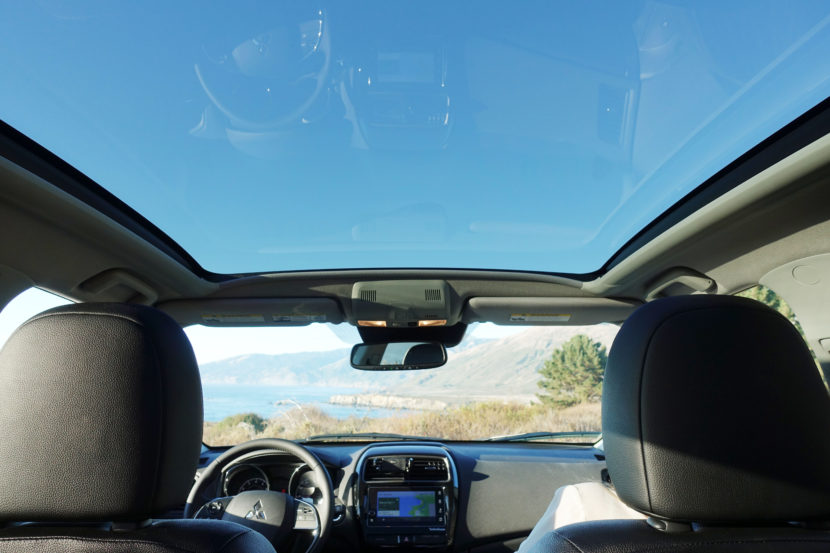 It was so nice to be able to easily pull over and enjoy the Pacific Coast Highway. My favorite feature of the Outlander was its huge stretch sunroof that was perfect for enjoying the beautiful scenery!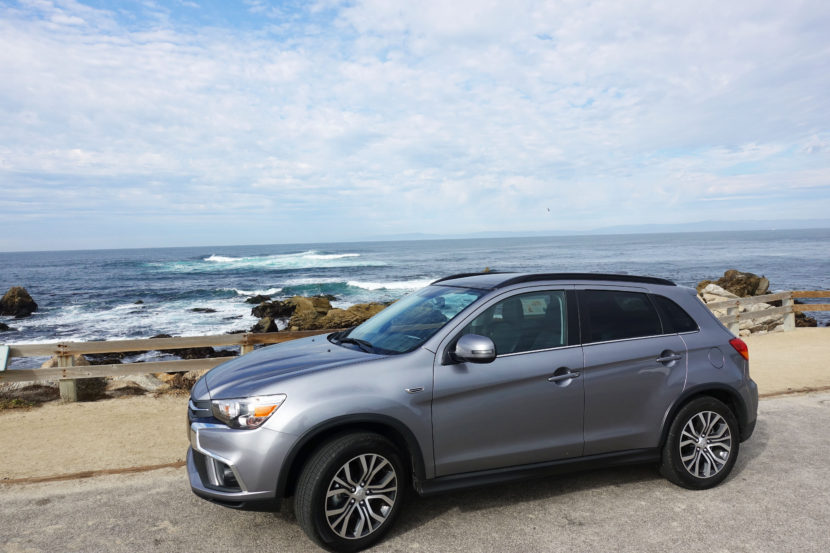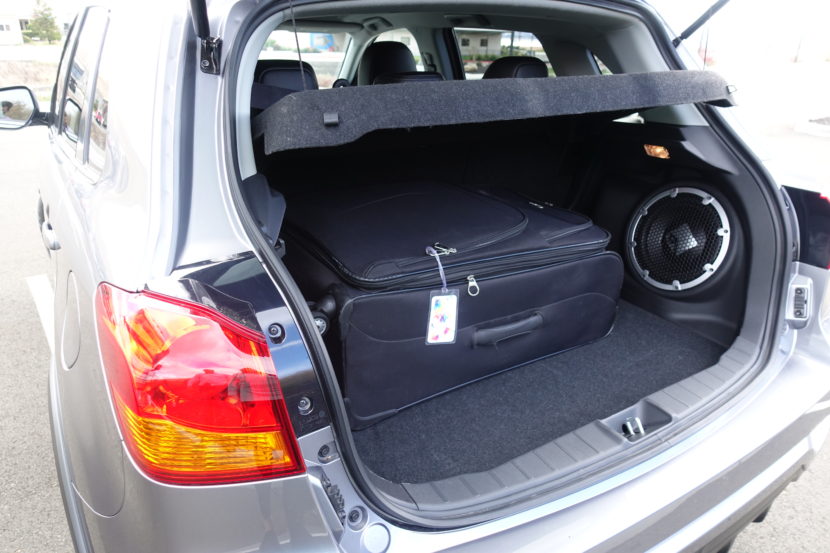 I also really appreciated the amount of storage space the Outlander offered (or it can convert into a third row seat, to accommodate 7 people)! And the Outlander's performance was incredible going through the hilly, winding roads of Big Sur, and the blind spot warning / lane change assist feature is something we definitely don't have in the RV that sure came in handy!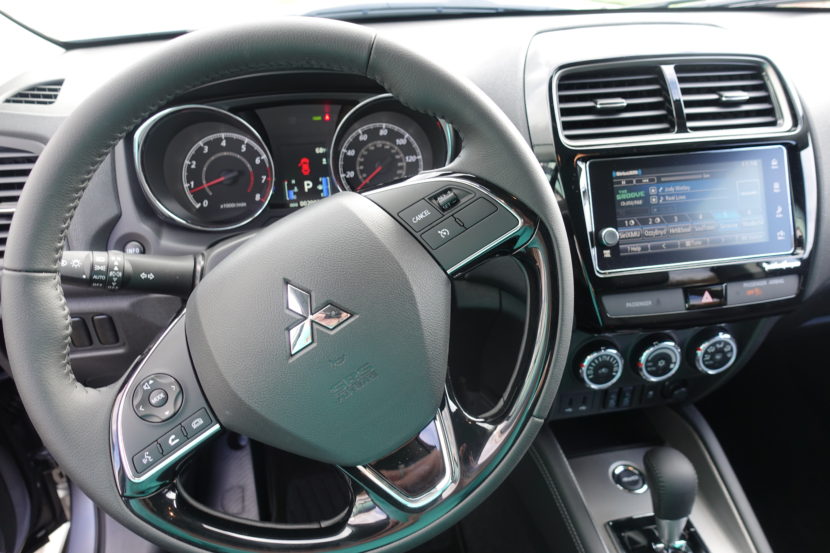 The technology of the car was also fun. The touchscreen having Android Auto was perfect for our driving direction and to jam out to our favorite music (we may or may not have had on repeat "Die a Happy Man" where it mentions "drive a sports car up the coast of California")!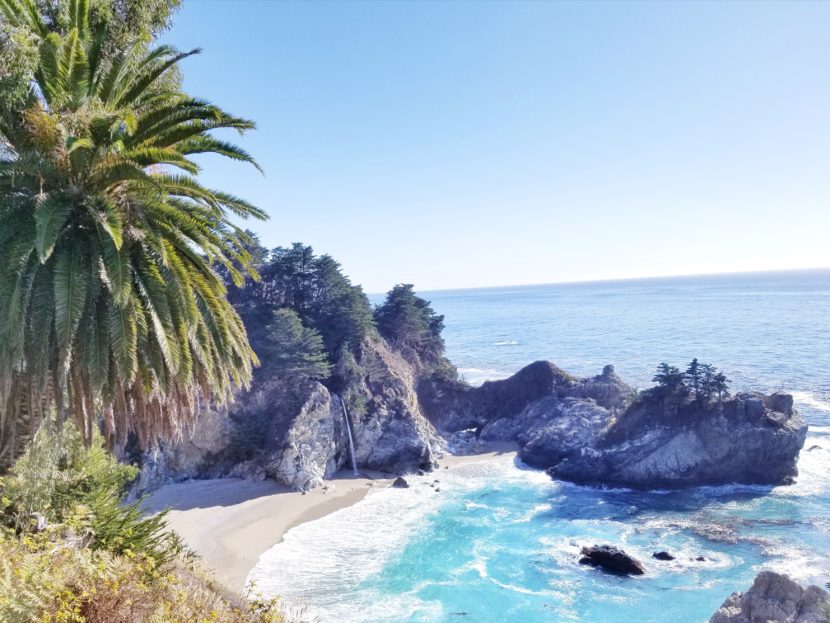 One of our favorite Big Sur spots was McWay Falls. It felt like a little taste of Hawaii in California! Big Sur has been on my bucketlist for a long time, so it was amazing to get to experience it – and even more amazing staying at Glen Oaks Big Sur!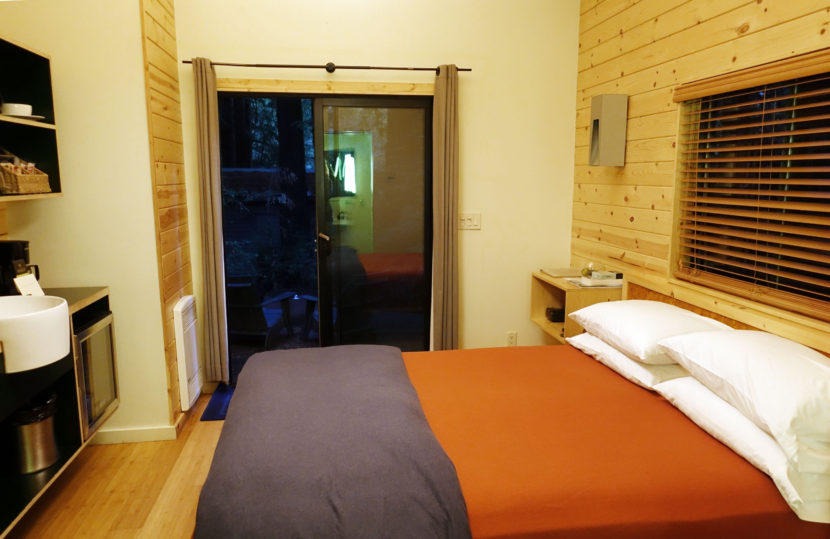 This rustic-modern lodge was the ultimate touch of romance to Big Sur. We stayed in the Little Sur Cabin and were blown away by its incredible decor and practical functionality.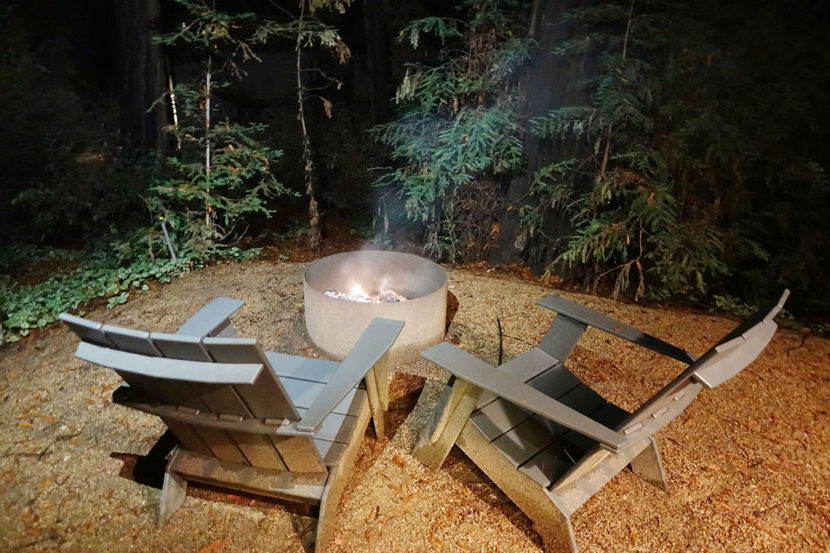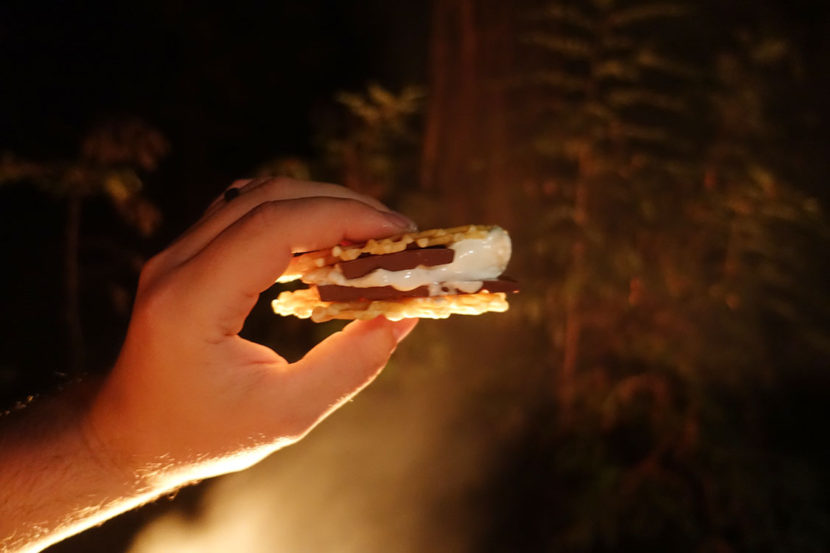 When we arrived, we found wine and gourmet s'mores waiting for us, and outside our cabin was a firepit (completely prepared – Hudson said it was the easiest fire he's ever lit!) tucked within redwood trees. We spent the evening sitting outside by the fire appreciating the beauty of Big Sur, slept in the comfiest bed covered with a Pendleton wool blanket, and in the morning we ordered breakfast at the lodge's Big Sur Roadhouse.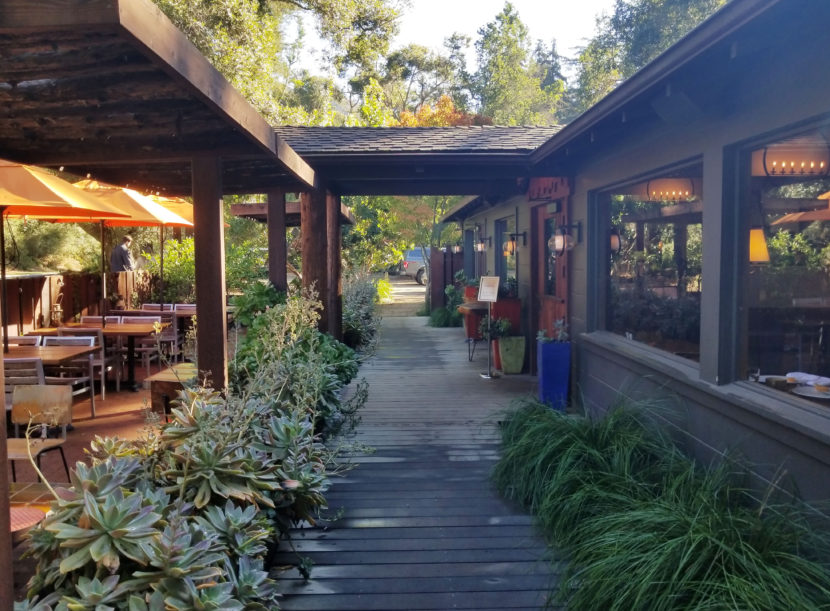 Staying at Glen Oaks Big Sur was THE most romantic and very best way to experience Big Sur! We will definitely be back!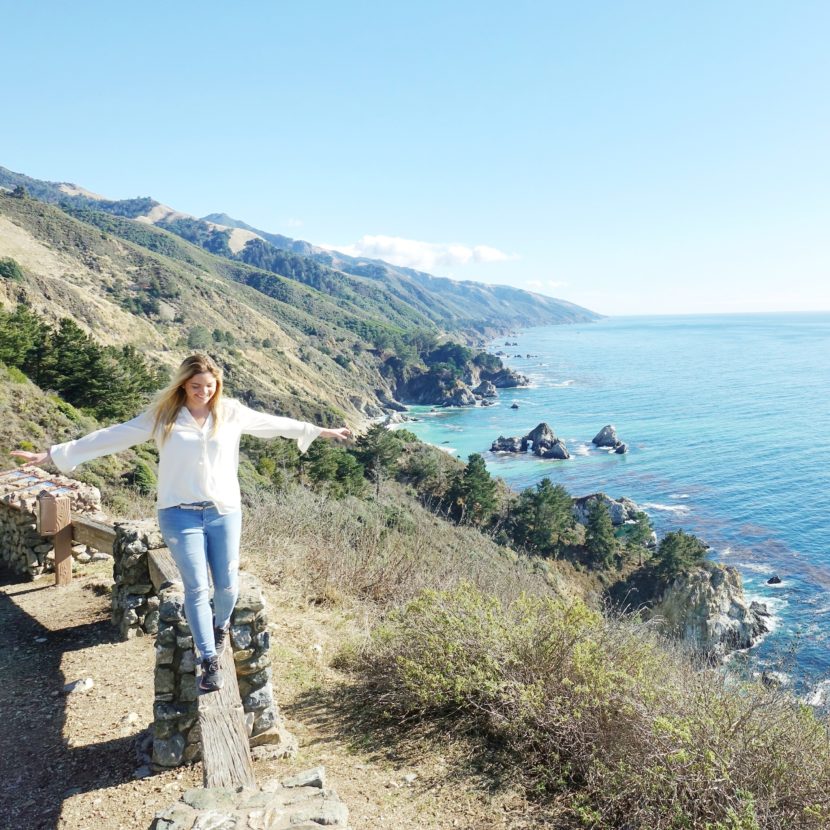 Our next stop down the coast was the Hearst Castle. Unfortunately, because of a mud slide in Big Sur, we had to go a few extra hours out of the way to get to the castle, but it was so worth it.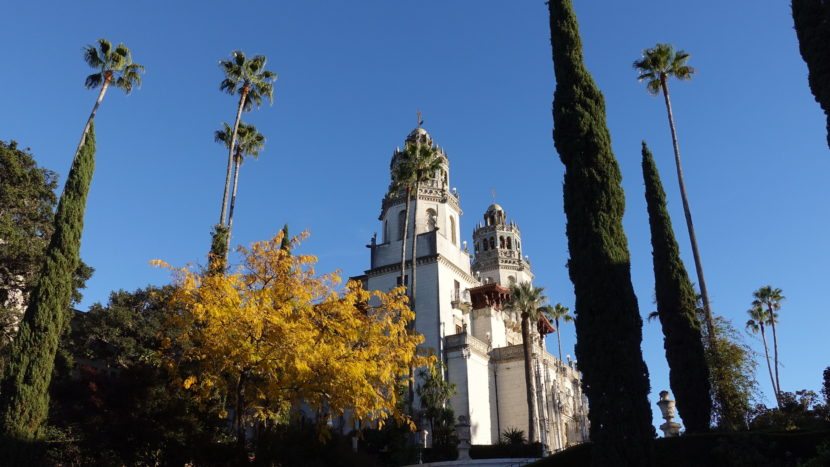 The Hearst Castle is one of the biggest (and most beautiful) homes in the USA, and it was amazing to tour. We kept saying "wow" every time we walked into a new room! We did the Grand Rooms tour, which was a great introduction to the Hearst Castle. We really enjoyed learning the history of this national historic landmark.
Channel Islands National Park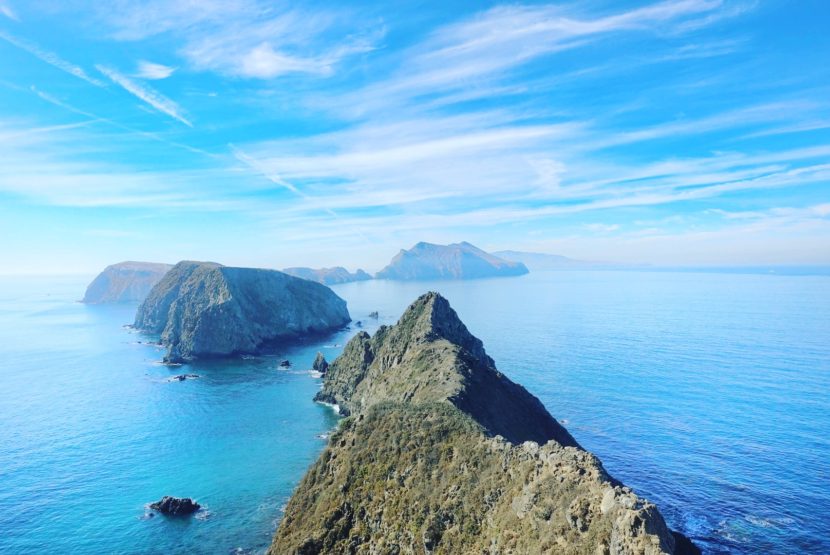 Our final stop down the coast was the beautiful ocean stretch of Santa Barbara, Ventura, and Oxnard. It's so sad reading about the wildfire in this area because they are such wonderful towns, and the people are so friendly too. We actually stayed with my aunt and uncle in Oxnard, and one of the highlights was getting to stay with my cousin's family who live in Ventura, so it is just hard to imagine the devastation in that area.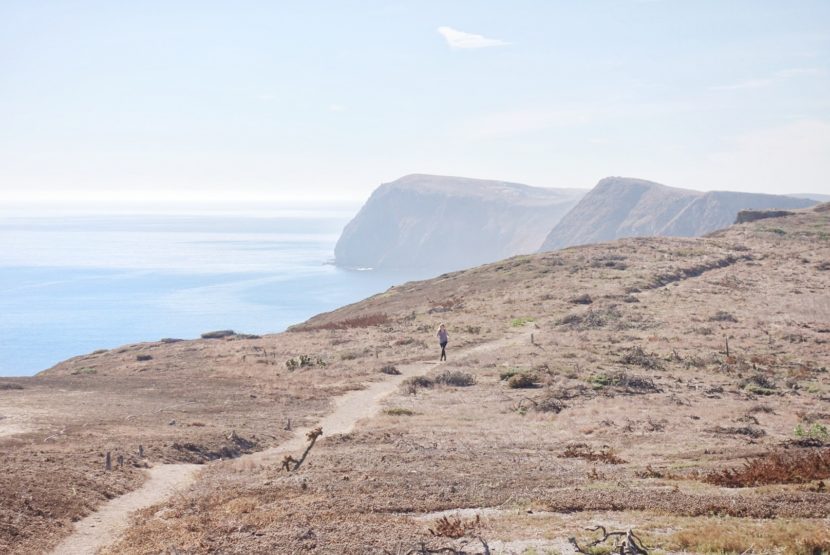 While in Oxnard, we went to Channel Islands National Park, which comprises of five islands off the Southern California coast. We took the Island Packers cruise to Anacapa Island, and we were grateful to spend the day there and check another national park off our list! The views of the ocean and other islands from Anacapa Island were incredible, and on the way back we saw over 75 dolphins! They were following the Island Packers boat and kept jumping up over the waves. It was by far the most dolphins I've ever seen at one time, and was such a beautiful moment!
Los Angeles Area
Sequoia & Kings Canyon National Parks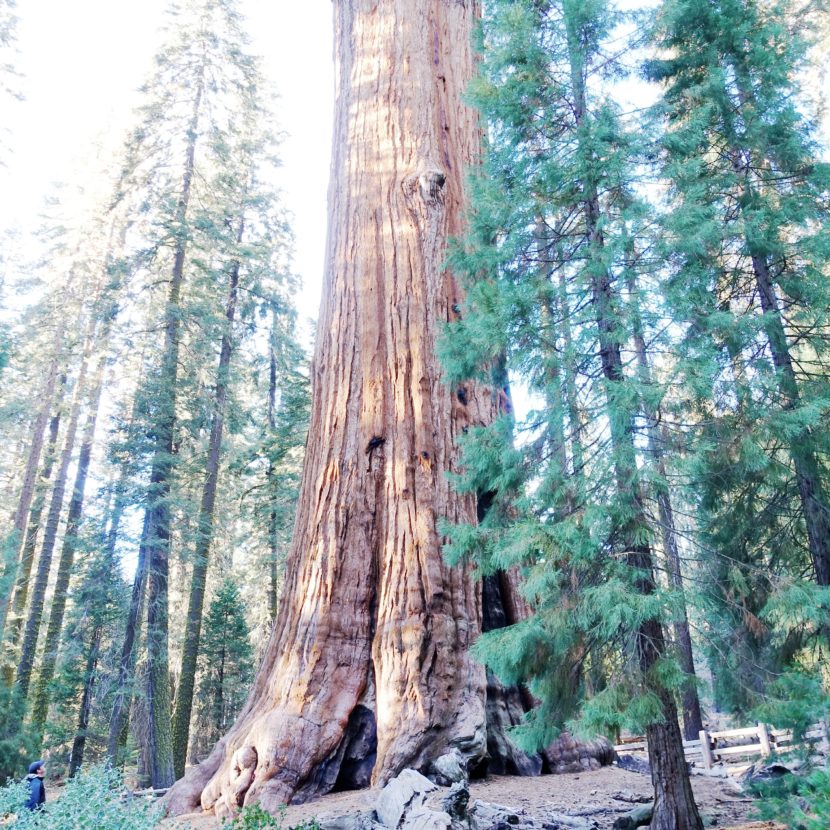 Before getting to Los Angeles, we visited Sequoia & Kings Canyon National Parks. I'm still blown away by how huge the sequoias were! General Sherman is the biggest tree IN THE WORLD and it sure puts things into perspective when you stand near it! Check out the little tiny Hud on the left hand side!
Lancaster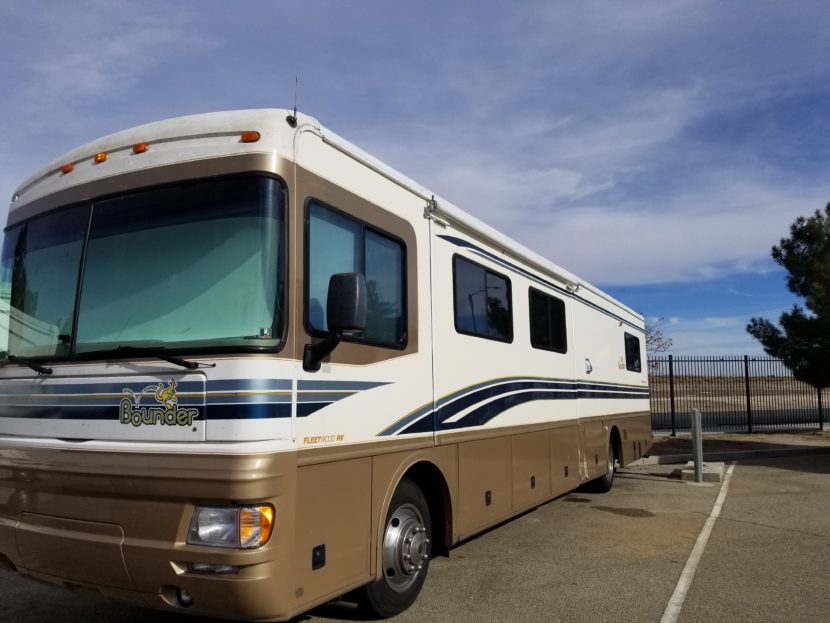 We are from Lancaster, Pennsylvania and had always heard about Lancaster, California, so we were excited to visit it! We found the Antelope Valley Fairgrounds RV Park there and really enjoyed our stay. It was a beautiful location in the middle of the California desert, meaning warm temperatures during the day and cooler temperatures at night – perfect for the RV! The people at Antelope Valley Fairgrounds RV Park were so kind to us. We ended up staying two additional nights because of how much we enjoyed our time there!
Los Angeles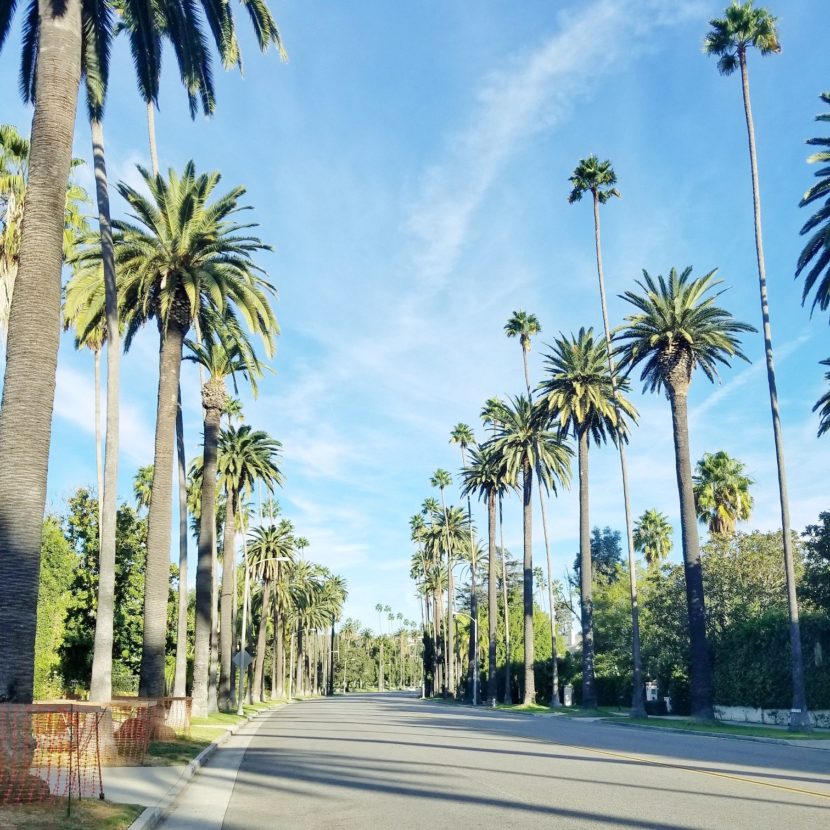 LA is one of my favorite cities and there is SO much to do! We spent a week in LA in June, and loved it so much that we were really hoping we could spend another week in the area.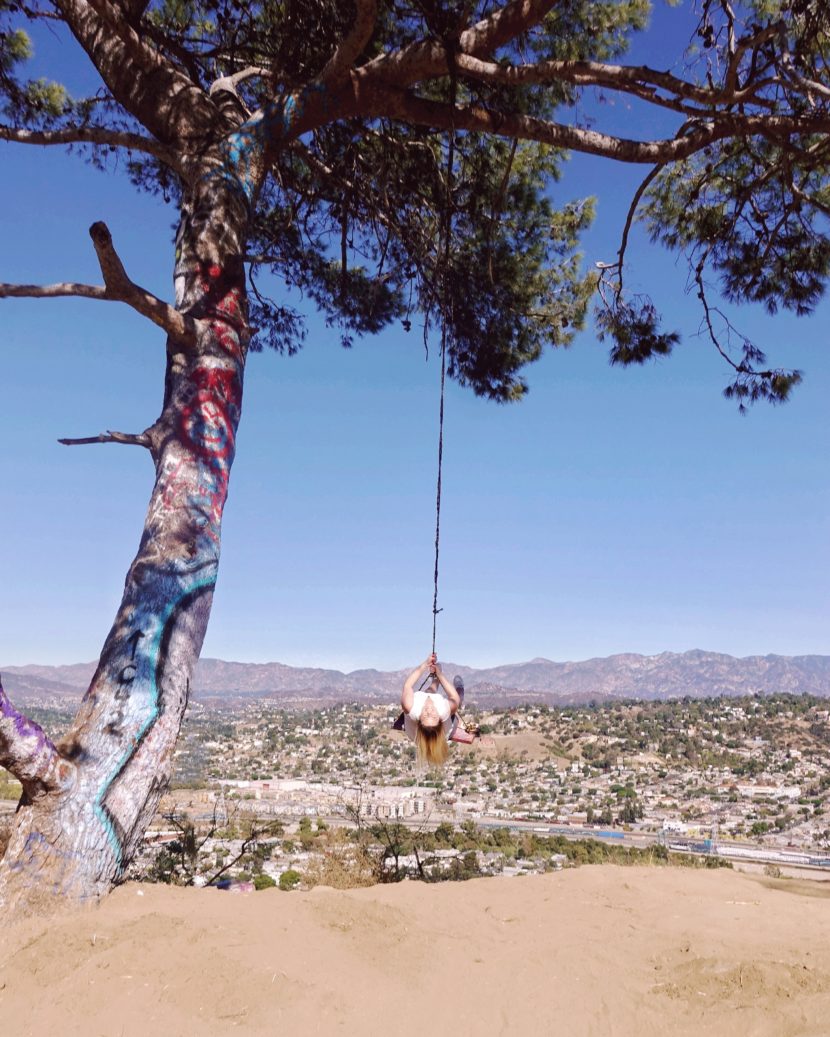 One thing we had been really wanting to do last time we were there, and missed by just 10 minutes, was to attend a Late Late Show with James Corden taping. We ended up going this time on Hud's birthday, and it was really cool to see the behind-the-scenes of the show. We celebrated with In-N-Out afterward! :)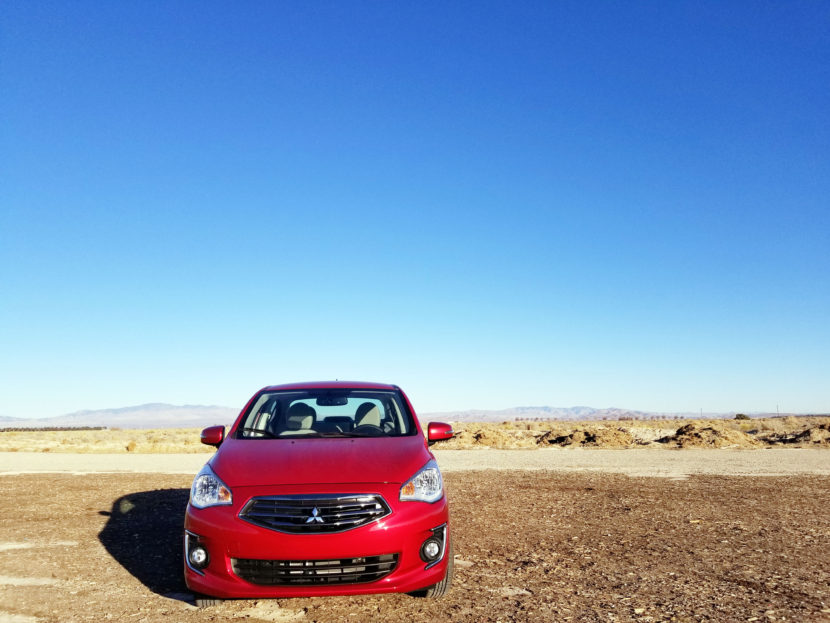 While in LA, we also went to the Getty Museum, famous Pink's Hot Dog Stand, USC & UCLA campuses, Robertson Avenue shopping, the Griffith Observatory, and many other areas. To experience more of the city, we traded in our RV for a 2018 Mitsubishi Mirage G4 SE. Driving a smaller-than-40-foot vehicle makes ALL the difference in enjoying a city! We also really loved the fuel-efficient 30MPG instead of our RV's 10MPG. ;) But our favorite fbeature by far was again having Android Auto. It was so easy to navigate with our directions displayed right on the screen, and to listen to our favorite music from Pandora instead of having to sort through the radio stations.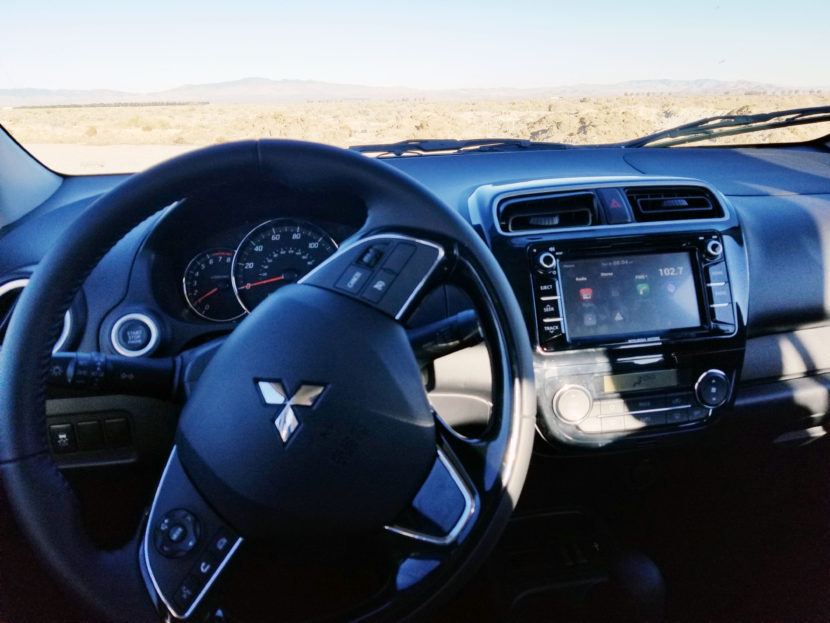 The Mitsubishi Mirage is an economy car, similar to the one we have at home, but is much more functional and stylish – and it has MUCH more room in the trunk, which is a huge bonus when traveling.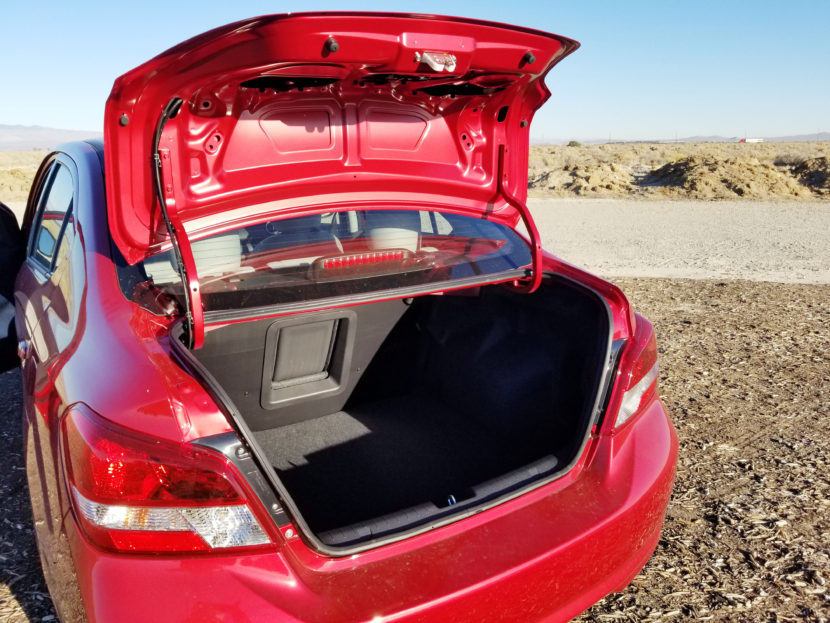 So we really enjoyed our experience with Mitsubishi and are now thinking we might need to look for one of those next time we need to go car shopping!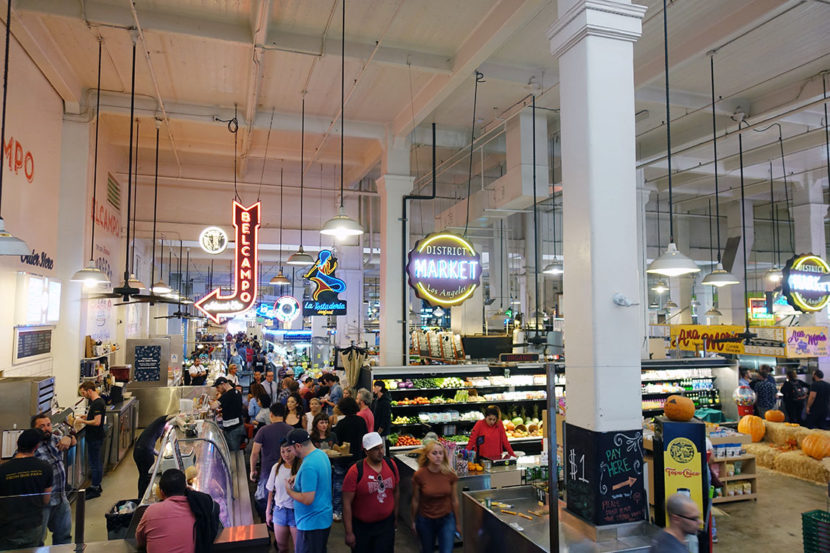 Almost anywhere you go in Los Angeles, there are excellent places to eat. We had heard amazing things about Grand Central Market in DTLA, because it combines the very best restaurants into one market – anything you could want is right there! We went around lunchtime on a workday and it was clearly a very popular place. We had a hard time deciding what to get because there were so many great options, but I chose a pesto chicken sandwich from Knead & Co. Pasta Bar (love anything with pesto!), Hud got a crunchy shrimp sushi roll from Bento Ya, and then we got a Olio Wood Fired Pizzeria pizza to go for dinner that night. Now if only there could be a Grand Central Market in every city we visit!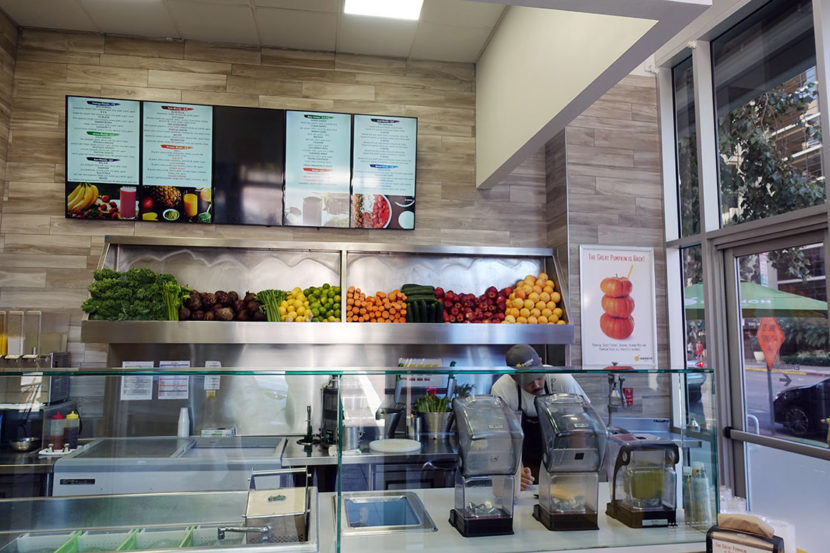 One thing that you can not get as good anywhere else as you can in LA are acai bowls. My sister told me about them two years ago, and now they are one of my favorite things ever! My favorite acai place in LA is Qwench Juice Bar.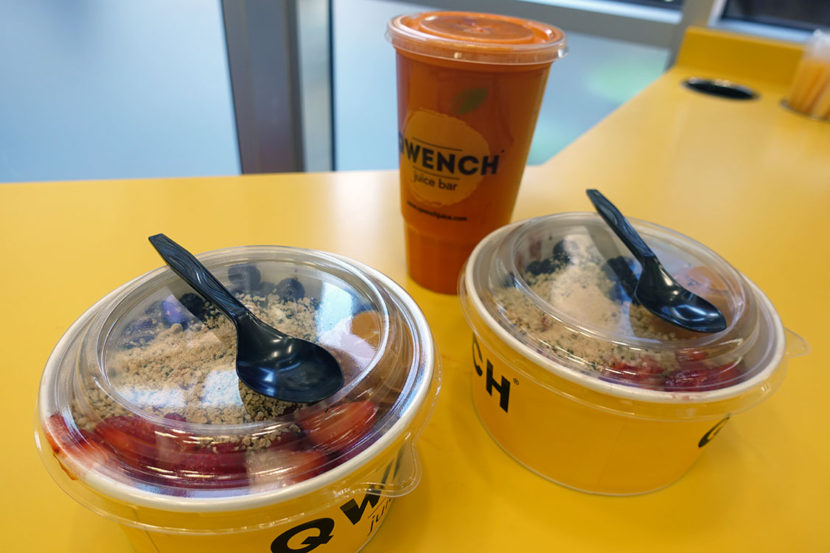 In addition to an acai bowl, I got a tumeric ginger juice because I felt like I was getting a cold, and I literally felt better just from drinking that! Qwench Juice Bar uses actual whole fruits and veggies to create the menu items, so they are very healthy and very delicious.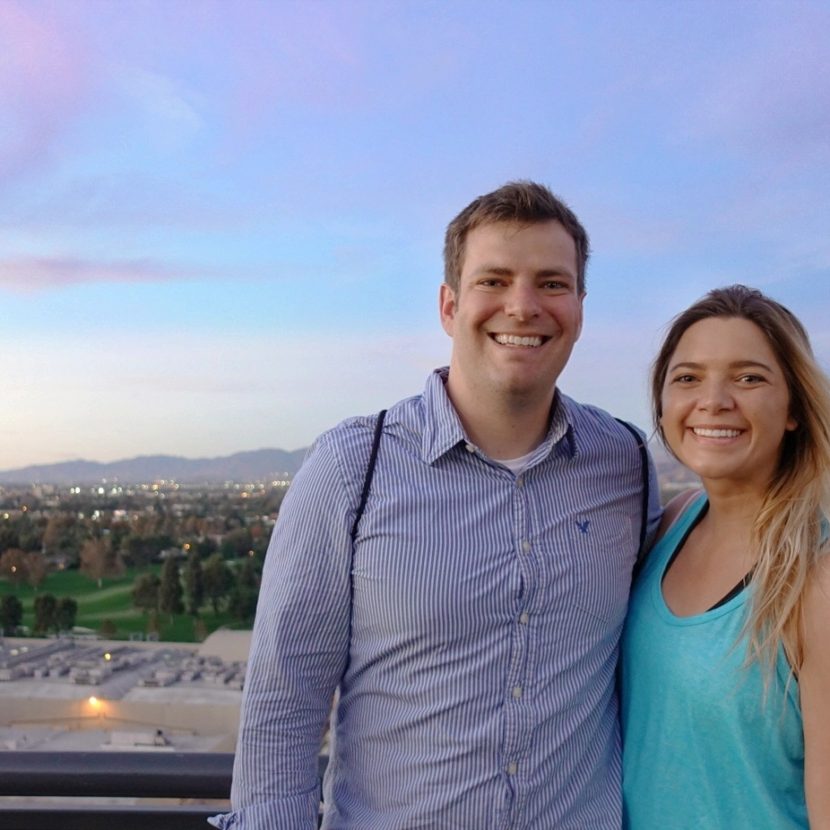 For Thanksgiving, we visited Universal Studios Hollywood! It was a fun way to spend Thanksgiving. My favorite was the studio tour, Hud really enjoyed Harry Potter World, and their shows were just incredible!
Malibu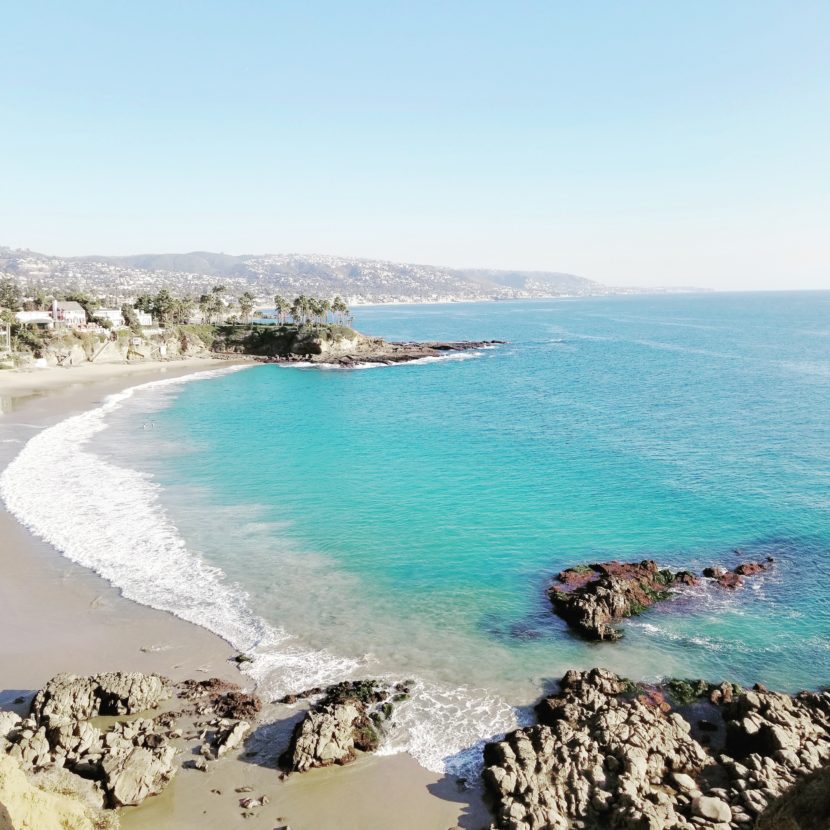 Even though we had been to Malibu last time we were in LA, we decided we had to go back. The view from Point Dume is one of my favorites, and El Matador State Beach is beautiful as well. We woke up for a Malibu sunrise and spent the day just relaxing along the coast.
Beverly Hills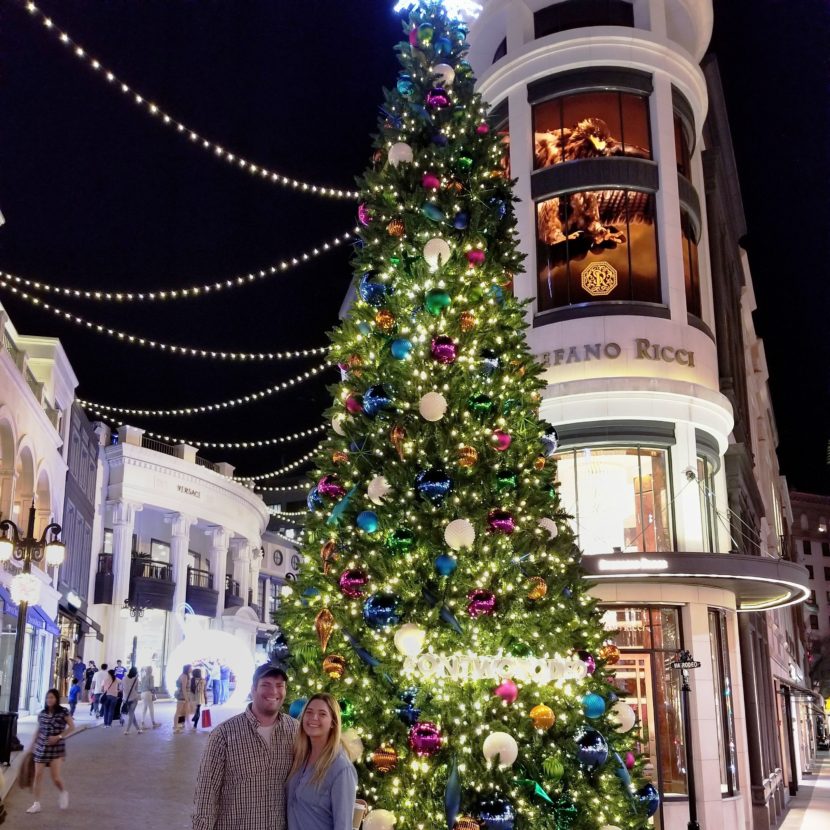 Even more relaxing was spending a few days in Beverly Hills. Everything was decorated for Christmas, and the lights along the streets were just beautiful. We loved strolling along Rodeo Drive and seeing the Christmas-oriented window displays, and remembering that while we were enjoying the 70-degree weather at night our families in PA were freezing in the cold! ;)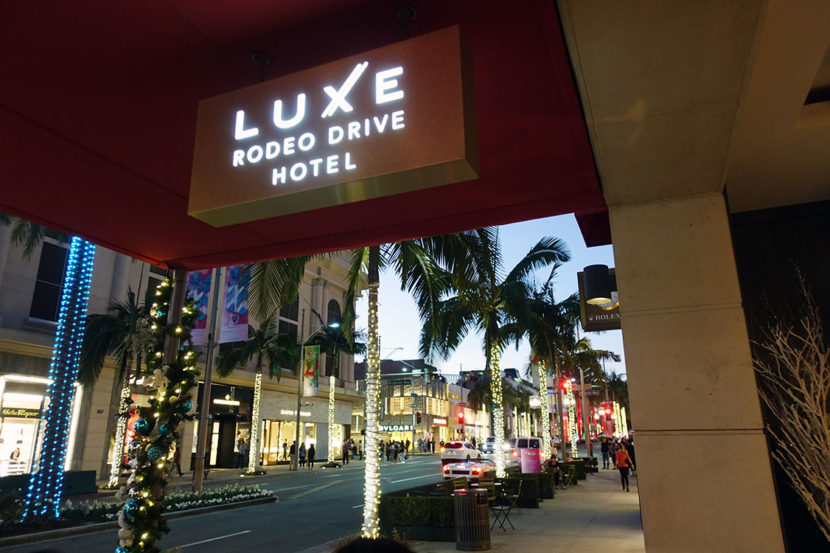 A highlight of our trip in June was staying at the Luxe Rodeo Drive Hotel, and we knew we couldn't come back to Beverly Hills without staying there again!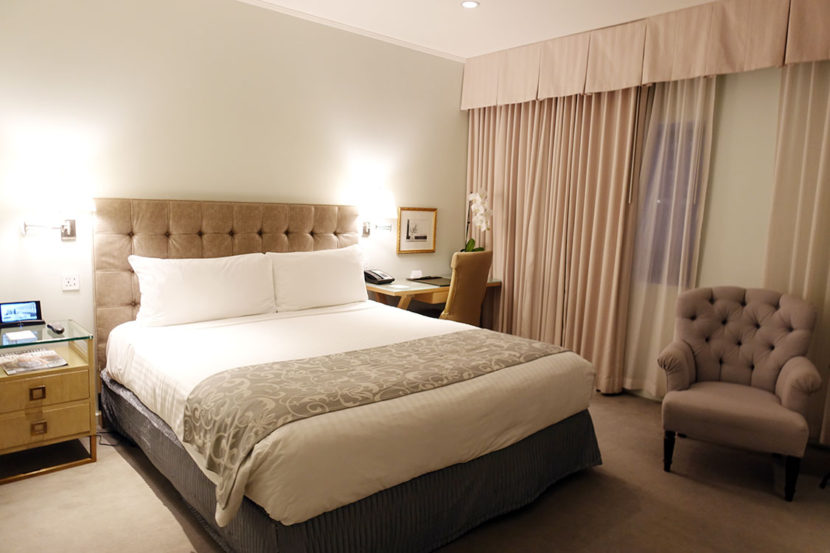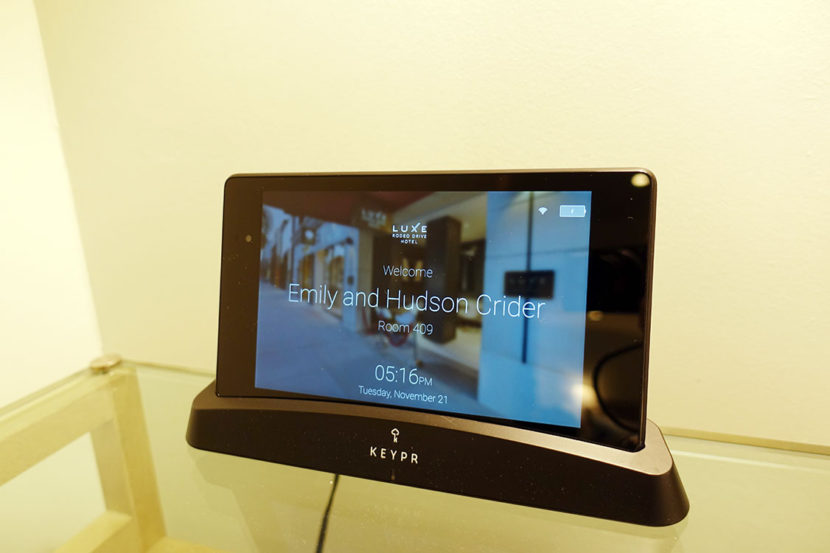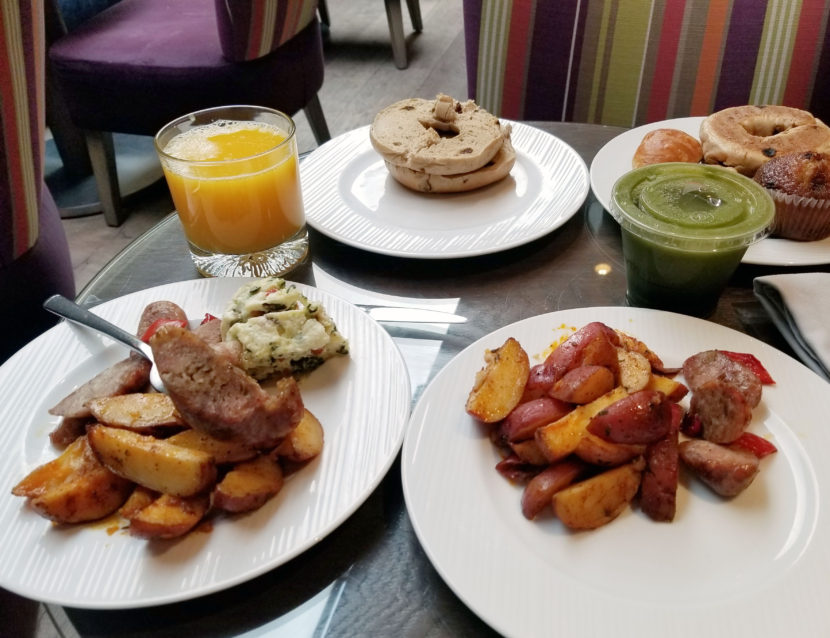 From entering the hotel on a red carpet; to being served breakfast, afternoon lite bites, and an evening food tasting; to having the best view of Beverly Hills from the rooftop, the Luxe Rodeo Drive Hotel makes their guests feel very valued.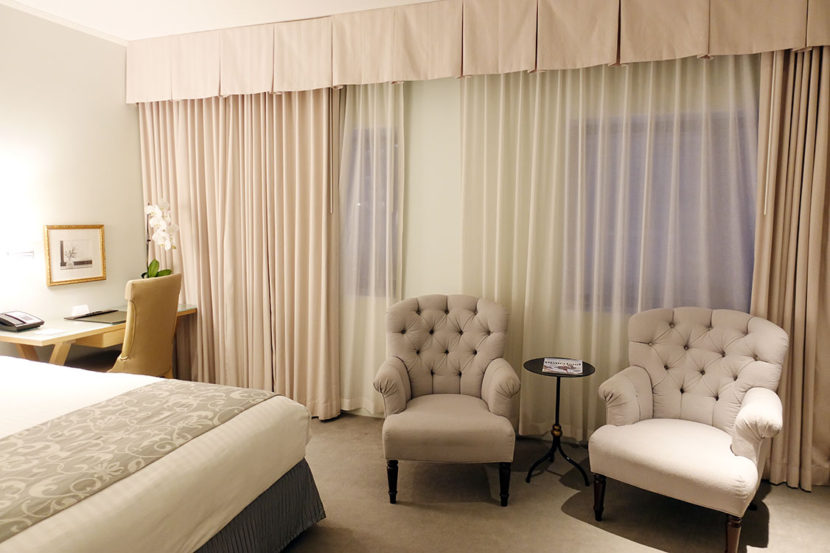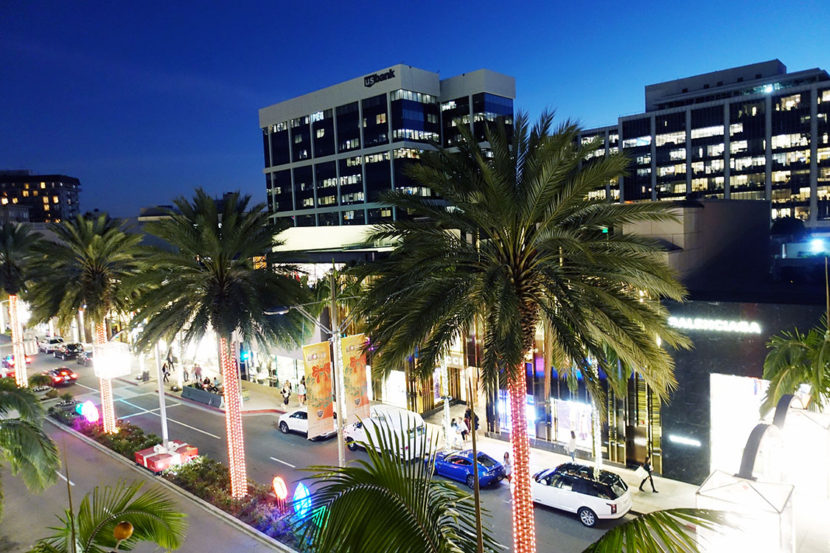 The Luxe team treated us so well, and our hotel room's view of Rodeo Drive was incredible! One of the days we were there, I went to The Spa on Rodeo and it was the perfect getaway. I got a massage (one of the best I've ever had!) and a HydraFacial.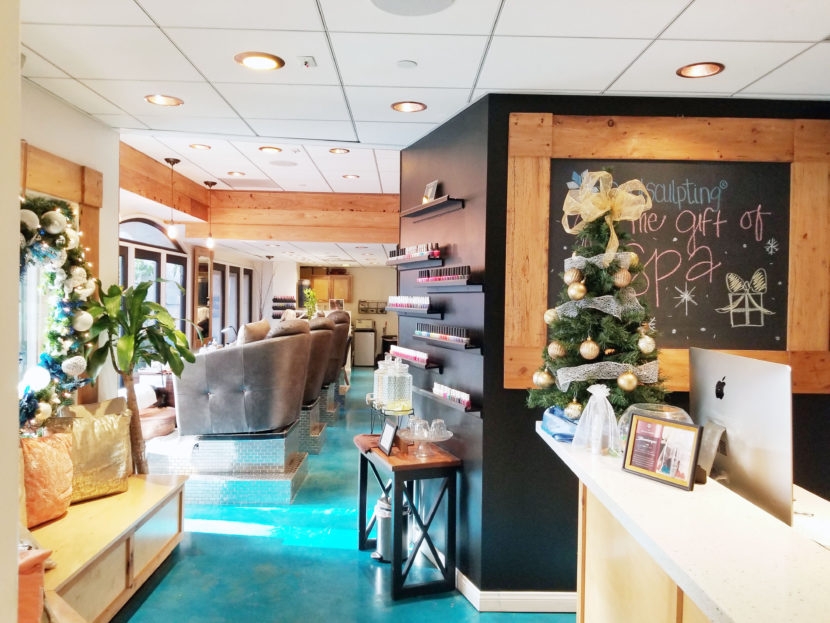 The HydraFacial was a four-step skin treatment that cleanses, exfoliates, extracts, and hydrates all within 30 minutes! My face felt so clean afterward, and Hud said it was glowing. Visiting The Spa on Rodeo was the perfect way to end our amazing stay at the Luxe Rodeo Drive Hotel!
Santa Monica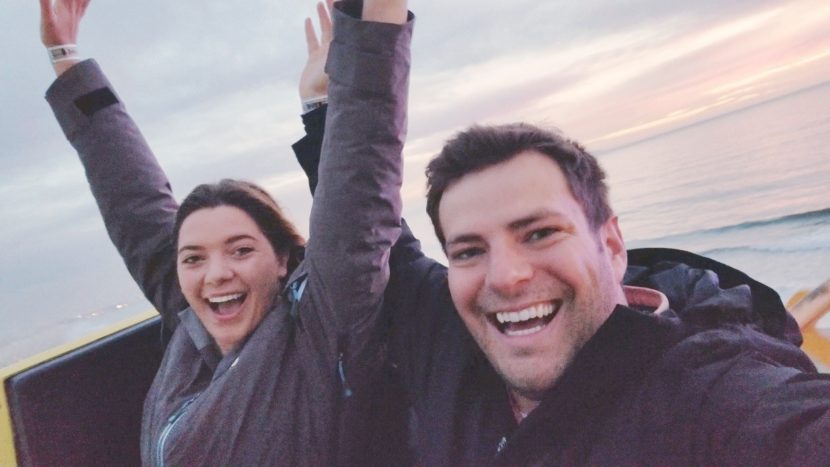 One thing I've been really wanting to cross off our list is Pacific Park at the Santa Monica Pier! Pretty sure this has the best views of just about any amusement park in the world. We rode the ferris wheel at sunset and it was such perfect timing for beautiful views of Santa Monica! And the West Coaster was much more long and exhilarating of a ride than we anticipated – we had so much fun that we almost rode it again!
Marina del Rey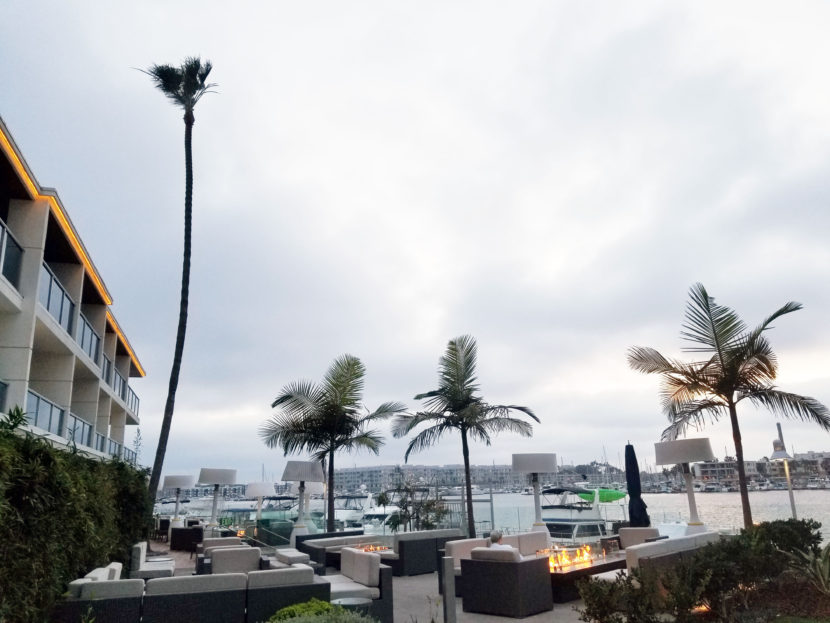 Marina del Rey is a beautiful area along the Los Angeles coastline. It is a seaside community with SO much to do! We stayed at the Marina del Rey Hotel in THE biggest one-room hotel room we've ever stayed in – it was just beautiful, and overlooked the marina!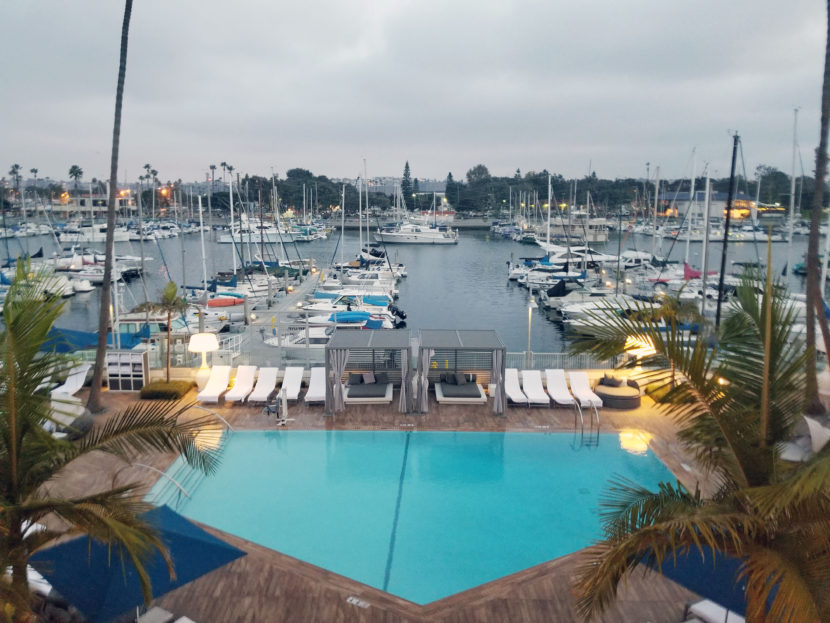 As sailboats sailed by, it felt like the view out of our window was a postcard.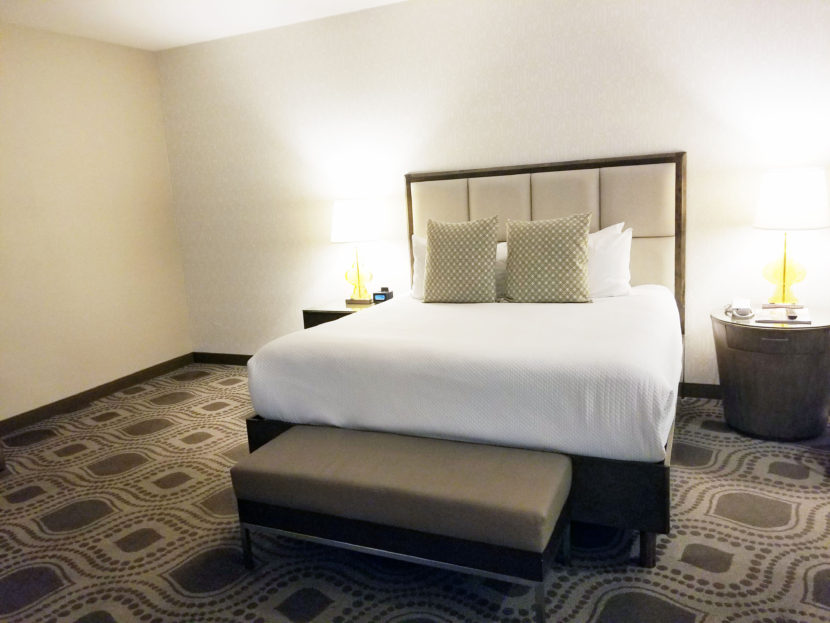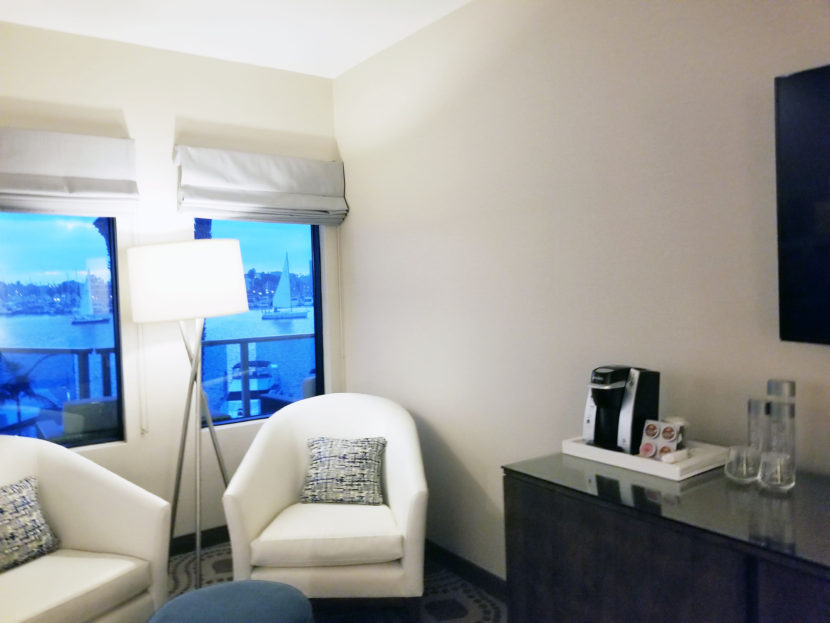 We ordered delicious room service from the hotel's restaurant, SALT, and could have spent all day just relaxing in the room if there weren't for all of the fun things to do in the marina!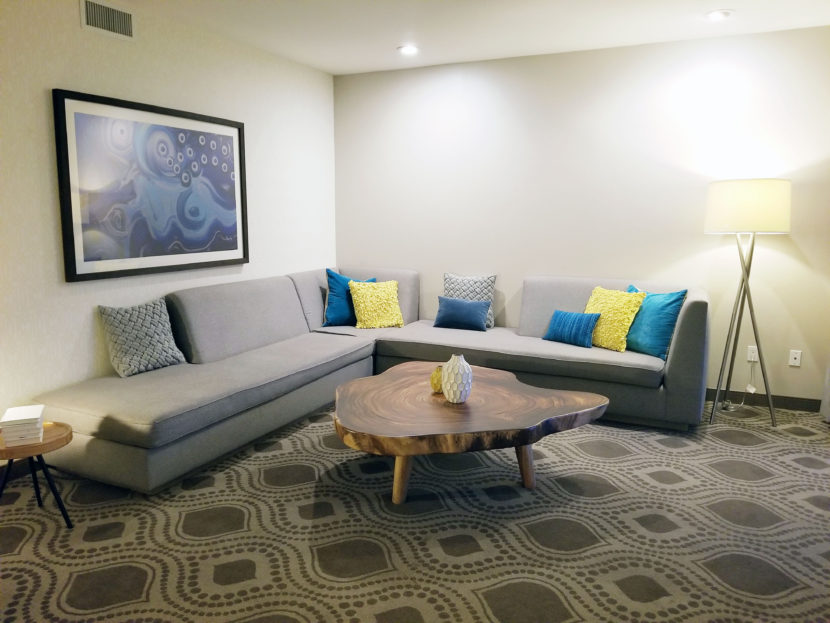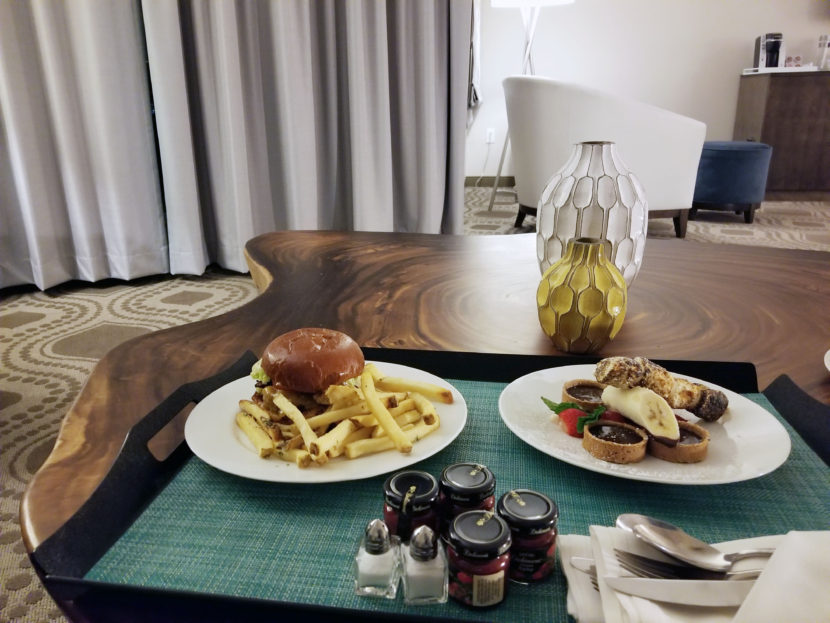 We started with Marina del Rey Sportfishing's Whale Watching Tour, where we saw a blue whale – the largest animal ever! They can be as long as 100 feet, which I'm pretty sure was bigger than our boat, so it was an amazing experience to get to see something that large out in the wild!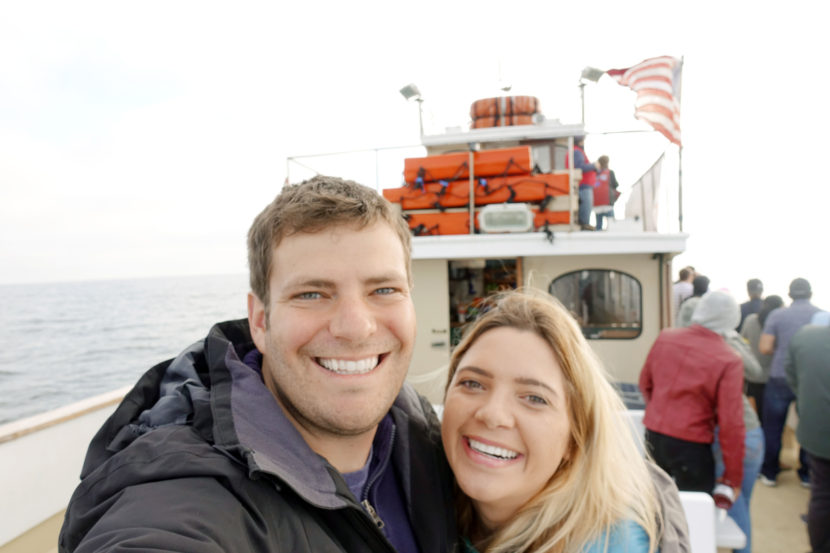 After all the excitement of whale watching, we decided to get a couples massage at Spa del Rey. It was the perfect relaxation to end the day! From the moment we walked into the spa, we felt relaxed – and the Spa del Rey team treated us like royalty! I had to laugh because, halfway through the massage, I heard someone snoring a bit…apparently Hud was so relaxed that he fell asleep! ;) Haha, a great sign of a good massage. We slept very well that night!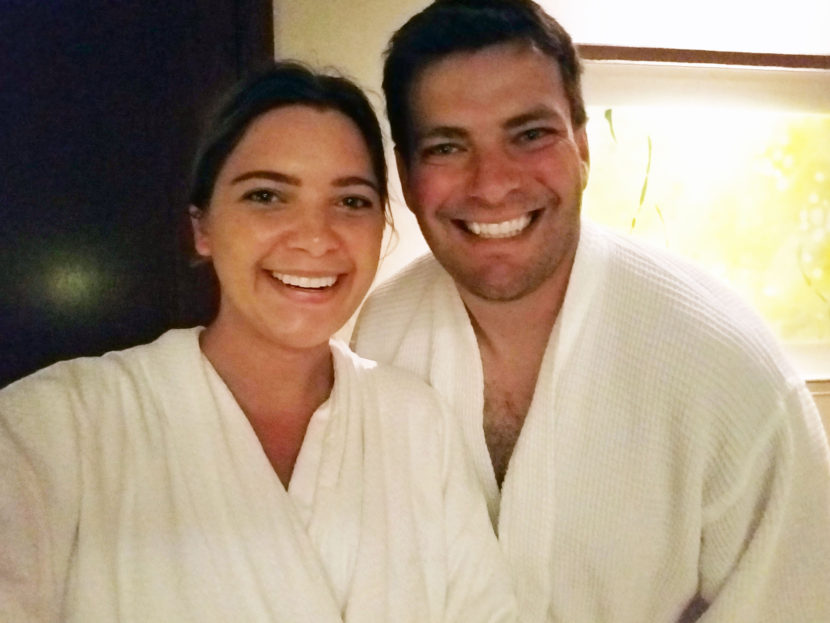 While in Marina del Rey, we also ate at Tony P's Dockside Grill, and it was very easy to see why it's ranked #2 of all Marina del Rey restaurants on TripAdvisor! We really enjoyed our meals. Another thing we wish we would have had time for is paddleboarding around the marina (the Pro SUP Shop has rentals), but that just makes for a great reason to "have" to come back! :)
Catalina Island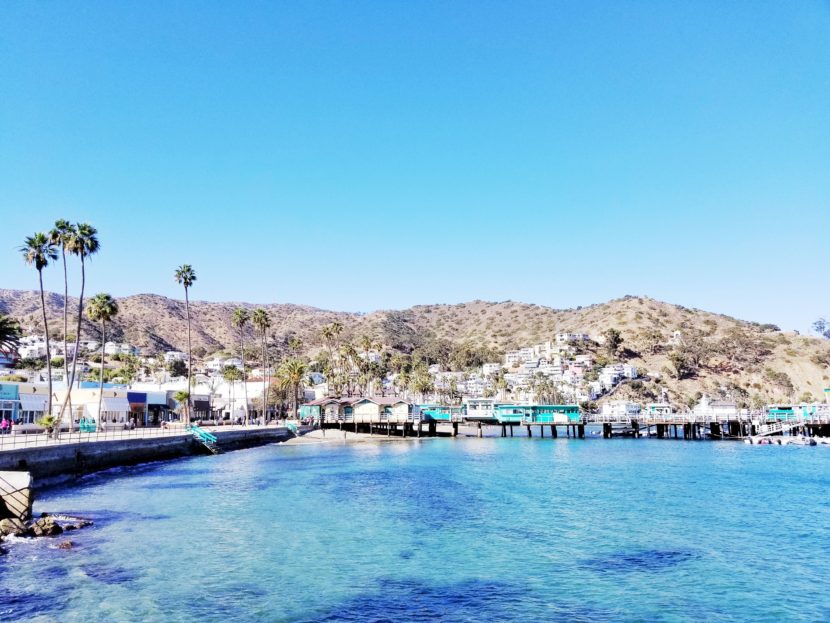 Catalina Island was definitely one of our highlights of California! We had heard of people honeymooning at Catalina Island before, and knew it was a beautiful island, but it was even more wonderful than we expected!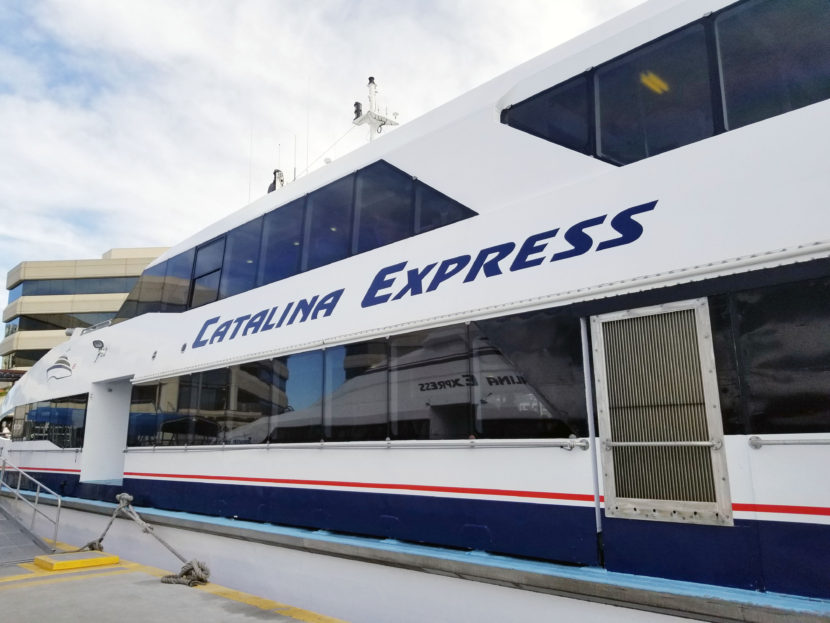 We took the Catalina Express to Avalon, a city with a population of less than 4000 yet still containing SO much to do!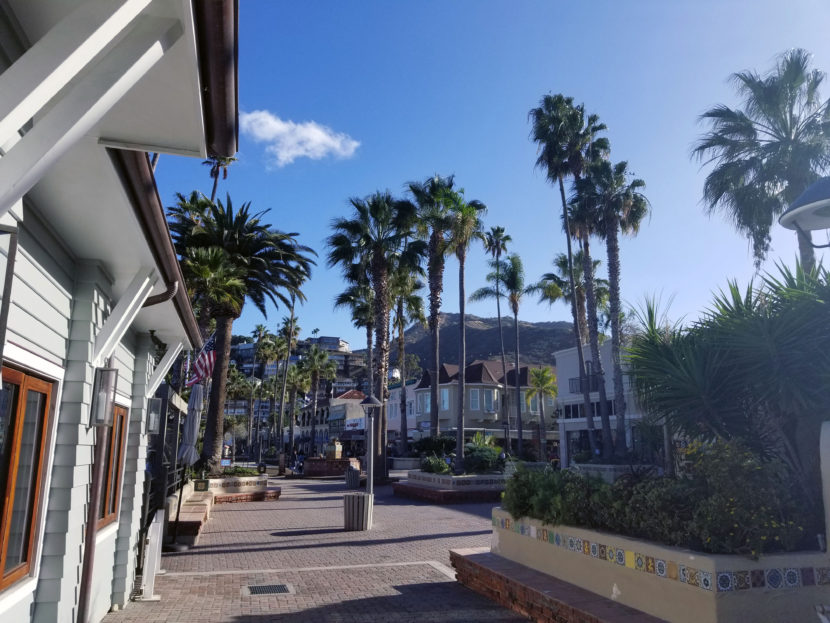 We started with Taste of Catalina Food Tours, which was a great way to both learn about the history of Avalon and also taste delicious food. We've done a few different food tours in the past, but this one gave by far the biggest portion sizes.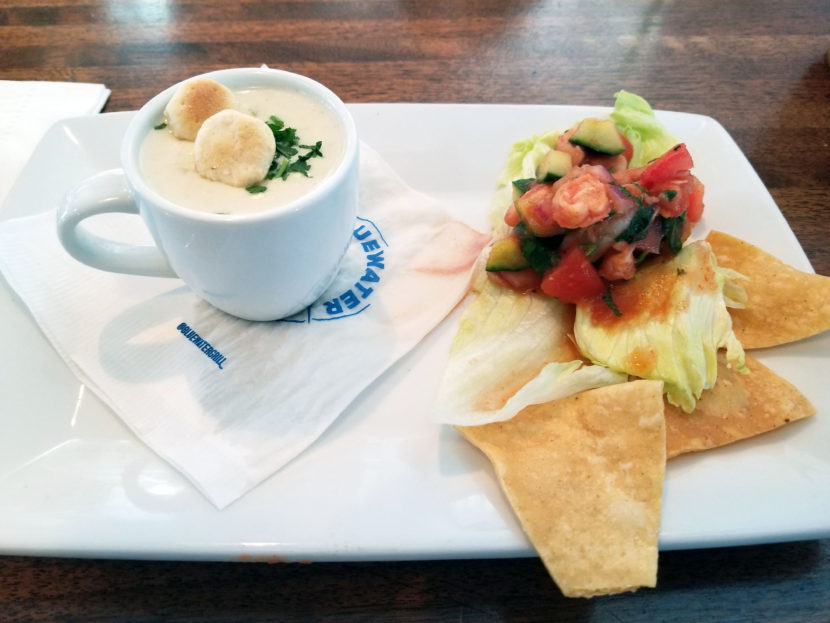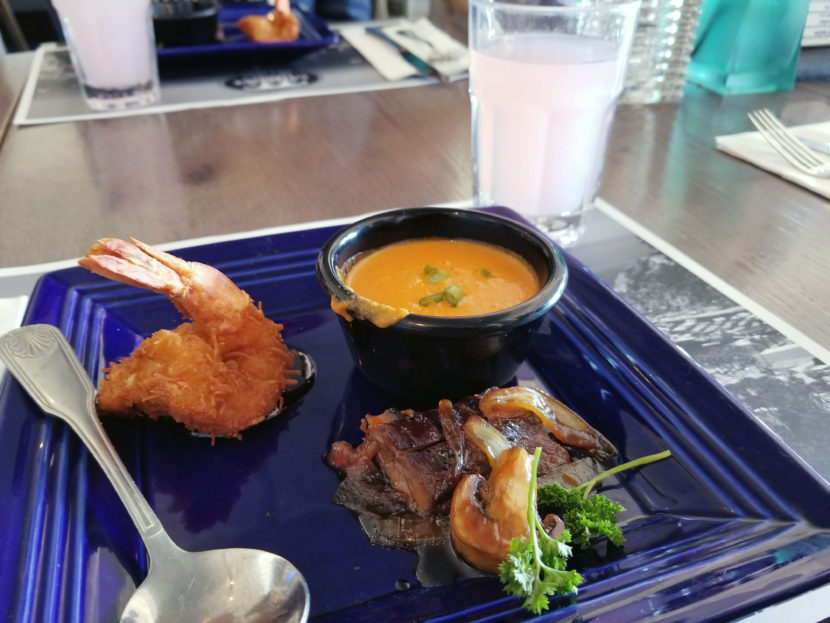 For example, our first "bite" was at Steve's Steakhouse (the #1 restaurant on Catalina Island, according to TripAdvisor) and included steak, shrimp, and soup – and um YUM I want to go back to Catalina Island right now just thinking about it!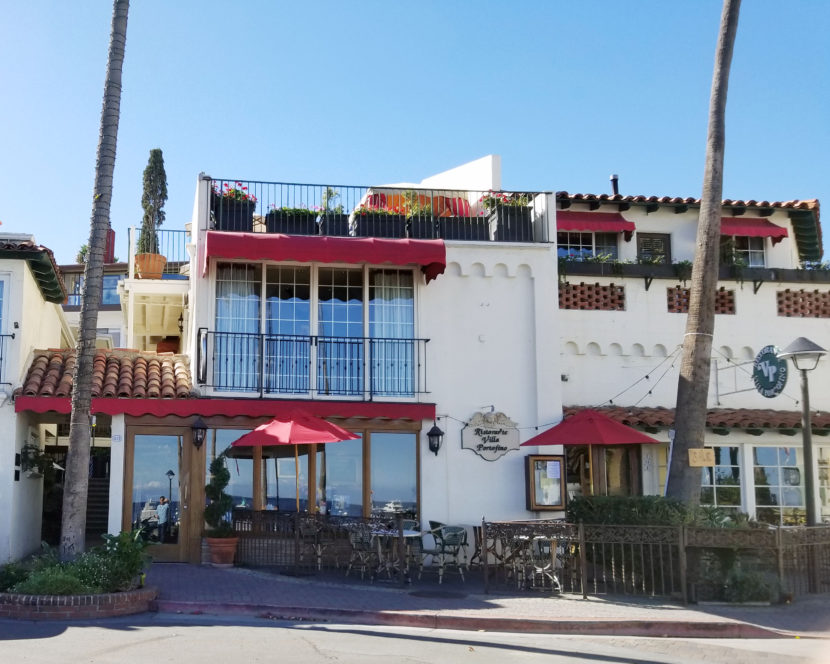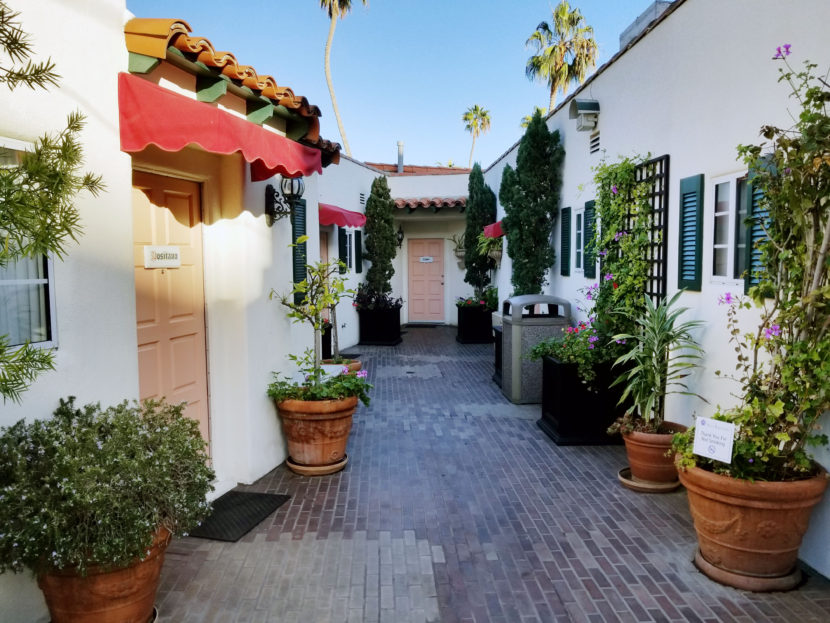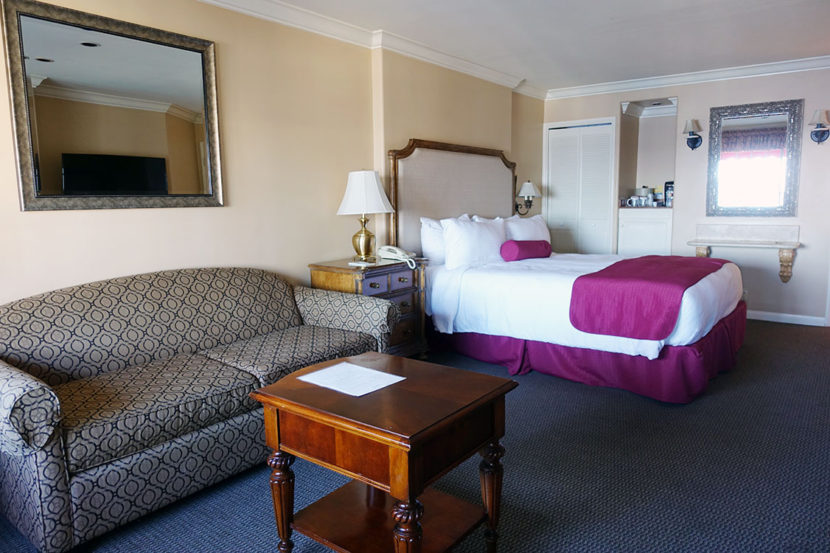 We stayed at the Portofino Hotel, which was in the most incredible location overlooking the ocean. The sunset was absolutely beautiful outside our patio, and we had a super delicious breakfast provided by the hotel – which was much more than a typical hotel breakfast – on our patio the following morning! The Portofino Hotel staff was very kind to us and we really enjoyed our stay.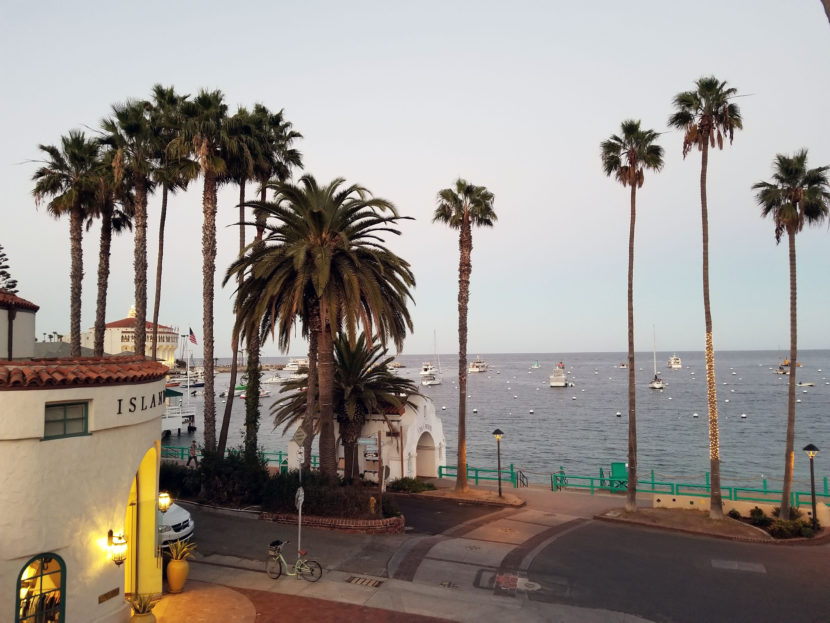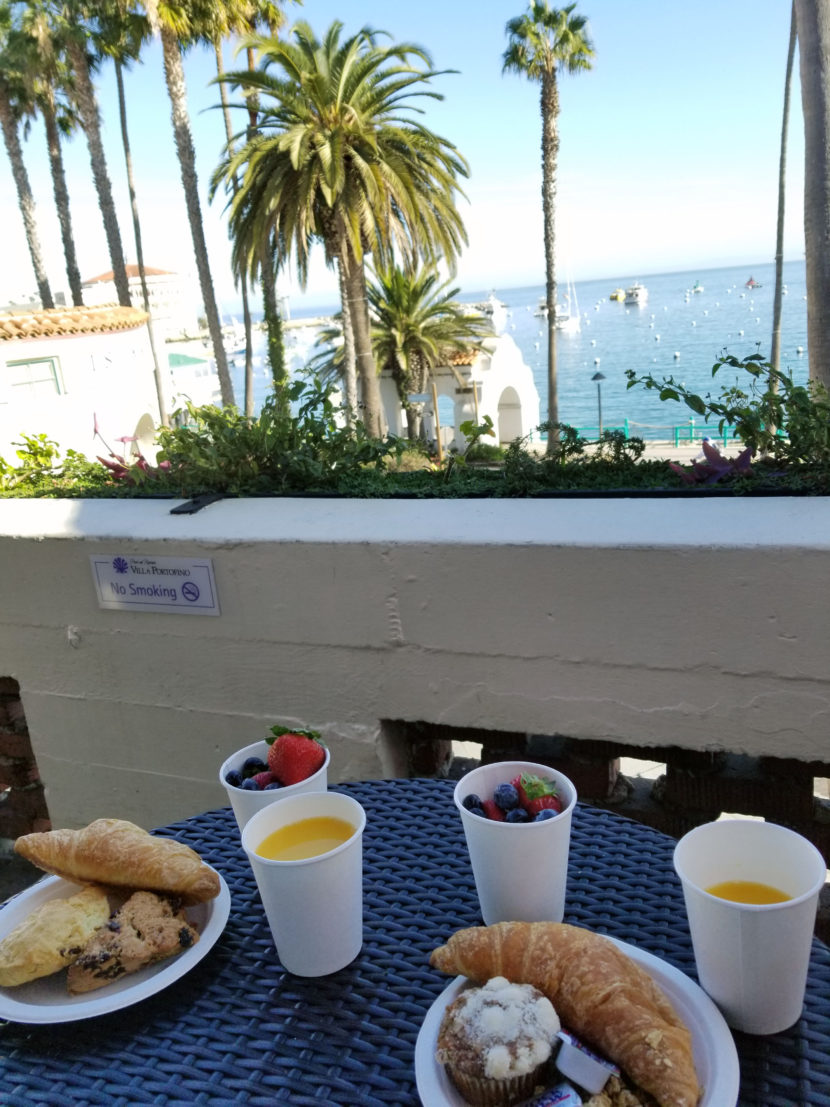 There are almost no cars on Catalina Island, so the best way to get around is via golf cart! We did a two hour Catalina Island Golf Cart rental and so enjoyed our time exploring more of the island.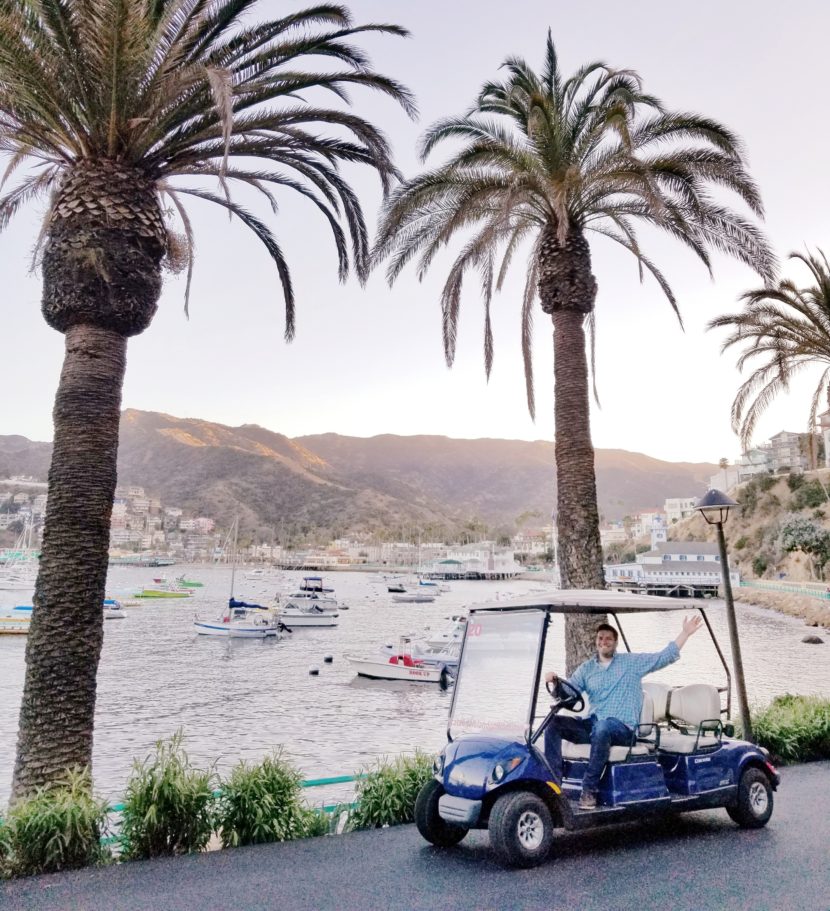 It was really nice how they gave us a map and showed the best locations to stop and take a picture (the island is so beautiful that, without the map, I'd probably be stopping every 10 seconds)!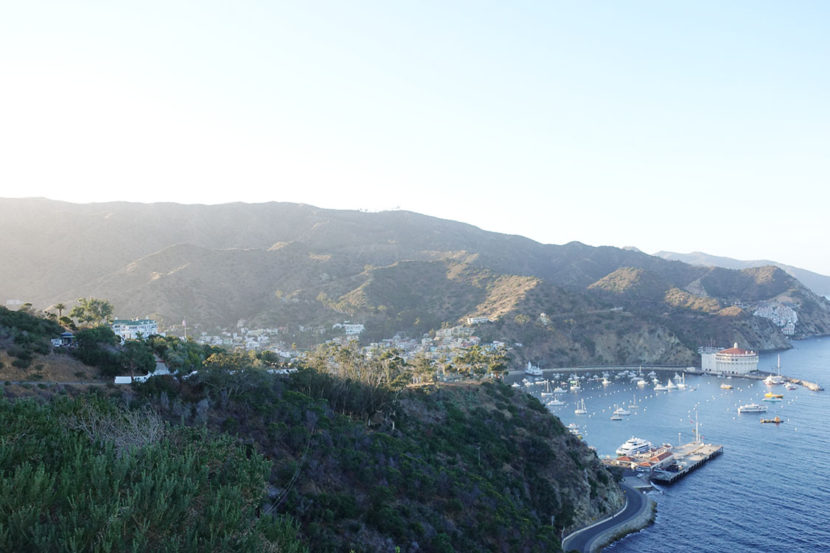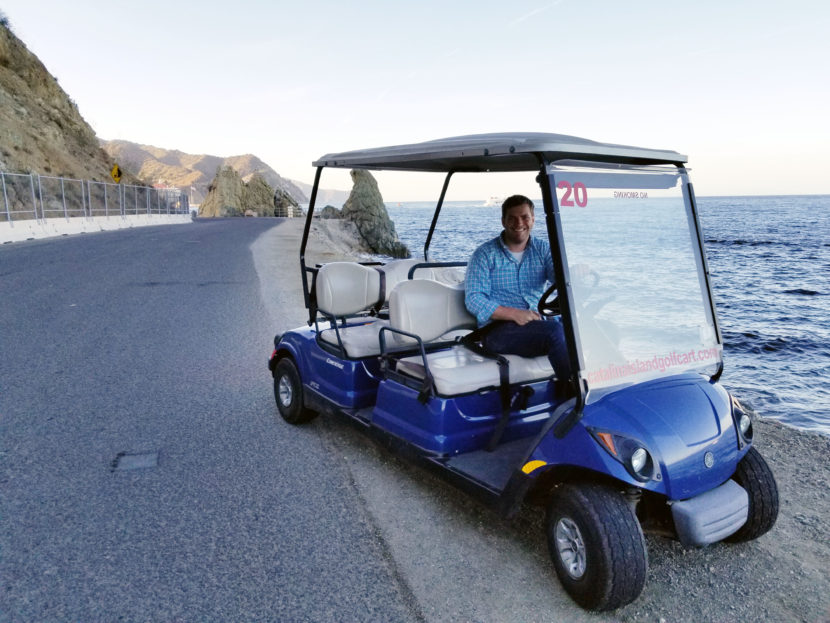 In addition to the views, there are also many great shops to stop at, such as Llyod's of Avalon Confectionery – world famous for their salt water taffy, which they make right in the window!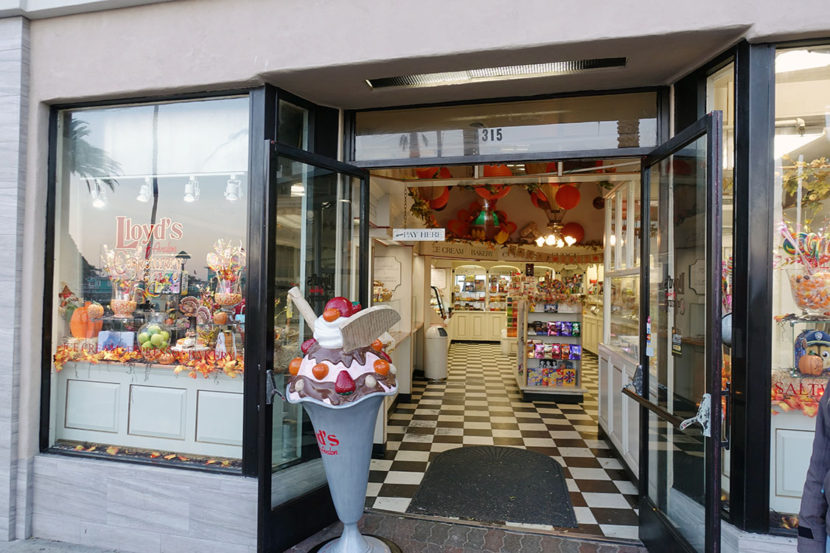 That night, we ate at Avalon Grille, which is ranked on TripAdvisor as one of the top three places to eat on Catalina Island! I had a delicious steak, and it was so big that I had a whole lunch of it the following day as well!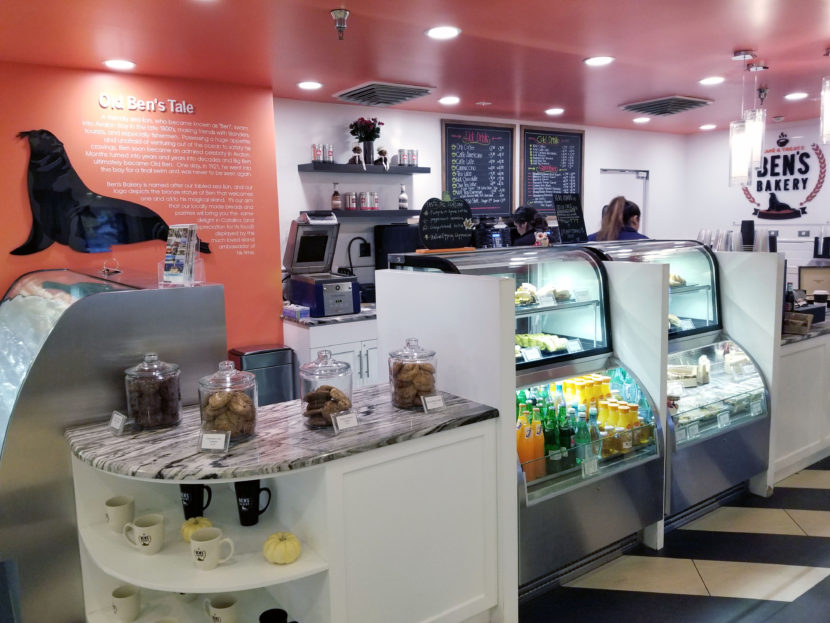 Except for, we went to Ben's Bakery for brunch the following day, and we also got full from that (the point is, there are SO many wonderful places to eat on Catalina Island – so come with an empty belly)! Ben's Bakery features grab-and-go menu items, but it is SO much more than your typical premade grab-and-go shop. The items we ordered were absolutely fantastic!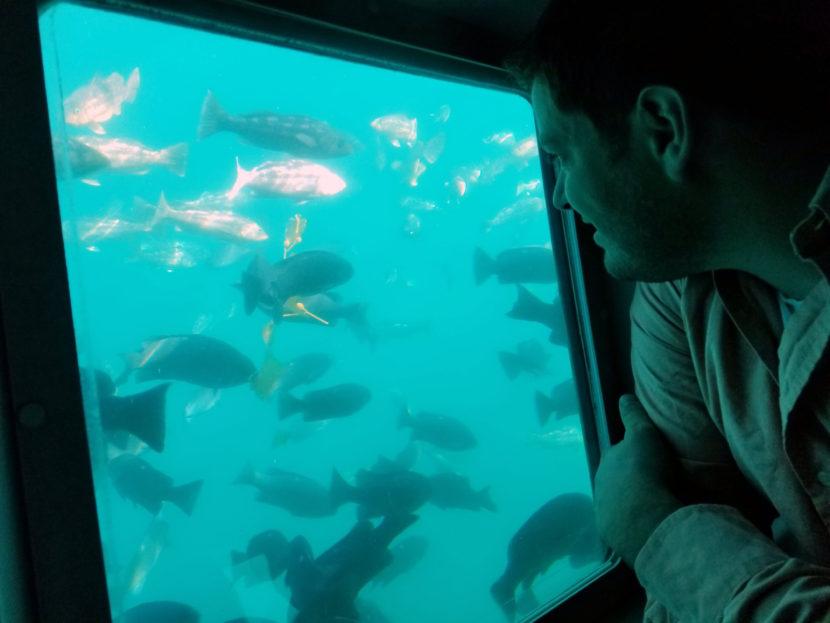 Before heading back to the mainland via Catalina Express, we did the Undersea Expedition, which was a really unique way to experience Catalina Island. It is a semi-submersible vessel that allows you to see marine life underwater – and wow did we see a lot of it! The fish were abundant, and so colorful. It was an excellent way to end our time on Catalina Island!
Orange County
Westminster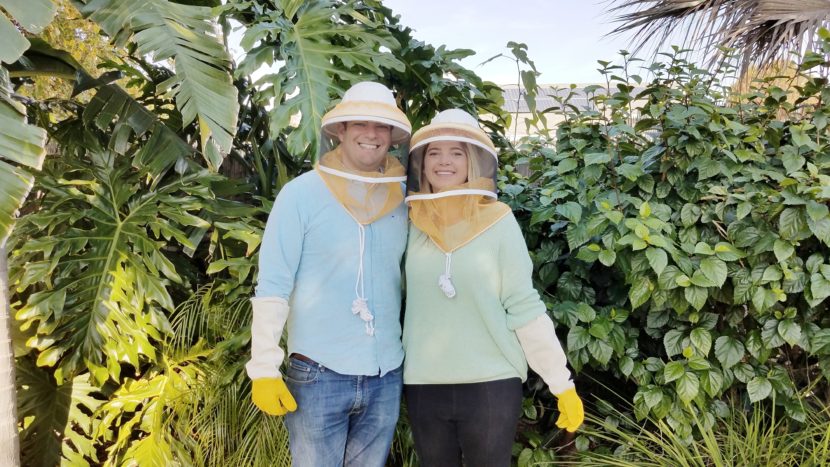 My great-grandfather was a beekeeper, and I've always wondered about everything involved with beekeeping. So when I saw an AirBnB experience where you "go inside the hive" with a beekeeper, I knew it was something I wanted to do!
The experience is run by 12-year-old Michelle (the sweetest and most knowledgeable girl!) and her dad, who were incredibly educational about the beekeeping process. We were amazed to learn how much bees do – even regulating their own hive temperature – and how much bees are needed – 30% of everything we eat needs to be pollinated! It was incredible to go into the hive and see the bees working.
Michelle's father had a lot of experience in the beekeeping industry, and she was so kind – even giving us some honey and two of her special handmade beeswax chapsticks (which are available for sale on Amazon)! We really enjoyed our time, and think it would be the perfect experience for a couples date, friends outing, or even a birthday party!
Anaheim
We spent a day at Disneyland, and it was magical how we gave Mickey all of our money! ;) Definitely something to cross of the list and we really enjoyed getting to experience Disneyland at Christmas, but wow those tickets are not cheap!
Buena Park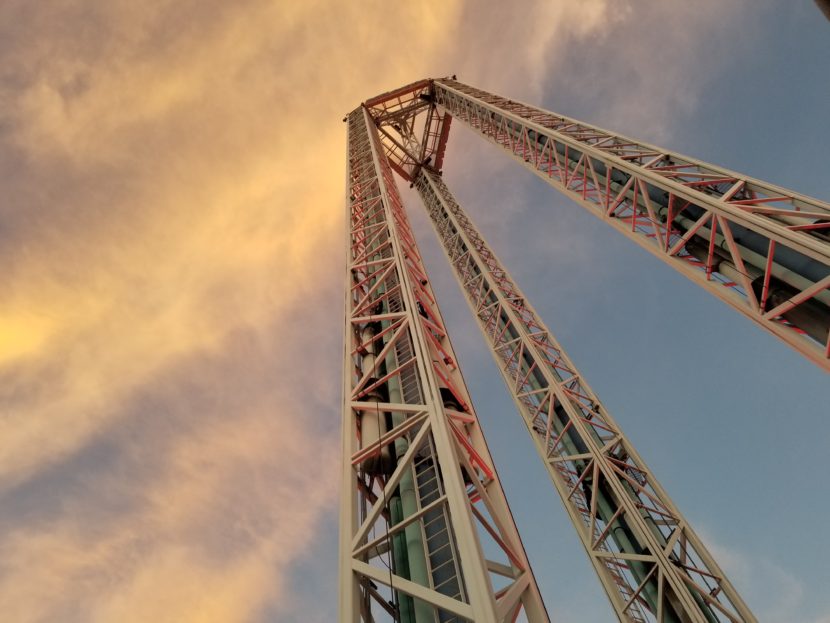 A much cheaper amusement park option, and a California classic, is Knott's Berry Farm. The California Welcome Center in Buena Park sells tickets, and the tickets are very reasonable for the number of fun things there are to experience there! My favorite ride was Supreme Scream – the views before the surprise drop were incredible! Ghostrider, the park's largest roller coaster, is the best wooden roller coaster we've ever ridden! It's also the longest, tallest, and fastest wooden roller coaster on the West Coast.
Irvine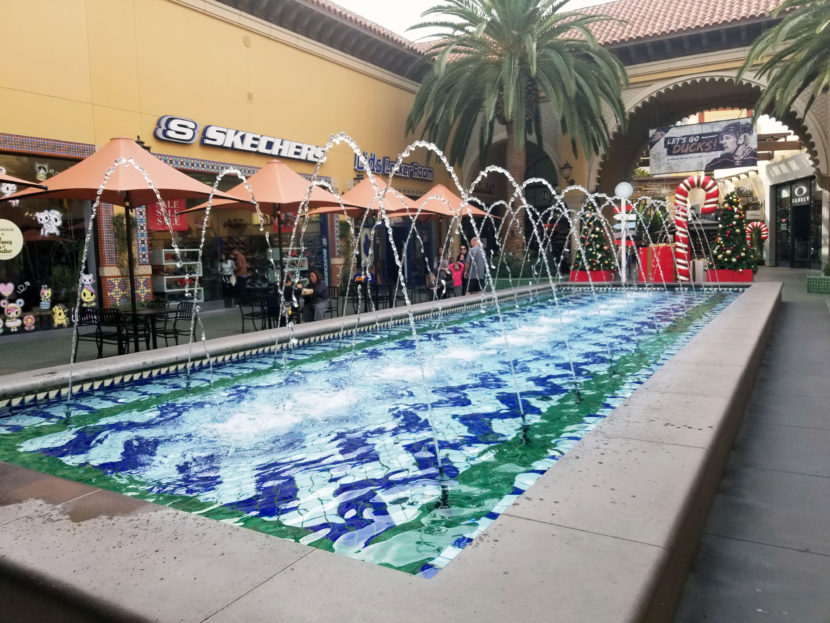 Hud and I decided that if we were to live somewhere in California, it would probably be in Irvine. It is the perfect location being close to Los Angeles and the beach, and offers so much to do within the city itself – plus there are a lot of large companies that have or are opening offices in the area.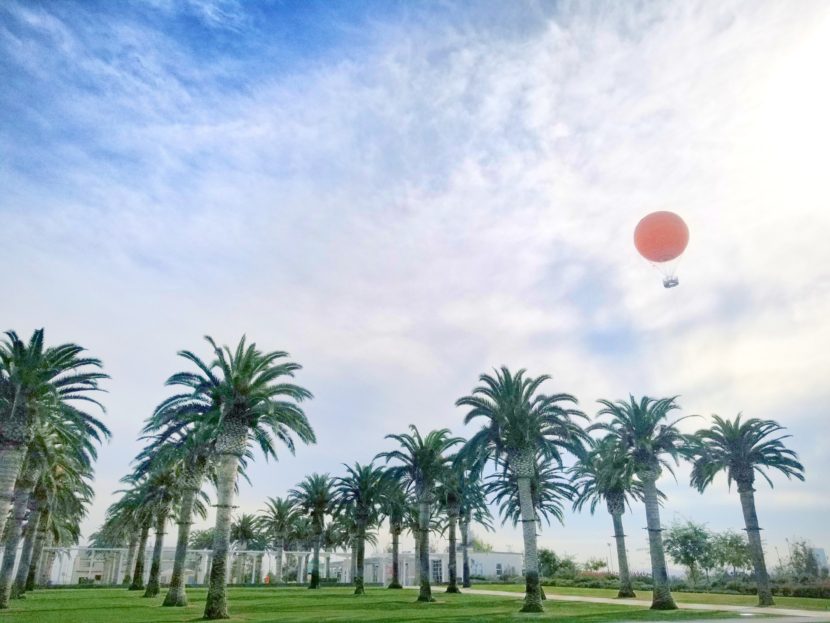 One of the iconic Irvine experiences is the Great Park Balloon. It was really fun to soar 400 feet above the Orange County Great Park, and to see 360 degree views as far as the ocean and Los Angeles!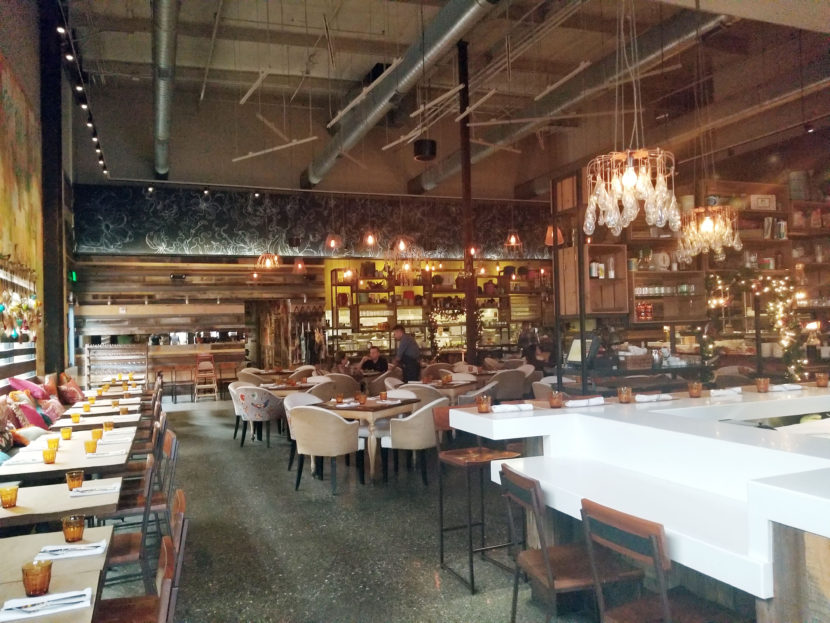 We then had lunch at CUCINA Enoteca, which is an Italian restaurant with a Californian twist. It had the most beautiful interior decor and outdoor dining area – Hudson and I kept saying how amazing it was to eat outside in December!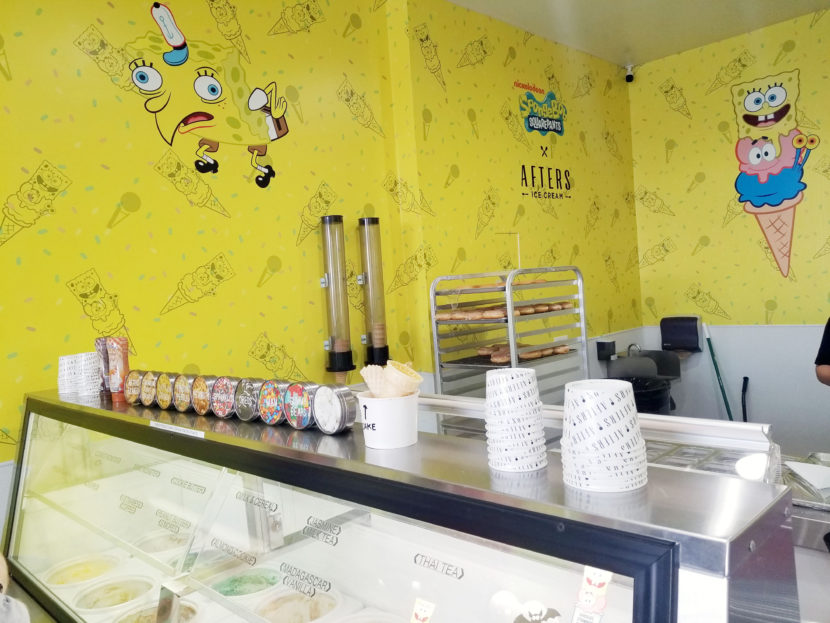 Our next stop was K1 Speed – every guy's dream! Go kart racing is one of Hud's favorites, and he's 1000x better than me haha, but we still had an absolute blast. We wished we could have had all of our friends along with us! Afterward, we went to Afters Ice Cream. :) They are famous for their "Milky Bun," which is ice cream stuffed inside a donut. Yesss that is a real thing! We are going back to California with my family next month, and decided that this is a must-stop place!
Huntington Beach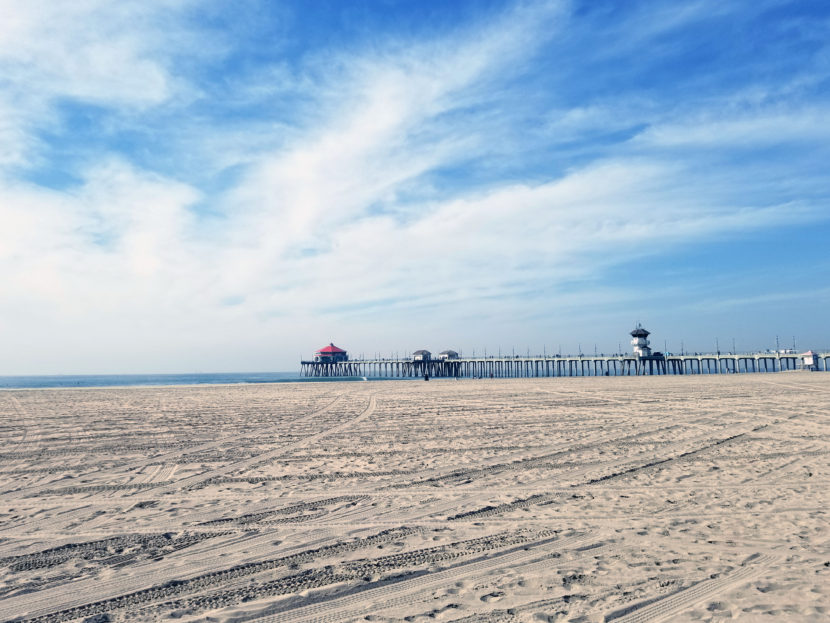 Huntington Beach – aka Surf City USA – is one of my favorite places in all of California. My family went on a California roadtrip 10 years ago, and visiting Huntington Beach was the highlight of our entire trip. So I was really excited to be able to visit again, and this time with Hud! We packed a lot into just a few days, and were grateful to get to experience such a beautiful beach town in the middle of December!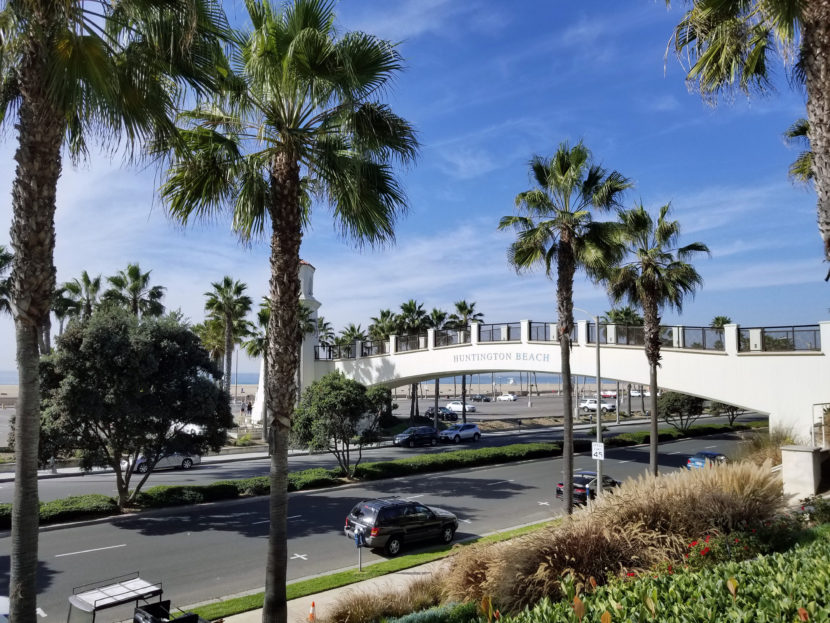 We stayed at Sunset Vista RV Campground, which overlooks the Pacific Ocean! You can literally hear the ocean waves as you fall asleep and wake up to the most beautiful sunrise views of surfers enjoying Surf City USA.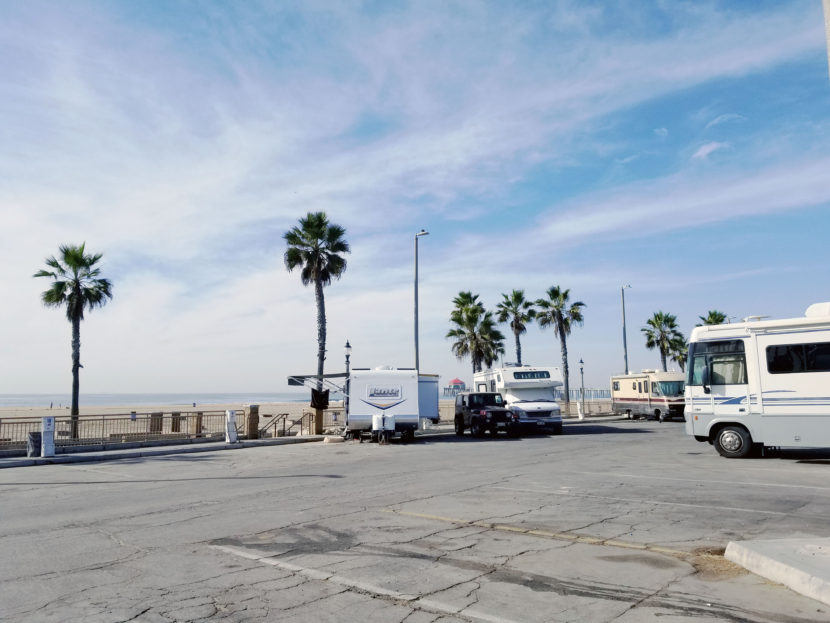 The RV campground is located on the Pacific Coast Highway, right across from Pacific City (Huntington Beach's premier shopping destination), Main Street, and so much more – so we could not have asked for a more perfect location to stay.
We had breakfast at Watertable, a rustic-chic restaurant at Hyatt Regency Huntington Beach. I had the delicious lemon blueberry pancakes, and it was a wonderful way to start the day!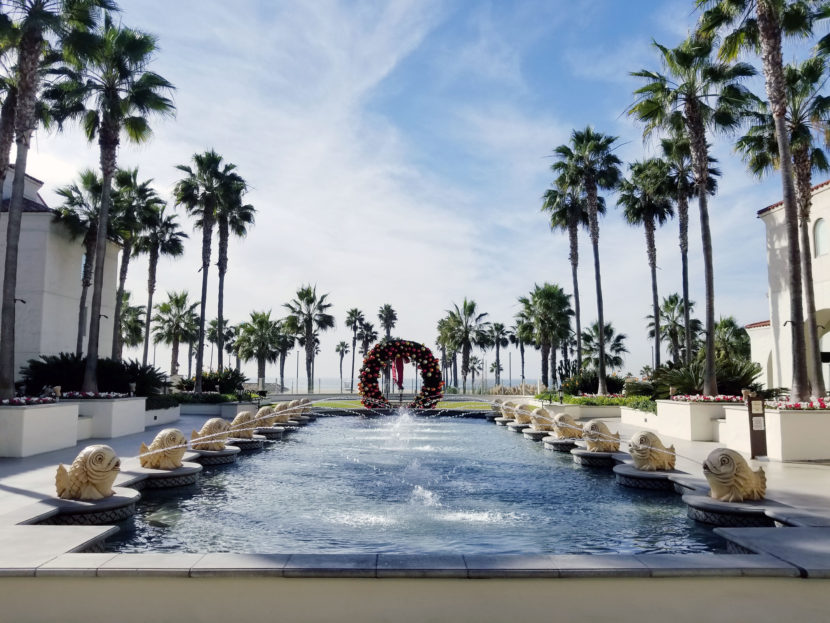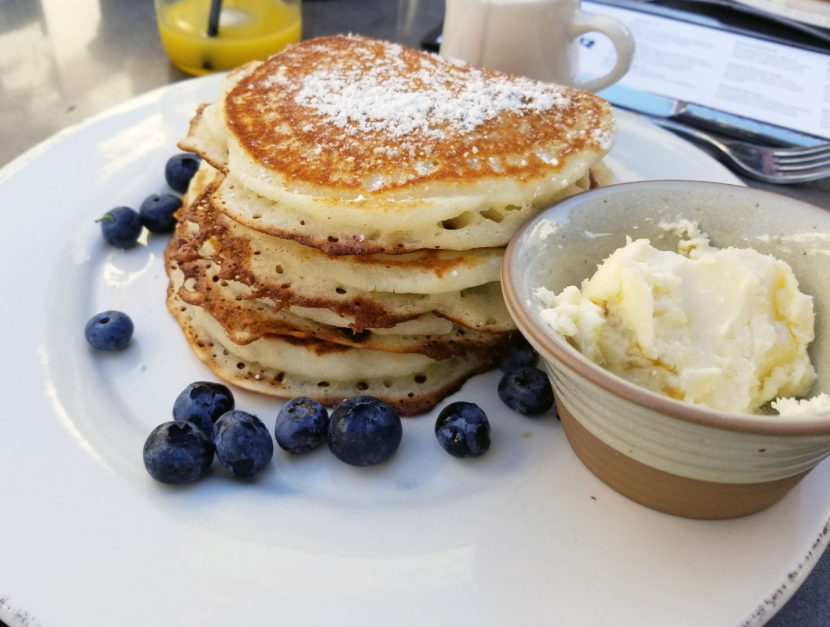 After walking around Pacific City and checking out the surf shops, we returned to the Hyatt Regency for massages at the Pacific Waters Spa. My massage therapist was so incredibly sweet! It was a wonderful massage, and the spa amenities were incredible – I have never seen a more luxurious shower! It was a perfect way to relax before continuing our day in Huntington Beach.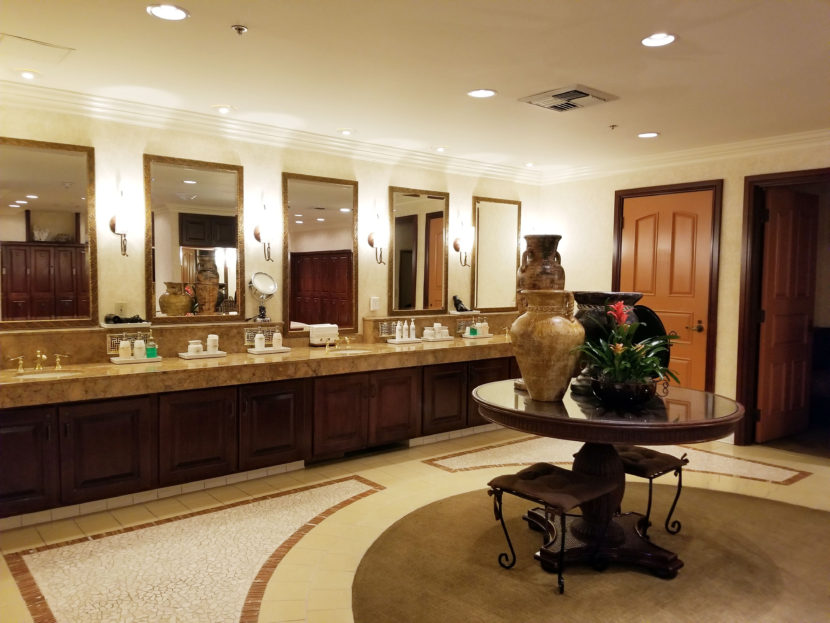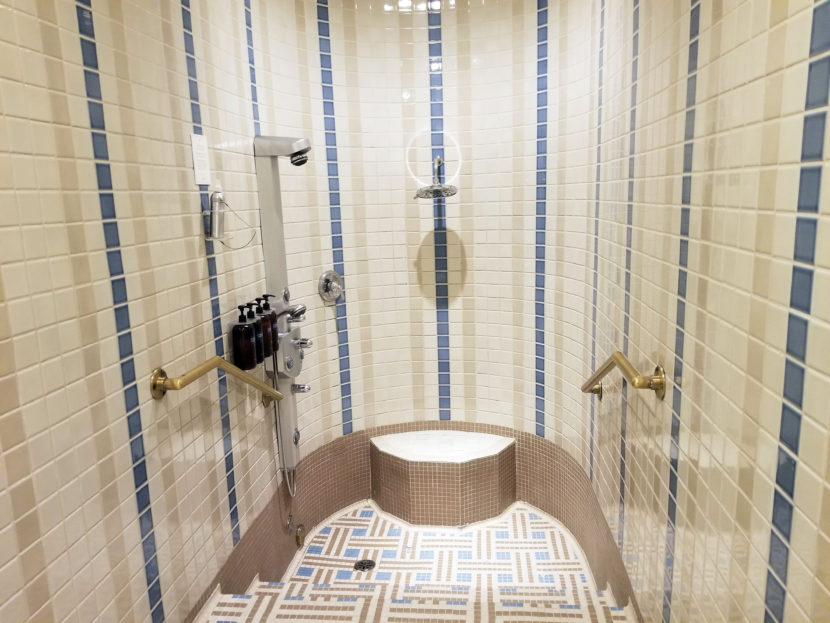 After our massages, we checked out the International Surfing Museum and the world's largest surfboard! For their celebration of 100 years of surfing, Huntington Beach put 66 surfers on a 42 foot surfboard to break a Guinness World Record! I wish we could have stayed in Huntington Beach longer because they have SO many free events going on year-round. And lots of volleyball nets to play on, too – my favorite sport!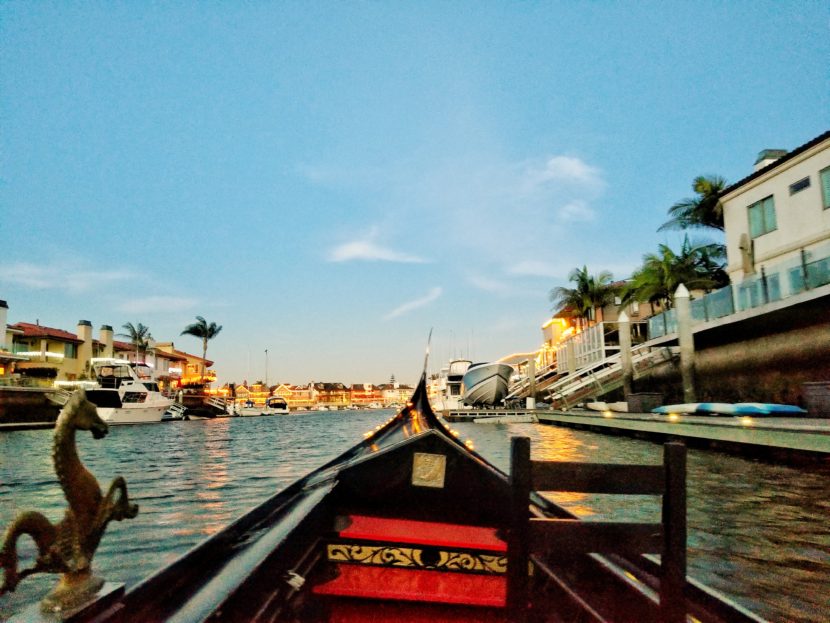 We packed so many awesome things to our Huntington Beach visit. Next was a gondola ride! I had only heard of gondola rides in Venice (and Vegas ;) until we heard of Sunset Gondola in Huntington Beach, and it was such a romantic experience! We saw a beautiful sunset as we were rowed in a gondola imported from Venice. And the gondolier singing to us was just magnificent!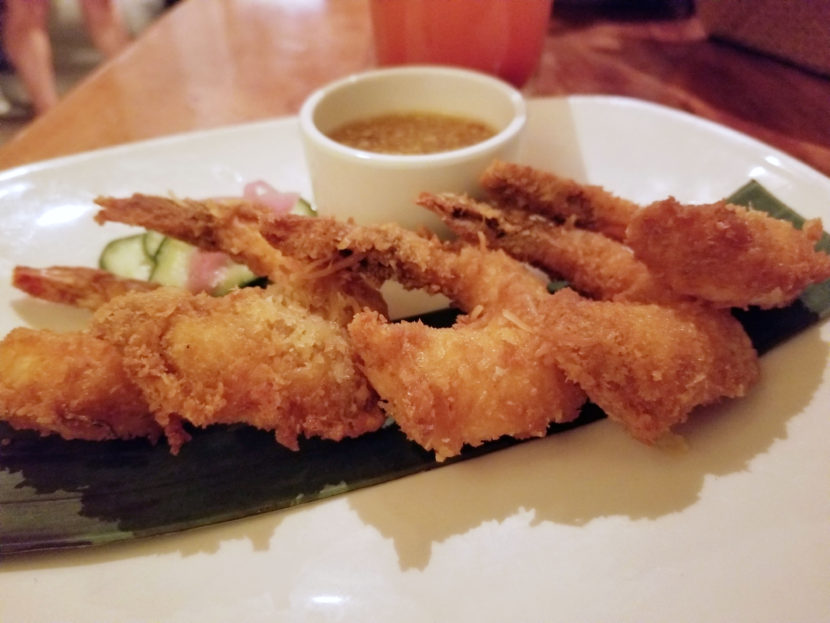 After the gondola ride, we had dinner at Duke's Huntington Beach. The staff was one of the friendliest we've ever met – they were all so kind! The view from our table of the pier and volleyball courts was absolutely amazing, and the food – I shouldn't even talk about or you'll want to book a flight right now to be in Huntington Beach by dinnertime! ;) It was SO good.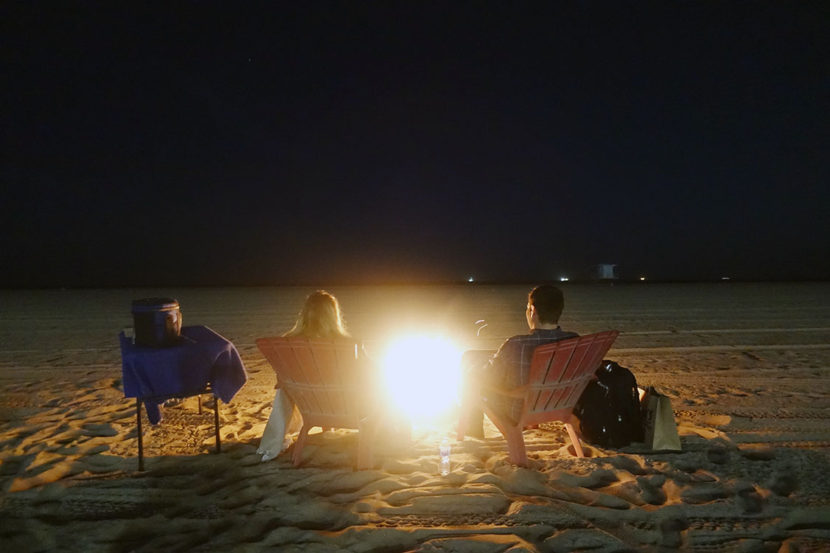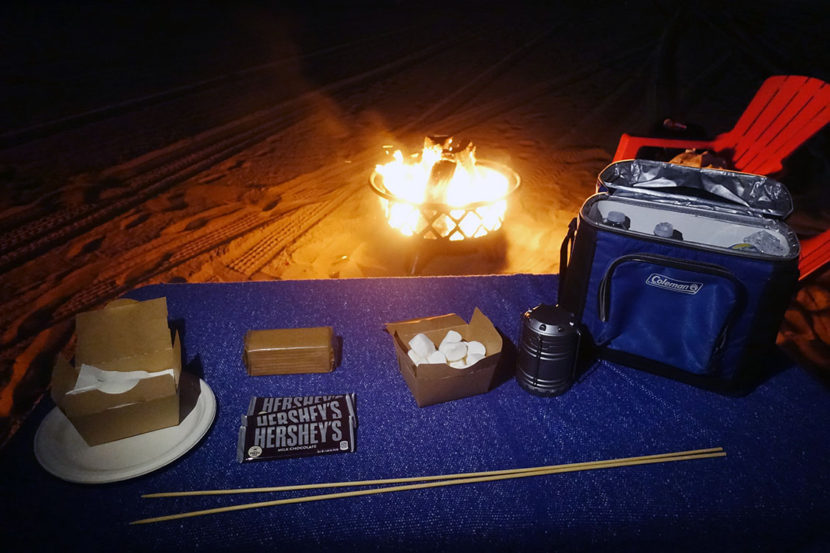 We finished the evening with a beach bonfire. Waterfront Adventures had everything prepared for us – s'mores, sodas, waters, and even blankets!
It was such a romantic way to end our first day in Huntington Beach (yes all of this was in a day – there is seriously so much to do in Surf City USA)!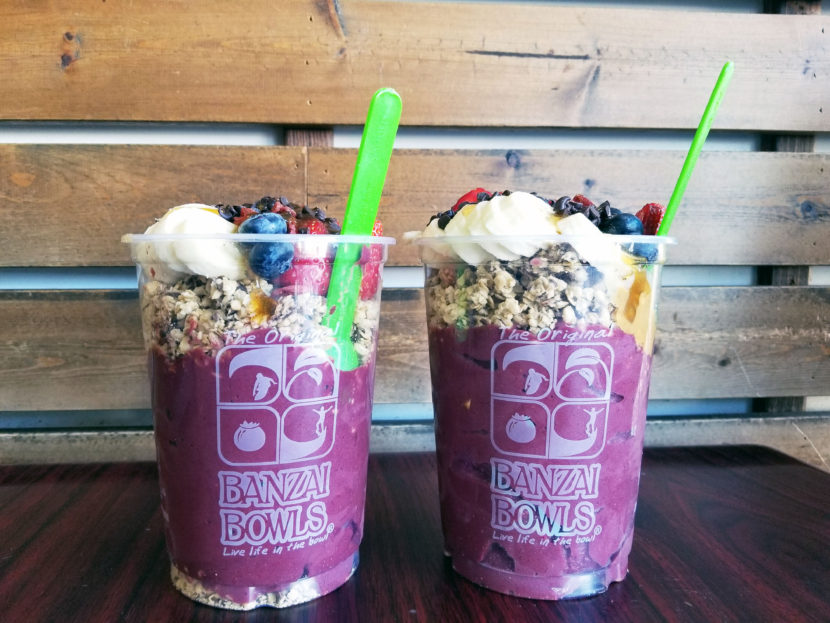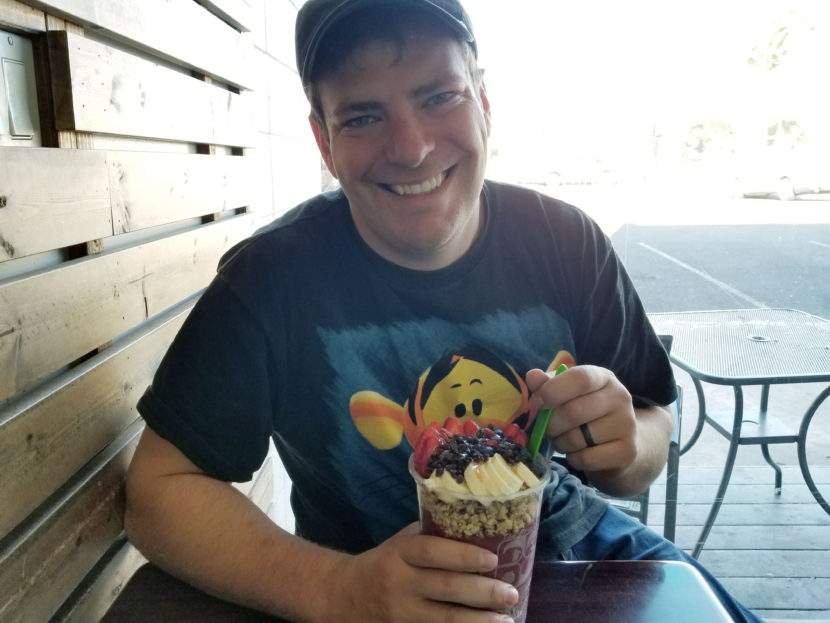 The next morning, we had acai bowls at Banzai Bowls. Banzai Bowls wins our award for the biggest California acai bowls! Hud and I both got the Sharks Cove bowl, which is topped with blueberries, strawberries, and so much more. If only every morning could start like that!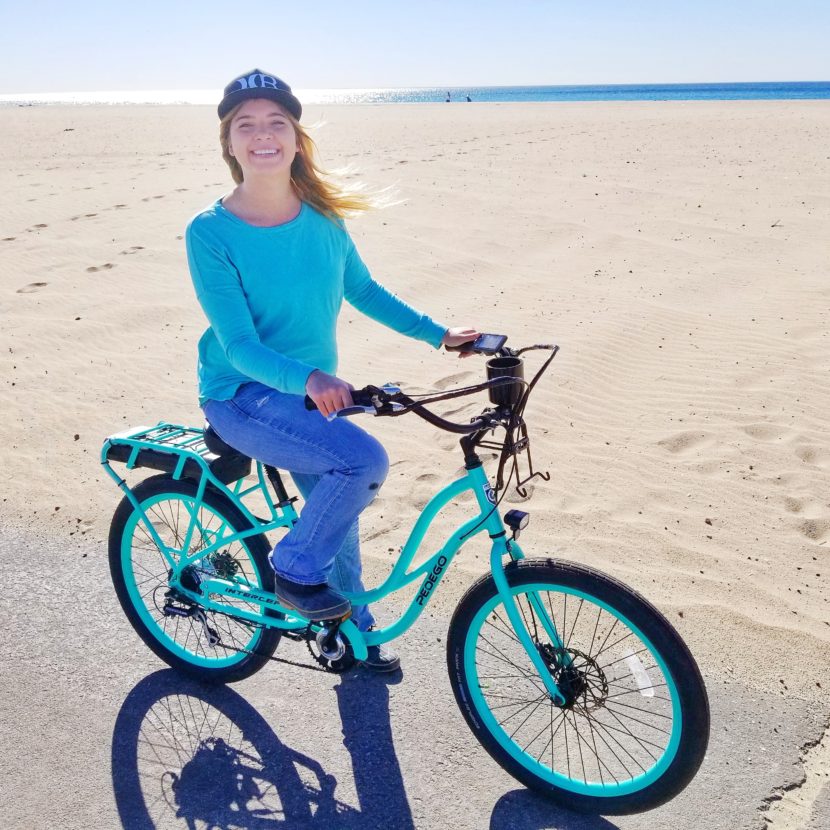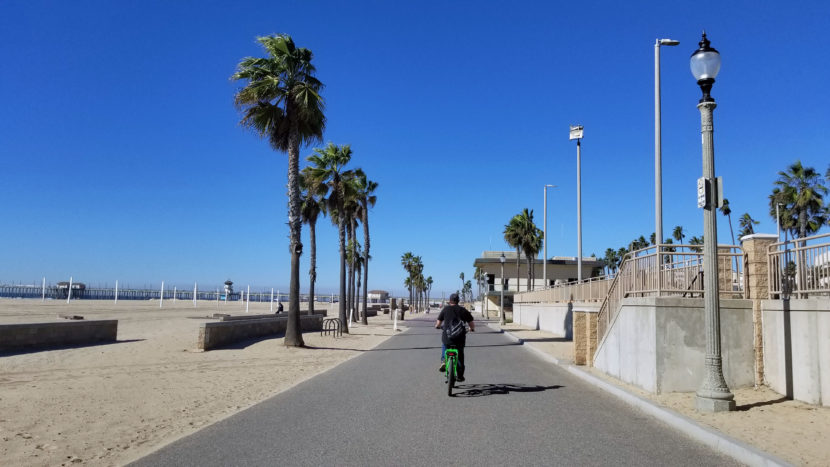 We completed our time in Huntington Beach by riding Pedego Electric Bikes. The bikes can go up to 20 MPH and it was so fun zooming past people working so hard to pedal, haha :) Bike riding was a beautiful way to experience Huntington Beach, and although we were sad to leave, we were grateful for all the wonderful memories made in Surf City USA!
Newport Beach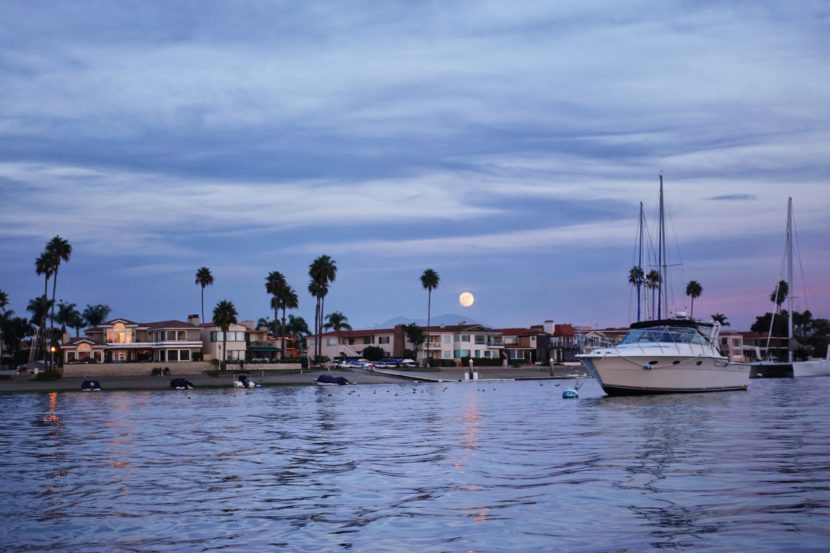 We were blessed to spend time with my aunt, uncle, cousin for a few days in the Newport Beach area and had SUCH a special time with them! We packed a lot in, but one of our favorite things was when my aunt rented a Duffy boat and we boated along the Newport Harbor for a couple hours.
It was beautiful to see the houses and boats all lit up with Christmas lights, and the full moon made for an even more incredible evening!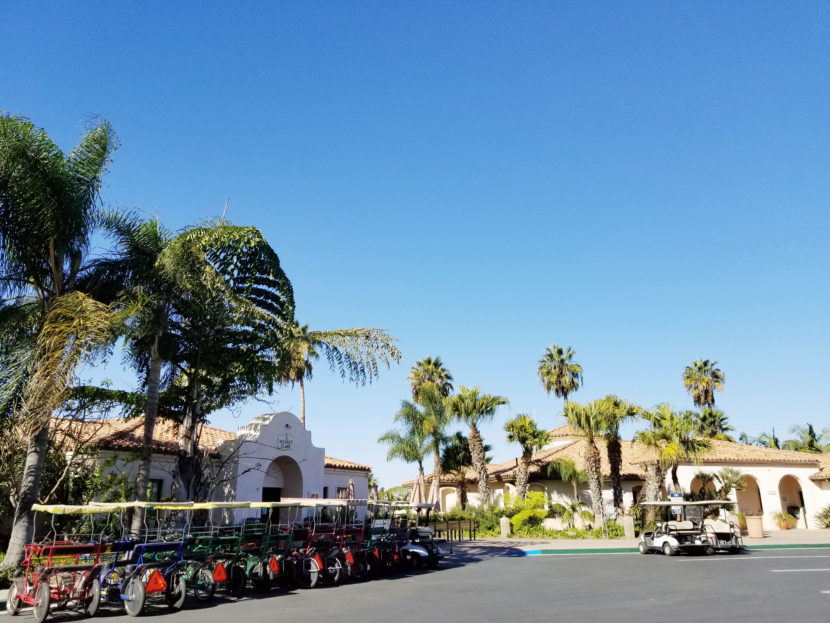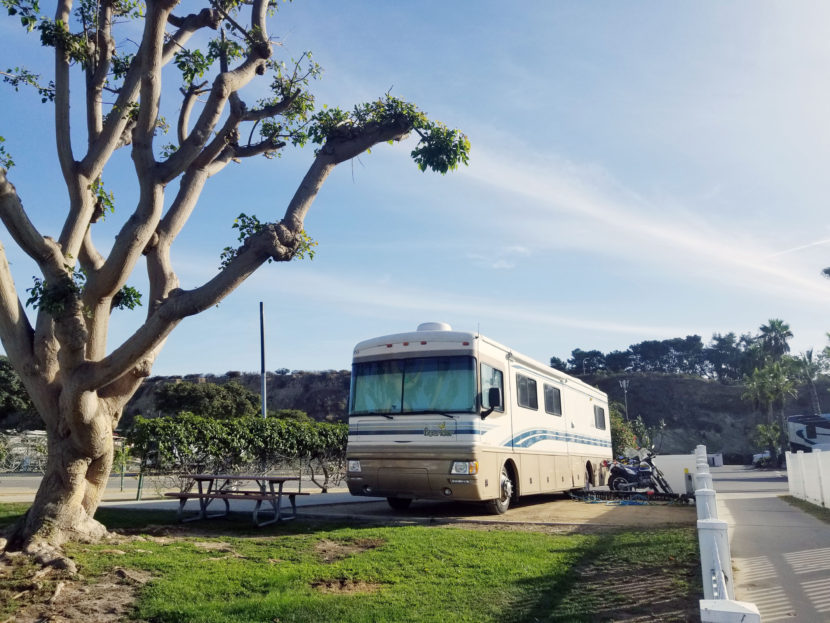 While in Newport Beach, we stayed at the Newport Dunes Waterfront Resort, which was the nicest RV resort we'd ever stayed at! We had a truly waterfront spot overlooking the marina, with a private fire pit and picnic table on the beach! We also had another picnic table and beautiful patio adjoined to our RV site.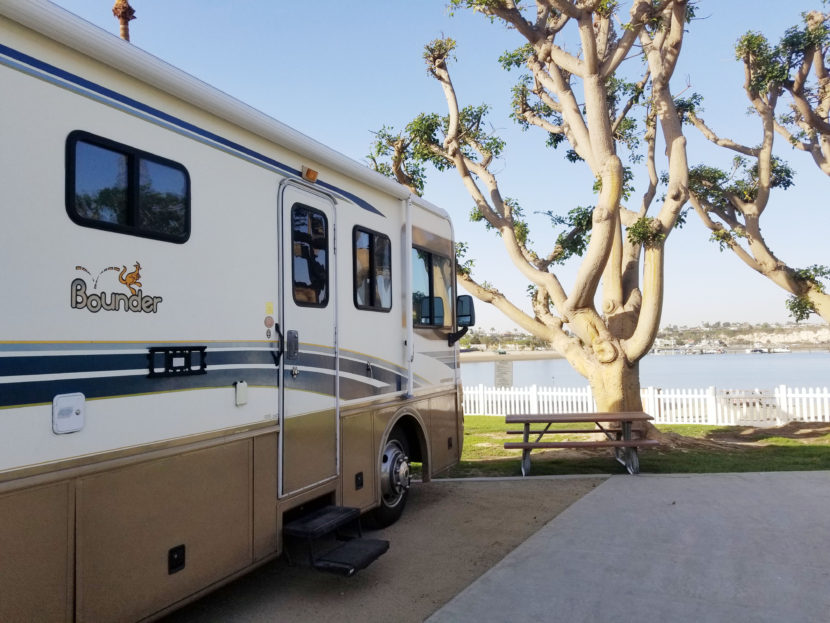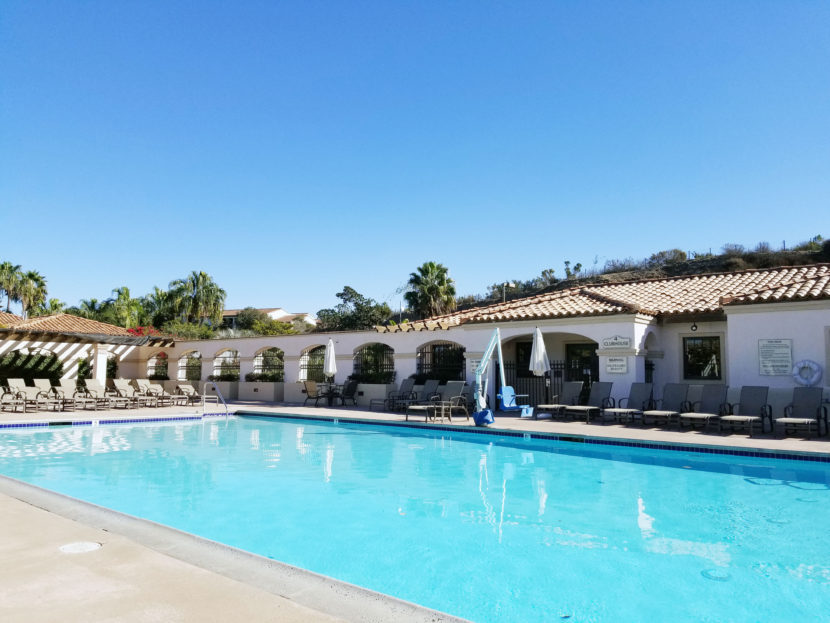 Newport Dunes is in a perfect location in Newport Beach, but it is so wonderful that we hardly wanted to leave the RV park! It's an absolutely beautiful resort, the staff was so kind to us, and they had so much planned! And at night, they had an incredible Christmas lights display in the marina our RV was overlooking. We did not want to leave!
San Diego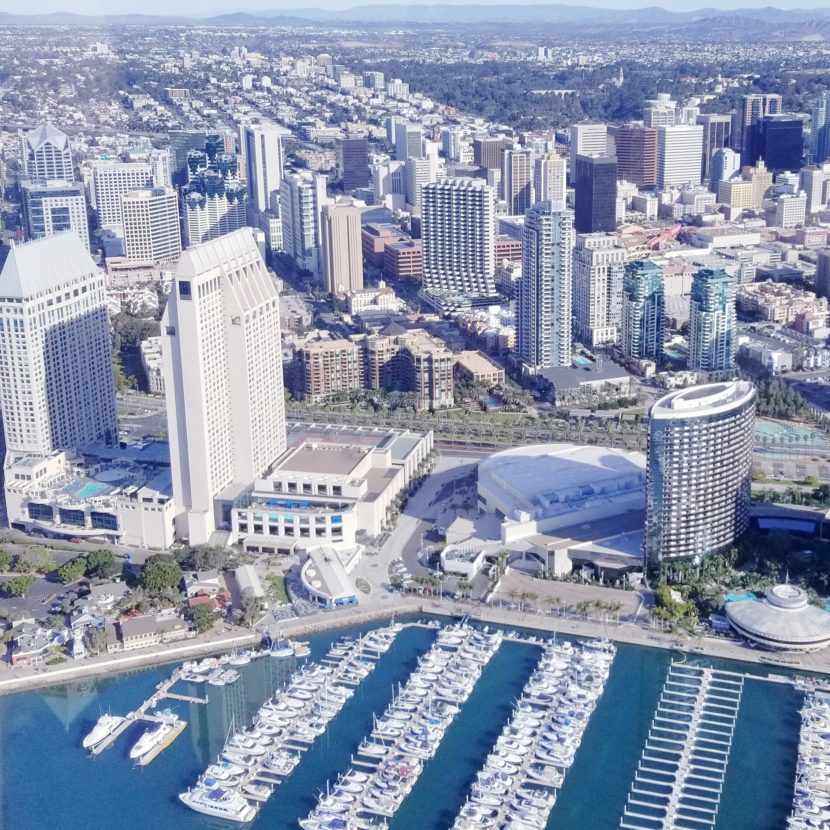 San Diego was the last big city of our California visit, and we figured the best way to experience it would be to trade in the RV for a limo!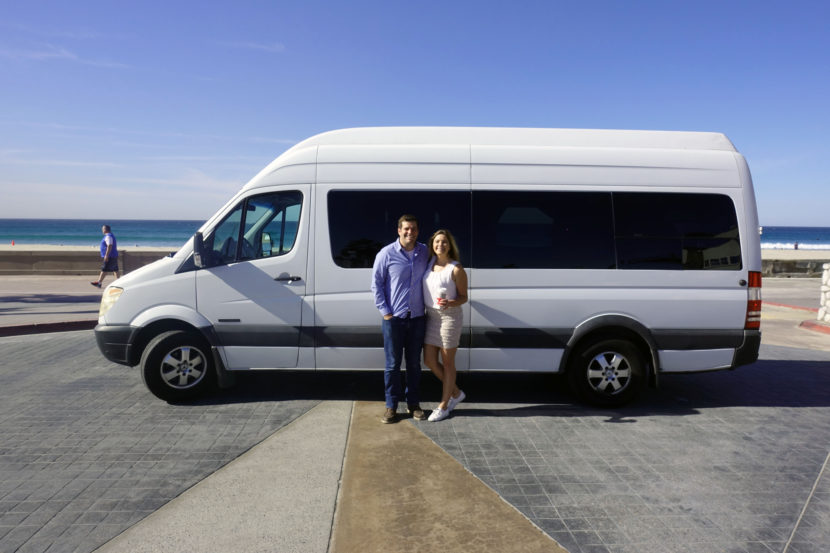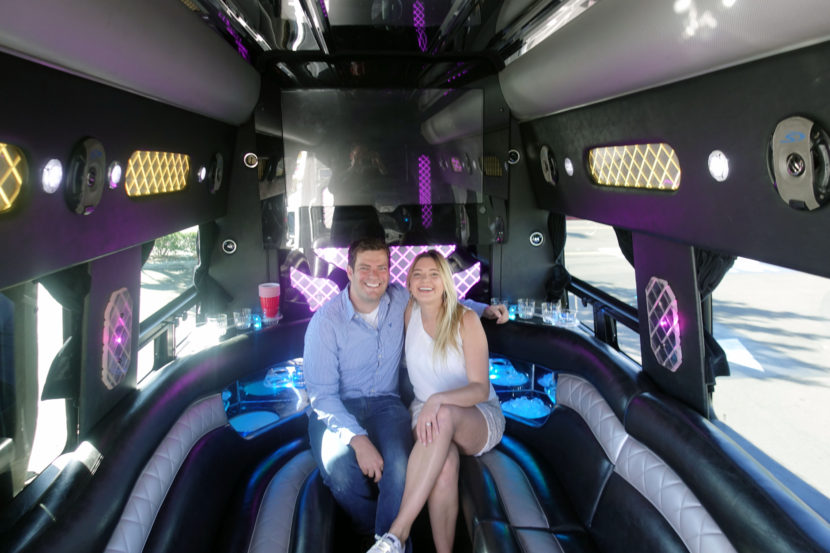 We spent three hours exploring the amazing city of San Diego with Aall In Limo & Party Bus, and had the best time. We decided that, #1, this is probably the first and only time that the limo driver picked up RVers from a Home Depot parking lot ;) and, #2, we need to only do transportation by limo from now on.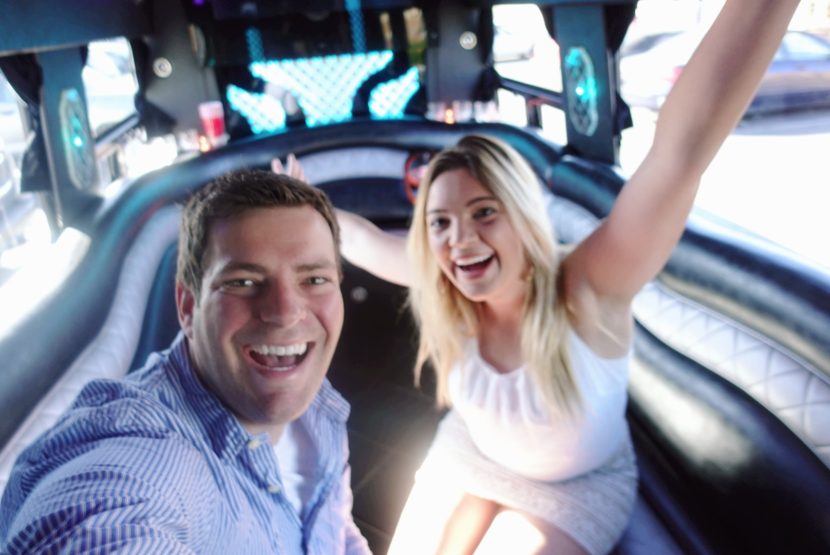 It was amazing having a local driver know the very best stops, drop us off quickly, and pick us back up exactly when we were ready to continue on our journey! Our favorite stop was the Cabrillo National Monument on Point Loma.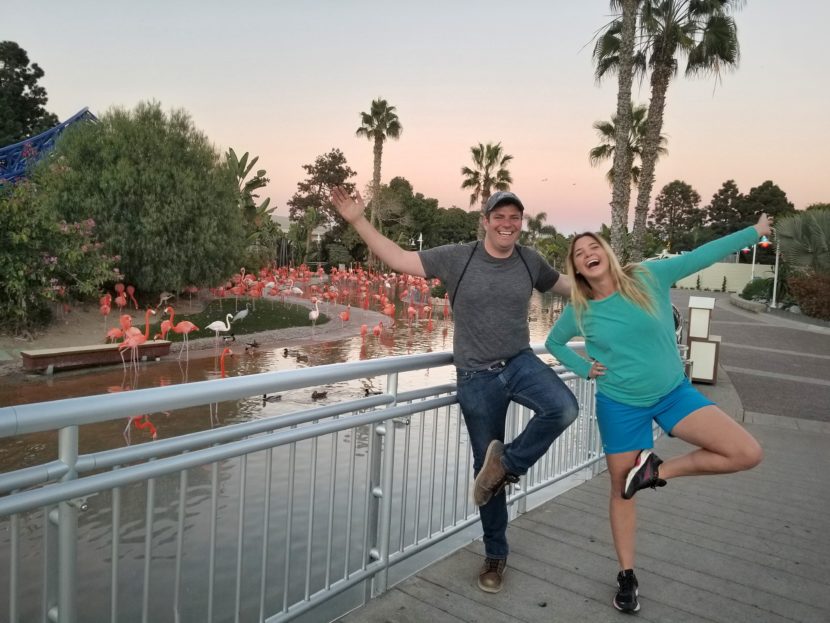 While in San Diego, we also went to LEGOLAND and SeaWorld. LEGOLAND blew us away with their incredible lego creations!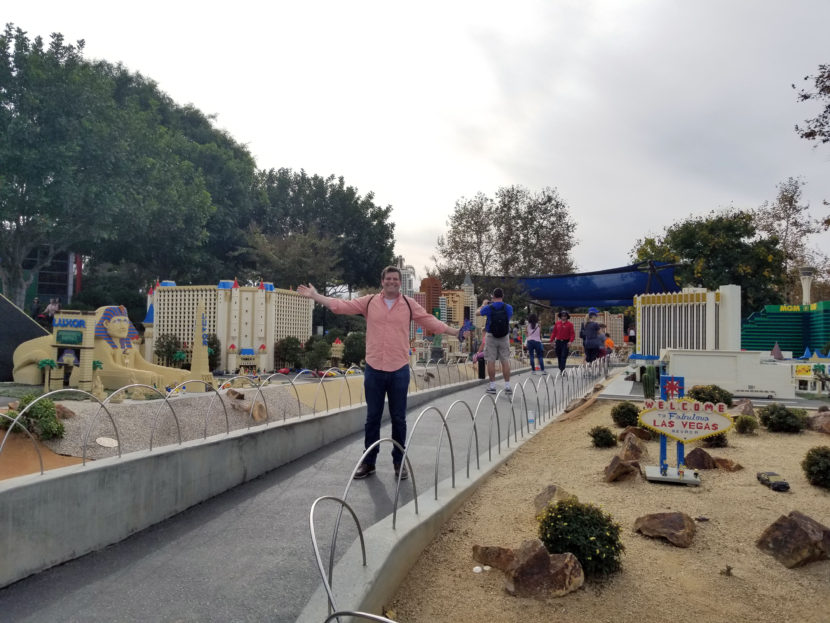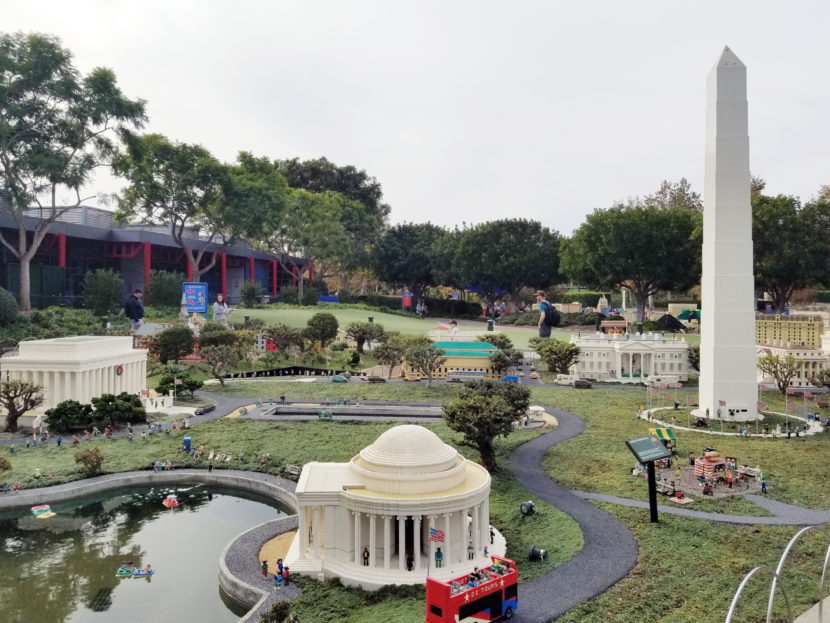 The best part was seeing the cities built of legos – NYC, Las Vegas, Washington DC, and more. There was even a lego RV that looks very similar to ours parked in front of the White House in the DC lego creation, so we thought that was pretty cool! SeaWorld San Diego marked our third and final SeaWorld stop in the US – we've been to all of them this year (Orlando, San Antonio, and San Diego)!
We kept laughing about how amazing it was to be able to go on roller coasters in the middle of December – we aren't used to warm weather year-round! SeaWorld's Christmas lights and decorations were absolutely incredible. They went all out to make it a winter wonderland!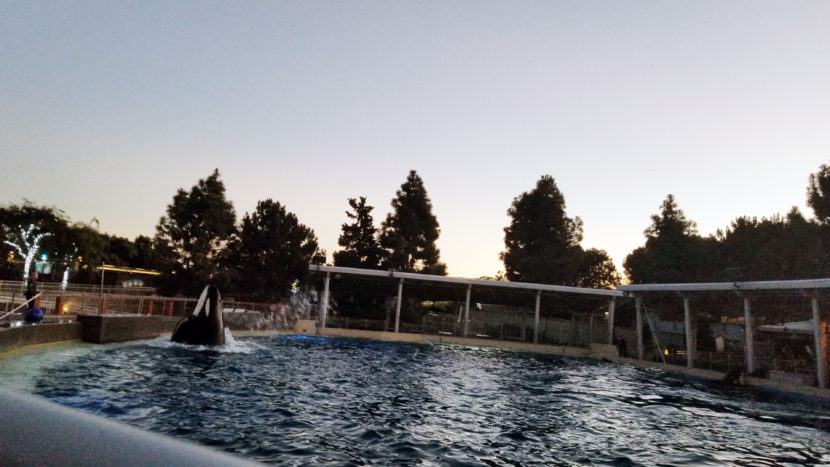 We could have just walked around the park and enjoyed all of the lights and that be an amazing time by itself, without the rides. We had the coolest experience when we were walking past the orcas exhibit – the trainers were feeding and playing with them, and they kept breaching and coming right up to the glass where we were watching from!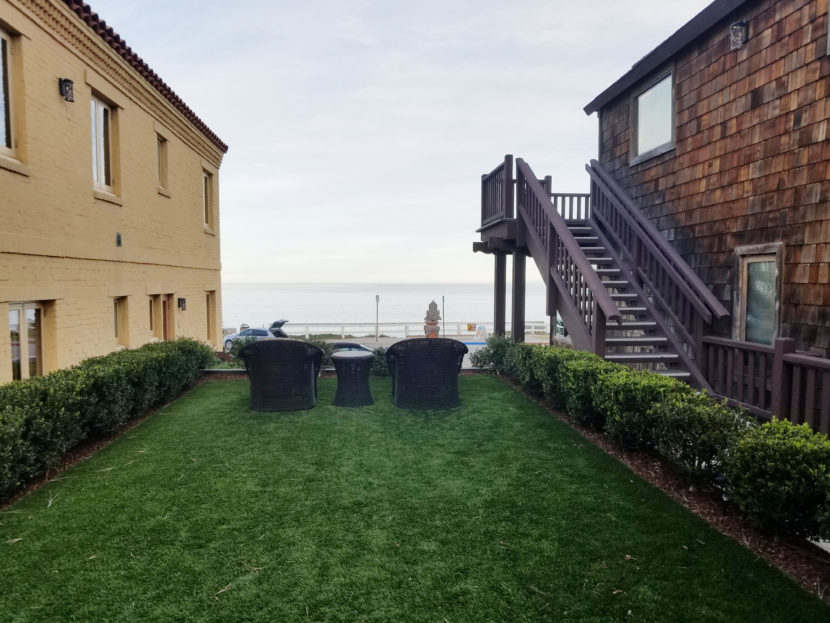 We stayed at The Pantai Inn for two nights, rated #1 hotel on TripAdvisor for both La Jolla and San Diego. It sure did live up to that rating for us! The staff was absolutely incredible, so helpful and friendly.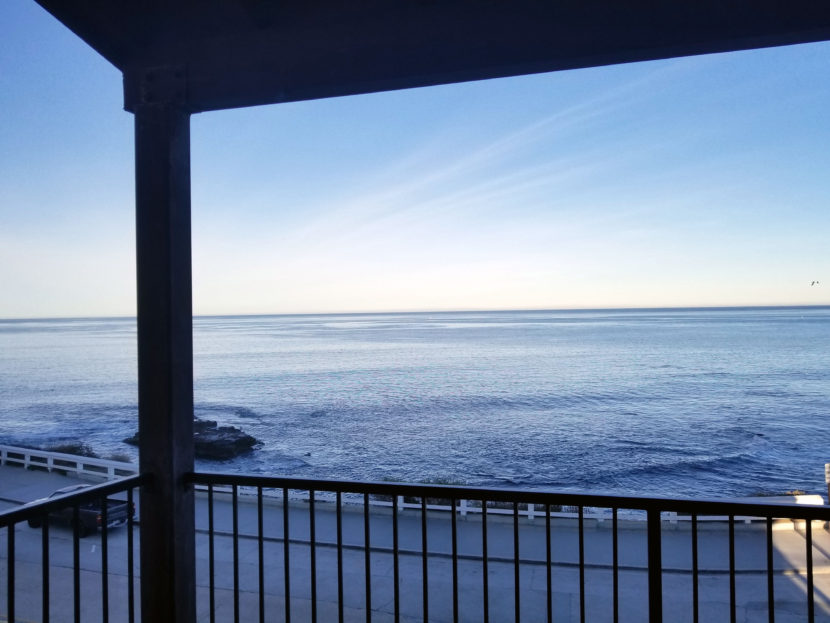 The views were unbeatable – sunset from our patio overlooking the Pacific Ocean and beautiful La Jolla Cove was so romantic. The accommodations were incredible, with a huge suite and then an outdoor fireplace and sitting area outside the lobby.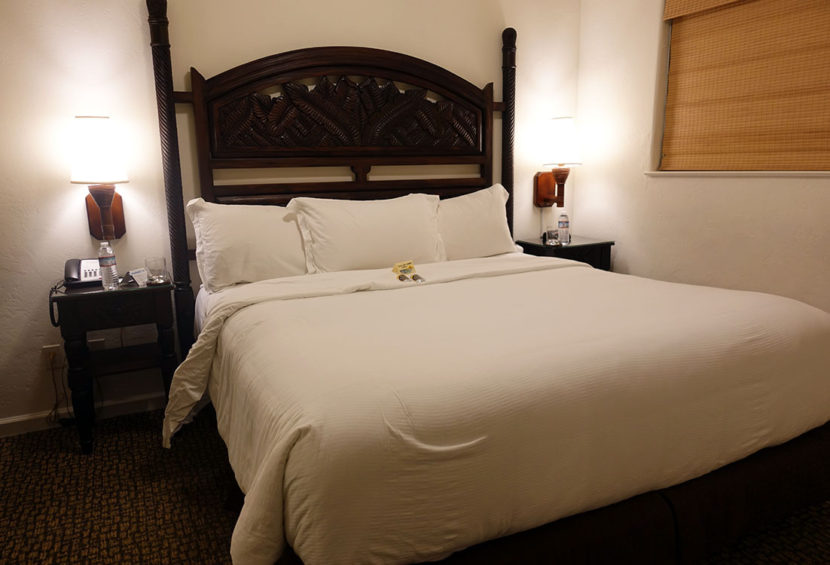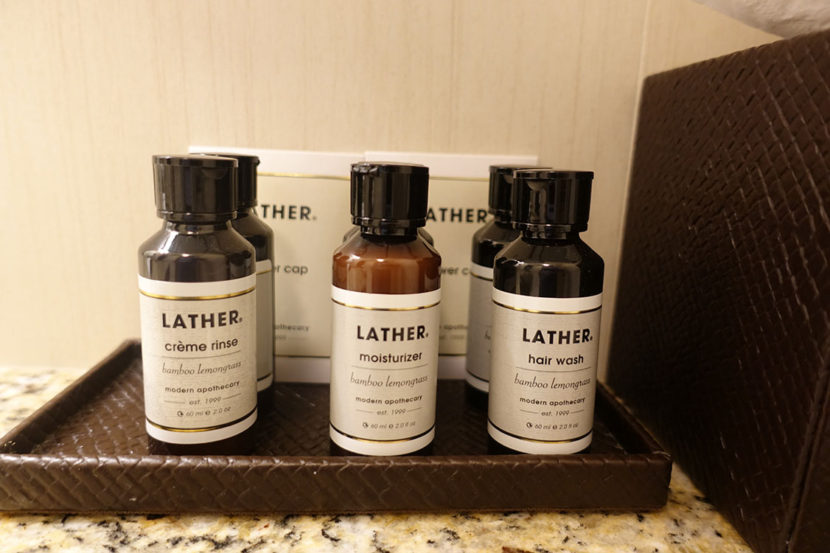 And the amenities were amazing, including complimentary in-room snacks, sodas, and water for every guest plus an absolutely gourmet breakfast every morning (and it changes each morning – we received a handwritten menu in our room each day).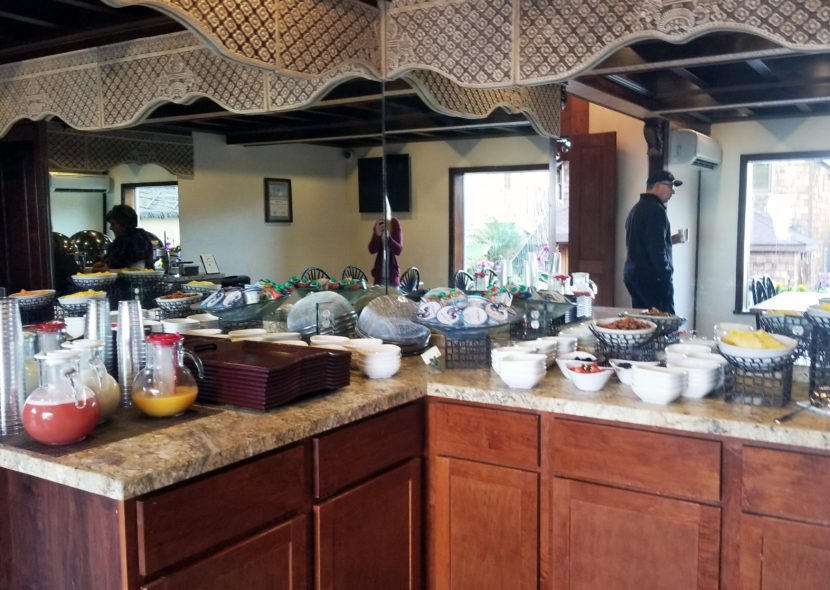 There's also the twice-daily housekeeping, complimentary parking and wifi, and the beautiful Balinese design and decor of the hotel.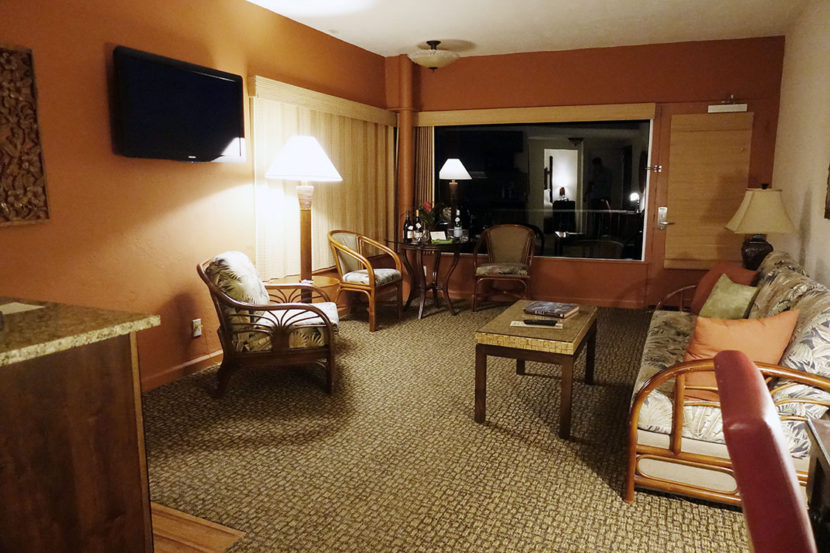 The Pantai Inn is more than just a luxury oceanfront hotel; it's also the perfect getaway destination – and we kept saying we wish we would have stayed there for our honeymoon (good thing anniversary trips are a thing! :)
The next morning, we hopped into a helicopter for an aerial view of San Diego! We did Corporate Helicopters' Diego Delight tour, which was a scenic overview of San Diego's highlights.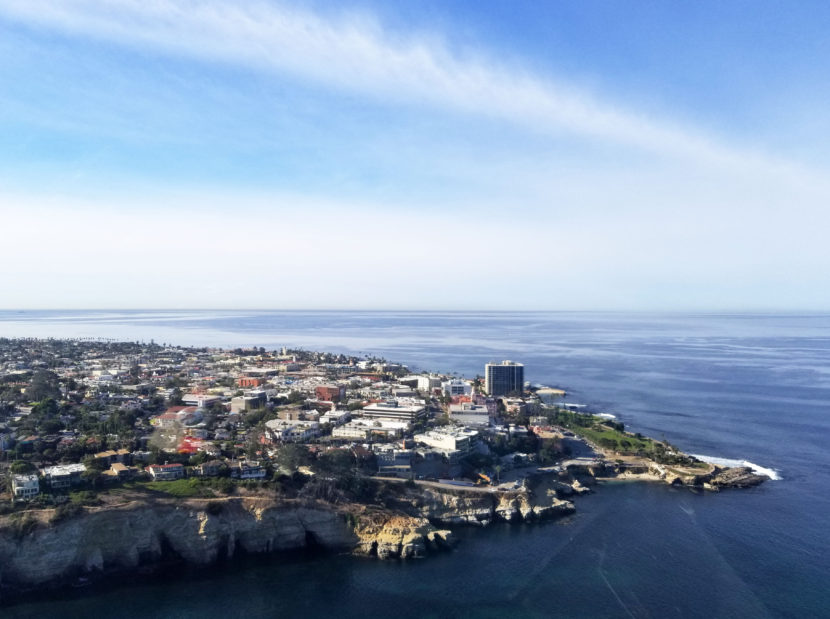 Our favorite view was being over the ocean and overlooking the La Jolla Cove (and The Pantai Inn!). Flying over Mission Bay, Balboa Park, and near downtown were really incredible, too. Helicopter tours are a great way to put things into perspective of where each different area of the city is, and it was a perfect thing to do on one of our first days in San Diego.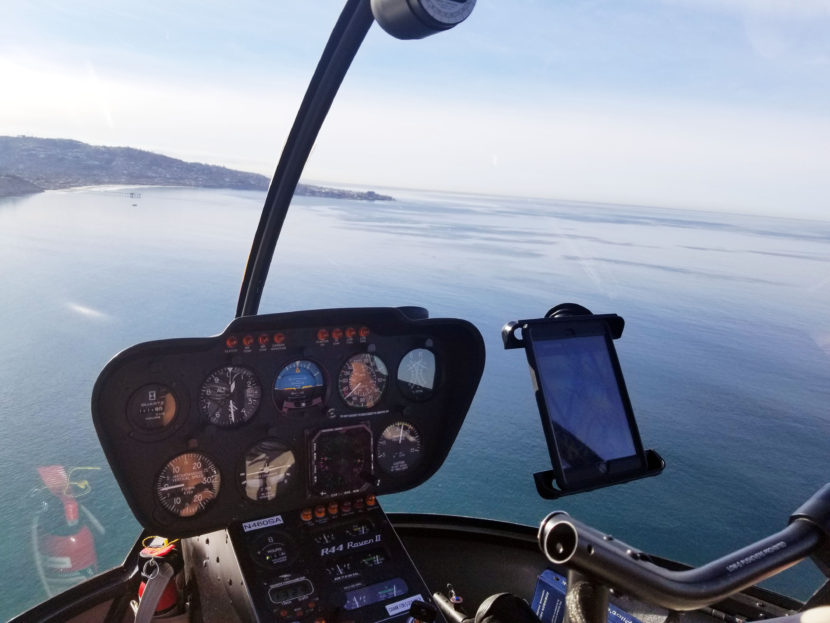 The Corporate Helicopters staff did a great job of arranging everything and flying in only safe conditions! We were originally scheduled to go on our first day, but there were very high winds so they suggested we reschedule, which were were very grateful for. If I could suggest only one thing to do in just about any city, it would be to do a helicopter tour – and I'm so grateful we had the opportunity to experience this in San Diego!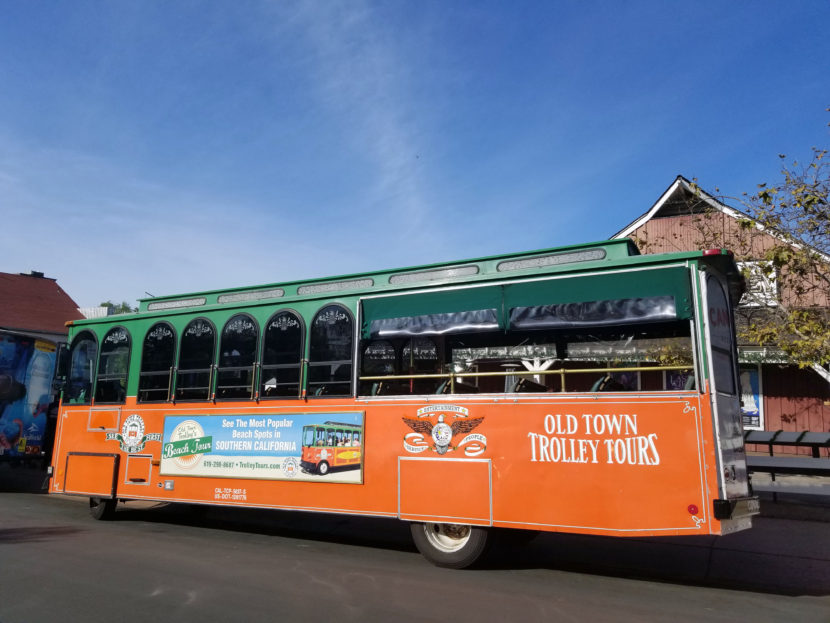 The next day, we took the Old Town Trolley Tour around the city to spend more time at the main sights. When my family came to San Diego about 10 years ago, this was one of the highlights of our trip, so it was a joy to get to experience it with Hud! Riding by trolley is so much fun, the staff is so friendly, and they do a great job of laying out the destinations well. It's a hop-on-hop-off trolley, so you can choose to stay longer at certain stops.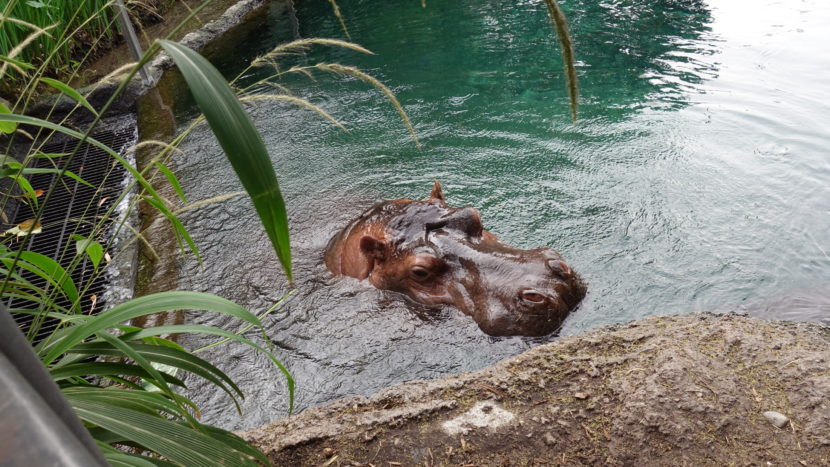 We loved getting to go to Coronado Island, the San Diego Zoo at Balboa Park, and the USS Midway Museum at the Embarcadero. Being on an aircraft carrier like that was very interesting to see and made me even more so appreciate the members of our military who serve our country and protect our freedom!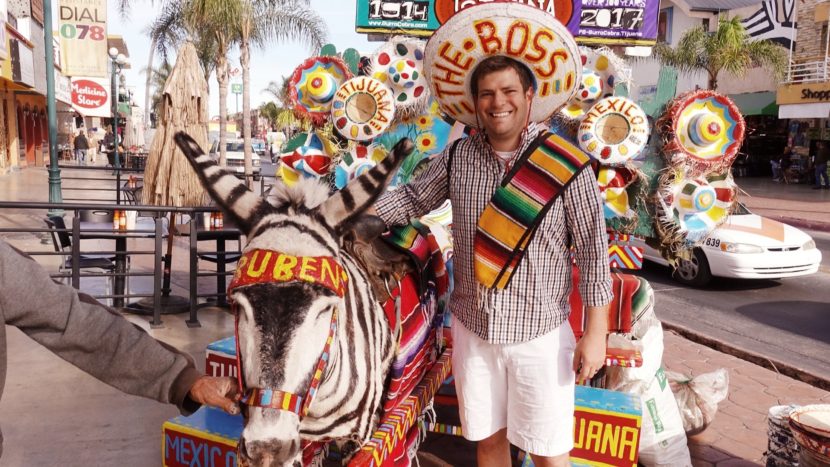 San Diego is not far from the Mexico border, so we spent our final day going to Tijuana! We took the San Diego metro to San Ysidro, walked across the border, and walked six miles around the city. It was awesome! One of our favorite places was Telefonica Gastro Park, a food truck gathering, where we got a delicious breakfast for only about $4 each! We also loved going to Mercado Hidalgo, one of their main markets. And we just had to stop and get the typical tourist photo with a "zebra." From now on, Hud will only be referred to as "The Boss." ;)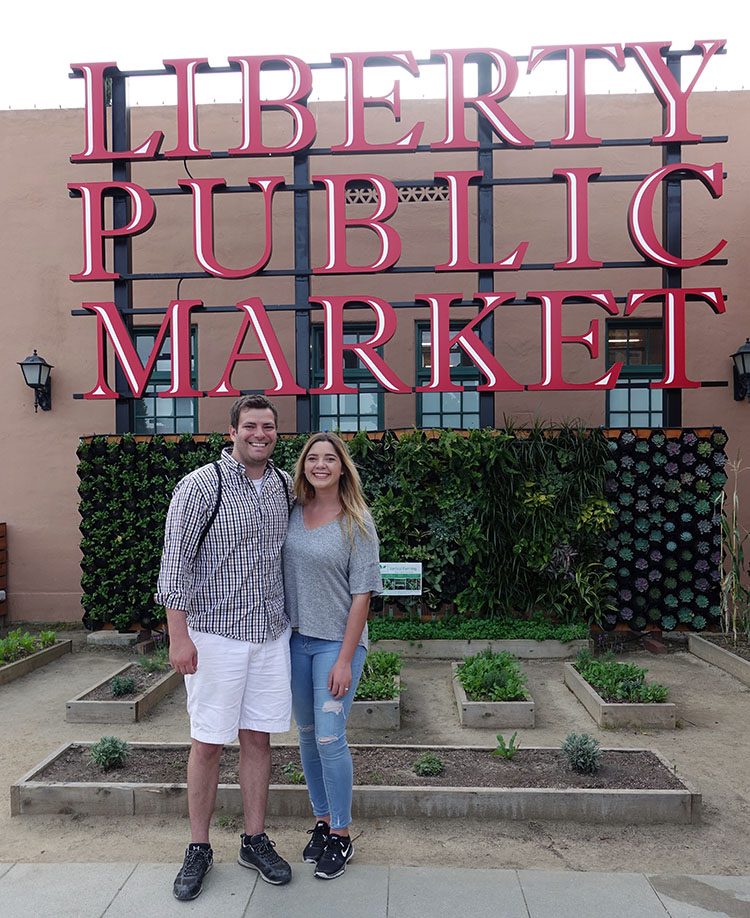 That evening, we went on a Liberty Station Walking Tour with Bite San Diego. Hud and I love food tours because you not only get to eat delicious food, but also learn the history of the area! Liberty Station, and the surrounding area, was really neat because it is an old military barracks transformed into a beautiful market and eatery.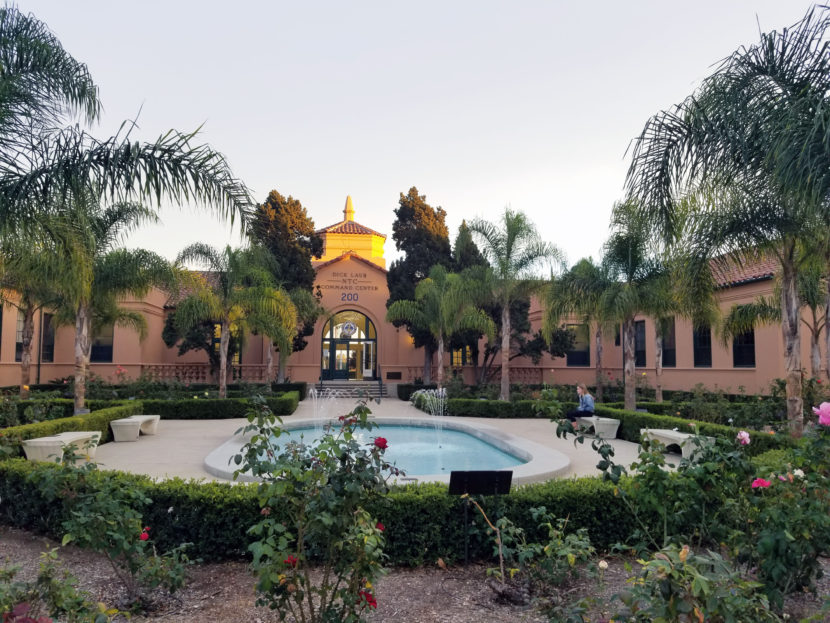 The surrounding area had a lawn in the middle with walkways on either side, and also an ice skating rink where people were in t-shirts! :) The tour included bites of a burger, cheese, crepes, tea, empanadas, pizza, and more from some of the amazing vendors in the market. My favorite were the Nutella crepes at Olala Crepes, but it was all so very delicious, and our Bite San Diego tour guide was incredibly kind! Definitely a great way to end our time in San Diego.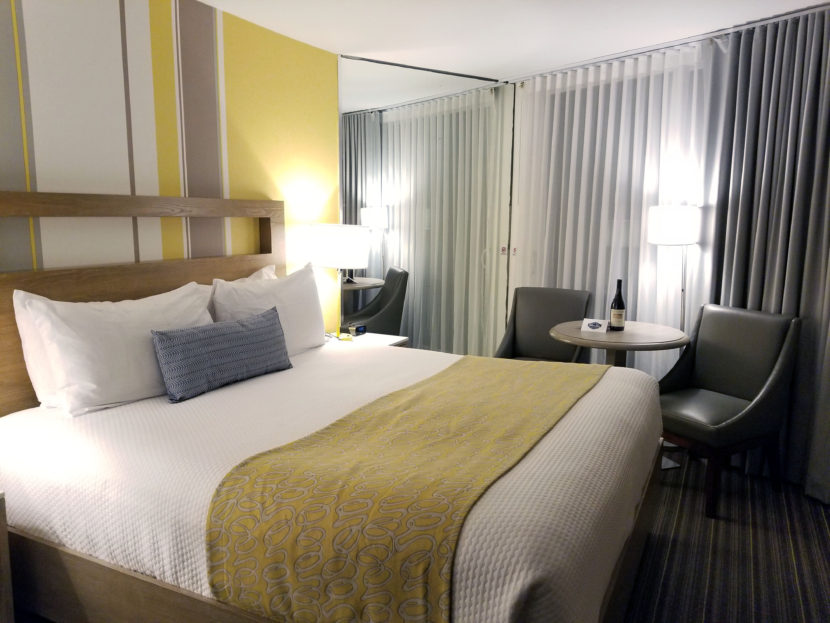 That evening, we stayed at Blue Sea Beach Hotel, located in Pacific Beach. Pacific Beach is one of the most trendy neighborhoods of San Diego, and Blue Sea Beach Hotel fits that mold perfectly.
It has a beautiful pool, hot tub, and outdoor fireplace overlooking the ocean – and our room was an oceanview room as well! The room was really well styled and even had a bathtub, which is pure luxury to RVers! We woke up for sunrise and had a beautiful view of surfers catching the early morning waves.
Next on our agenda was to visit Pio Pico RV Resort & Campground, which is a great place to stay when visiting San Diego County! We've heard such wonderful things about the Encore/Thousand Trails Resorts brand and are always excited when we get to stay at one of their RV parks. We have never had a more wonderful check-in experience as the one we had at Pio Pico, though! The ranger was so kind to us and went way above-and-beyond to make us feel welcomed and valued. It's so nice to be treated like family when yours is thousands of miles away!
Pio Pico RV Resort & Campground is a great escape from the rush of city life to a more peaceful community. It was such a family-friendly environment, with multiple activities throughout the day for residents of all ages! They had a volleyball court, sand badminton, mini golf, huge pool area, basketball court, a children's playground, and so much more. We're really grateful we had the opportunity to visit!
Palm Springs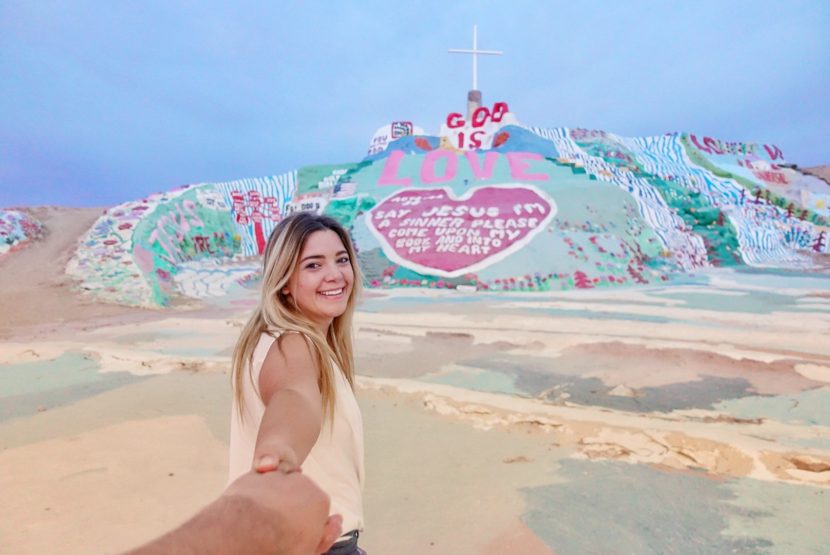 On our way from San Diego to Palm Springs, we stopped at Salvation Mountain. We had seen photos of this in the past, but it was even more fascinating in person! The artist was very talented, and it's a beautiful reminder of the love of God and the incredible blessing of being able to spend eternity in heaven because of Jesus.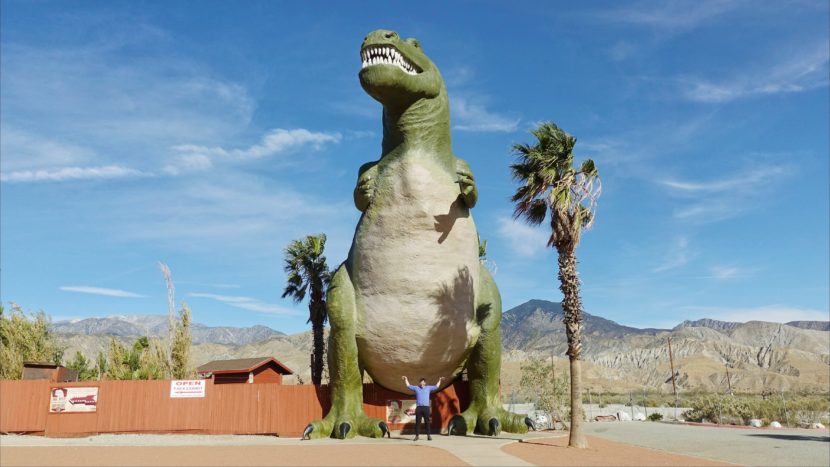 There was other fun artwork and roadside stops along the way, such as the Cabazon dinosaurs. Good thing we didn't run into a real dinosaur, because those things made the RV look like a shrimp! ;)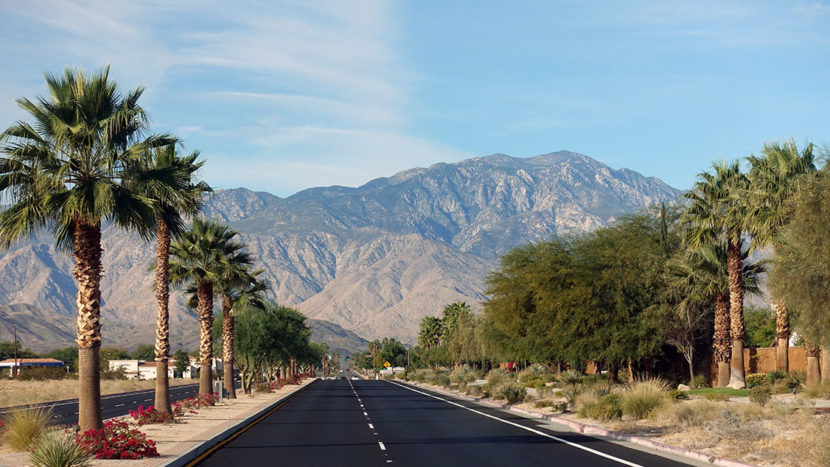 There is SO much to do in Palm Springs, and Visit Palm Springs is super helpful in planning the perfect getaway. I'm obsessed with palm trees, so the fact that downtown Palm Springs' main road is "Palm Canyon Drive" meant it was sure to be a favorite. We loved exploring the downtown! The culture is amazing, and there are many great restaurants and art shops/museums to explore.
One of the things I was especially excited to do was the Palm Springs Aerial Tramway. This is the world's largest rotating tram car, traveling over 2.5 miles over beautiful cliffs and canyons to reach the summit!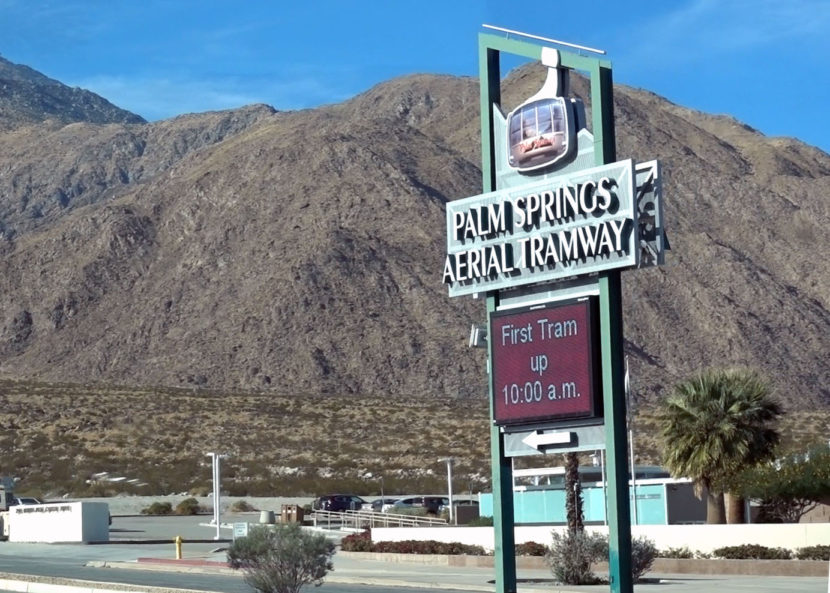 The views from above Palm Springs were breathtaking. And so was the cold weather at the top – it's amazing how much of a difference elevation makes! We love doing aerial tramways, so it was really neat to experience this in Palm Springs!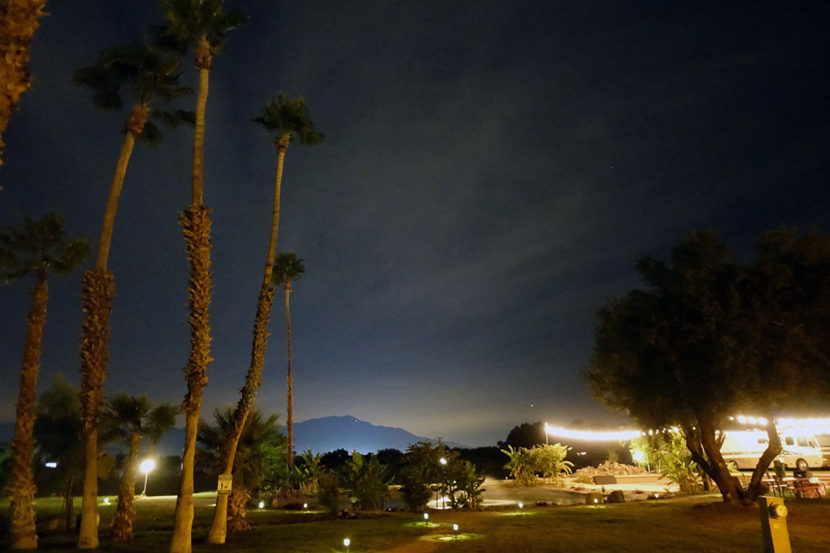 While in Palm Springs, we stayed at Shadow Hills RV Resort, which was SO incredibly beautiful. Lined with palm trees and located in the beautiful Coachella Valley, it was the perfect getaway before heading back to Pennsylvania for Christmas (and would be an amazing weekend getaway for people from LA and San Diego).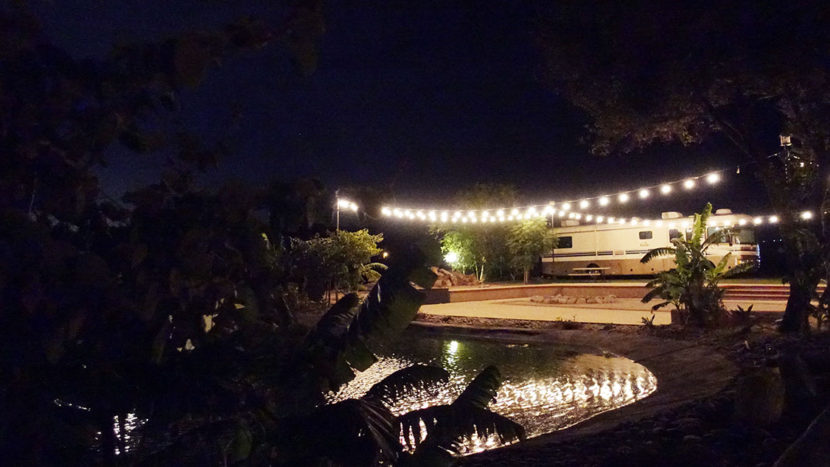 Our site was next to the firepit overlooking a beautiful pond, and had beautiful lights strung around!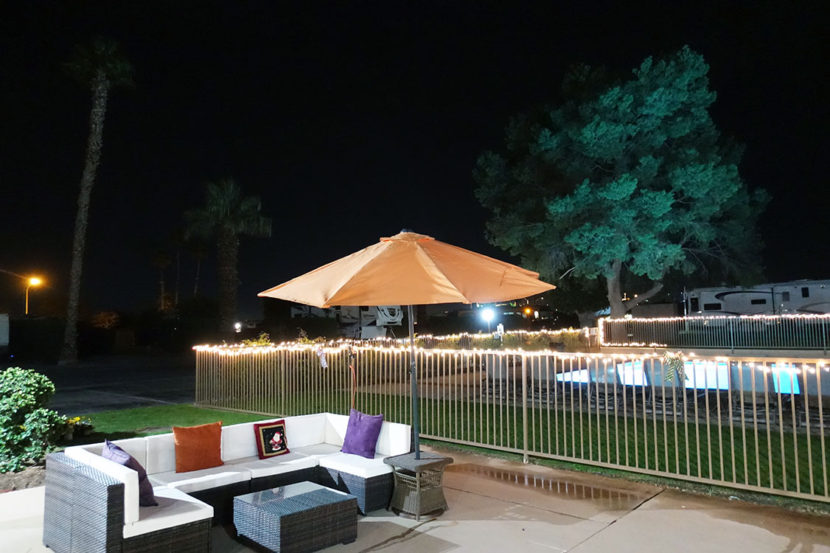 The team was incredibly friendly, even giving us chocolate chip cookies when we arrived (and they had dog treats as well)! We felt so welcomed from the very beginning, and were amazed at the community feel among the residents, who are called the "Shadow Hills family." One couple has been visiting for over 20 years – definitely says a lot!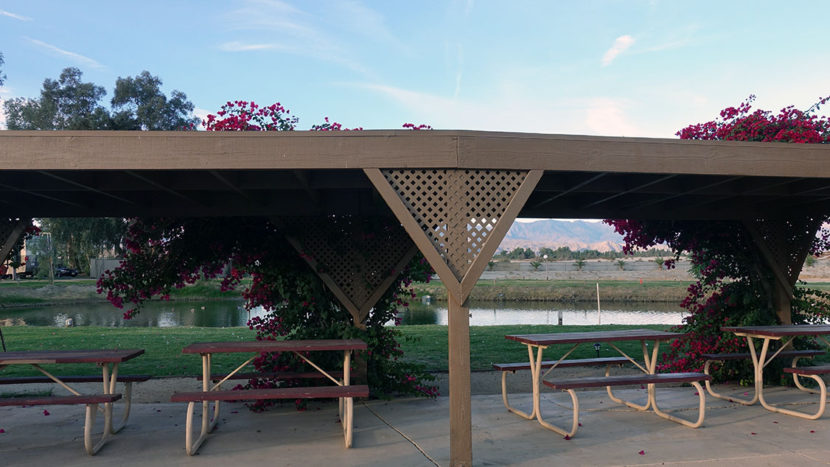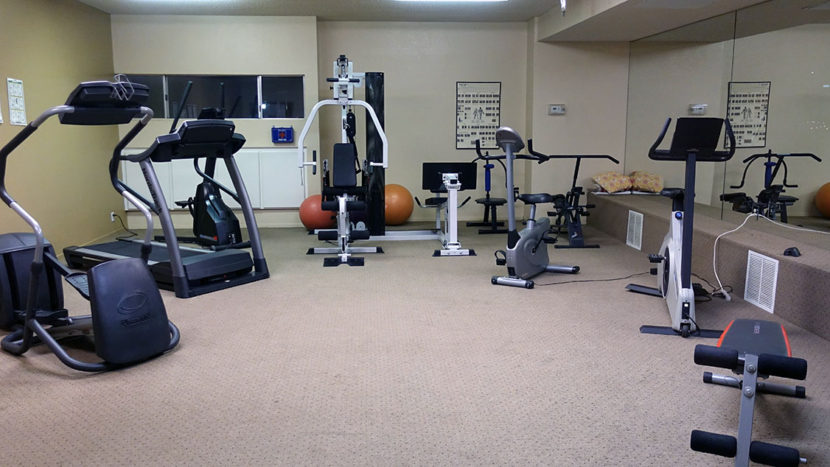 The RV resort was primarily geared toward the 50+ community, with daily activities such as water aerobics (in an 80 degree heated pool!), golf outings, hikes, massages, and doggie play days (they even have a dog park)! But it's perfect for all ages, as they are in an excellent location for the Stagecoach and Coachella Festivals. Shadow Hills RV Resort had SO many amenities, even a fitness room! It was easy to see why they receive top reviews for a great RV park in Palm Springs.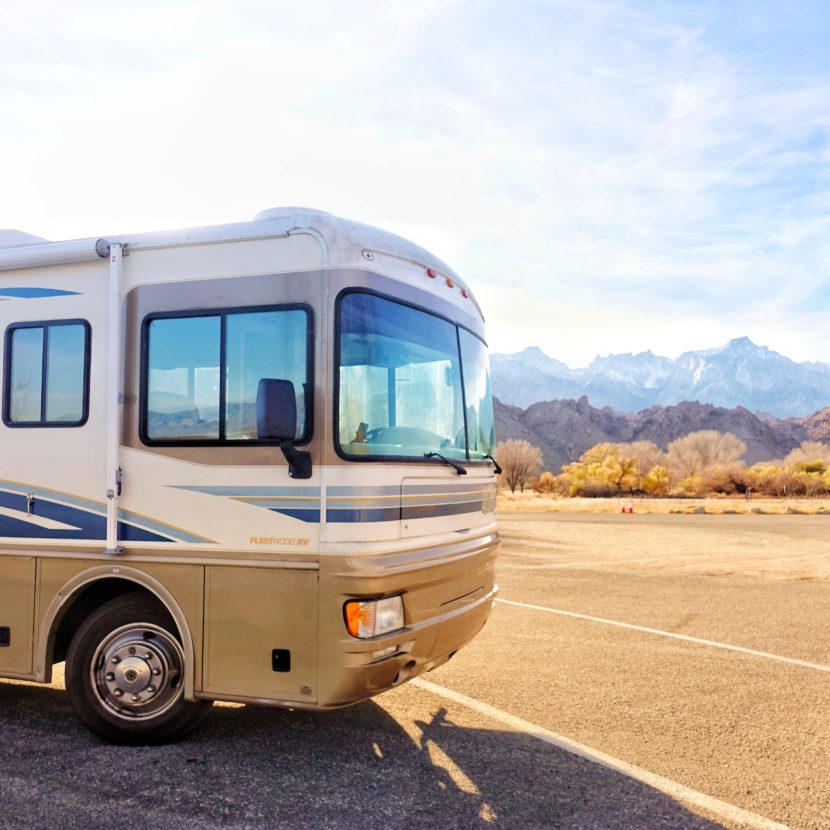 After Palm Springs, we headed north to see Mount Whitney, the highest summit in the lower 48 states! It was very majestic, and a cool thing to see right before we headed into Death Valley National Park, the lowest point in the US (so crazy how they are not far from each other).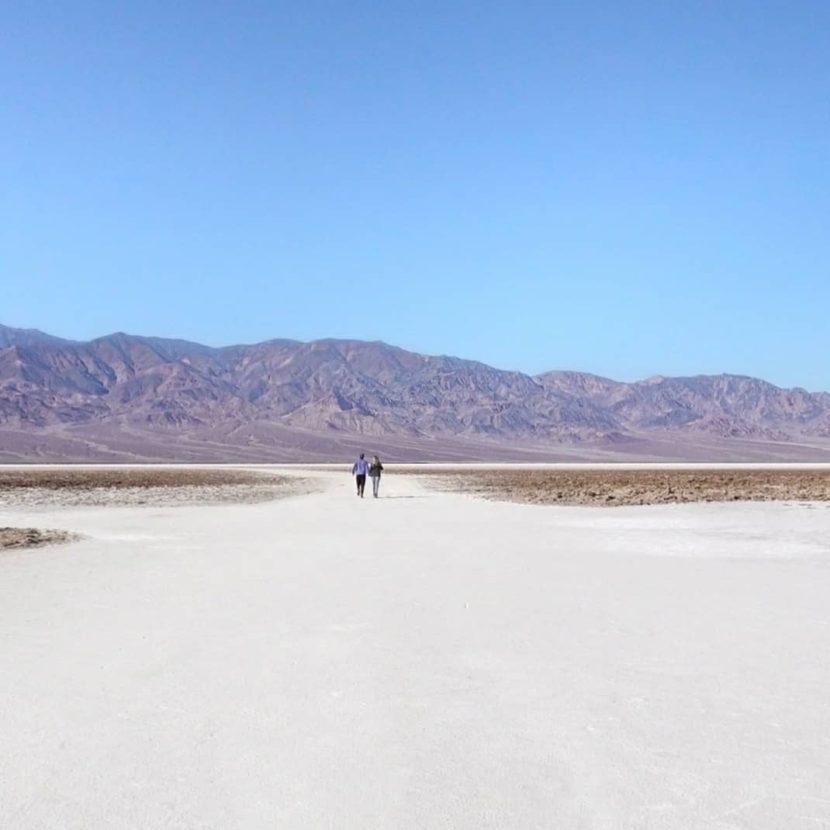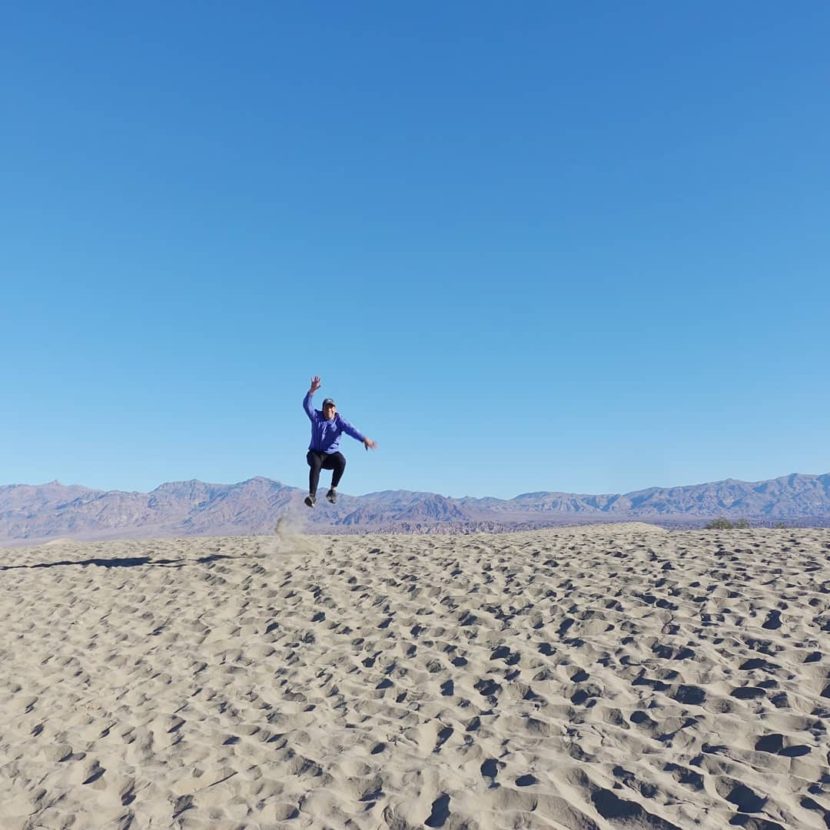 Badwater Basin in Death Valley has also been recorded as the hottest place ever on earth (!!!!), although thankfully when we were there it was in the 50s! :)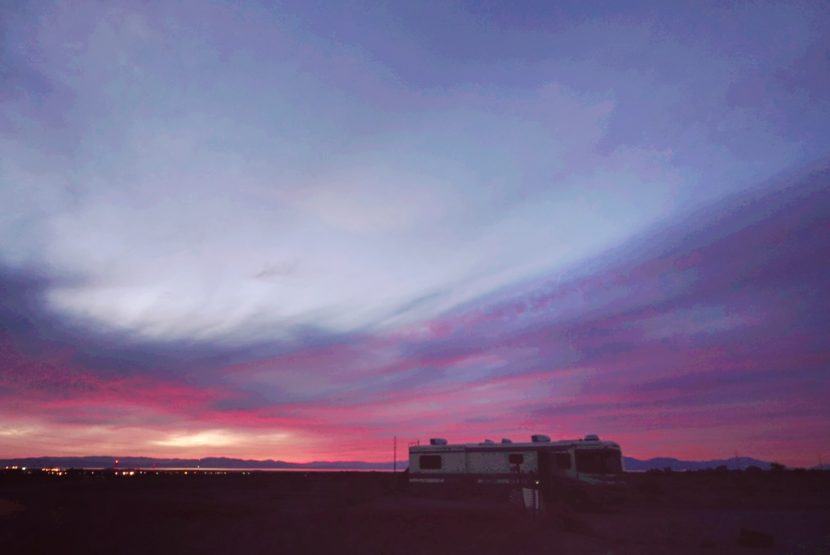 Our two months in California went too quickly, but we are SO grateful for the time we were able to spend exploring such a beautiful state. From the ocean to the mountains to the lakes to the forests to the waterfalls to the desert, California has just about everything, and it was so fun to experience it. Until next time, California! :)