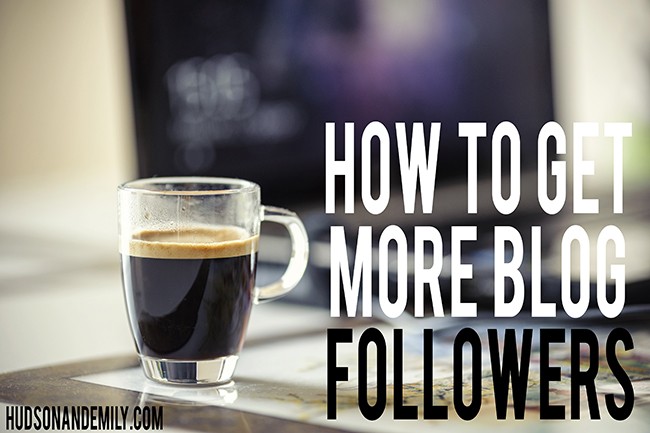 I remember the day I started this blog. I didn't know anything about blogging, other than that I was supposed to write. I thought it would be cool if I hit 50 followers. Hudson and I had a celebration when I did. We celebrated again when I hit 100 followers. Then 250. 500. I decided that I wanted to learn how to get more followers on my blog, and when I hit a thousand followers, that would mean I made it as a blogger. Well, guess what. Apparently I've "made it." Ha…rightttt. In some ways, I don't feel like today is any different than the day I started. I still don't know hardly anything there is to know about blogging. But I'm here to tell you what I do know about how to get more followers on your blog.
How To Get More Followers on Your Blog
1. Readers are more important than blog followers.
I have to begin by saying I 100% believe I'd rather have 100 people who read, comment, and interact with my blog than 200 people who "follow" my blog but never read it. I have made so many great friends through my blog (I actually wrote a post about how to make friends blogging). However, to have readers and make blog friends, you do need to first have followers.
2. Write quality content.
Quality is so much better than quantity. Keep your posts personable. Know your voice (for me, this means that even though some of my favorite bloggers are the ultra-funny type, I'm not and shouldn't try to be). Don't feel like you have to post every day…but do jot down notes throughout the week of blog ideas you have. And before publishing something, always ask yourself: Would I want to read this myself?
3. Have a good design.
Your blog's design is the first impression people get of you and your blog, so of course you want to make it good! Stalk blogs that have good designs. What sets them apart? The header, colors, continuity…so much comes into play. Oh, and if you're still on Blogger, switch to WordPress ASAP – it's SO much better.
4. Make your blog easy to follow.
I cannot stress this one enough. Put your BlogLovin/RSS links the top of your blog. No one wants to scroll the whole way through your blog to find it. Make sure to put all the ways to follow you on social media near the top too.
5. Use social media as much as you blog.
Social media is a great way to connect with bloggers and to share your posts. Some quick tips? Twitter is a MUST. I highly recommend using ManageFlitter to grow your account! Also, make a Facebook page separate from your personal profile. This way, people can follow you easier and you won't spam your friends. Lastly, try to make everything consistent with your brand. For example, our Twitter is twitter.com/hudsonandemily, our Pinterest is pinterest.com/hudsonandemily, our Facebook is facebook.com/hudsonandemily, etc.
6. Make sure you aren't a no-reply comment blogger.
What's that? This is for Blogger bloggers only (again, if you're still on Blogger, switch to WordPress ASAP), but it's when you comment on someone's blog and they can't respond because your email isn't linked to your blog account — they aren't ignoring you! This also happens if your Google+ account is linked to your blog. Not sure if this is you? Comment on your own blog as a test.
7. Connect with other bloggers.
Blogging gives you the opportunity to meet some really like-minded people that can turn into friends! Equally important to producing content on your blog is interacting with your readers. Join some link parties (but not so many that you're missing that quality content). And when you follow someone new, it's nice to let them know, but don't just comment "I'm your newest follower…follow me back?" Write them a nice comment, or even send an email!
8. Advertise on other blogs.
You can promote your blog all you want on your own, but most likely that's not going to be good enough. You have to get yourself out there, and a great way to do that is by advertising on blogs similar to yours. If you want to advertise here, we'd love to have you! But I understand not wanting to put money into your blog. A lot of blogs offer "swap" options where they put your button on their blog if you put theirs on yours. Swapping was how we got started and we highly recommend doing it.
9. Set guidelines for yourself.
The truth is that blogging takes A LOT of time. I probably spend way more time on it than I should. My recommendation is to set a guideline for yourself that you won't spend more than so many hours per day/week blogging. Your life is more important :) A great way to manage your time blogging is to schedule posts. I didn't know this until like a month into blogging, but it has made all the difference for me!
10. Always remember why you started blogging.
In your quest to get more blog followers, remember that wasn't the reason you started (hopefully not). Whether you started your blog to inspire others, to have a creative outlet, or to update your friends on your life…write a mission statement for your blog so you remember your purpose for blogging, and don't lose sight of that.
photo credit: 55Laney69 via photopin cc (edited)