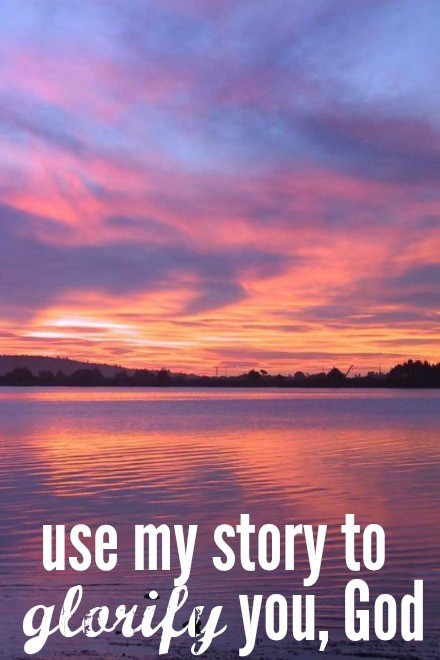 A couple times this week, I've heard people mention "your story" and how you can glorify God with it.
Christians talk about "your story" as how Jesus changed you. What was your life like before you dedicated it to Christ, and how are you different today?
Our pastor encouraged us to pray each morning: "God, if there is someone who needs to hear my story today, it will be my greatest joy to share it."
I have been praying that this week and am excited to see how I can glorify God as He uses that prayer. Maybe I will share my story here sometime, but it's really simple – and all about the fact that I'd be nothing without God. However, our pastor reminded us that the power is not in the person or the story, but in the God who entered that story.
No matter what your story is, it may be exactly what someone needs to hear.
Is Jesus part of your story? If you have any questions about what I believe, feel free to email me. I would love to talk with you!
Beyond the question above (which I think is the most important question), I also like to ask myself: How is God currently working in my life? I truly believe that everything (good or bad) we've been through has shaped who we are today. And the joys and trials of today are shaping us for who we will be in the future. As I mentioned in my post about hard times in marriage, I pray that those joys AND trials will cause me to grow closer to Jesus.
The leader of my mentorship group encouraged us to write down the little parts of our story that are happening today, so that we can look back and see how God used them in our lives. Although we don't always see the full picture of things – and sometimes we never will – sometimes we are able to look back and say, wow God, now I can see why. Even when we have no idea the purpose for something, God knows all along, and it's incredible when He reveals that purpose to us.
I want to start writing down those little parts of my story. There's something I'm going through even now that I don't exactly understand or know where God is taking me. However, I know one day I'll be able to better understand, and I pray that I can glorify God in this time.
What is your story?